Forty Below Bottle Boots 1L

#7 in Hydration Accessories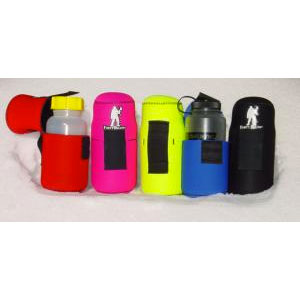 Specs
Price
MSRP: $19.95
Reviewers Paid: $10.00

Weight
4.5 oz / 126 g

Reviews
2

reviews

5-star:

0

4-star:

2

3-star:

0

2-star:

0

1-star:

0
Does a very good job keeping your liquids warm in the winter and cool in the summer—decently thick neoprene. Simple fold-over top and wide hook and loop closure is easy to use with gloves or mitts. Sufficiently compact that they fit easily many backpack bottle pockets.
Pros
Easy to use
Function well
Fairly inexpensive
Strap to secure it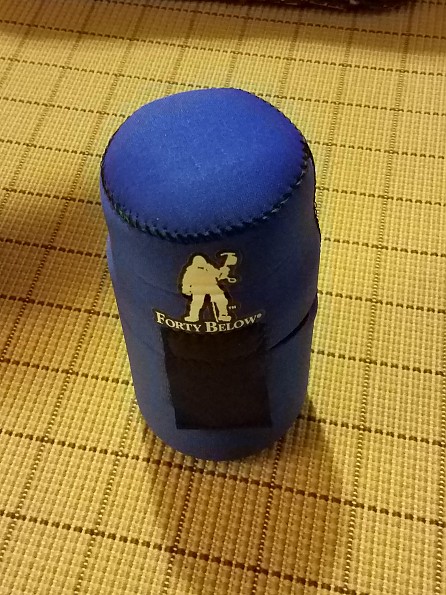 If you sleep out and hike in freezing weather, you have to answer the question of how to keep your drinking water from freezing. Forty Below's neoprene bottle boots are a great solution, unique in many ways.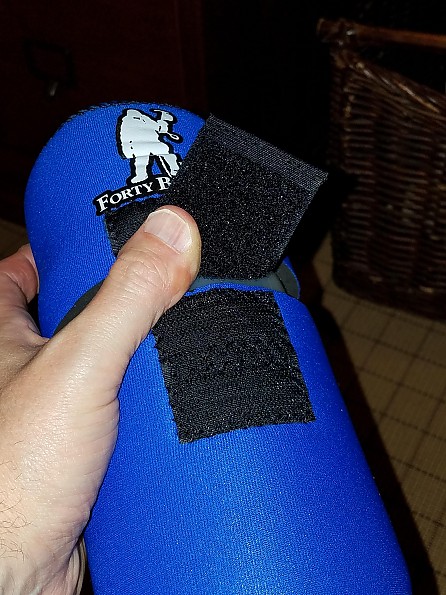 Most winter bottle covers I have used have a flip-top right near the top of the bottle, with a flip top that zips shut. The primary one I'm familiar with is the Outdoor Research Bottle Parka. Most bottle jackets also have a smooth nylon inner and outer surface with closed cell foam sandwiched in between.
These Bottle Boots are made of thick, stretchy neoprene (2 or 3 times thicker than similar jackets—Camelbak sells a neoprene bottle sleeve that is really better suited for keeping things cool in the summer) that stays flexible in brutally cold weather.  
No bottle cover is going to keep your water from freezing if it's cold enough and if you are out long enough; I had one closed cell foam bottle jacket that was older and particularly thick that might have kept things warmer for a little longer than this one. For current options, this works about as well as anything available in terms of keeping your water from freezing.  
Neoprene is a low-profile solution that makes it easier to use with a typical backpack bottle pocket; a shortcoming of the closed cell foam/nylon jackets is that they take up more space and can be difficult to fit into backpack bottle pockets.  
Also, zippers can be challenging to use with mitts or gloves on. The flip top on this and the hook and loop closure is very easy to use with gloves or mittens. The top folds over to expose the upper half of the bottle and stays shut with a wide hook and loop strip as shown above.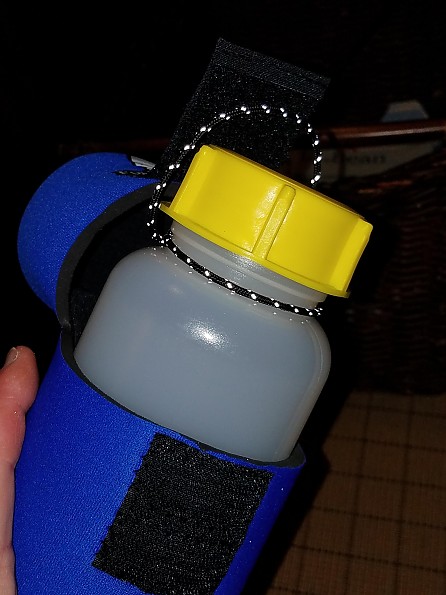 i put my bottles in a good-sized pocket in the winter; if you prefer to run the hip belt strap through something on the jacket, this has a strap opposite the closure, see below. I don't particularly like this solution; I have seen others where the strap opens up, sticks together with a hook/loop (again, the Outdoor Research solution) that I think is easier to use.
Also, while neoprene covers like this last a long time, using that strap for a long time might tend to pull at the stitching points and cause some damage to the cover over the long run. That said, all the stitching is very precise and very heavy duty, so you can expect this to last a really long time.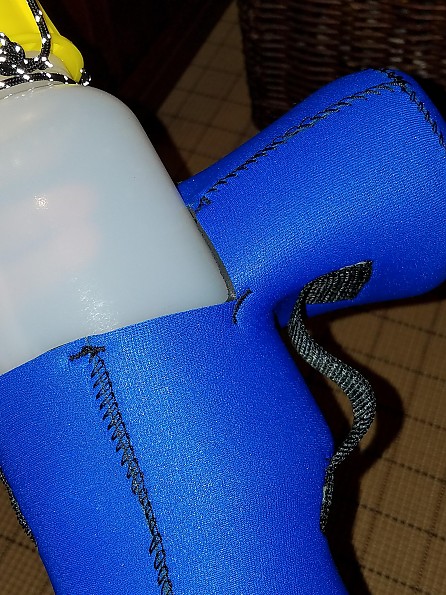 Advantages: Low profile so it fits in a backpack bottle pocket (see below); very easy to use in cold weather with mitts or gloves; simple, no zippers to fail; and price—a liter-sized bottle boot is 10 bucks plus shipping, whereas competing products are in the 20-30 dollar range.
Finally, consider that Forty Below is a small company, based in Washington State, founded by someone with lots of experience in super-cold weather.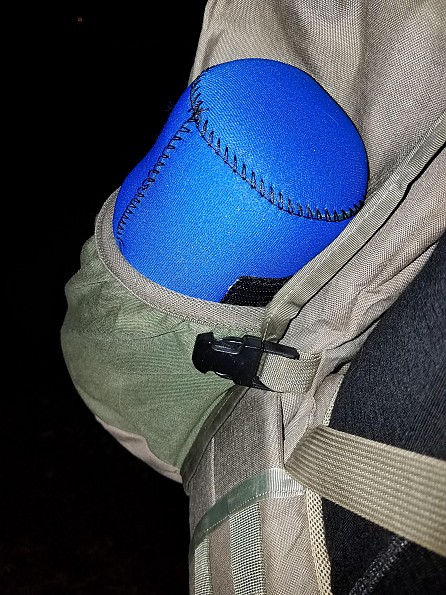 Source: bought it new
Price Paid: $10

Forty Below 32 oz / 1 L water bottle parka / boot holds one Hunersdorf Expedition 1 L water bottle or one 32 oz / 1 L Nalgene water bottle.
Pros
No zipper—open with mittens on
Colors
Well constructed of sewn up Neoprene
Cons
No zipper—doesn't close tight along seam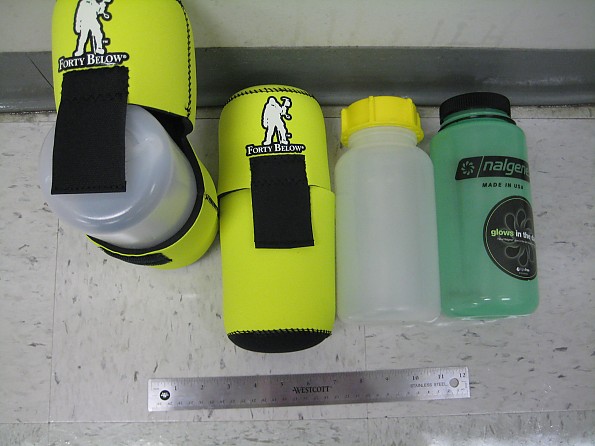 Forty Below Water Bottle Boots / Parkas

This is the yellow 1 L / 32 oz size
No zippers—can open with mittens on.
But you need to ensure the seams are closed together tightly wen you put the water bottle back in, with the lid on the bottom because the ice forms on the top. With the upside down bottle, any ice that forms is on the bottom not frozen under the lid.
Fits several 32-oz sizes including Hunersdorf Forty Below water bottles, yellow lid as well as wide.
Just got these new yellow ones. Had a red one last year, but it fell down Mount Katahdin with my Glow in the Dark Nalgene water bottle in it.
They have straps on them so you can fasten them to a web or waist belt. I kept them in my pack for extra warmth. Problem is they roll pretty good. I will be tying these parkas with some paracord this year.
Two years of winter use. No complaints except the one that got away.
Source: bought it new
Price Paid: $72.56 including 2 water bottle & 2 boots with s/h

You May Like
Recently on Trailspace