Garmin Edge 305

The Edge 305 has been discontinued. If you're looking for something new, check out the best handheld gps receivers for 2023.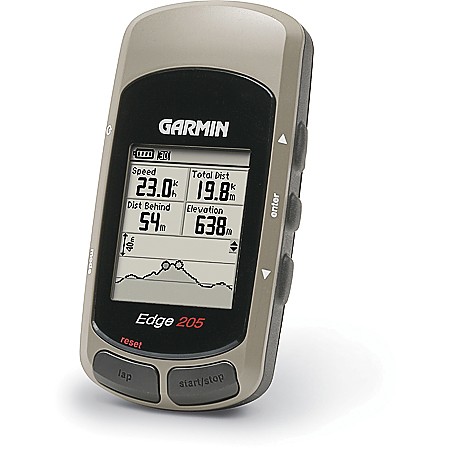 Can't summarize my workouts in a spreadsheet training log. If I ride with a group, I can't forward the workout summary via e mail to anyone else. Getting frustrated with the battery running out so quickly. Just about a year old. Used 40 times.
Price Paid: $400

The feature set on the Garmin Edge 305 are great, however there is a serious design flaw in the device and after < 1,000 miles of use, the device starts to switch off on normal rides on the road. I have had to send the device to Garmin and they charge 79$ for the replacement. This is really bad and I would never buy this product or recommend this product to anyone.
Price Paid: $350

I own a Garmin Edge 305 bundle for about 4 months. This device is easy to operate if you use it as a tool for cycle training. Uploading course tracks is a bit difficult. You need some additional software to convert .GPX files in to .CRS files
I am less satisfied about the cadense and heart rate sensors. They often doesn't work properly. (e.g. no cadense or unrealistic low heart rates (average 22%MHR, maximum 39%MHR) while performing a heavy interval training.
To solve this problem I was advised to perform a "hard reset". Yesterday, after a ride in the rain, I found out that the device is not water resistant. I have contacted my retailer about it they immediately replaced my Garmin Edge 305 bundle without any discussion (A big hooray for the European consumers protection acts).

Price Paid: 270 euros

I rated this product as "0" because the product really is useless - if you can't use it. I owned it for 2 weeks and it started turning off in the middle of rides. There is evidence ALL OVER the web about the internal components shaking loose and it causes it to turn off. I have two friends which have had the same problem.
What to do about it? You contact Garmin support. Absolute JOKE. First off, if you want to call them, plan on spending at least 30 minutes on hold. If you email them, plan on a 3-5 day turn around. After I sent in my Edge I contacted them to see if they received it and if it was in process. Two days AFTER I received confirmation of delivery they could not tell me if it had arrived.
It has been a week since support contacted me on my incident. Very unsatisfied with product and support. It's a shame because the Edge when it does work is a very cool product, but it doesn't work, so there you have it. I feel taken by Garmin, they know very well they have a faulty product on the market. Full refunds should be in order.
Price Paid: $300

As far as features go, I have to say the Garmin is unbelievable. It's easy to use both the unit and the software that comes with it. The information it provides is fantastic.
The problem is that it has a serious design flaw. The internal connections become separated very quickly (within a few months - or 1000 miles of riding) due to vibration. This causes the unit to power down during riding. If you do some searching online you will find that many, many other users have had this same experience.
When you buy a bike computer this expensive, you expect it to be of high quality and work continuously. Unfortunately, this simply is not the case with the Edge 305.
Price Paid: $349

I and others have had a big problems with the heart rate monitor. I is not accurate. They have replaced this unit 3 times and still heart rate is very bad. One second it is correct at 140 bpm, then next second it is 90. I have replaced batteries tried many positions and even gels for the contacts.
If you are serious about using a heart rate monitor, there is a very good chance you will be disappointed with this unit.
I have owned the Edge 305 for about 65 weeks now. I don't have it currently as it has been in for repair for the last 6 weeks. This is the third one I've sent in for repair. So far it's cost me $45 in postage and I've been without the unit now for a total of 15 weeks during the time I've owned it.
The unit just shuts itself off in the middle of rides and records garbled information. Garmin customer service seems unable or unwilling to do anything to remedy the situation. I can't tell you how disappointed I am with the Edge and Garmin in general. Stay away from this product!
Price Paid: $350

What good is a tool that you can't print the route from. This is advertised as a cycling tool. Can't believe they refuse or are incapable of suppling software that allows you to print a route that you ride. Don't buy this piece of crap!
Price Paid: $350

I have had the 305 for about two months.
I have the problems with the altitude, grade and heart rate.
The grade will vary form +50 to –40% on grades that I know are 6%. The total altitude gain will be 200% off. I have exported the data to a third party piece of software and the altitude information is correct there so this problem is most likely in their PC software.
The heart rate seems to display correctly on the unit, but is all over the place on the PC software.
I have been in touch with Garmin by web support, they gave me some basic trouble shooting info like reset the unit, re-load the firmware. None of this what made any difference?
I have an older unit (201) and I rode with both of them, the old unit preformed just fine, the 305 was all over the place.
Garmin has given me a RMA#, I don't have much hope that they will fix anything after reading all the stuff on this page.
It is very frustration to read that others are having the same problems I have, when I talk to Garmin support they act as if they have never heard the problems before.
If I had known the depth of problems with this unit I never would have purchased it.
Price Paid: $300

Garmin has done such a poor job of responding to the multitude of problems that I've had with this device that I've decided my only option at this point is to begin trashing the device on reviewer boards. I've had three devices so far and have had problems with every one of them.
For example: my auto-pause is set at >3mph. Only this morning, I was coasting to an intersection at 11mph and the unit auto-paused for no good reason. Also, it occasionally auto-pauses when I'm passing underneath the street on the Cherry Creek bike path. Last - and most frustrating in terms of performance - the device frequently turns off when I hit a bump. On the rare occasion when I've spoken to a real human being at Garmin about this, they say, "You must have hit a bump." No kidding! Recently, a rep said he'd call me back with an answer and never did. Two days ago, I sent a request for assistance using their tech support page on the web site and haven't even received an acknowledgement that they've received my complaint. This company apparently doesn't care about servicing its product.
I've asked for information from them about a refund - since they sent me the device I currently have. They've never acknowledged my request. The Edge 305 has more potential than any computer I've owned previously. It's also the worst computer bike computer I've ever owned. Save yourself the headaches and buy something less sophisticated from a company that cares about its customers!!
Update: November 3, 2006
As a follow-up to my earlier review, I finally received a response from Garmin. The tech agreed my problems are unacceptable and further agreed to send me a new device at their expense. I've used it twice and so far so good. Stay tuned...
Price Paid: $400

Everything works well except the elevation readings and grade. Unit gave me erractic elevation and grade readings. Unit was replaced and second one did the same thing. Requested a refund.
The unit itself is fantastic. Records everythig you would want to know about your ride. My only complaint is with the software on the PC, which isn't as comprehensive as, say, the Polar Precision Performance software for analyzing your data.
Price Paid: $279

Version reviewed: with cadence and heart rate
This is a slick looking bicycle computer that unfortunately has not been well designed or thought out. There is one sensor for speed and cadence. This works well on a standard bike, but not on any bike where the crank arm and rear wheel sensors do not pass the same location. This includes some MTN bikes and recumbents etc.
I ride a lot of miles and have a lot of experience with my speed, cadence, and heart rate etc. The basic speed, distance, cadence, and heart rate functions seem to be quite accurate. However that is where the accuracy stops. Calories are measured by the speed function. So coasting downhill fast displays more calories burned than working hard up the hill. This unit tells me I burn 800+ calories/hr when my previous Polar monitors say 450+.
This unit is also sold without the heart rate monitor. My guess is they pegged the calories to speed so they could sell the unit without the HR monitor. Of course, calories should be pegged to heart rate and possibly grade. The elevation gained and grade functions vary in accuracy. I have an old bubble indicator for grade incline that is very accurate. The Garmin will jump from 5% to 17% readings on the same 8% grade.
All the data downloads into a Performance package software. This is a very nice feature but for the high price it would be nice to have accurate readings of % grade and calories burned so you could accurately analyze your heart rate to the true effort. I could get a computer to read heart rate, cadence, basic speed, and distance calculations for much less.
It seems to me that this bicycle computer was designed by someone who does not ride very much. What good is a slick computer display when much of the training data is inaccurate?
Price Paid: $345

Just got it Thursday. Bought the bundle. Everything works great, including Training Center software. Love the ability to decide WHAT will display on the three main display screens. LOTS of options for including what you want.
Took my first two rides to check it out, love the info on the scrren and love MORE the way it is displayed and summarized in the Training Center. 98% great so far.
2% is that I can't display the Total Distance, and can't find a way to print the cool looking charts of the ride (with 3500 feet of elevation gain, showing heart rate and grade ... what a great way to brag!!!! ... if I could print it)
Price Paid: $309

Your Review
You May Like
Specs
Price
Historic Range: $239.99-$435.50
Reviewers Paid: $279.00-$400.00

Weight
3.1 oz / 88 g

Dimensions
1.75 in x 3.7 in x 0.9 in / 4.4 cm x 9.4 cm x 2.3 cm

Display Size
1.17 in x 1.44 in / 3.0 cm x 3.7 cm

Recently on Trailspace