Garmin eTrex Legend

The eTrex Legend has been discontinued. If you're looking for something new, check out the best handheld gps receivers for 2023.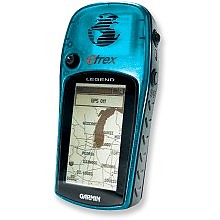 I have litteraly trusted this product with my life. I carried it for almost a year and a half through Operation Iraqi Freedom. As a SGT and a team leader I have trusted this GPS unit to get me through and bring myself and my men back from the front lines. It has been used to mark everything from grid quardinants for medical evacuations to sites of IED's and unexploded ordinance.
The ability to hold maps was great, we downloaded the mapset for the Middle East into every one of our Legends. Out of a company of 180 men a good half of us or more have this GPS unit, the other half has another in the eTrex line.
My only compaint about this unit is the lack of a digital compass. It's a pain to use the compass when you are not moving because the compass works off a sat. signal. You must move around to find the direction. But that's no big deal because if you step off on a trip without a compass and map as a backup you are wrong. As long as you remember that a GPS is nothing but a tool to supliment a map and compass and not a substitute for Land Navigation skills you will enjoy this product.
My only other recommendation is to not get the carrying case because the plastic coverscreen has lots of glare and makes the screen unreadable. My solution was to take the plastic static clean sheets used to protect Palm Pilot screens and cut them to fit the Legend's screen. The battery will last a good 8 hours of being locked on a signal but I usually cut it off if I know i will not need it for a while.
I hope this might be of some help to you.
SGT. Lyvers
U.S. Army
This review is slanted a little; the performance measured has been in Alaska which tends to be colder than normal use and with worse GPS satellite coverage.
I got the Legend because it had the map memory I wanted without all the bells and whistles I didn't need. After a year of use, I really don't use it that much.
Pro:
-GPS positioning is much easier than calculation with a map and compass.
-Map storage inside the unit
-GPS features like average speed and route tracking
Con:
-Battery life is no more than 1 day of constant use. I use lithium batteries and still get no more that 12 hours. This, of course, means that you have to carry spares.
-The screen disappears in the cold. I have taken it skiing and would not have been able to use it if necessary.
-Although you can store many maps, the Legend will go slow like a sick turtle crossing a maple syrup lake in winter. I limit myself to no more than 4.
-Don't forget that you have to purchase that $100 map software...
-The antenna is not very perceptive. I have had my Legend cut in and out during the course of a trip. My buddy had his turn off after he put it back on his pack, antenna facing in instead of out.
-The maps used are not very detailed. I am a dot at the end of a line, normally surrounded by parallel lines. I go back to my paper maps quite frequently while considering why I bought the GPS in the first place.
In the end, I'm glad I have the Legend because I like to turn it on and mark certain spots (the trailhead or car) so I can return there. I do not use it for continuous use anymore...
Price Paid: $150

This unit is great! Some of the great features include backtrack, so if you get lost the unit automatically tells you how to get back where you are and the best part about it is that you don't need to set anything to make it do this. The WAAS support is a good feature but not quite useful because the network of satellites hasn't been set up yet, so it will just eat your battery life. Overall, great buy!!!
Price Paid: $130

I love this GPS. Small, light, plenty of features. Comes with a basic road map with Interstate info including exit ramp numbers and rest areas. Also has a listing of restaurants and stores within towns. Does all the basic GPS stuff with a few extra features as well. It doesn't sap batteries either. Seems to be really durable and shock and waterproof for the most part.
Price Paid: $180

Your Review
You May Like
Specs
Price
Historic Range: $75.00-$314.98
Reviewers Paid: $130.00-$180.00

Weight
5.3 oz / 150 g with batteries

Dimensions
2.0 in x 4.4 in x 1.2 in / 5.1 cm x 11.2 cm x 3.0 cm

Display Size
1.1 in x 2.1 in / 2.8 cm x 5.4 cm

Display resolution
160 x 288 pixels

Display type
4 level gray LCD

Recently on Trailspace