Gear Aid ARC LED Light & Power Station

Top 25 in Battery-Powered Lanterns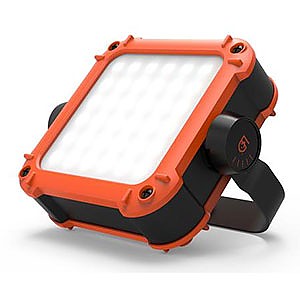 Reviews
1

review

5-star:

0

4-star:

1

3-star:

0

2-star:

0

1-star:

0
Sturdy, reliable, and rechargeable. The ARC is both a light and a power source that has come in handy in a wide variety of scenarios.
Pros
Multi-use capability
Easy to operate
3 light temperatures with memory of last use
SOS mode
Well-built, solid construction
Relatively high weather protection
Mountable with common threading and useful add-ons available
Minimal packaging
Cons
Awkwardly located port cover attachment point
Lowest setting is too bright for some uses
No wall charger attachment supplied
Non-branded cord (I know, I'm getting picky)
Conditions
I've used the Gear Aid ARC Rechargeable LED Light and Power Station ("ARC" from here on out) for three consecutive months in the autumn and winter in the mountain region of central Pennsylvania.
As a light source, the ARC has been used in a wide variety of scenarios including in a tent as lantern; in the woods to help gather kindling; around a picnic table to illuminate a game of cards (again, as a lantern); at a campsite for general illuminating purposes, in the garage while working on the car; in the basement while fixing a leaky pipe (came in very handy); on the porch while fixing a bike flat; and probably a few more times that I since forgot.
As a power station, I tested it while camping to charge my iPhone 4 (yep, it's old but still works great) and a friend's newer iPhone, and while at home I've charged both my iPhone on many occasions as well as my wife's iPad.
At various times, I utilized the RAM Claw Light Mount ("claw mount" from here on out) and because it is sold separately as an add-on feature to the ARC, the Claw Mount has been reviewed separately.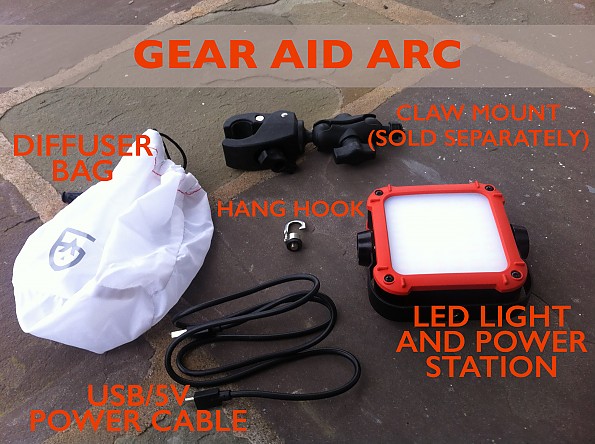 Weight: 16.5 oz (467 grams)

Battery: 10,400mAh capacity

Beam & Brightness:
The beam of the ARC is a wide, diffused light that can light up a tent, campsite, room, or anywhere else it goes. It fills a wide space with light, as opposed to a flashlight or headlamp that typically fills a small area with focused light. 
With the included diffuser bag, the light is diffused even more, making a very pleasant soft glow, particularly useful for lighting an area with many people like a campsite, cabin, or trail shelter. 
Burn Time: 
I ran three different tests to determine battery life from a full charge. 

Test #1: Turn on brightest setting
Noticeable dim began: 7:18 hours
Ability to still use as a reading light: 55-62 hours
The manufacturer claims 8 hours of run time at full blast (320 lumens) and I recorded it to be closer to 7 hours. However, I didn't expect the light to stay on after this 7 hours for another couple days. I sat a magazine near the light's beam and sat back 2 feet. I then determined at what point I could no longer read the magazine text without significant eye strain or leaning in. It was between 55-62 hours (the gap is because it was while I was sleeping) when the light dimmed to the point that I could no longer read the text. 

Test #2: Turn on lowest setting
Ability to still use as a reading light: 85-93 hours
The manufacturer claims 96 hours at lowest setting of 20 lumens. Much like Test #1, I used the same magazine reading test to determine if the light was still suitable for use and much like the Test #1, the time in which the light output was no longer usable for reading was sometime while I was sleeping, hence the 85-93 hour range. There was still a small amount of light output until almost the 95-hour mark, which leads me to believe that the claim of 96 hours isn't all that improbable, but the last couple hours may be very faint light. 

Test #3: Keep the light function off and use the ARC solely as a power source. 
iPhone charges: 4 and half(ish) times.
The manufacturer claims five iPhone charges with a full battery. I didn't quite make it to five charges but I also have an almost seven-year-old phone and phone battery capacity has certainly changed some in the past seven years. No hard feelings here.
Charge
For testing purposes, I fully drained the battery and then kept track of how long it took to charge back to full battery. I charged it off my computer while I was at work (computer's USB to ARC's 5V input port) and around 7:25:00 mark, I noticed the last indicator light came on showing a full battery. This is quicker than the manufacturer's claim of 8 hours, which was a nice surprise. 
I suspect (but have no way to know for sure) the difference between the 7:25:00 and 8:00:00 mark is that when the 4th and final indicator light comes on to indicate a full battery, it may not be quite entirely full, but close enough to activate the final light. This would be similar to a gas gauge on a car showing a full tank, even though you've drove 20 miles on that tank. You know the tank is not completely full, but the gauge hasn't dropped yet.
Regardless, it does take a while to charge the battery from empty to full, but in my opinion, a rechargeable battery with indicator lights is much better than the traditional one-time use batteries that have no indication of remaining life. I really like the certainty and assurance of rechargeable batteries and battery life indicators. The ability to re-charge the ARC is one of the best aspects of the product in my opinion.  
However, I think the manufacturer could help make the re-charge function easier by adding a wall outlet adapter, making the 5/V to USB cord a 5/V to wall outlet cord. By looking through the Gear Aid website, I have found a wall and car charger adapter for $24.95, which seems a little steep. I think a smaller wall-only charger adapter at a lower price would be a welcome add-on for the ARC. In many scenarios, I believe charging from a wall would be easier and more convenient to the user than charging from a USB port.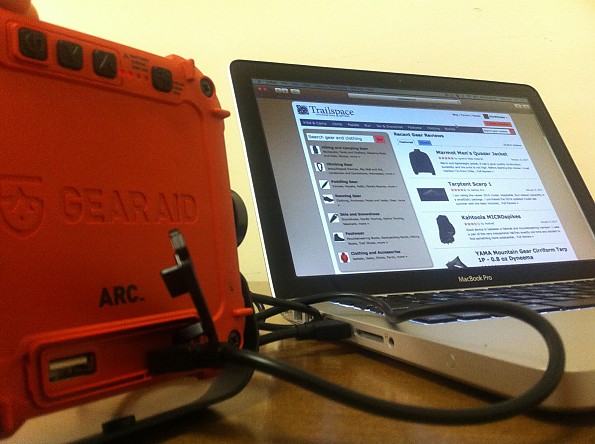 Ease of Use
The ARC is a fairly simple light to operate with only four buttons to choose from, although some buttons are multi-functional. Some users may not be accustomed to charging their light source as opposed to replacing batteries, but I suspect the majority of today's population have used a USB and/or 5V port at least once. For the many of us who are very accustomed to these charging ports, this charging feature is intuitive.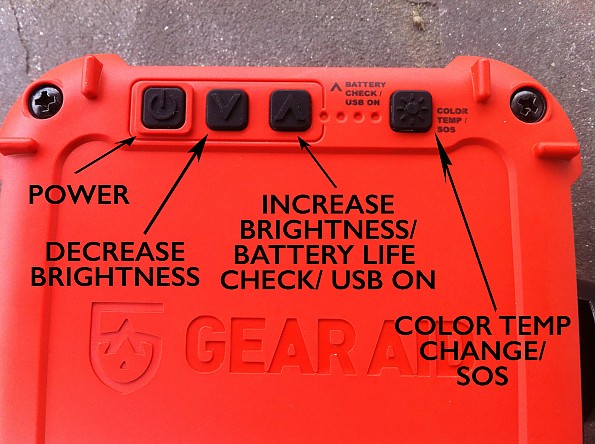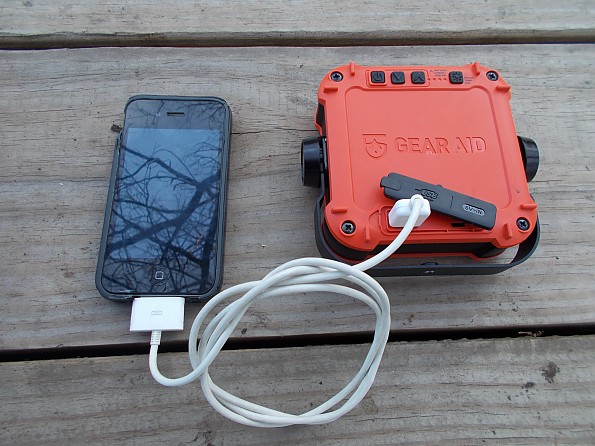 The pressure it takes to fully engage the one/off button is perfect. It would be very difficult to accidentally turn the light on, but it's not so difficult to turn on that you need superhero finger strength. It's a subtle feature, but executed really well nonetheless.
Batteries and Temperature:
The lithium ion battery seems to withstand at least small doses of colder temps fine, but I haven't exposed it to below freezing temps for longer than 2 hours at a time. From what I've read and experienced, it seems like with most lithium ion batteries today it is the extreme heat that will negatively impact them much faster and more severely than most cold temps, especially the temps I would be exposing them to (mostly above freezing and occasionally below, but nothing significantly below). 
Weather Resistance:
Gear Aid lists the ingress protection (IP) as IP65, which is better than just about every light source I've ever owned. The translation of this 65 number means it is completely protected against dust and it can withstand water from low pressure water jets from any direction. It's seen a fair bit of rain/drizzle and there have been no signs of ill-effect. Anytime it's been wet, I simply wipe it off with a towel and keep using as normal.
Mount Point Feature: 
The easy to thread mount point is 1/4-20 thread point, which is common for things like tripods, GoPros, and of course, all Gear Aid add-on mounts including the claw mount that I tested. Other Gear Aid mounts include a suction cup, a magnet, and a fixed mount.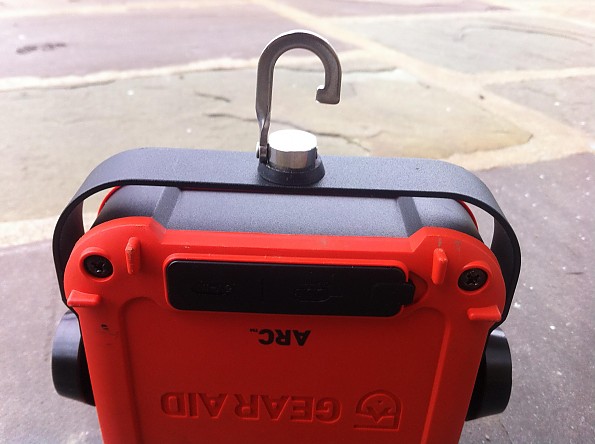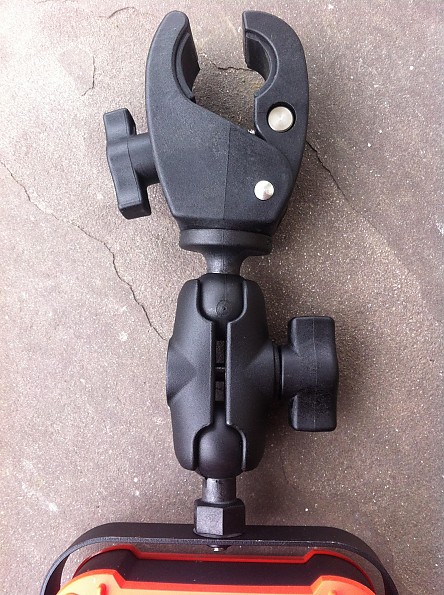 Power Port Feature:
Instead of replacing batteries, the ARC is charged with the 5V/USB cable that is included. The USB port is the power output port for charging external electronics (e.g. cell phones) and the 5V port is the input port for charging the ARC. There are two areas of improvement to this feature. 

Potential improvement #1: Charging station port cover.
The port cover's attachment point to the ARC seems too close to the 5V port which leads to having to fidget with the port cover to plug into the 5V port. This could be remedied by changing the port cover attachment point or moving the 5V port slightly away from the attachment point.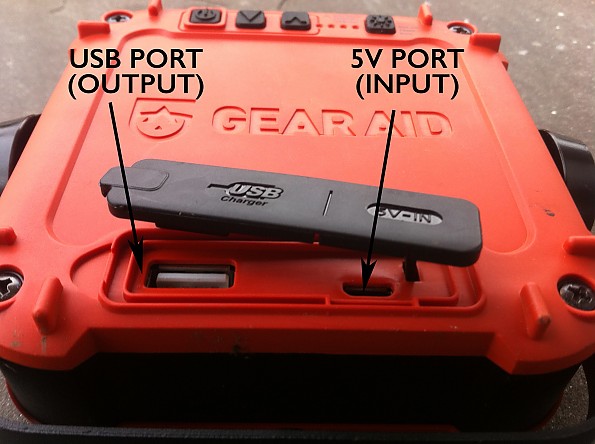 Potential improvement #2: Branded power cord. I know this sounds a bit nit-picky, but hear me out. I think Gear Aid is losing out on an opportunity to brand the power cord. Both the light and the diffuser bag have really nice logo placement and sharp color choices. I say, why not make the cord orange to match the light and stamp a Gear Aid logo on that as well. Not only would it be another branding opportunity, but it would also help the customer differentiate this cord from the countless other (mostly black) cords that invade our everyday lives. 

Modes
The ARC has three light temperatures to choose from—cool, warm, and neutral—which are easily changed by pressing the color temp button. These temps are what one might expect, cool being more white, warm being more yellow, and neutral being an equal combination of the two. One nice feature is that the ARC will turn on the light temp that was last used before previously turned off. This means that if you have a preference, you don't have to search through all three temps each time you use the light.
On a similar note, the ARC always turns on at the lowest brightness setting, meaning you won't blind anyone when you turn it on. Mind you, the low setting is still fairly bright (20 lumens), but it's nice not to turn it on and accidentally get hit with 320 lumens.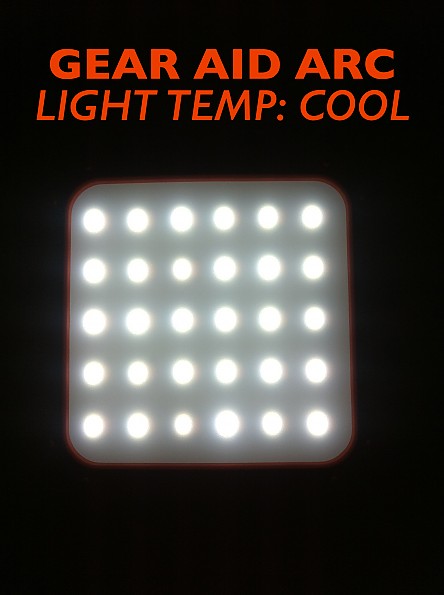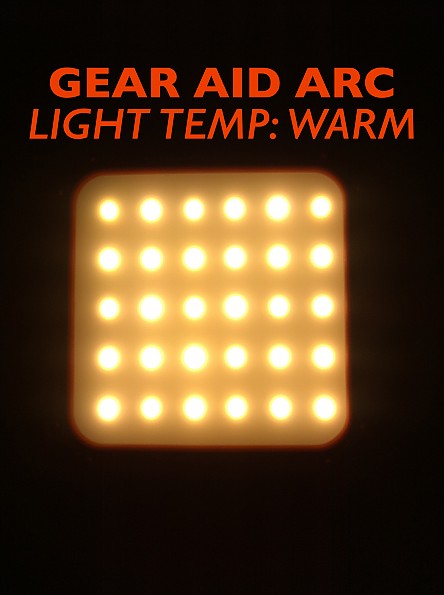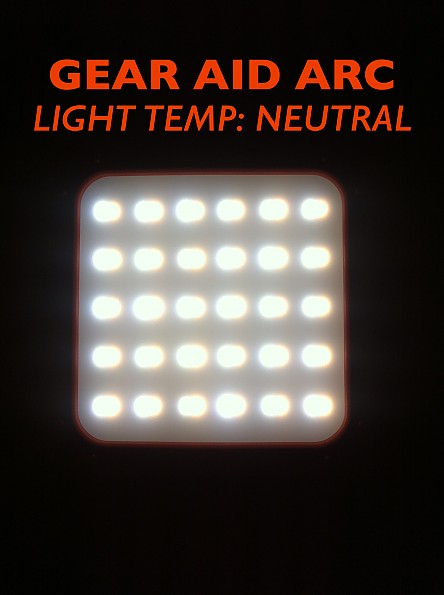 While I appreciate that it always turns on at the lowest setting, I noticed when getting ready for bed and especially when waking in the middle of the night, the low setting is still too bright. Perhaps I am sensitive to light around the sleeping hours, but I would prefer to use a red light source when nature calls in the middle of the night and I have to get out of the tent and into the woods.
The low setting for this was just too much power for my half-awake eyes and actually awoke my wife as well. I think either a red light or lower beam option would be a nice touch for when minimal light is better suited.
The last and potentially life-saving mode is the SOS mode. This is accessible by holding down the color temp button for three seconds. The light then blasts a steady SOS signal of three short, three long, and three short flashes, and continues to do so until turned off (or runs out of battery, which ever happens first). This is a nice feature to have when the circumstance calls for it.
Of course, the SOS light signal can be done manually with any light source by holding a hand in front of the light or turning the light on and off in SOS succession. However, having the light do work for you means you can do other potentially life-saving tasks in these situations. 
Construction & Durability
The best way to sum up this light is that it is a little tank. What I mean is that it has a strong armor-like build that has withstood drops, bangs, bumps, and gunshots (okay, I didn't really shoot it). It's not "unbreakable" but you'd almost have to try to break it. The exterior is made of a combination of hard plastic and what I believe is a powder coated steel, so it is very unlikely for the ARC to accidentally break.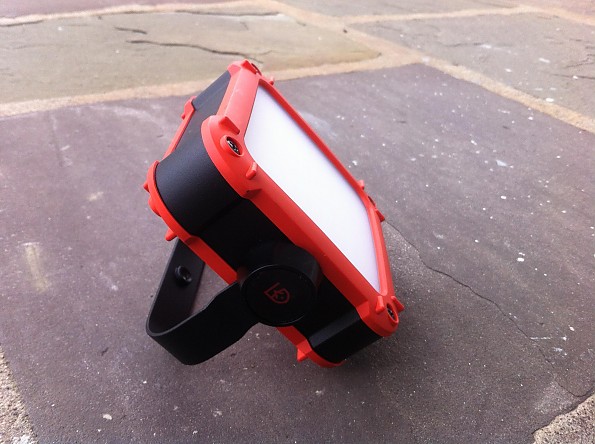 Packaging
I appreciate the simple packaging involved with the ARC. You'll notice it's not encased in layers of impossible to open plastic. Simple paperboard that is easy to break down and dispose of.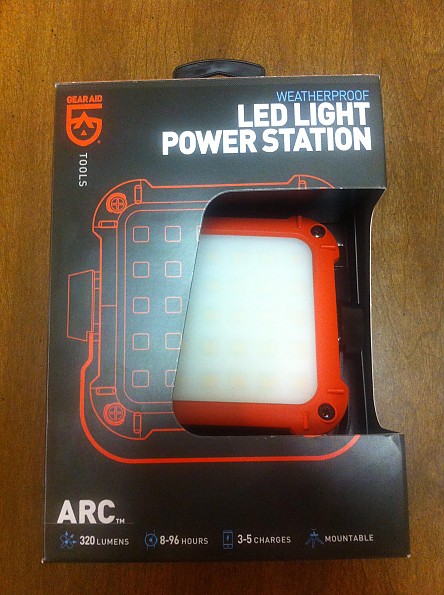 Best For/Conclusion: 
The ARC is very useful and has a number of well-executed features. Although heavy as a light, the power source function shouldn't be overlooked. While I don't suspect any ultralight backpacker is going to carry this, I do see lots of useful applications both on the trail, at the campsite, and around the home.
The ARC is best suited for car camping, especially if one doesn't own or doesn't want to use a kerosene lantern, which tend to be fragile and emit a lot of heat. The ARC is safer to use, especially with little kids around, and much quieter (i.e. no noise at all). The lantern bag does a really nice job at diffusing the light, which is always nice around a shared campsite. As a bonus, having a reliable power source on hand is at the very least a nice feature, and potentially life-saving.
Around the home, this light is great at illuminating dark corners or crevasses (i.e. under the sink, in the basement, in that creepy corner of the attic, etc.). It is also nice to have on hand during power outages, as it can fill a room with light and you don't have to huddle around a dying candle.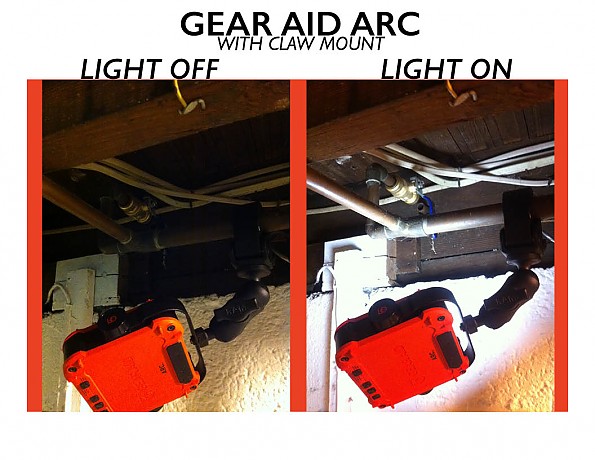 Here's a snapshot of how this light can come in handy around the house. I had a frozen water pipe thaw and crack, thus causing water leaking issues in a dark corner of the basement. A headlamp could have done the trick, but not nearly as well. I clamped the mount to a pipe nearby and light the entire area, helping me see the problem and allowing me to fix the issue quickly. 
Acknowledgment: Many thanks to both Trailspace and Gear Aid for the opportunity to test the ARC.
Source: received for testing via the Trailspace Review Corps (Sample provided by Gear Aid for testing and review)

You May Like
Recently on Trailspace