GoLite Jam

GoLite is no longer in business, and the Jam has been discontinued. If you're looking for something new, check out the best weekend packs for 2023.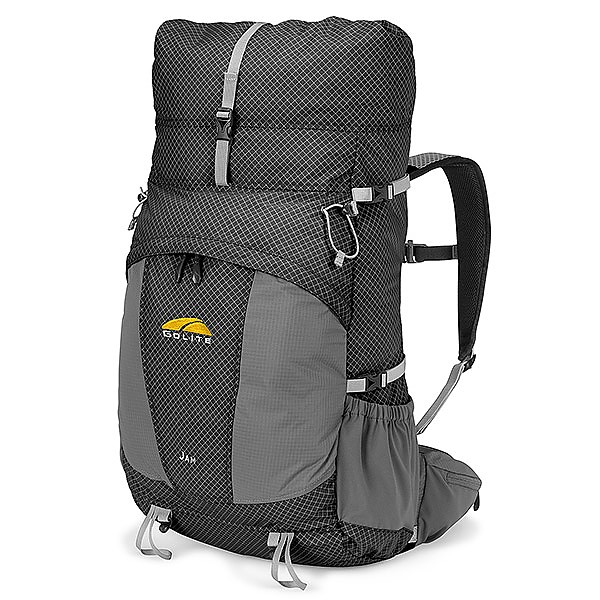 First of all, you must know that the rating of 5 stars is given in consideration of what exactly this backpack is for: ultralight backpacking. If you are going to carry a large propane stove, a Quallofill sleeping bag, a 4-man tent, and an extra pair of boots, then this is not the pack for you. However, if you have trimmed your pack down to the barest essentials for an overnight, or longer, in the woods, then this pack just might be your ticket.
The volume of this pack holds enough gear for several days of ultralight hiking. The Dyneema material is ABSOLUTELY as strong as it claims to be. The only conceivable con to this bag is that it only has 1 main pocket. There are 2 on the side for water bottles, but I usually use on of those to hold my TarpTent Cloudburst. If you're looking for a lightweight, bombproof pack, you should consider this pack.
Design: rucksack
Size: 2700 cu. in.
Number of Pockets: 2 water bottle, 1 storage
Max. Load Carried: 30 lbs.
Height of Owner: 6'3"
Price Paid: $85

I love this pack, I got mine for $60 on closeout.  I just saved myself nearly 2lbs.  It rides great, has an excellent compression system, hold all of my gear easily.
The fabric is outstanding, it's super durable, and very abrasion resistant.  With sensible packing, the single main pocket is just right to hold 3 to 5 days worth of equipment, and after a few shakedowns you know how to pack to access your primary needs fast and easy.
This is not a pack for those folks that want to carry 40+ lbs worth of gear, this is a pack for people who have gotten their loads down to 30 lbs or less.
If you have gotten your pack down to 30 lbs or less, then this may be the pack for you if you want a pack that is light, has enough features to function just fine, and is bombproof.  Sure I can get a lighter pack that can accomplish the same thing, but I'm going to spend over $100 more for it, and the materials aren't going to be nearly as strong and durable as the fabrics I get in this GoLite pack.  
Is this the best pack on the market for its intended purpose?  Certainly not, is it the best bang for the buck for its intended purpose? I think it's darn close if it's not.
Price Paid: $60

I've owned this pack for 3 years and used it on around 10 backpacking trips and several hiking trips, as well as taking to to Mexico and Colorado traveling. I've taken it to the top of two mountains and gone climbing and canoeing with it. I recommend it highly to anyone who is a serious ultra-light backpacker and who needs a pack that takes a beating.
My base pack weight is usually around 12 pounds, around with food, water etc. It fits well to the back if you don't pack anything too pokey right against your back. The hip belt is not padded, but I find it comfortable and totally sufficient. The shoulder straps are comfortable if you wear a shirt, but need need some extra padding if you like to take your clothes off in the hot weather.
The bombproof dyneema fabric is great. I treat my gear rough, but it only has two small holes: one melt-hole from a spark, one small laceration from who knows what (I suspect by buddy's crampons). The cuts have been there for several months and haven't gotten any larger.
One downside: the side mesh pockets are not large enough for Nalgene water bottles. I don't use Nalgenes, but I'd prefer them to be larger anyway to fit more easy access stuff.
Also, this backpack is best used mostly full. If you pack only a few energy bars, a water bottle, and a jacket, no matter how tight you cinch the straps it's going to shake around on you.
Design: top loading internal
Number of Pockets: 3
Max. Load Carried: 30 lbs
Height of Owner: 6'2"
Price Paid: $90

Buy only if you travel light and are a minimalist. The pack does hold up to abuse and rough use.
Pros
Holds a variety of gear with options on placement.
Cons
A little pricey for what you are getting.
I have used this pack in a variety of situations. I have dropped the pack, it has been drenched and frozen and protected my gear well. It has one main compartment (interior) and an exterior compartment. Two side holders for water bottles and loops for other gear. If you use this pack for light packing it is hard to go wrong.
Source: bought it new
Price Paid: $100

I am not sure if this page is for the new "Jam" or the original. the progression of the Jam pack goes like this.
Original pack called the Jam, weighed 22 oz, nice pack.
Second generation called the Jam2, weighed 26 oz, a few more features and still a nice pack.
Third generation (current) called the Jam (?!?, why not the Jam 3, Jam cubed, Jam On etc.) weighs 31 oz! Are you kidding me?! A frameless pack that weighs 2 lbs! You can get some metal framed packs (Osprey Exos 46) that only weigh a few more ounces, have waaaay more features and is more comfortable.
GoLite appears to be going Heavy.
I expect this from a company like The North Face since they were bought out by Vanity Fair, but GoLite? Come on.
Design: Framless back pack
Max. Load Carried: 18
Height of Owner: 5' 10"
Price Paid: $99

Your Review
You May Like
Specs
Men's
Price
MSRP: $150.00
Historic Range: $59.45-$150.00
Reviewers Paid: $60.00-$100.00

Women's
Price
MSRP: $150.00
Historic Range: $49.99-$150.00

Recently on Trailspace