GoLite Men's Jam2

Top 50 in men's Overnight Packs
GoLite is no longer in business, and the Men's Jam2 has been discontinued. If you're looking for something new, check out the best overnight packs for 2020.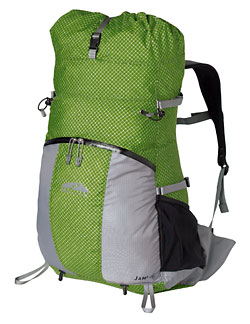 Use: light and ultra-light backpacking, fastpacking, alpinism, winter day trips, rock and ice climbing, summit bids
The Jam2 is one of three packs in GoLite's Ultra Series, designed for the core ultra-light customer. The Ultra packs (Ion, Jam2, and Pinnacle) offer maximum comfort at minimum weight for minimalist fastpackers, thru-hikers, backpackers, peak baggers, climbers, travelers, and day hikers.
An upgraded version of GoLite's Jam Pack, the Jam2 is now available in men's and women's versions and has increased capacity. An ultra-light, multi-day pack, the Jam2 is designed for light and ultra-light backpacking, fastpacking, alpinism, winter day trips, rock and ice climbing, and summit bids. It features a roomy front pocket with watertight zipper, foam back pad, cord lock to secure the top, top compression strap, two angled side mesh pockets, ice ax loops, two side compression straps, a haul loop, and 3-liter hydration compatibility.
The Jam2 uses GoLite's ComPacktor system, which lets you reduce the pack's volume through two fixed compression anchor clips that convert a multi-day pack into a day-tripper.
Specs
Price
MSRP: $100.00
Historic Range: $56.97-$125.00
Reviewers Paid: $24.99-$100.00

Women's
available in Small and Medium

- Capacity
2800 cu in, compacts to 1100 cu in

- Weight
1 lb 3 oz (540 g)

Men's
available in Medium and Large

- Capacity
3000 cu in, compacts to 1300 cu in

- Weight
1 lb 5 oz (600 g)

Reviews
7

reviews

5-star:

3

4-star:

3

3-star:

1

2-star:

0

1-star:

0
Superb pack for lighter warm-weather and "shoulder-season" traveling. (Not the bag I use for winter camping, when I use my 0-degree synthetic bag, which would nearly fill this pack on its own.)
Pros
Lightweight design
Intelligent design (no extra zippers or clips)
Durable material
Cons
Too small to fit my pet Yak
Just kidding about the Yak. I don't have a pet Yak.
This is my favorite pack for backpacking from April through Columbus Day in southern New England. I fit everything I need — 3-season or summer sleeping bag, sleeping pad, minimal shelter, clothing needs, cooking gear, food, safety equipment and water/water treatment setup.
I start by "unrolling" my sleeping pad inside the main compartment to form a large Yodel-like "frame," and then I stuff sleeping bag (down so it compresses well) and cooking gear (I use a tiny stove and small compressed gas canisters so I don't have to worry about leaks) down in bottom and middle, then clothing and food, topped off with shelter (almost always a silnylon tarp and a silnylon "bivy") and a small book. Safety gear, knife, and water treatment supplies go in outside pocket, my whistle is tied to a should strap (in front), and I carry two bottles of water.
I also carry two trekking poles (sometimes for walking, always for setting up the tarp), which I can carry or slip into the bottom tool loops on the pack, and lash with velcro straps (provided).
Carries like a charm. If I'm concerned about having quick access to anything (like a bell or air horn for bears, or a camera) I would also carry a small fanny pack, backwards, accessible from my front. (The Jam does not have pockets on the belt, like many of the heavier packs do.)
I liked my Jam so much, I bought one for each of my three daughters. 
Source: bought it new
Price Paid: Don't remember

Back in May of 2010 was looking for a daypack and the clerk at the store told me about this pack. At the time this was a leftover from 2008 -2009. Didn't hesitate to grab this as I know a lot of people who have this brand of pack and of course the price! Pack was a Large version.
Pros
Lightweight
Easy to load
Converts with just hook clips from a daypack to a backpack
Material is rugged
Does not feel like it's on my back it so lightweight, even with my gear.
Cons
Missing a single flap to cover the top which would increase capacity by 200-300L versus rolling material to cover.
The pack serves double duty as it's my padding with my 3/4 self-inflating sleeping pad, which is also part of the pack's frame!
Fits great and works with all my lightweight gear as my Base is at 7 lb. Max load is 18-22 lbs for 3-5 days, add an extra 2.2 lbs if carrying a BV350 bear canister when required in some Nat'l Parks.
Source: bought it new
Price Paid: $24.99

I have used this backpack for awhile now. I have been on three good trips with it and had no problems. I don't use a Camelbak so I like the accessibility of the pockets. It also pretty easily held everything I needed it to.
Number of Pockets: 6
Max. Load Carried: 55 lbs.
Height of Owner: 6' 4''

I bought this pack having used several GoLite products before, having a solid understanding of how to use a frameless pack, and having a solid lightweight kit to stuff inside it.
The purpose of the pack was to replace a long-retired frameless climbing rucksack that I had sewed myself.
The Jam 2 is a very simple, single main compartment design, with a roll-top closure (thank God, no top lid), with a single, reasonably large front pocket for small essentials.
I did several moderately long day hikes (20-25 miles, 4k-6k vertical feet) in preparation for a wonderful hike of the John Muir Trail (220 miles in 11 days). Pack weight was 10 pounds base weight, plus food, fuel, and water, so in the end I carried 20 pounds several times.
The pack works very well given what it is. If you know how to pack a frameless pack, then you'll probably like it, if your load isn't too heavy. The design is comfortable, reasonably simple, and straightforward.
My criticisms are fairly minor.
1.) What on earth is there a 'hydration sleeve' inside the pack? This is for ultalight backpacking; if you can't remove your water bottle quickly then your load is too heavy. I sliced this stupid sleeve out. It adds bulk and weight.
2.) Ice axe attachments are rather extraneous. I'm currently contemplating slicing them off. They would be fine for an ultralight axe, but I've only got two ice tools which would totally overwhelm the pack. Plus I can't carry crampons on the pack.
3.) Compression straps are nice, and useful, but a bit short to lash a foam pad to the pack and of course add complexity and weight.
4.) I've got mixed feelings on the front pocket and mesh side pockets. The side pockets are too small for a quart water bottle when the pack is full, so I cut them off. The front pocket is nice and useful, but also adds a significant amount of weight to the pack. A smaller silnylon pocket on the inside of the pack would serve the same purpose and be lighter.
I've put about 15 days of use on the pack and see no signs of wear. I've been quite happy with the durability, but under further use the lightweight nature of the pack may become apparent.
Design quibbles aside, this is a great, cheap, light, durable backpacking pack that's accessible enough to provide GoLite a profit margin while still being useful to the hardcore customer. Great product.

Design: Frameless, lid-less roll-top rucksack
Size: ~3000 cubic inches
Number of Pockets: 1
Max. Load Carried: 25lbs
Height of Owner: 6'3"
Price Paid: $100

When I first got this pack I sang its praises, but as I soon found out on my thru-hike of the Pacific Crest Trail in 2008 I found it disintegrating. The stitching on the hipbelt wings, where they are attached to the main body of the pack, have been constantly unraveling (I have sewed them twice) and I have found the bottom of the pack to tear quite easily, even on snow. I have also found unraveling seams along the side stretch pockets but I do access these pockets frequently for my water bottle, maps, and data book. After only 800 PCT miles I am going to a ULA Conduit pack.
I am an ultra light enthusiast (on the PCT I typically carry 15 - 22 lbs.) and never carry more than 25 lbs.(even throughout the Sierras) so the Jam2 has not been overweighted or overloaded. The minimalist design, wt. and combination of other features are what initially attracted me to this pack, although I would like to see UL hipbelt pockets added.
I found this pack to be quite comfortable on my back with my slightly inflated folded 3/4 Therm-a-rest ProLite 3 sleeping pad inserted into the water bladder pocket and the original foam framesheet removed (did not do much for the pack anyway).
As I stated already, I am an UL'er so I understand the limitations of UL packs. I believe I treat my gear well.
But, I would like to see a pack last longer than this one has.
Price Paid: $100

I got this pack not for ultralight backpacking, but for a 9-day trip to Costa Rica. I didn't need to bring too much, but it wasn't going to fit in a daypack.
It was a tough choice at first because there were other packs with more organizational pockets and "features", but in the end I went for this and did not regret it. For traveling, it does lack some extra organizational pockets, or dividers within the voluminous single outside pocket, but I didn't really find myself missing them too much. The exterior mesh pockets are great for guidebooks or 2 liter water bottles.
When I first got this pack, the appearance was a little underwhelming, because of its minimalist design. But I didn't miss anything that would be on a normal frame or travel pack, such as a framesheet or a padded hipbelt.
As I got to know this pack, I loved that it really made me think about packing light, with a critical eye towards how much to pack. The tactile feel of the pack is incredible. I was slightly exhilarated every time I had to open up the watertight main zipper! The fabric is light, like a mini-tent. And it looks cool too (go with the grease color).
I had about 17 pounds of gear in my pack, and it was fairly comfortable. I did not seem to need the waist strap too much at this weight. We did a creek hike, and I found it to be stable when rock-hopping with all my gear. The shoulder straps are a little thin, and left a little to be desired when I was hiking without a shirt.
I'm excited to try this pack out on some lightweight weekend backpacking trips in the future. Also, I think it has a lot of potential as a stand-in for the traditional bike messenger bag.
Design: Top Loading
Size: Large - 3300 cubic inches
Max. Load Carried: 17 pounds
Height of Owner: 5' 11" (19.5" torso)
Price Paid: $90 from Campmor

This is a simple no frills backpack. It has a large rear pocket and a side mesh pocket for water bottles. It also is easily compressed for smaller loads.
Design: rucksack
Size: 3200ci
Number of Pockets: 2
Max. Load Carried: 25lbs
Height of Owner: 6'1"
Price Paid: $80


All Jam2 versions
In addition to the 7 men's reviews above, there are 2 reviews for other versions of the Jam2. Read all reviews »
You May Like
Recently on Trailspace