GoLite Lite-Speed

GoLite is no longer in business, and the Lite-Speed has been discontinued. If you're looking for something new, check out the best overnight packs for 2023.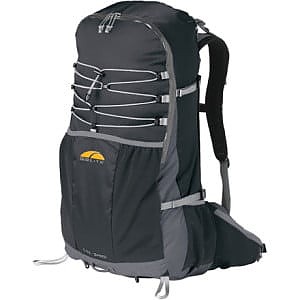 My son and I started backpacking, and I bought a nice Kelty backpack. It could hold a lot, so I put a lot in it. Darn near killed myself on a couple of 1 nighters. Started reading up on backpacking and was very interested in going light. But how would I ever survive without that extra pair of jeans, and light, medium, and heavyweight shirts, and 2 types of fleece, etc.
I found this bag used on eBay for about half the price of a new one. Figured I'd give it a shot. Did a one nighter without all the extra stuff, and all I could say to my son was, "This is the best thing ever".
This bag doesn't have all the bells and whistles that the Kelty did, but I realized that I didn't need them in the first place. If I had to say anything negative at all, it would be that I miss being able to get to the bottom of the bag from the outside, but I've learned to live with that.
If you want to backpack, but don't enjoy it that much because of your pack weight, get this bag, or one of the others in this line. There's always a few at a good price on eBay (unless you just have to have a new one).
Bottom line - Get one of these bags which will help you cut back and be more weight conscious. You may not become an Ultralight purist (I'm not), but the lower weight will help you enjoy the experience that much more, which will help you get out more which is the point.
Design: Top Loading
Size: 3200 cu in (+ or -)
Max. Load Carried: 17 pounds
Height of Owner: 6' 0"
Price Paid: About $75 or so on EBay

One of the best packs I've ever owned. It is very light at 2lb 10oz and not very bulky.
Despite having only 3000 cu in capacity seems to pack much more. It is very comfortable and the load distributes very well. Shoulder straps are thin but very comfortable and not causing my shoulders to scream enough. I typically will carry up 20 lb and 4 days 3 nights trip.
Fabric seems to be waterproof or at least water repellant and nothing got wet inside in a drizzle.
I personally do not like hydration systems. I think they are useless features but this pack has hydration sleeve if anybody cares. Bungee cords allow to clip on additional gear.
I also like streamline shape of this pack so I don't have to worry about going through narrow spaces and ripping the pack.
The only gripe I have is that small top packet zipper came partially unglued but this is a minor complaint.
Overall love it.
Your Review
You May Like
The Lite-Speed is the largest of three fast-and-light packs in GoLite's Adrenaline Series (not just light, fast and light). The Adrenaline packs (Rush, VO24, and Lite-Speed) are designed for performance during fast-and-light sports like adventure racing and ultra-marathons, but with broad functionality. All are 3-liter hydration-compatible.
The Lite-Speed is designed for expedition adventure racing, fast packing, lightweight backpacking, and adventure travel. It features an adjustable webbing hip belt, two bellowed mesh pockets with zipper closures, adjustable load lifter straps, tow loop, top zippered security compartment, two side compression straps, whistle on the adjustable sternum strap, rear bungee cord web with cord lock and hook to secure and attach gear, large front mesh pocket, haul loop, two side mesh pockets, and a large front mesh pocket, frame sheet with one adjustable aluminum stay.
The Lite-Speed uses GoLite's ComPacktor system, which lets you reduce the pack's volume through two fixed compression anchor clips that convert a multi-day pack into a day-tripper.
Specs
Men's
Price
MSRP: $150.00
Historic Range: $49.00-$149.95

Use
expedition adventure racing, fast packing, lightweight backpacking, adventure travel

Women's
available in Small and Medium

- Capacity
2600 cu in, compacts to 1000 cu in

- Weight
2 lb 5 oz (1050 g)

Men's
available in Medium and Large

- Capacity
3000 cu in, compacts to 1100 cu in

- Weight
2 lb 7 oz (1110 g)

Women's
Price
MSRP: $150.00
Historic Range: $22.95-$150.00

Use
expedition adventure racing, fast packing, lightweight backpacking, adventure travel

Women's
available in Small and Medium

- Capacity
2600 cu in, compacts to 1000 cu in

- Weight
2 lb 5 oz (1050 g)

Men's
available in Medium and Large

- Capacity
3000 cu in, compacts to 1100 cu in

- Weight
2 lb 7 oz (1110 g)