Grand Shelters IceBox Igloo Tool
Reviews
An ingenious system that can be used to build igloos…
Rating:


Source: received it as a personal gift

Summary
An ingenious system that can be used to build igloos for up to five happy campers. Works as advertised, but using it efficiently requires a lot of experience, especially with difficult snow.
Pros
Well thought-out design, with a few improvements over the years
Thorough and honest user's manual
Customer service
Cons
It's still a challenge to build an igloo
Hard to maintain the right shape
Requires practice and experience to work efficiently
I don't recall when I first heard about the Icebox, but I do recall being pretty interested when an engineering-minded neighbor back in Vermont bought one. He built one igloo up in the fields behind his house, then promptly stashed the Icebox in his garage and more or less forgot about it. When he heard we were moving to Norway, he pulled it out and generously gave it to us as a going away present, figuring we'd have more use for it than he ever would.
That was almost 17 years ago, and in all that time I've completed four igloos with a couple-three more incomplete efforts, mostly up in Estenstadmarka, the city forest out my back door. I finished one a little more than a week ago, but the one before that was way back in 2010. I'll admit that winter camping isn't really my thing, especially here in Norway where huts, often little used in winter, offer creature comfort. But in concept igloos are definitely appealing, there's a lot of satisfaction in finally capping it off and crawling inside to experience the relative warmth and diffuse, muted light. And they sure make for cool night photos!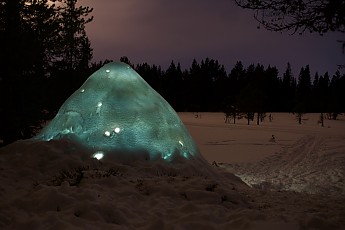 The Icebox promises to reduce the skill level needed to build an igloo and offers the possibility of building with any kind of snow. But that doesn't mean that it is completely unskilled, or easy, and it doesn't change the fact that some kinds of snow are much easier to build with than others.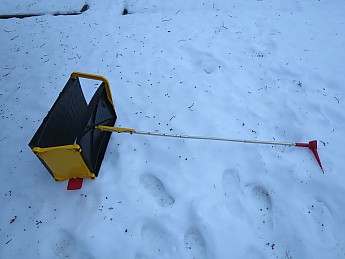 How it Works
It's basically a movable mold or form that you pack with snow to form rectangular block, curved to follow the curve of the igloo wall and open on bottom and top and one end so that each block can be packed against the previous one. It is guided by a three-part telescoping pole that attaches via ball and socket joints on the inside of the form on one end and a stake anchored in the center of the igloo floor on the other.
The length of the pole is adjusted for each level of the igloo so that it takes a calibrated, parabolic shape as you work upwards. Different combinations of pole lengths allow for building igloos with diameters ranging from 7 to 11 feet, in one-foot increments, accommodating from one to five people. I have built all 8-or 9-footers and attempted one 10-footer.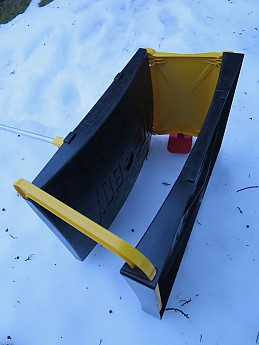 A stiff U-bracket (yellow in the photos) keeps the open end from opening up and slides up so that, in combination with a lever on the end of the pole (yellow and red), the form can be partially opened up to release each block. The red shoe on the closed end helps slide the from into position for each block. Ingenious, but not necessarily easy-peasy.
Weight and Dimensions
The complete system weighs in at 5.2 lb (2360 g) and fold downs to a 25 x 14 inch (65x 36 cm) package, held together by four fast clips and two straps that can be used to anchor it to a pack. That puts at the lighter end of the weight range of a winter tent, but there may be "some accessories required" for comfortable living in an igloo, such as a ground cloth or the igloo door sold by Grand Shelters. The poles are aluminum with steel spring buttons, the rest a tough plastic that has held up well, excepting the injury noted below.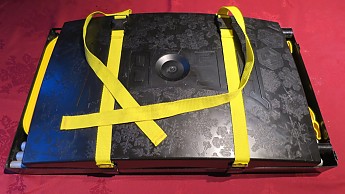 The Hard Part
Igloo success depends on two things: the snow and the user's ability to maintain the right shape.
Fresh snow at temperatures just below freezing packs well, but as it gets older the snow becomes more sugary and at colder temps it is less sticky, both making it harder to get the snow to sinter into a firm block. I haven't worked at above freezing temperatures, when the snow might be nice and sticky, but I'm not sure how well it would hold together in the long run.
The instruction manual comes with a full page of tips on working with difficult snow—it's all about feeling out the right amount of pressure to get the snow to stick together without overdoing it. Maybe due to the Norwegian snow climate, I've done a lot more building with less-than ideal snow rather than the primo stuff, and the main lesson is that it just takes more time and patience, to pack the snow, sometimes to wait for it to set up, and to deal with the occasional cracked or collapsed block.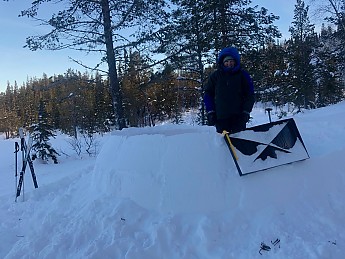 Maintaining shape begins with getting the angle of the first course right. The mold has to be canted inward, and it's all too easy to lose the angle as you work around the circle. The first course begins with a three-block ramp, and as you work up you change the pole length, on some courses by as much as 4 inches, in the middle of the ramp. On my older model Icebox you do this in one step, but newer models now have intermediate positions to make this more gradual. The pivot stake can also pull out of the ground as you are positioning the form. And the form is curved more for the bigger diameter base of the igloo, so that it doesn't match the diameter up closer to the top.
All this means that you can wander off the ideal angle so that you end up struggling to get the form in a good position for your next block, often with gaps on the inside that have to be filled before you can really start packing. As the blocks lean in more toward the top, you take off the outside panel so that you can pack from the outside, but it's more critical than every the the block is set up and bonded to the previous one.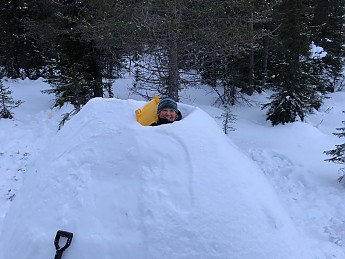 When you finally fill in the last block, the result is bomber—I've been able to stand on top of every igloo that I have finished.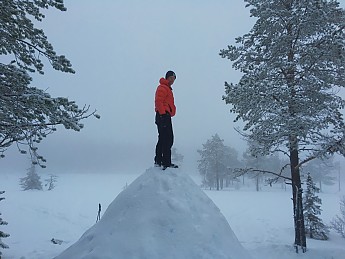 No Substitute for Experience
I'm sure all of this gets better with experience, but unless conditions are ideal I wouldn't count on moving into your first (or maybe second or third) igloo on your first night out, at least unless packing conditions are ideal. In my case I've mostly had to build solo, which also takes extra time, and I have spread the process out over a couple of days to over a week in the most recent effort. I'm sure two hard-working, experienced builders should be able to finish in some reasonable amount of time, depending very much on the snow, but I'm not there yet.
Somewhere along the line, I broke off a corner of the inner panel so that it doesn't hold and guide the U-bracket properly.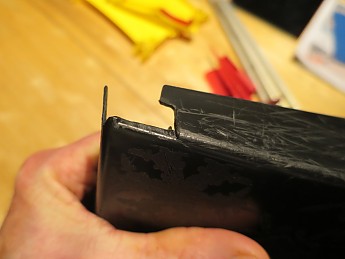 That made building this last igloo even more difficult, with a somewhat misshapen result.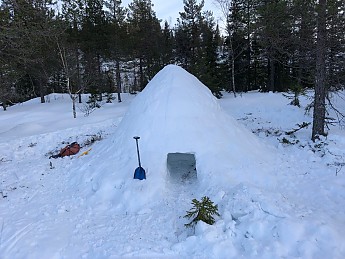 Igloo Ed at Grand Shelters attributes this to an old-style U-bracket—the design has been changed to prevent this from happening. I just ordered a new inner panel for a mere $20 (but not including $hipping to Norway) and Igloo Ed said he would add in a new U-bracket for free. Grand Shelters gets an A+ for customer service and keeping prices on replacement parts reasonable.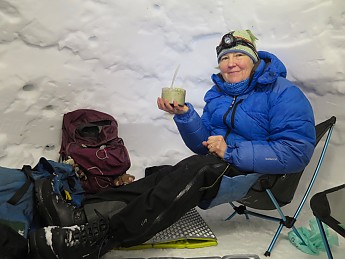 I have slept a night or two in most of the igloos I have built, usually with my wife, but as with building I haven't accumulated the needed experience to optimize the comfort level. With a below floor level entrance you end up feeling pretty well sealed off from the outside, for both better (wind) and worse (what's going on out there?), and the walls can get damp or even downright wet as it warms up inside.
The Last Word
The Icebox Igloo tool works as advertised. It is possible, but not easy, to put up an igloo using just about any kind of snow, and the builder's manual isn't shy about informing you about some of the difficulties you might encounter along the way. A more dedicated user than myself should, with some practice, get good enough with it to reliably build a base camp, but I don't see it ever being practical for one-night stands.
After this most recent effort I've put it on my agenda to recruit a friend or two to help me build a 10- or 11-footer somewhere up in Trollheimen, our nearest mountains, in early winter so that we can use it as a backcountry skiing base for the rest of the winter. Then maybe all this practice will finally pay off.
Experience
Four completed 8- and 9-foot igloos over 17 years, plus a few incomplete, one or two nights in each completed igloo, at outside temperatures down to single digits F.
Where to Buy
Help support this site by making your next gear purchase through one of the links above. Click a link, buy what you need, and the seller will contribute a portion of the purchase price to support Trailspace's independent gear reviews.
MSRP:
$189.95

The Grand Shelters IceBox Igloo Tool is not available from the stores we monitor. It was last seen September 21, 2011 at REI.
Recently on Trailspace