Granite Gear Air Zippditty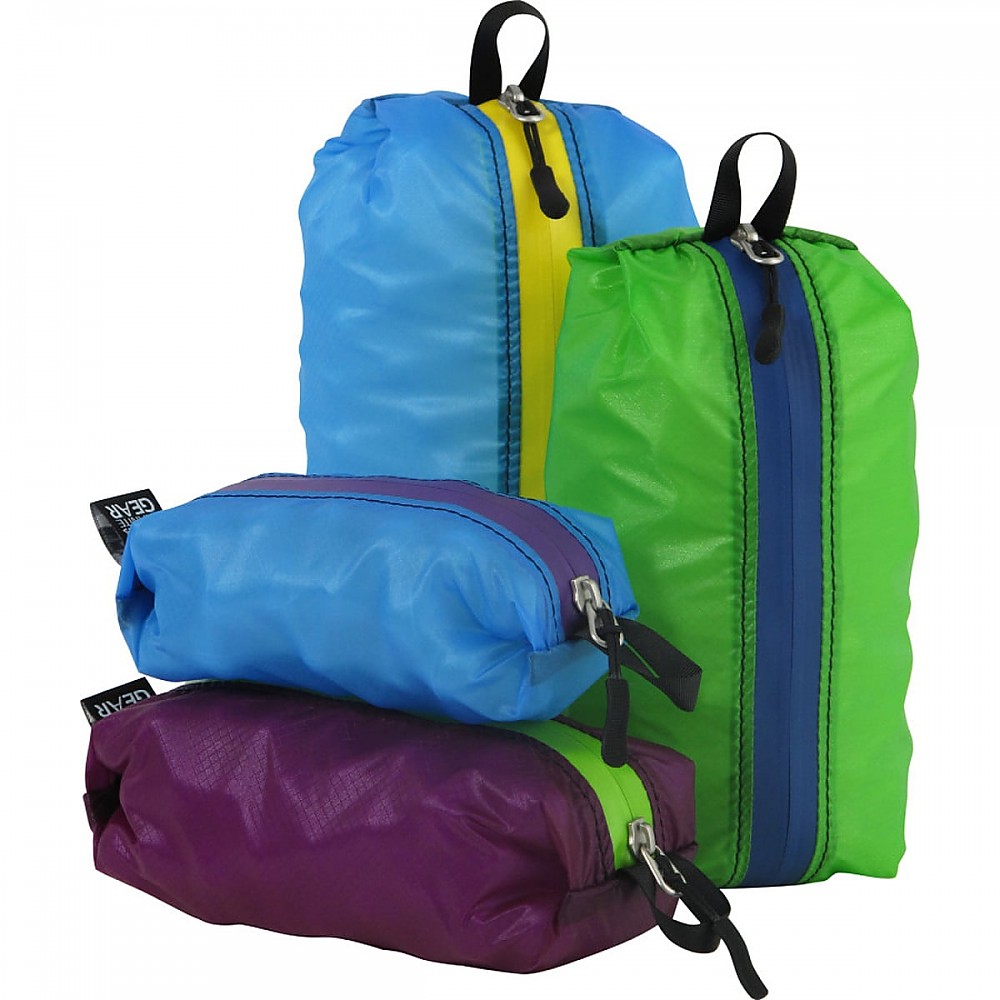 Version reviewed: .6L
Just the right size (.6L) for the little odds and ends you want to keep in one place when hiking, camping, backpacking, or any other outdoor activity. Well-made bags in high visibility colors, great for small first aid kits, fire starting kits, snacks, electronics, and more. A perfect way to bring some order to your backcountry existence.
Pros
Good design, good materials, and lifetime guarantee
Translucent fabric allows one to see contents
Strong zipper provides bag with structure (it arches)
Weather-resistant (silnylon fabric + weather-resistant zipper)
Bonus bag! (reusable packaging)
Cons
Weight could be lighter (but fine for most users)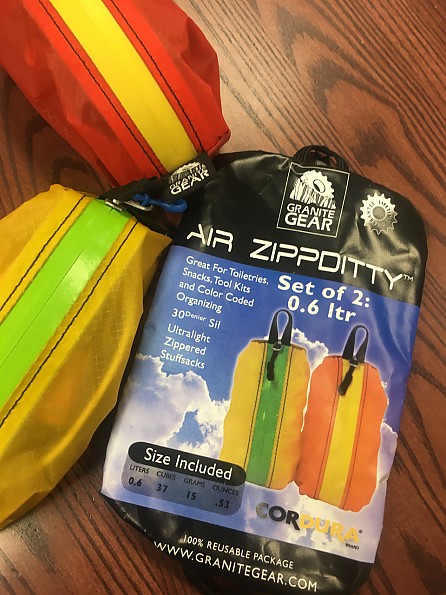 Multi-use Organization for the Outdoor Enthusiast
As any outdoor enthusiast knows, organization can save time, prevent loss, and bring peace of mind to one's outdoor experiences. Pieces of kit lost in the depths of a pack or scattered in the pack's "brain" only bring frustration. Where is the other battery? Where did my pocket knife go? Didn't I have another Clif bar? These are questions I've asked myself many a time.
Despite knowing the value of organization, I have at times hesitated to purchase gear for organization, relying instead on plastic bags or skipping it altogether in the name of saving weight or spending my money on other, more essential items. Happily, I changed my habits when I purchased these useful little pouches.
What You Get: Contents, Size, and Weight
Granite Gear's Air Zippditty (in other words, zippered ditty bags) stuff sacks come in an array of four sizes—.6L, 1L, 1.7L, and 2.4L—in bright colors. I purchased the .6L size for use when camping and backpacking, and two bags come as a set. This .6L size pouch features a flat bottom and an arched top that is given its shape by the springy, weather-resistant zipper.
The .6L pouch size weighs .5 oz/ 14 g (Granite Gear advertises .53 oz). Granite Gear lists the volume at .6L. At the short ends, the bag measures 2.25 in/5.7 cm and features a maximum height (mid-pouch) of the same measurement. Its length is 6.25 in/15.9 cm.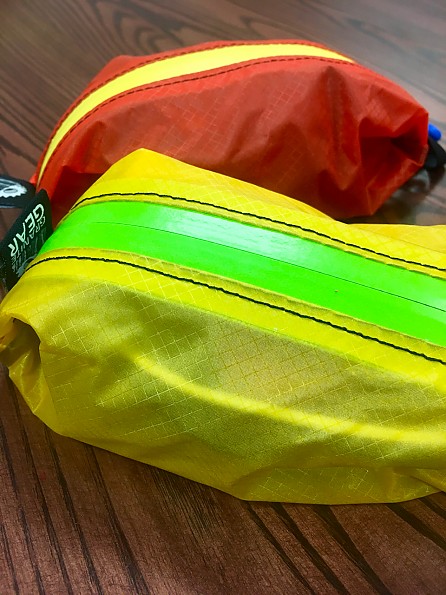 Immediately, I was favorably impressed by my purchase: the Air Zippditty pouches come in a reusable storage bag with a zippered, black mesh top and nylon bottom and two loops for attachment. While the nylon does not feel terribly robust, this bonus bag immediately found use on my trips (the only drawback to this bonus is that one must grow accustomed to the Air Zippditty label on the reverse side). Kudos to Granite Gear for choosing packaging with a purpose.
Materials and Features
The actual Air Zippditty bags themselves are made of lightweight, translucent 30 denier silnylon fabric. As Granite Gear notes in their product description, this allows one to see the contents of the bag through the material, a thoughtful touch you will appreciate mid-trip when wondering if you put that piece of gear back in the bag or if it's still out somewhere in your camp.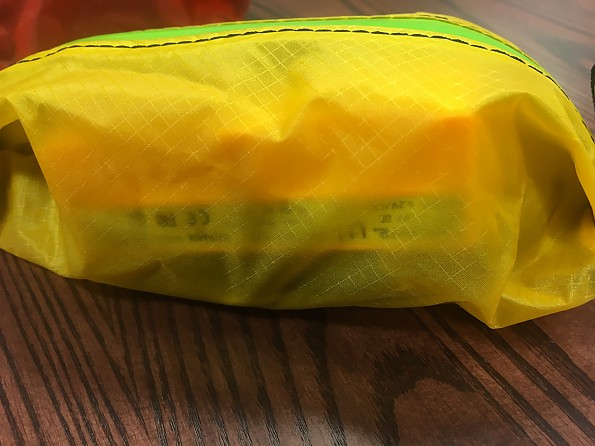 The zippers are robust and of a weather-resistant design, double-stitched on the inside, and provided with both zipper pull on the zipper itself as well as a loop for holding the bag during the zipping operation. The latter feature is also useful for hanging up or attaching the Air Zippditty to your backpack if you want it handy for quick access (as when I used it to hold snacks).
One potential drawback of the Air Zippditty is this robustness, which adds extra weight to the pouch. If you must have a stuff sack yet practice rigorous gram-shaving, you will find lighter stuff sacks on the market, notably some cuben fiber ones. I do attend to weight, but I found the .5 oz weight of these to be wholly acceptable for my purposes.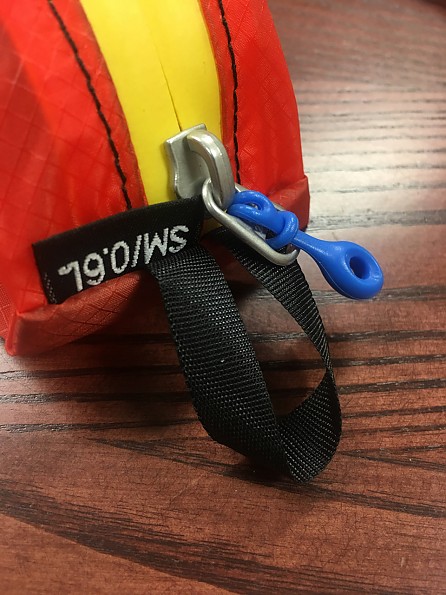 The silnylon fabric (nylon fabric impregnated with liquid silicone from both sides) is lightweight and durable. This fabric and the weather-resistant zipper offer a degree of weatherproofing for the pouches, too, though they are certainly not waterproof. Water does bead and roll off the pouches, though, and the zipper's construction discourages seepage. I wouldn't leave these out in a downpour or tempt fate by tossing them overboard during a canoe journey, but if you need to get to something when it is raining, it is nice to have a pouch that sheds water. This feature also allows easier cleanup when the pouches get dirty.
Use
In my case, I initially purchased it to house some of the electronic equipment I carry with me to document trips or field tests of gear. For this it works admirably well. The weather-resistance feature is a nice one for this particular use, and, as I discovered, for many more uses, too.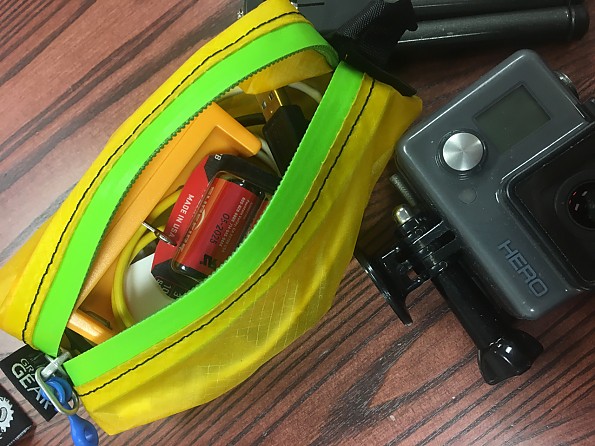 The Air Zippditty bags can be used for many things, and I tried out a number of other applications. I've already alluded to using them for snacks—clipped to the outside of my back, they offered easy access and just the right size. I did notice they had a tendency to swing from side to side, probably owing to their size or the location where I clipped them onto my pack (center of the back).
They also work well for a small toiletry or first aid kit. Again, the weather-resistance is a nice feature to keep first aid supplies dry. Equally useful were the Air Aippditty bags for fire craft: they easily housed a ferrocerium rod, lighter, and tinder when put to this use (and yes, once again the weather-resistant construction is nice when trying to keep moisture away from tinder.
Lastly, I used them as storage for cordage. I often carry extra cordage for use as a clothesline, to hang a bear bag, or to secure a tarp or tent that has extra tie-outs in the event of extreme weather.
At around USD $14 for two well-made pouches and a bonus storage bag, the .6L Air Zippditty bags are a good value. I would have no qualms buying them again, and indeed I may soon.
The Air Zippditty pouches appear to be stout, well-made pouches durable enough to handle a multitude of applications. Over the two months that I've been using the Air Zippditty bags, they have held up well (Granite Gear provides a lifetime guarantee, too). I have had no issues with zippers catching, seams coming undone, or fabric ripping. I will note that the weather-resistant zippers do provide more resistance to one's pull than do other zippers, but I found that this only made me more mindful of treating the zippers well—it discourages a rapid ripping motion, which is good practice anyway when your zipper is only a few inches long. 
I found I really appreciated the size and shape of the Air Zippditty bags. They tucked away neatly into the nooks and crannies of my pack (especially the curves of my pack's brain) or clipped conveniently onto the outside of my bag. Brightly colored, they were easy to spot in the gloomy interior of my pack, and the different colors allowed me to distinguish which bag I needed at a given moment. 
They also pleasantly surprised me by being more capacious than they appeared at first glance. I liked having the structure that the arched zippers gave these little pouches, but also the flexibility that the silnylon body gives when one is trying to stow oddly shaped items.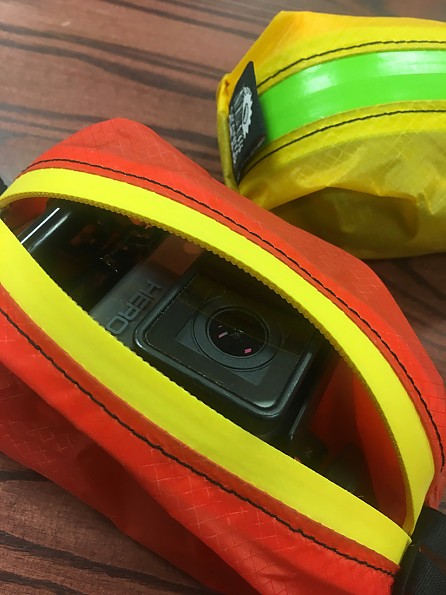 Overall, I absolutely loved having pieces of my gear stowed in these convenient pouches. No longer did I have to nurse the seal of zippered plastic bag; the Air Zippditty's zipper allowed me to pull it open and closed without issue. I could also grab the bag I needed and be about my business in efficient fashion without a protracted search for items that might have come out of a zippered plastic bag in the past, or which—in a moment of impatience—I might have tossed amid other objects in the brain of my pack. At .5 oz/14 g apiece, I found the convenience to be well worth the weight.
If you have been seeking a solution for stowing and organizing small pieces of gear, the Air Zipditty pouches are certainly worthy of your consideration. I suspect I will pick up another pair of these before long—some pieces of kit just deserve a proper home.
Source: bought it new
Price Paid: $14

Convenient bags for staying organized! I love the different colors for color-coding. Bags made of Sil nylon with waterproof zippers will protect the contents for hiking or backpacking.
Pros
Color coding for finding items
Lightweight, waterproof Sil nylon
Quailty, waterproof zippers
Hang or grab loop at one end
Shape expands in the middle
Thanks to the other Trailspace review, I ordered a set of the 1L and 2.4L Zippditty. Wow! I can only think how much more organized I can be on my next hike or backpacking trip. The 2.4L size promises to be especially useful for stowing gloves, a hat, various small cords (used in rigging my tarp), etc. The 1L seems just right for soaps, sun cream, eye glasses de-fogger (when needed), and toiletries.
The construction seems sturdy and well-designed. The sack expands in the middle as it is sewn at the ends. I am a long-time hiker and backpacker and don't know how I managed without these sacks.
The black, half-mesh sacks that the colored sacks come in will be useful in their own right—good to see through and for venting.
Source: bought it new
Price Paid: 1L size; $14.41. 2.4L size; $17.81.

Your Review
Where to Buy
Help support this site by making your next gear purchase through one of the links above. Click a link, buy what you need, and the seller will contribute a portion of the purchase price to support Trailspace's independent gear reviews.
You May Like
Specs
Price
Current Retail: $16.95-$36.95
Historic Range: $14.95-$36.95
Reviewers Paid: $14.00