Granite Gear Blaze AC 60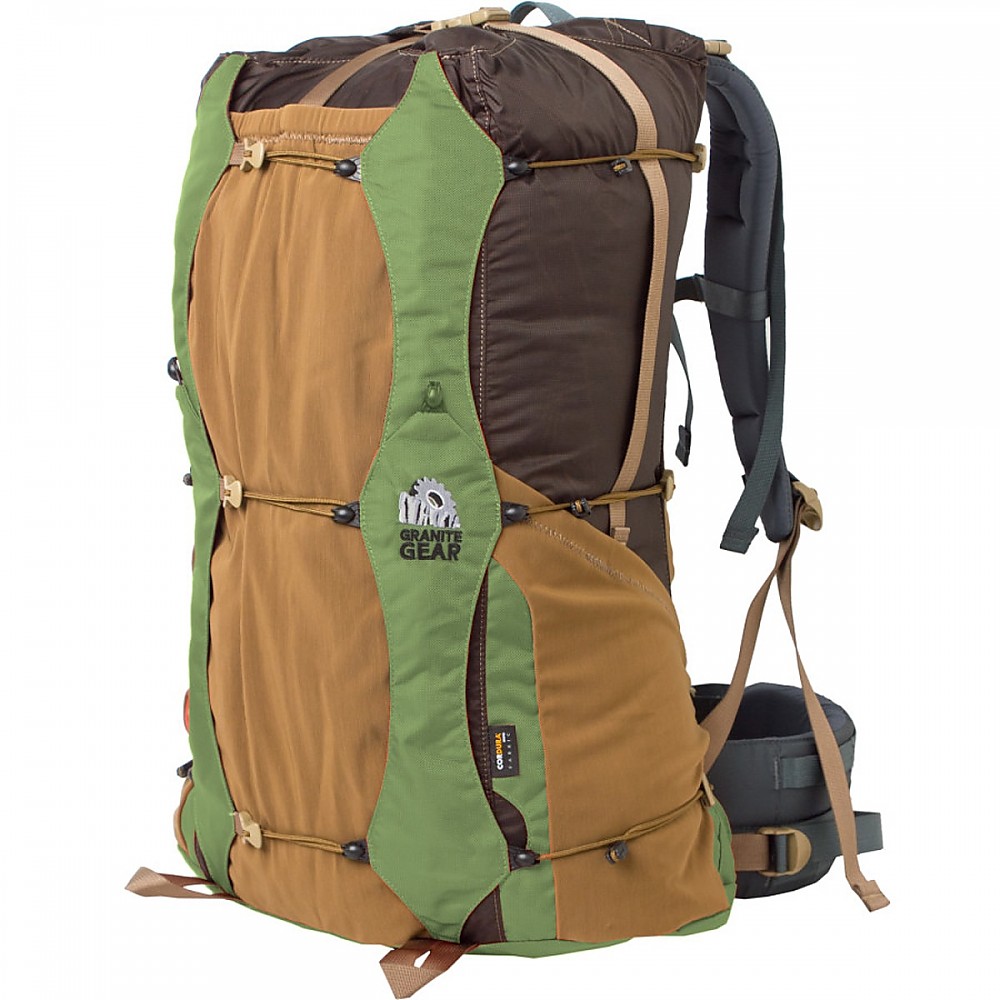 Lightweight roomy pack for weekend to weeklong use. Comfortable. Simple design.
Pros
Lightweight, but will carry 30-35lbs comfortably
Rasy access to daily needs
Cons
Would like a better lid option
I bought this in my quest to reduce overall pack weight. In the last year, it has proven tough, comfortable, and once I changed my packing procedure to fit this style, it has proven very trail-worthy. I have two packs, this one and a larger Deuter that I've used for about 7 years. I increasingly reach for the Blaze these days.
Unlike most of the backpacks I have owned, this style has no separate bottom compartment, or other outer zippered pockets.  In the past I used those compartments for sleeping bag and pad, puffy jacket or other things I wanted to grab easily. The Blaze is one big sack, with outside mesh panels, and required me to rearrange how I pack a bit.
Once I got used to the system, I really like the concept. Basically, all the gear I would need during the day goes in the outside pockets. The rest stays inside. I rarely if ever open up the pack to go inside until I get into camp. Stuff inside has stayed bone dry despite walking in stupid weather. But I kinda gravitate toward wild weather anyway.
It is not designed to hang a lot of stuff on the outside, but it does have options. My tent (a Tarptent Scarp1) is attached to one side. The line lock compression cords, are at their limit with the tent, but I can easily change that to longer cords later. Might swap out the side cords for a thin strap with quick release buckles, but so far the cords have worked just fine.  
I could attach the tent vertically on the back, but I use the big pocket for rain pants, rain jacket, extra hat, gloves, rain cover; it's amazing how much junk you can stuff in there. Sleeping bag and inflatable pad, clothing, food, and other items go inside of course. There is no option to attach anything (like a sleeping pad) horizontally on the bottom. One of the reasons why I went to an inflatable pad. Fold it flat and put it inside.
The top of the bag is a roll-top, a big sleeve that extends up, rolls over, and is held by two straps. After packing the bag, I will use those straps to cinch down my stove/lunch bag or my puffy parka on top. I can actually get a weekend's to a week's worth of gear in this thing and be quite comfortable.
I carry the same gear no matter what the length of the trip. The only thing that changes is food. It is hydration bladder compatible. Nice deep pocket will fit a Platy fine. My bite valve has a quick disconnect so I can connect a filter and fill the platy on trail without taking out of the pack.
There is a zippered lid that is sold separately. I have mixed feelings about it. The Deuter pack and other packs I have used have what's called a 'floating lid'. As the pack is filled, you are able to adjust the lid height to accommodate more gear.
The GG lid doesn't work that way. It's designed to be used to just cover the roll top when it is level with the top of the pack. In other words, if I fill the roll top as full as I can get it (winter gear for example) the lid doesn't want to sit on top unless you disconnect part of it from the pack.
Also, the lid is NOT designed to cinch down the load. It's held in place with line locks, just enough to keep it from flopping around while walking. But I still find it useful for small items. I have also ditched it, and used a GG zip sack held in place with the cross straps. That works just a well.
Overall I really like this pack. The hip belt design is very comfortable and bombproof, but belt pockets are optional. I have no issues with the pack sliding down my hips while walking. The frame is light, and just flexible enough to move with you. It is geared more towards those that outfit on the lighter side, and a good choice if you're heading in that direction, but will carry an occasional heavier load admirably.
Last summer I carried about 5 liters of water with all my other gear to a dry (but spectacular!) campsite. Pack was definitely heavy, but it did just fine. All uphill walk too. My normal load runs between 22lbs - 35lbs depending on season, water needs, and how long I'm out. Nope. I'm not an ultra-lighter, but my 63-year-old butt is very comfortable on the trail.
There have been many reviews on this model pack, used by both week-long warriors and long distance through hikers alike. Well made, proven design, will tweak what you carry, and how you carry it a bit if you're more a traditionalist. Well recommended. See ya on the trail.
Source: bought it new

This is a good overall pack for the weight. However, the straps are a little thin for heavy loads and it is hard to organize, but I would probably get it again.
Cons
Thin straps
Hard to organize, due to inherent design
This is a good overall pack for the weight. However, the straps are a little thin for heavy loads and it is hard to organize, but I would probably get it again.
Really tough pack, wore it bear hunting in briars and only had one small tear in the elastic which mended easy. Fit is a little small for me, but I have a 22-inch length and this only comes in 18.
Capacity is good, and it compresses well. However you do have to be careful how you pack so it doesn't pull away from your back.
Source: bought it new

Your Review
You May Like
Specs
Price
MSRP: $219.95
Historic Range: $119.73-$239.95

Weight
2 lb / 14 oz

Capacity
60 L / 3660 cu in

Recently on Trailspace