Granite Gear Nimbus Latitude Ki

#6 in women's Weekend Packs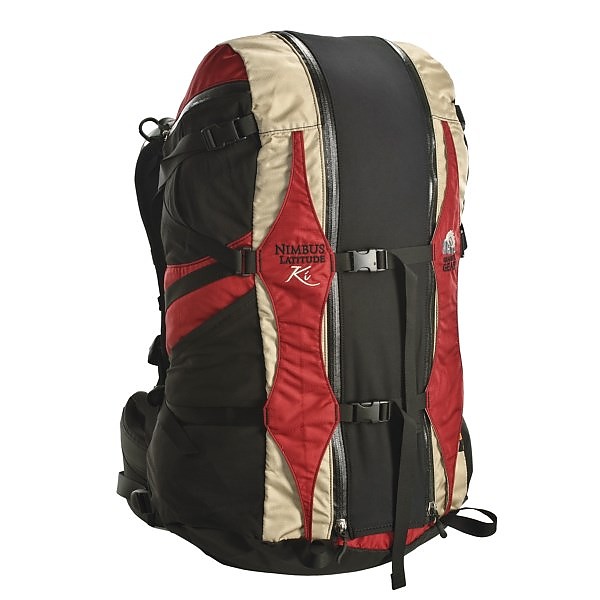 Specs
Price
Historic Range: $124.98-$269.95
Reviewers Paid: $120.00-$209.00

Reviews
5

reviews

5-star:

4

4-star:

1

3-star:

0

2-star:

0

1-star:

0
A unique design from a company committed to quality pack design.
Pros
Lightweight
Quality materials
Reputable designer
I got this pack recently for pretty cheap through STP. I've been debating for a while whether to abandon my old Dana 7-lb bag, not so much because of the weight (although c'mon, that's a heavy pack!), but also because it was just too big a pack for what I need anymore.
Backpacking equipment has really progressed since I got my Dana. Everything is so much lighter and compact. Plus, I've learned a few things about how to pack light over the years. So now my load for a few days to even a week can all fit in a 3200 cubic cm pack.
So I first started with a size regular and quickly figured out that since my torso measurement is at the lower end (16-17"), I would be better off with a size short. STP did not have this size, so I contacted GG and they gladly exchanged the pack. This transaction also allowed me to get the right sized hip belt.
GG stuff is really good in this regard. Every piece of most packs can be mixed and matched to get an almost custom fit. I also like that you can take the pack apart...good for travel on the airlines.
I also really like that this pack is short and stout, leaving room for my head. And although it's not the most ultralight pack, it is a big improvement over my old Dana.
The padding is exceptional but I still haven't made up my mind about the loading design...it will take some getting used to since all I have ever known is the top-loading design. I have yet to use it on any extended trips too, but given my minimalist tendencies, it should be plenty big to carry all I need.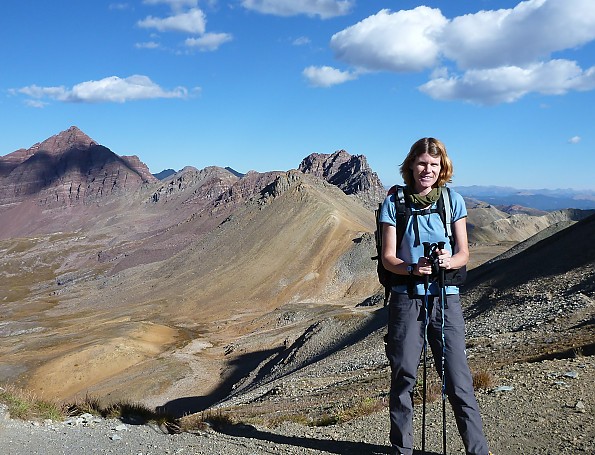 Source: bought it new
Price Paid: $120

I came to this pack basically because none of the others I tried on fit me or were remotely comfortable. I had spent about three hours in various stores with various packfitters and nothing really adapted well to my body -- until I was at an outdoor show that had a Granite Gear rep. It was love at first fitting. It was a little smaller than I wanted but although I was not looking for it the light weight of this pack was an added bonus. I was also a little confused by the front-loading system with the stretch fabric cover, and was hoping for a separate sleeping bag compartment but I went into the purchase with an open mind.
Comfort: This pack is incredibly comfortable; the first day with it was 5 km straight uphill and another 5 down and I was not even aware that I was carrying 30 pounds. It just seems to hug to the body and move with you which is great if you happen to stumble or slip as it doesn't lurch or throw you off balance.
Water resistance: We were caught in rain for about an hour and even though I could see the raindrops on its surface from the inside of the pack, none of them made it through, even with the stretch fabric. I would still use a pack cover in a real downpour but if you get stuck your gear will be protected for a while!
Front-loading: Love this. It takes a while to get used to if you've had top-loading before but it's so much easier this way. With the smaller size of the backpack you do have to pack it quite well to fit everything in (takes a few test runs) but the end result is that it's very organized and with the front panel unzipped you can see exactly where everything is - no more fumbling in the dark. There are clips internally and externally to hold it all together and the design externally is such that I can use them to hold my sleeping pad on the outside of my pack which saves some space.
Pockets: The internal lid is a great feature. It's an extra pocket right on top but it unclips which makes it very versatile. I have been using it to hold lunch but may also try it for dinner gear or "bedroom" stuff. The external side pockets at the top of the pack are made of the same stretch fabric as the front panel and can fit a lot in! I had my rain pants and jacket in one and in the other had trail mix, toilet paper and sunglasses. The pockets at the bottom are very deep and with the compressor straps on the side are ideal for tent poles, etc. I also found the side straps great for my rain coat when I needed to dry it out.
Other: I hike with a hydration bag and an additional water bottle. There is an internal pocket for the hydration bag but for the water bottle I actually ended up with it in an add-on holder attached to the hip belt. One good thing about this pack is that if you do need a little more room there are lots of places externally to attach additional pouches. I personally haven't had any issues with the size and really like the shorter length as there is no lid butting up against my head (less claustrophobic!).
This is a comfortable, durable, lightweight pack with some fantastic features, and I am looking forward to many more trips with it.
Design: Front-loading internal
Size: 3900 cubic inches
Number of Pockets: 7
Max. Load Carried: 30 pounds
Height of Owner: 5'5"
Price Paid: C$267

I love the way this pack opens completely up. When it's lying on the straps, there are 2 zippers that zip completely open to allow access to the top as well as the bottom, so if I want my tent or sleeping back from the bottom, I can unzip the bottom section and access them. If I want something from the middle, I lay it down and unzip it from either the top or the bottom, pull out what I need without having to pull out half of the items in my pack.
Pros
durablility
easy access
many pockets
comfortable
I absolutely love this pack.  Everything about it screams comfort. I have used it for 3 summers and it has about 2000 miles on the AT and is still going strong. I have a slight tear in one of the water bottle pockets from being thrown down a rocky descent (I couldn't wear it down because the space was too small) and it bounced off a side wall tearing/scuffing the pocket. 
The capacity is perfect.  I am able to get everything inside and nothing is outside of the pack, although there are lashing straps. I did attach an outside pocket to store my first aid items in, but that is the only thing extra I did.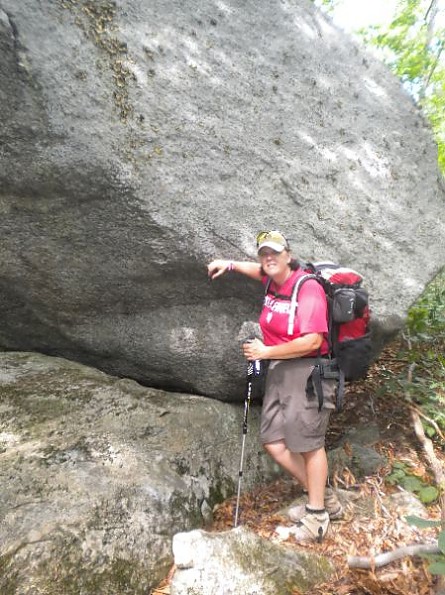 Source: bought it new
Price Paid: $200

As with every other Granite Gear pack we have used, my wife raves about how comfortable this pack is. The load carries so well and the regular torso fits her perfectly. (she is 5'7"). We always take the rough road and these packs just hold up to any natural beating you want to put them through.
Size: 3900
Height of Owner: 5'7"
Price Paid: $200

I am not obsessed by the "lightweight" backpacking frenzy, however, this craze has created an awareness for a balance of comfort with thoughtful packing. The decision between using my die-hard Dana Design Terraplane-X, a comfortable 8 plus pounder, bomb-proof pack with lots of room for over packing or get a new pack. Wanting a women specific pack I looked at the Arc'Teryx Bora 80 and the Nimbus Latitude Ki.
The Hike: 9 days in the Lake Tahoe area.
Outcome: COMFORT -- Excellent!!!! When I first loaded this pack and walked around my house I thought...no big deal. Then I loaded my Dana with the same weight distribution and WOW! I could sure tell the difference. The Nimbus was compact and easy to move around with. I would compare it to a pack that huggs your back and moves with you. The Nimbus Latitude Ki proved itself to be a "comfort" dream on the trail. No sore shoulders, hips, or back...yes, really! It was a dream for comfort with an average load of 35-40 pounds.
FRONT LOADING -- Took a few pack-ups to get used to, but nothing worth fretting about. Two zippers attach the main flap run the entire length of the pack creating ease for loading or quick retrieval.
FYI -- Two small zipper pockets stretch and are perfect for miscellaneous items. Two large lower pockets stretch and are deep and spacious. The interior hydration sleeve had not problem with a 3L Camelbak. The interior hidden lid proved to be a drawstring bag with a foam bottom. It detaches from the pack and is handy for items you may want in the tent or for use around camp. Exterior compression straps can be used to carry a tent and/or sleeping pad. The base of the pack is durable and did not show any remarkable wear from the granite environment.
In-A-Nutshell: Loved the pack!!!!! If you can get by with 3900 cubes, want to drop a few pounds of pack weight as well as having a pack that fits a woman's shoulders, hips, and back like a dream, take a look at this one. I was "MORE" than pleasantly surprised. Not one ache or sore spot (not including feet), thanks Granite Gear!!!
Design: Front-loading
Size: Regular 18"-22"
Number of Pockets: 2 small zippered/2 large open exterior
Max. Load Carried: 40#
Height of Owner: 5'5"
Price Paid: $209

You May Like
Recently on Trailspace