Gregory Advent Pro

Top 25 in men's Overnight Packs
The Advent Pro has been discontinued. If you're looking for something new, check out the best overnight packs for 2021.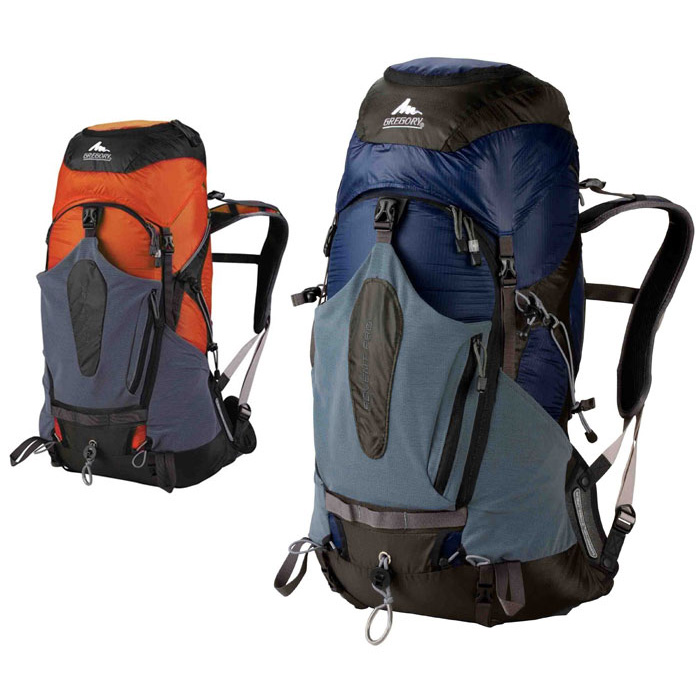 Specs
Price
Historic Range: $48.00-$150.00
Reviewers Paid: $40.00-$150.00

Reviews
7

reviews

5-star:

5

4-star:

2

3-star:

0

2-star:

0

1-star:

0
Love this backpack. Bought it at a consignment sale for $40. This can carry as much as my 19" roller bag, yet it can fit under the seat on an airplane. I would recommend.
Size: tag says "M"
Height of Owner: 5' 7"
Price Paid: $40

I bought this pack as an alternative to my old standby, an Osprey Aether 45. I wanted another lightweight pack but one with more access points and a few more features. The Gregory delivers on all those upgrades and carries at least as comfortably as the Osprey.
I just used it on an 8-day off trail backpacking trip in the Absaroka-Beartooths Wilderness and it performed extremely well. I particularly liked the variety of external storage options, as well as the top and front loading options. When we got hit with one of the many hailstorms that managed to find us, it was nice to be able to quickly retrieve rain gear without having to pull everything out of my pack. This is a particularly nice feature and one which made the unpredictable weather more manageable.
If you are an ultralight backpacker, this pack is just about light enough and can be made to hold a week's worth of food and gear with creative packing. If there's one thing I appreciate, it's "little big packs" like this Gregory!

Design: front and top loading internal
Size: Approx 44 liters
Number of Pockets: 5
Max. Load Carried: About 30
Height of Owner: 5' 11"
Price Paid: $80

I needed a larger (but still lightweight) pack for my Search and Rescue use during the winter months. I purchased the large size Advent Pro (Fall 2008) to match my torso length and provide the max capacity in this style.
Often we must hit the weeds in the mountains of SouthWest VA anticipating drastic weather changes and unknown levels of exertion for possible semi-tech evac, and this requires lots of layer options. Combined with our *required* gear, this sometimes means we have to haul quite a bit of bulk, if not weight.
The Advent Pro is a very good match for my requirements. I found it quite easy to adjust for multiple configurations of load or gear balance during extended use off-trail, often cinched in nearly empty or expanded out, right at the max recommended weight. My usual setup including 2L of water is about 22 lbs. I found the various pockets and compartments very useful for organizing the contents. The fragile-looking *G30* material has not really suffered from lots of off-trail abuse, but I do try to think about it a bit before going ape in the branches and brambles. It is *moderately* moisture resistant due to the typical zippers and seams: get a small pack cover. The mesh pockets on the waist belt are quite large and very useful. I can't quite stuff a larger PMI or Petzel helmet into the mesh helmet pocket, but that won't be a common problem.
Now the Cons --Room for Improvement: The molded foam backing which provides its structure has a *fold line* above the lumbar area in its design which allows the pack to hinge/flex there when the weight of the contents is over about 20 lbs. Careful packing can limit its annoyance, but some may find this a show stopper if their typical weight is going to be at the upper end. I don't find it all that bothersome, but be advised.
Like most other Gregory packs, there is no *good* hanger clip or other means of securing a bladder upright in the hydration pouch. Note to Gregory: Take a picture of how Osprey deals with it, or at least trade the weight of the 10 feet of excess strapping for a couple of intelligently placed reinforced nylon grommets.
Gregory has changed the waist belt clip on several models-- The *receiver* clip is now sewn directly on the (shortish) left end of the padded waist belt rather than in the middle of equal length bits of belt webbing as before. This was so difficult to use with a fully loaded pack for a person of my proportions (5'11"-215 lbs) that I had to make up an extension to recreate the earlier design. Inexplicable unless they think people wanting a large are all under 80 lbs.
I do get a *sweat spot* in my lower back where the molded lumbar padding could used a bit better ventilation. Minor annoyance for me, your millage may vary.
All in all I like this pack for my specialty needs and will wear it completely out before I consider another. I plan on trying one for use as a weekender in the near future.
Design: top/front loading structured internal
Size: large (2425 cu/in)
Number of Pockets: 6
Max. Load Carried: 26 lbs
Height of Owner: 5'11"
Price Paid: $129

I purchased this pack for a month-long Euro trip in Winter 06/07. It is very light and could hold a surprising amount of stuff considering its size. I am still amazed by the strength of the pack's paper-thin lining.
The pack itself is stylish and generally comfortable. I did notice some strain on my shoulders but I believe that was largely due to the fact that I was pressured into purchasing a medium at my local "outfitter" due to availability and I should have bought a large.
My one complaint is that a small tear developed in the material early on in the trip. Luckily it was in the top of the pack and didn't have to support any load.
I can't speak for using this pack for ultra light hiking and camping because I tend to overpack while hiking and would never be able to get everything I generally take into this pack. I can however attest to its usefulness as a pack for a backpacking (via plane, train and youth hostel) trip around the world.
Height of Owner: 6'3"
Price Paid: $150

This is a "Purpose Driven Backpack", but one which is a stellar choice for many activities. I used the pack while skiing the Lake Tahoe area with my son. Skiing in a place with radical weather changes requires the ability to change layers, frequently, and skiing with a 12-year-old more than doubles the amount of stuff you need to bring and use. Clothing, food, hydration... as well as some extra equipment like googles and glove liners, glasses, etc...
I particularly liked the many storage areas and compartments for segregating items I would need repeatedly or rapidly. And the compression straps allowed me to wear the pack close to my body, never interfering with skiing or getting on and off the lifts.
I also use a pack to travel at all times, and this pack easily carries a laptop, books, mags, and other items while fitting nicely under the plane seat or in the overhead compartment.
I have been impressed with the technical planning and construction of this pack. It is well designed, and performed exceedingly well. It is a comfortable pack, bearing the load (up to 25 lbs) without difficulty or discomfort. It is also very easy to access the bag from several points.
The material on the upper portions of the bag are silicon impregnated, and proved VERY waterproof, having had snow falling on it for extended periods without penetrating the pack, as well as having snow and melting snow mashed into it without problems (yeah I wiped out a few times).
The only concern I had while using this backpack is that the lower portions of the suspension has several straps which I got tangled in while removing the pack if I had had it tightly pulled/secured to my body.
I would highly recommend this pack to anyone interested in a very lightweight and effective piece of equipment. I look forward to using it for other activities as well.
Design: Multiple access ports
Size: Large
Number of Pockets: Many
Max. Load Carried: 20-25 lbs
Height of Owner: 5'11"
Price Paid: $119

I used this pack for a 14-hour dayhike to the summit of Mt. Whitney last summer. Awesome pack! I have the 2004 style pack -- Gregory restyled it for 2005 -- but I believe it's almost the same. Here's a longer review of the pack I wrote shortly after the hike..
http://www.epinions.com/content_154324012676
Size: approx. 2800 cu in.
Number of Pockets: several
Max. Load Carried: about 30lbs.
Height of Owner: 6'2"
Price Paid: $100

I recently purchased an Advent Pro for a three-week trip in Israel. We only spent six or seven days camping, but I used the pack for the entire trip. I now use it for hauling climbing gear, hiking, and camping.
I would definitely recommend this pack to anyone going on a short hiking trip or to haul anything relatively small for an extended period.
Design: top, front, bottom loading internal
Size: 2450 cu. in.
Number of Pockets: 3
Max. Load Carried: 50 lbs.
Height of Owner: 5'6"
Price Paid: $130

You May Like
Recently on Trailspace