Gregory Alpinisto 35

For slender not-too-tall people this is a good, even excellent, pack for general use. Taller and wider people most likely will experience problems with sternum strap and should-pad adjustment straps. There are additional factors to consider if purchasing this pack or the Alpinisto 50.
Pros
Frame fit and frame strength
The quality of the pack's construction
Pack design: slender and tall to fit close to body
Removable components
Easy to attach (considerable) additional gear externally
Cons
Several straps too short
Use of specialized, not easily replaceable hardware
Ice-tool attachments not generic enough
Sternum-strap attachment points too low on shoulder pads
Gregory Alpinisto 35 (and 50)
December 7, 2014
Rating: 3 out of 5 stars

Overview:
This review is in reference to the Alpinisto 35 as well as Gregory support. I include the 50 in the subject line since the two packs are nearly identical except for their respective volumes (35 and 50 liters) and the use of a floating lid on the Alpinisto 50 (the 35 has an attached lid).

Initial Impressions and Positive Features:
The bag is a combination of 210-denier rip-stop nylon and 630-denier nylon. The 210 portions of the pack bag are coated on the interior side with a thick polyurethane coating that is white in color to contrast with the pack contents (according to a customer service representative at Gregory).  The coating is so thick I initially thought it was a second fabric layer (this is a good thing…).  The website descriptions for the Alpinistos indicate that the bottom panel is "Dual-layer HD nylon."  It is not dual layer; it is a single-layer panel, but the single-layer 630 cloth is robust nonetheless.
The metal used in the reinforced plastic frame sheet is 7000 series aluminum alloy. This series aluminum is much stronger than the 6000 series aluminum most pack manufacturers use.  It is rare to see packs this small use such a strong frame, but it allows the owner—especially if s/he is not built like a lumberjack—the option to load the pack with much more gear—and carry it comfortably—than otherwise would be possible.
In addition to a cord-closure top, the pack has a strap-with-buckle over the top to further cinch the pack. This strap also can be used to secure a rope, jacket, or some other item to which you require quick access. For the pack's main closure, a metal buckle with smoothed edges is employed, which I think is stronger and more reliable than the usual plastic buckles employed on most packs.
The design of the 35 is tall and not-so deep, which keeps the pack load close to a person's back. The Alpinisto 50 is several inches deeper (according to Gregory customer service) but still possesses a relatively slim profile.  This slim design aids in a comfortable carry.
Both the 35 and 50 come in four sizes. With a long-standing trend among many pack manufacturers to produce one-or-two-size-fits-all packs, it is a pleasant surprise to see the lengths to which Gregory goes to help ensure the customer receives a properly fitting pack.
However according to Gregory instructions on purchasing a properly fitting pack, I personally should use a size medium, but I find that the size large provides me a better fit. The size large is a little taller and permits the shoulder-strap attachment points to the pack to be at a location slightly above the tops of my shoulders while I wear the hip belt such that it covers (lies directly over) my hips.  This permits me to really load the pack without having the weight fall onto the tops of my shoulders. That is, the majority of the pack load should be transferred to a person's hips and not borne by a person's shoulders. With this size pack I can control the load almost entirely by the degree to which I pull the shoulder-pad adjustment straps; the load-lifter straps are unnecessary unless approaching the pack's weight limit.
The size large Alpinisto 35 has 37 liters of volume, which does not include 3 liters that can be stuffed into the lid/top pocket, 2 liters that fits into the external crampon pocket, and an additional 1 or possibly 2 liters that can be overstuffed into the main compartment.  Additional gear can be attached to the pack sides using the side-compression straps, and by purchasing additional webbing, a couple ladder-lock buckles, and a couple Tri-Glides or cam-lock buckles, you can attach much longer pieces of webbing so that they extend across the non-harness side of the pack to strap on a snowboard, large sleeping pad, or whatever else you desire (see http://mgt-colucci.mgt.buffalo.edu/~ecolucci/GA35/Gregory%20Alpinisto%20Ladderlock.mp4 *).
The entire frame, bivy pad, sternum strap, and hip belt padding—along with lid on the Alpinisto 50—can be removed.  I like this flexibility in packs since it presents various carrying options, and I would like to see Gregory make the side-compression and shoulder-pad adjustment straps removable, and—while they are at it—add removable water-bottle pockets.

Missing Feature:
The Alpinistos do not come with traditional water-bottle pockets. Although it is possible to carry bottles internally or attach certain style bottles to clips, which in turn can be attached to the hip-belt utility loops or perhaps the load-lifter straps, neither of these options is convenient.  A person's most convenient option to remain hydrated is to use a bladder with drinking tube.

Questionable Features:
The Alpinistos come with a somewhat unique ice-tool attachment system that includes a pair of small aluminum stays used to secure the heads of certain ice tools. Gregory claims this attachment system is universal, but some reviewers claim their tools could not be properly secured with this system.  In any event it is not difficult to thread a length of cord through the lower part of the attachment system to create a loop for use with a greater variety of ice tools, trekking poles, umbrellas, or other objects. (In the closeup photo below, you can see a pair of reflective cords inserted into the fabric spaces of the lower ice-tool attachments on my Alpinisto 35.)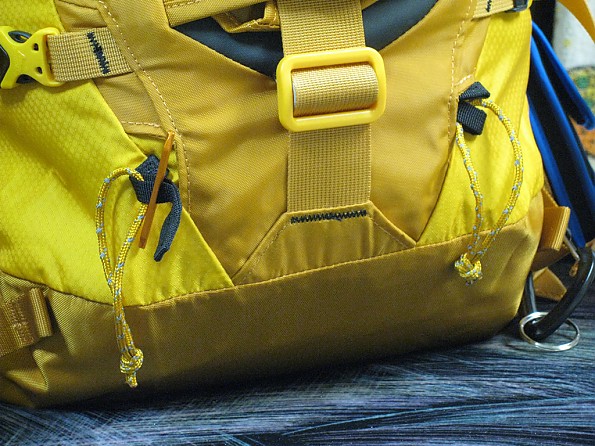 Also in regard to this ice-tool attachment system, the upper Velcro closure (intended to secure an ice-tool handle) is integrated with one of the side-compression straps on each side of the pack. Although this integration might save a few grams of weight, it is necessary to unlatch a buckle in order to release a tool, which means that whatever is being secured by the side-compression strap also has to be partially released. I agree with other reviewers who see this as a design shortcoming and think the two functions should be independent of one another.
Additionally, I think the shoulder-pad adjustment straps and sternum strap are too short. The former could stand to be another 10 to 12 inches long each while the latter easily could be another 5 to 6 inches long. Everyone does not have a slender build or the same height, and for a larger person to manage these straps in the winter wearing layers of clothing could be a challenge. I suspect saving another few grams is the reason for the relatively short straps, but it sacrifices ease of donning and doffing for larger people.
Another issue is that the sternum-strap adjustments on both shoulder pads start at the bottoms of the shoulder pads. Despite the adjustability of the sternum strap, the adjustment points should be raised to about the center of the shoulder pads, which would permit more people to use them correctly.  An attached sternum strap should cross a person's chest above the nipples so as not to cause irritation. Some people will find this tricky to accomplish with the existing positioning of the adjustment points.
Lastly, when I purchase a new pack, I buy a handful of extra buckles to extend the pack's functionality or use as replacements when I or others who handle my pack eventually break some of them. I discovered that Gregory uses a 3/4 inch (20mm) design buckle that essentially is unique (apparently, Gregory is not the only company engaging in this customer-unfriendly practice).  I could not find a single local retailer—not REI, EMS, Dick's Sporting Goods, Cabela's, or Gander Mountain—that carries or could obtain the 20mm design Gregory uses on the Alpinisto. Additionally, I could not find this particular buckle design anywhere online. Such a basic and essential piece of hardware should not be so difficult to locate, but it is in this case. A suggestion to the Gregory design team: Use components that easily are replaceable by your customers.


Gregory Support:
When I failed to locate a compatible 20mm (3/4 inch) buckle design, I contacted Gregory. I have two Alpinistos and requested a total of eight 20mm buckles. After submitting a detailed description and photographs of the requested buckle, seven weeks have passed during which I received four shipments of incorrect buckles while at least six different company personnel (at one time or another) in Utah and Florida handled my request, and I still await the requested buckles.
Gregory discovered a problem with their warehouse parts numbers and is working to correct it. To the credit of Gregory, a person in the Warranty department is continuing to work on this issue in an effort to get me the requested parts at no cost, and in the coming week he is sending me the last two buckles he was able to locate.  I also was informed that Gregory is altering its logo—perhaps as a result of the recent acquisition by Samsonite—and more hardware will be forthcoming although I was given no estimated time of arrival. When I asked for confirmation that the Gregory logo will be the only thing that will change, my question went unanswered.

Conclusions:
I am 5 feet 7 inches tall and weigh 140 pounds, and for me this is a near-perfect little pack for all-around use.  For the most part, the construction and materials are good; the pack has numerous useful features; and I cannot overemphasize the good fit (that is, torso length) and true load-bearing frame.  If you are a slender person seeking an all-around 35-40 liter backpack, the Alpinisto 35 definitely should be at or near the top of your list.
As for my granting only 3 stars rather than 5, I detract one star over my concern that people with larger girths likely will experience some annoyance donning and doffing this pack for reasons having nothing to do with torso length. Additionally, properly securing the sternum strap could be a challenge for some people.  The current inaccessibility of replacement hardware is another concern.  All these issues are design-related and easily could have been avoided had Gregory made other choices.  The added weight through use of longer straps and more standardly designed buckles would be negligible and would have been more than offset by greater convenience and utility for more customers.
I detract a second star for the Gregory response in fulfilling my parts request. Although I applaud their doggedness in seeking to satisfy my original request, it really should not have taken as long as it did to determine something was amiss internally (for multiple reasons).  The nature of my personal experience inevitably raises a question for current and new customers who are considering a Gregory-pack purchase and expect support—parts, repairs, etc.—in the future. As a fan of Gregory equipment for years, I sincerely hope over the next few months the company successfully can resolve whatever internal communication and other problems it currently is experiencing.

* The video demonstrates the attachment of a large sleeping pad in a compression stuff sack. Cam-lock buckles are required to prevent the webbing from slipping from the non-serrated side of the ladder-lock buckles. The attachment method shown is not elegant, but it works. An elegant method would involve the use of two compatible 3/4 inch buckles attaching one half to each end of the extra length of webbing, but as I indicated above, compatible buckles were unobtainable as of this writing.
Source: bought it new
Price Paid: $160 US (October 2014)

Your Review
Where to Buy
Help support this site by making your next gear purchase through one of the links above. Click a link, buy what you need, and the seller will contribute a portion of the purchase price to support Trailspace's independent gear reviews.
You May Like
Specs
small
medium
large
Price
Current Retail: $169.99-$199.95
Historic Range: $59.73-$199.95
Reviewers Paid: $160.00

Weight
3 lb 11 oz
3 lb 14 oz
4 lb 1 oz
Recently on Trailspace