Gregory Alpinisto 50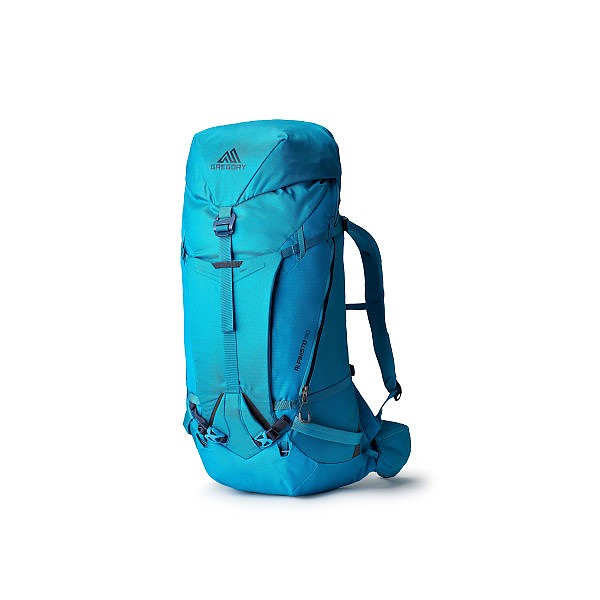 Mountaineers, alpine climbers, and one-backpack-to-do-it-all types should seriously consider the updated Gregory Alpinisto 50 pack.
(2020 UPDATE AT BOTTOM)
Pros
Strippable for light weight and speed
Extra durable material which also happens to be light-ish
Cons
Thin-ish shoulder straps may bother some
Snowboardwers may have a harder time attaching their plank
The back pad may not breathe well in the summer
Short Answer:  This pack will do so many things so well that it may cause some of the other packs in your gear cave to shed tears of loneliness. Its durability and versatility make it a fantastic choice for backpackers and alpinists alike. I'd easily take this pack up Mt. Rainier. Trips it is NOT suited for would be single-day, smash and grab alpine climbs and UL backpacking trips. Feel free to toss it off a cliff to make down-climbing easier. It can take it. It's Gregory; this isn't their first backpack.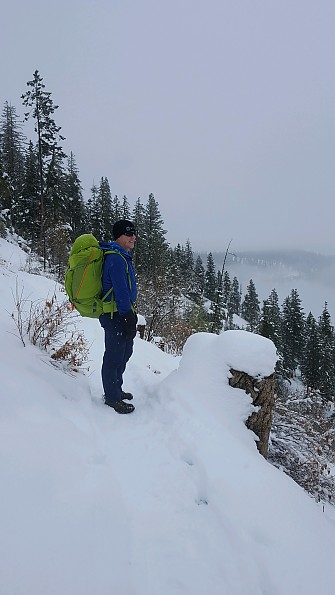 Finally out of the wind on the leeward side of the mountain


Testing Conditions:
I don't always carry a hatchet, Microspikes, a gallon of water, and a four-pound Duraflame log, but when I do, it's because I need a heavy load to give a pack an adequate test for Trailspace. I was carrying around 38 pounds.
I had deliberately planned this trip to an area where campfires, hatchet-logging, and the like are allowed because it was the first backpacking trip together for the newly minted Mrs. and I and I wanted it to be comfortable. Nothing says comfort like the roar of a five-foot-tall campfire as the wind and snow rage. As it turned out, the wind was so bad that the fire burned itself out as we took shelter in the tent to escape the gale force winds.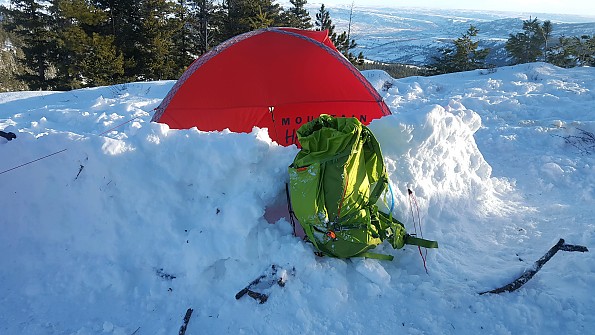 After pulling it from the wall in the morning


My test trip was near Mission Ridge, an area of Wenatchee National Forest where wind speeds have been recorded at over 130 mph. They weren't quite that bad this trip, but during the night I had to go outside and build a snow wall to protect my Mountain Hardwear Direkt 2 tent or it would have been folded up by the gales we experienced. This is a tough little tent and it took a thrashing. I could lean back into the wind gusts, I estimate them at up to 50mph. Luckily, we were away from any trees, as I saw many in the distance bending dangerously and shedding their extraneous branches. Temps were in the mid to high twenties (F) and weather alternated between freezing rain and snow. 
Fit: When I saw the thin, narrow shoulder straps on the Alpinisto I was concerned, but the hip belt gripped me so well that it never became an issue. I am 5' 10". I weigh a little over 190#. My torso is 19"-ish. The "Large" pack fit me perfectly. The Alpinisto doesn't shift or sway on my back as I hike, making for a really easy carry.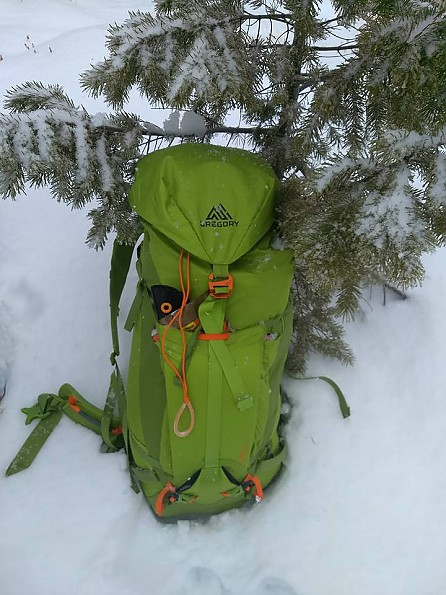 Features: The sitting pad was great for chilling near the fire. I always envy my climbing buddy who's pack has one of these.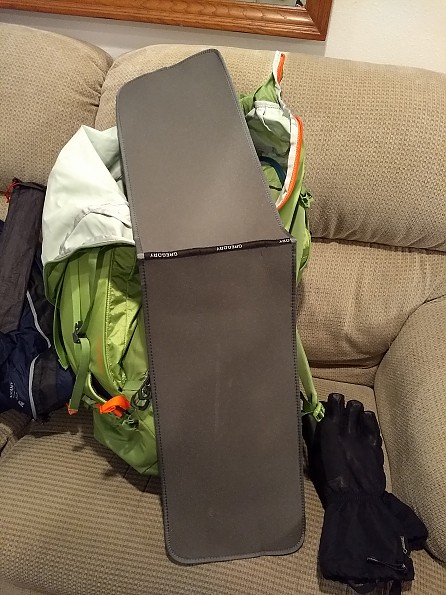 Not a great pad for overnight, but if you are really trying to save weight...


The crampon pouch is tough and solves the age-old dilemma of how to pack those poky things.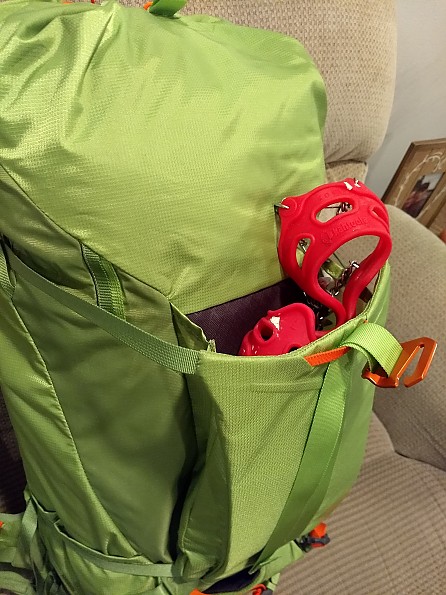 Microspikes, since my crampons are on a moving truck in Gig Harbor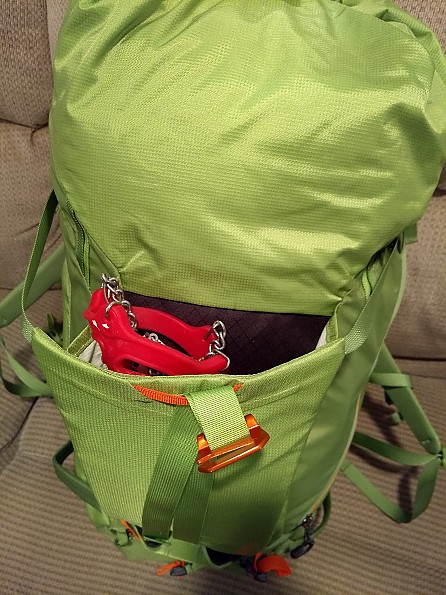 I always look for a better way to keep sharps safe, this pouch is great.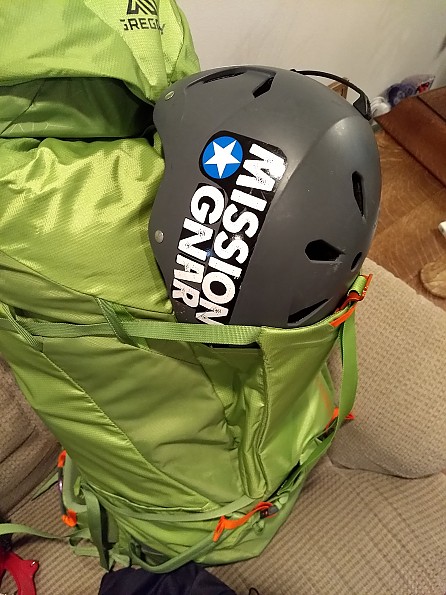 Not enough room for a ski helmet


There is a pass-thru for my hydration bladder and the floating "brain" of the pack has a pocket to secure keys and such, complete with a clip to attach to a keyring.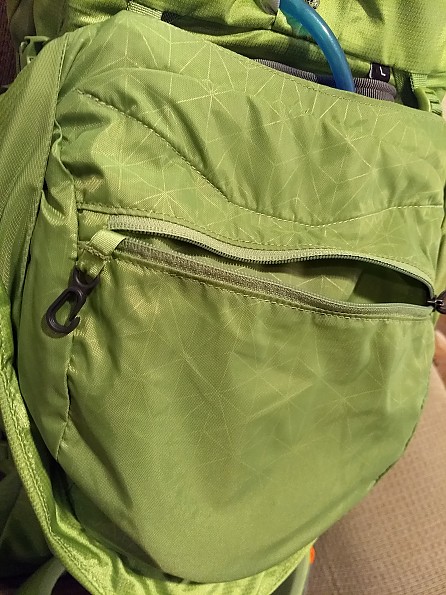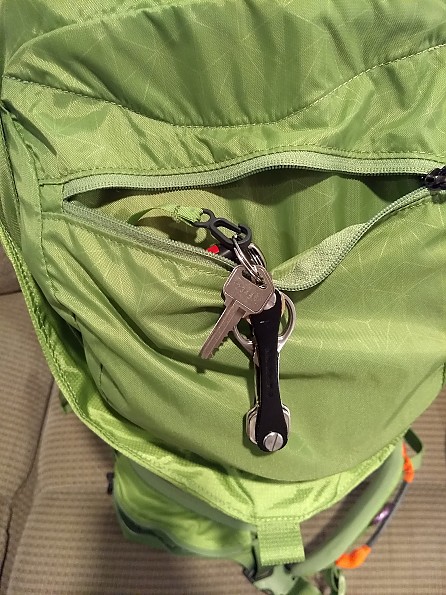 This is on the underside of the brain


My favorite feature is the full-length zipper that splits the pack open, exposing everything down to the very bottom of the pack.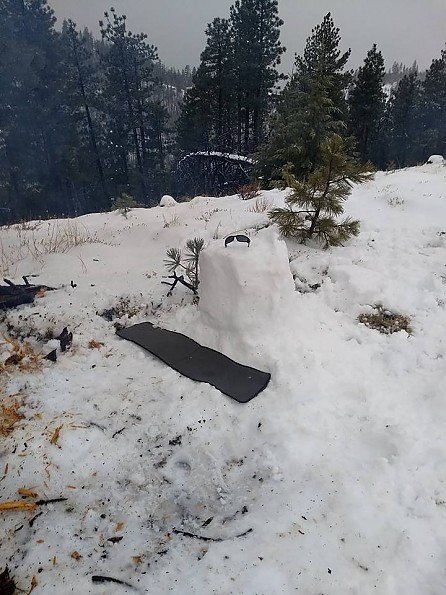 Great sitting pad for two or a Spartan sleeping pad for one


The zippers all have big grab loops for use with gloves, which I REALLY appreciated in the driving wind where my fingers had about five minutes of usefulness when they were uncovered before they were too frozen. 
There is a gear loop for equipment and the hip belt is removable for while you are wearing a climbing harness.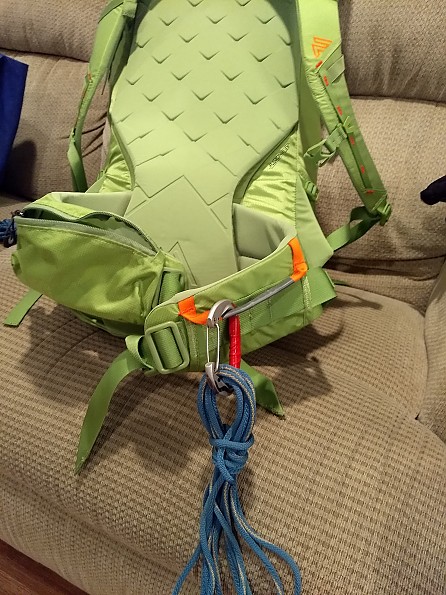 Easily removable hip belt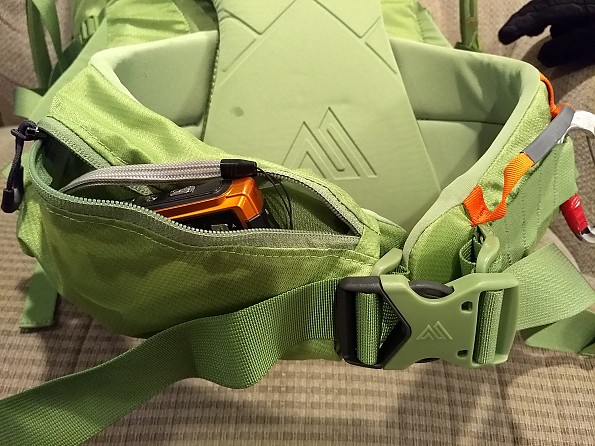 Compass, sunscreen, chapstick, map, etc.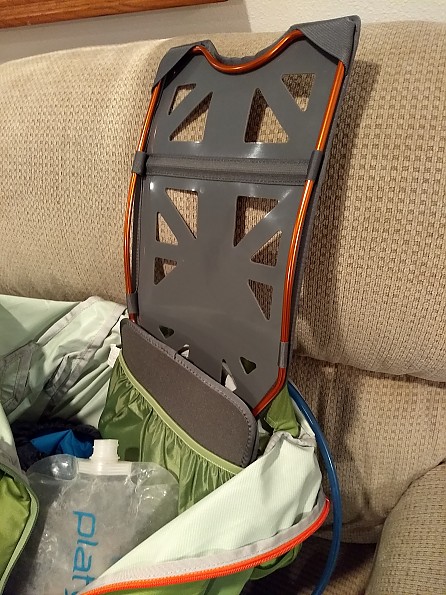 Remove the frame and sit pad if you like, but they weigh almost nothing. A great thing about this pack is that you can haul your gear to camp then strip off the waist belt, remove the frame sheet, frame, and brain, and you can cinch everything down for a summit push.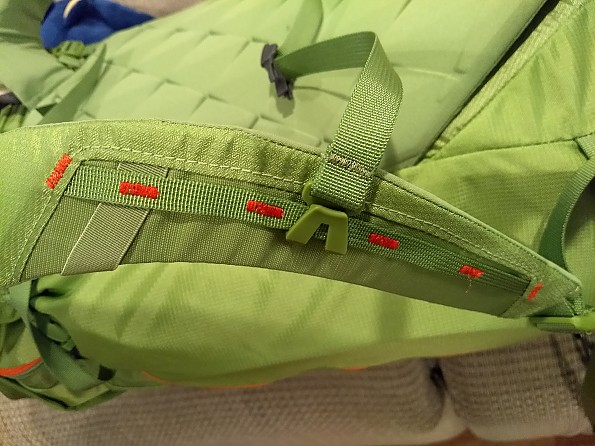 Easily adjustable sternum strap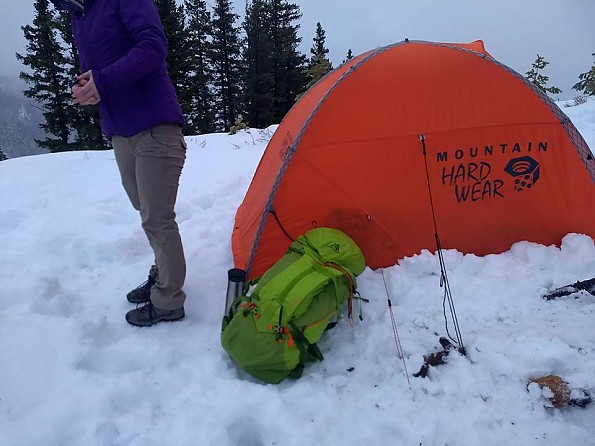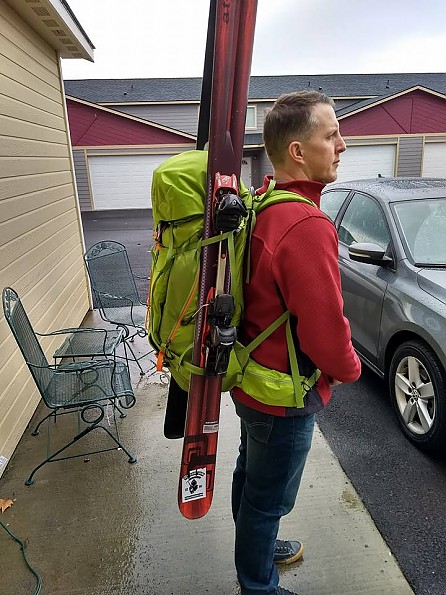 Skis? Yes. Snowboard? I don't own one but I don't see an obvious way to attach one.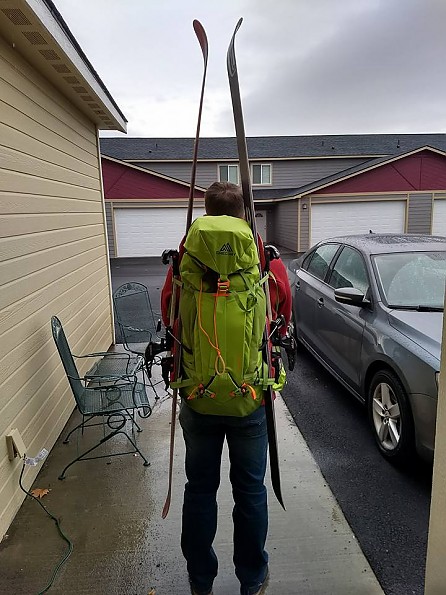 Tight and comfy with skis
Appropriate Size: For overnight trips, multi-day trips with lighter summer gear and overnight mountaineering trips this pack will excel. 50 liters is a nice all around pack size. In addition to the normal winter gear; stove, fuel, food, extra winter coats, four-season tent, etc. I managed to fit an extra two quarts of water, a 4# Duraflame log and some beer.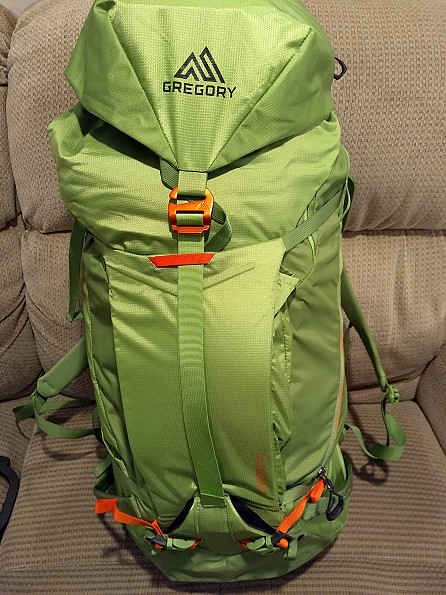 Stuffed but still comfy. I like the single hook for cinching down the lid; much easier with gloves on than the snap buckle method and less prone to break. The floating "brain" of the pack is easily removed if you want to strip it down for a summit grab.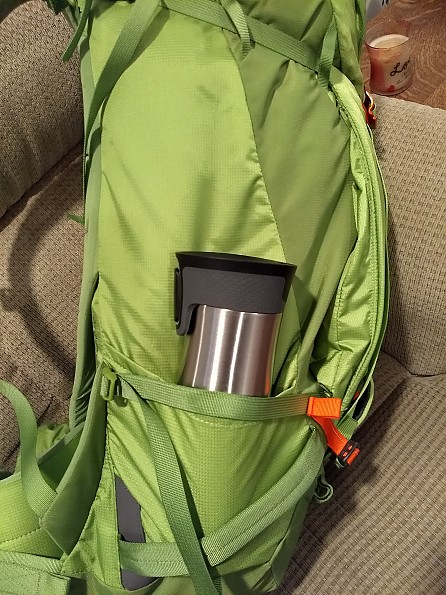 Bad place for a bottle, great place for a picket.

Durability: Gregory claims that the 630D high density nylon fabric of the new Alpinisto is tougher than previous models and I was completely unable to scratch it. 
In a limited testing window, assessing durability can be tough. After doing this for a while though. I have a pretty good idea of what will and won't survive. I was glad to see that a naked hatchet blade and Microspikes had absolutely no effect on the crampon pouch of the Alpinisto. The fabric is protected from ski edges width a strip of durable fabric right where they are carried. I'm still in the middle of moving so I couldn't test the ice axe carrying system, but there are two really easy ways to carry ice tools which should fit any type that I have seen so far.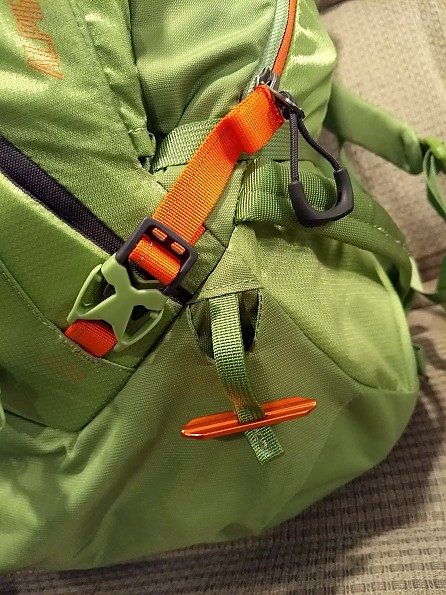 The toggle fits in the "eye" of an ice axe
   
Weight: At 3 lbs 7 oz it is 7oz lighter than the TNF Terra which isn't half the pack that the Alpinisto is. 
Such a handy pocket, the silver fabric protects the pack from ski edges


Water Resistance: On the hike in, the Alpinisto shed freezing rain and snow like a champ, but the real test was in the middle of the night when I was outside building my snow wall and needed building material. I used the Alpinisto to build a portion of my wall and packed it tightly with snow. In the morning, when I needed to pack up, the fabric was a little stiff with ice but hadn't absorbed as much wetness as I had thought. By the time I had it packed full of tent and sleeping gear again it had air dried almost completely. 
Comfort: My worries about the narrow-ish straps never came to fruition because the fit of the hip-belt was so good. There are only a million or so body types, I know, but this pack fit mine just fine. 
Things I dislike about this pack: Lime green Isn't my favorite color, though it comes in other colors. One-plankers would probably like a better way to attach their snowboard while carrying it as this takes a while to figure out with the Alpinisto. I wish the crampon pouch fit a climbing helmet.
I really have no trash to talk when it comes to the Alpinisto 50. It is my first time wearing a Gregory. I knew of their good reputation and I was not disappointed.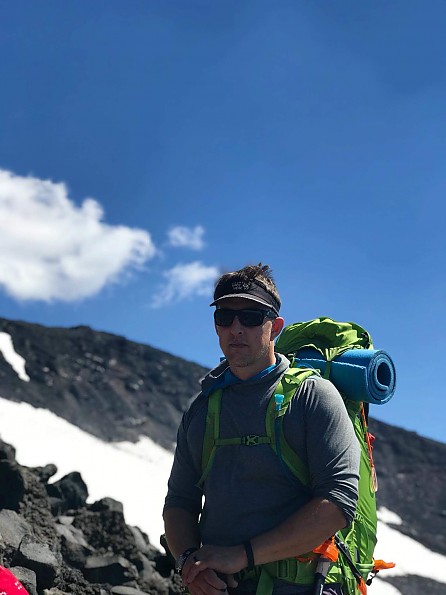 Mt Adams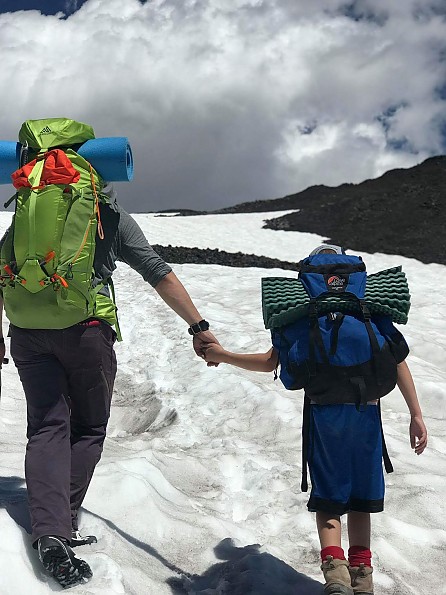 So now my youngest boy gets to tell people he climbed a living volcano


UPDATE 6/2019: I used this pack on Mount Adams (12,000 feet) and it was great. Not a technical climb but I carried much of my 11-year-old son's gear and I loved it. 
05/27/2020: Last summer I used this pack on Mt Baker and Rainier.  Last week I was on Baker again. Still probably the best pack for these types of adventures that I have used ever.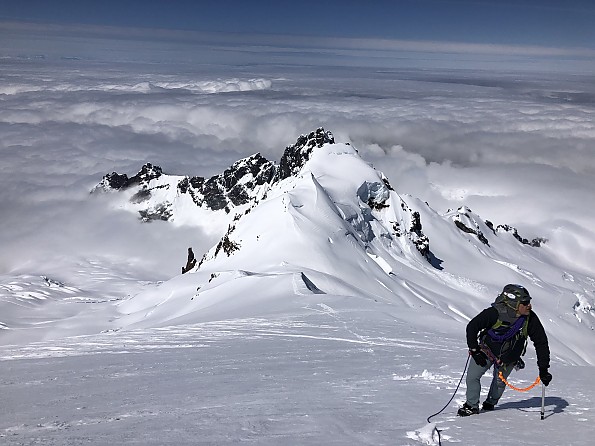 Mount Baker, last weekend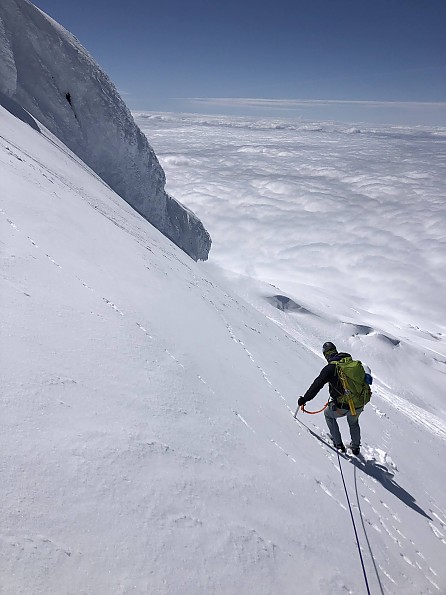 Background
I'm a mountaineer and backpacker with hiking experience reaching back to 1987 or so.
Source: received for testing via the Trailspace Review Corps (Sample provided by Gregory for testing and review)

The Gregory Alpinists is touted as a climbing/scrambling pack and it does its job well. It has a cutout in the lid to accommodate a helmeted head looking up, a crampon pouch built onto the front, ski/snowshoe slots, secure yet easy access to your ice axe, and a nifty full-length side zipper that allows one to gain access to the pack's interior by swinging it onto the hip.

A great pack, lightweight, sturdy, and comfortable.
Pros
Lightweight
Ice axe system
Reflective materials built into the pack
Side zipper
Lightweight
Cons
Zipper on side is not waterproof.
I am 5'8", 155 pounds and purchased the medium size. It fits like a glove and is very comfortable.
I first used it on a snow scramble up Bare Mountain in the Cascades and was impressed with how functional and comfortable it was. A huge lid pocket meant I could keep not only snacks but quite a bit of gear at ready access. The side zip meant I did not have to drop the pack to get something out.
A well-designed helmet cutout allowed me to look up at the slope I was climbing without my helmet being knocked over my eyes. The gold color and reflective material meant my partner was able to follow me through the forest in the dark without difficulty. Well placed compression straps mean you can easily secure varying sized loads. I have also used them to secure my snowshoes.
My only concern is the zipper: it is not waterproof; it seems to be stressed easily; and the top of the zipper is where your hydration hose comes out, making a spot available for water to go in.
Still, this is another great pack from Gregory (I also own a Z45 and Baltoro 65). This will be my go-to pack this winter.
Source: received it as a sample, freebie, or prize (a retail store)

Your Review
Where to Buy
Help support this site by making your next gear purchase through one of the links above. Click a link, buy what you need, and the seller will contribute a portion of the purchase price to support Trailspace's independent gear reviews.
You May Like
Specs
Unisex
Price
Current Retail: $239.95-$239.99

Men's
small
medium
large
Price
Current Retail: $153.96-$239.95
Historic Range: $87.73-$239.95

Weight
4 lb 8 oz
4 lb 11 oz
4 lb 14 oz
Recently on Trailspace