Gregory Baltoro 65

This is a load-hauler for a backpack of this size. It has proved to be not only comfortable but also very durable. Plethora of features is nice. Customer service from Gregory is outstanding.
Pros
Comfortable under a heavy load
Great durability
Multiple access points to the inside
Cons
Bottle pocket not often used.
I had done a preliminary review of this backpack shortly after purchase. Nearly 18 months later, I like the backpack more than I thought I would.  A few observations from use:
The shoulder and hipbelt padding is fairly firm on this pack out when it is brand new.  it became more forgiving as I used it.  otherwise, the adjustments to fit the pack and get the suspension comfortable are excellent.  I really like the way it supports weight comfortably.
A mouse ate through a hipbelt pocket not long after i got the backpack; i had left a clif bar in the pocket overnight.  i tried to buy a replacement hip belt pad from Gregory; they refused, and instead sent me a set of hip belt pads for the cost of shipping only.  extremely impressive.
Despite quite a bit of use, the pack looks barely used.  even taking 'the mouse incident' into account, excellent choice of materials to build this.
I have grown to like most of the features.  love the ice axe tool holders, the hip belt pockets, the multiple access points and pockets.  great hydration reservoir solution.  the only one i would re-think is a side water bottle pocket that i don't often use.
with that, my first impressions follow:
* * *
Consider this a preliminary review of a recent acquisition, designed to help people who are thinking about purchasing the backpack.  I plan to follow up with a review based on significant use by mid to late summer.
My overall impression is that this backpack is comfortable, versatile, and has more features than I immediately need.  I bought the large, which weighs nearly six pounds and holds 68 liters (4150 cubic inches).  this isn't, by any definition, a lightweight backpack. 
the suspension consists of a single metal stay, a flat piece of 7075 aluminum that is very rigid, which connects two hard flat plastic pieces in the vicinity of the shoulder strap attachment point and the lumbar region.  Otherwise, this backpack does not have a plastic frame sheet.  the only way to adjust torso length is a manual adjustment of the shoulder strap attachment point, a metal clip that passes through a slot.  I think this gives about 2 inches of variation, but it explains why this pack is sold in three sizes, small-medium-large. 
the back pad and lumber pad are made of a moderately firm foam; the lumber region has additional padding and a sticky silicone layer that is supposed to keep the pack from sliding down.  the back pad has a few channels that might help with air circulation, but i won't know for a while how effective that is. 
the back pad does not look like it will ventilate as well as the partial mesh on the Osprey Aether 70, for example.  there are two hand-sized loops near the bottom on either side, in case someone might want to grab them and use their arms to support the pack bag.  to me, they look a little thin for the job. 
For me, the comfort of the suspension and load-carrying capabilities of this backpack are a strength. like most good packs this size, it has a sternum strap and dual load-lifter straps, as well as dual straps to tighten the pack to your lower back.  the shoulder straps and hip belt wings are independently bolted to the top and bottom plastic pieces.  as a result, the shoulder straps pivot in and out, and the hip belt wings pivot up and down.  the angle of the shoulder straps and hip belt is not adjustable with a tool that can fix the angle - they pivot freely as you walk.  as a result, as you walk and move, you can feel the pack body move slightly relative to the hip belt. 
i don't think the pivoting hip belt is revolutionary, but it does help the belt consistently ride at the top of my pelvic bone where it is supposed to be - so far, this does not appear to be a pack that will have problems slipping off my hips.  also, the pivots and the lack of a full-length frame sheet do help the backpack feel like it moves and flexes with you, more so than packs with a rigid plastic sheet. 
the hip belt tightens from both sides via straps that pull inward - which is very easy to adjust.  the shoulder strap pivot is barely noticeable as you walk.   the hip belt and shoulder straps are made from foam that is noticeably thicker and more firm than the back pad, with the foam pre-curved.  the stiffness of the foam was noticeable, particularly the hip belt, and might send some potential buyers elsewhere, because it feels harder than most other backpacks. 
on the other hand, this backpack did a better job keeping fifty pounds from slipping off my hips than most other packs of comparable size, and did a better job handling that amount of weight generally than the competing packs I tried.  i will be watching those attachment points, the swivel bolts, to see how durable they are. 
The backpack has numerous 'features,' some more useful than others.  the hip belt has two small zippered mesh pockets, but they are small - each could hold two regular clif bars or one small point and shoot digital camera, but my smart phone w/case doesn't fit.  there are two side mesh pockets that are asymmetrical.  the left pocket is vertical and can hold small items (gloves and hat or a one liter bottle) easily; i can reach it while walking with a little work. 
the right pocket is more easily accessible because it angles toward the front and appears designed to hold a one-liter bottle - it actually has an adjustable shock cord designed to keep the bottle in place.  But, a longer camelbak liter bottle had some trouble staying in place, so i will have to stick with shorter bottles.  i think the angle and relatively shallow depth may make this pocket prone to losing things on a trail.
the pack has two long zippered side pockets that run shoulder to hip on each side, i like these for spare rain shells, or they could hold a camera tripod or tent poles.  the front has a zippered outer pocket in the same place other companies put a "shove it" pocket.  it can swallow my rain parka, but with the pack fully loaded, you would need to keep the top compression straps pretty loose if that pocket is full.   
the pack has a good-sized hydration pocket that should hold two 100 liter reservoirs, and it has hydration ports near each shoulder strap, and loops on both shoulder straps to secure the water tube.  the hydration ports each have velcro to keep them shut when not in use.  there are three small hooks that look like they could hold the top hook of a hydration system, but they looked sufficiently small that i haven't used them and would have a concern about breakage. 
access points to the interior are a strong suit - there is a bottom U-shaped zipper for a sleeping bag compartment, and you can unhook the top part of the compartment if you prefer one large bag (ps - unhooking the sleeping bag compartment could be easier - it's a similar system to the shoulder strap adjustment and takes a little time and focus).  you have to unclip the outer bottom straps (eg for a sleeping pad) to unzip the lower compartment. 
further up the front, there is another U-shaped zipper that roughly runs around the zippered shove-it pocket and gives you panel-loader-like access to the entire top half of the pack.  But, you have to unclip the top pocket and the upper compression straps to unzip it.  finally, it has traditional top access with a nice pull-cord system that is easy to open and close, even with gloves on. in general, i like the zipper pulls on this pack because they have a hard plastic piece that is pretty easy to use with gloves. 
the inside has a load-compression strap to keep things in place, and the outside has a middle strap that could turn this into a roll-top if you don't want to use the top pocket.
the top has a relatively shallow top pocket, and a very small zippered pocket underneath - for things like car keys and a wallet.  the top pocket can come off and serve as a fanny pack, though i haven't tried that yet.  the pack has a number of outer attachment points that seem sturdy, two ice axe loops and two fairly sturdy fabric loops for holding axes or tools.  the haul loop at the top of the pack seems very solid. 
overall, i couldn't find loose seams, ragged edges, or fit and finish issues with the backpack - good quality control.  the pack material is either solid or some kind of diamond-shaped pattern, both appear better suited for durability than for weight reduction. 
* * *
my conclusion is that this is a top-notch backpack in its size/capacity range. 
Source: bought it new
Price Paid: $169 (discounted)

Phenomenal pack, great for the thru hiker and more.
Pros
Durability
Comfort
Ease of access
Cons
We have not found one yet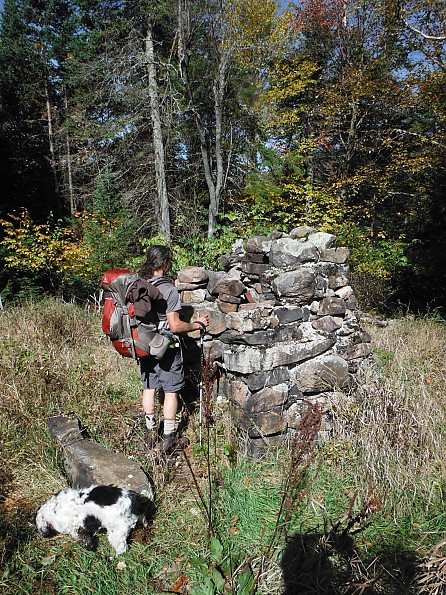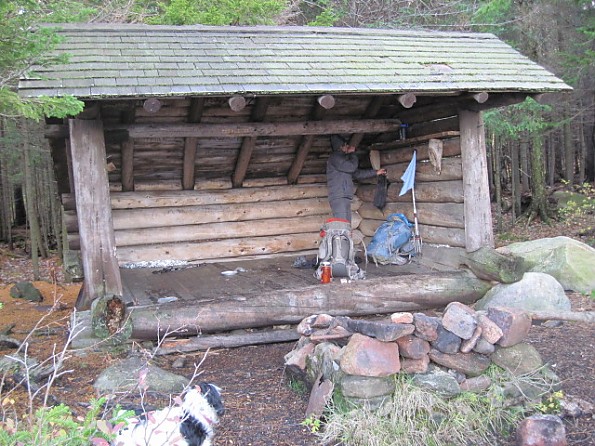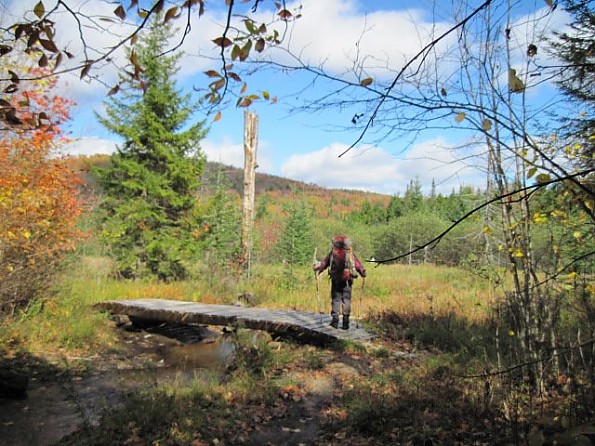 This pack is rugged and very comfortable. My husband carried it on the Northville Placid Trail and many other thru hikes with no problems. I would highly recommend it for anyone who needs comfort and durability.
We carried gear and food for 14 days. Repacking in the morning was a breeze and no issues with compression. As our loads lightened we still did not have any issues with the load. Hip and shoulder belts adjust easily to add to comfort and load adjustment.
Highly recommend.
Experience
Have tried many packs and have always returned to Gregorys. The comfort is unmatchable. We have owned this pack for over 2 years and put over 500 miles on it. We have thru hiked the NPT, the CL50 (Cranberry Lake 50), many miles of short hikes, and trail steward work here in the Adirondacks of N.Y.
Source: bought it new
Price Paid: $180

Great quality at a great price. An even better company regarding their attitude towards the hiker.
Pros
Compartment options
Color
Compactness
Suspension
Customer service with Gregory
Lumbar pad does its job
The mini daypack and rain cover are fantastic additions for the price point
Cloth is tough
Cons
Phone pocket and waterproof pocket too small
Hip belt foam takes a little time to soften
Cons aren't serious cons to be honest
Could use one more cut out in the aluminum upper strap inserts for even greater height adjustment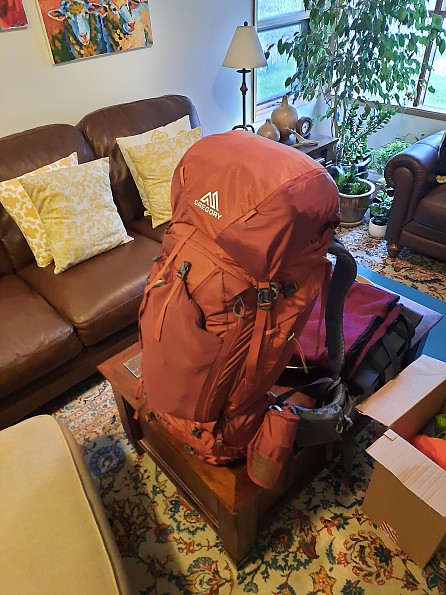 Gregory is a company that cares about its customers. I bought the large given my long back and 6:1 frame. My inseam is only 30 inches. Was using the pack for the first time at Berg Lake, BC back country. My shoulders are very average while my chest is in the large category. I worried about the fit given I have had a broken clavicle historically and a major shoulder surgery (Laterjet-Bristow). That makes my right shoulder less prominent than my left.
Anyway, I had heard that Gregory might send me a different sized shoulder strap (medium) online in a forum to replace my large straps on the pack. I went into a Gregory dealer not far from the old MEC on Broadway in Vancouver. To my amazement the store had several replacement shoulder straps at the store tucked away *free of charge* in the event a Baltoro buyer came in for sizing.
I went down a size to the medium and the pack now absolutely enshrouds the upper body. In fact, when you cinch it down the pack looks very sleek and much smaller than its actual size. So much so in fact a woman travelling up to Berg Lake was surprised I had been in the back country with what she believed was too small a pack. My large is actually 70 liters as you will learn when you read up on the Baltoro. So that adds significant space for a 3-5 day trek.
The suspensions system is ultra smooth once you are dialed in. That took some work of course. I have the Ferrous Orange color, which is outstanding.
My only criticism is the side pockets are too small for any reasonably sized phone. The bigger side pocket to the left is too far away for bear spray. Not that you need spray on a hike like Berg Lake. Like other reviewers point out the compression strap hip-belt foams take time to soften.
Thus far I love the pack.
Source: bought it new
Price Paid: $290 CDN/$225 USD

I LOVE this pack. Though the older version, the pocket management, versatility, and especially the stability just shine.
Pros
Stitching
Balance
Super comfy
Snug harness and waist belt
Cons
Waist belt pockets too small
Side pockets could have been better designed
Strategic loops for trekking poles would be handy
Heavy when wet, unfortunately
I got caught in "pack out" rainstorm on a three-day trip. I was amazed that for its trimness, all the gear I needed fit in just fine. I think I was packing 45 pounds? And that was with probably excessive amount of food. It held my BIG 3 (Kelty Salida 2) plus my Katadyn Hiker Pro filter, MSR DragonFly, 1L of fuel, Primus ETA 1L pot.
It poured the last night (was forecasted) and I knew I was going to be packing out very wet. The trail was gnarly, narrow, with many steep short pitches in very wet closed woods. I was concerned the pack would bugger my centre and swing negotiating that soaking wet trail. My Baltoro cinched snug and close around my waist and over my shoulders, without swaying at all. Save for noticing I had weight on my back, I felt perfectly safe, steady, and in control on the hike out.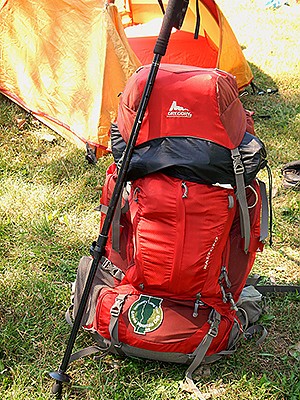 Experience
I've had this pack three years. Only two trips. Previously I used a Serratus 45L pack. I'm a senior now, however backpacked with a Camptrails external pack in Eastern Canada, Canadian Rockies, and Whites in New Hampshire when I was younger. (I have my SVEA123 stove and Silva Ranger compass I bought new, way back.) No heavy duty long distance trips, but memorable two and three nighters.
Source: bought it new
Price Paid: 350$ CDN

Version reviewed: 2016
I've crossed around 1,000 miles over the past six months with this pack, carrying an average weight of 36 pounds. I could never imagine a backpack can be so comfortable and make the weight just disappear.
Pros
Unbelievable comfort
Durability
Organization
Cons
Color change
No option to hang trekking polls without taking the bag off your back
I've crossed around 1000 miles the past 6 months with this pack, carrying an average weight of 36 pounds, I could never imagine a backpack can be as comfortable as this, it makes the weight just disappear. This is the 2016 model.
Suspension
Superb. I have no idea how they made it, but this pack just gets more and more comfortable as you add weight to it. Carrying 40 pounds never felt so easy, just like another part of my body, only rarely I felt stress on my shoulders and back.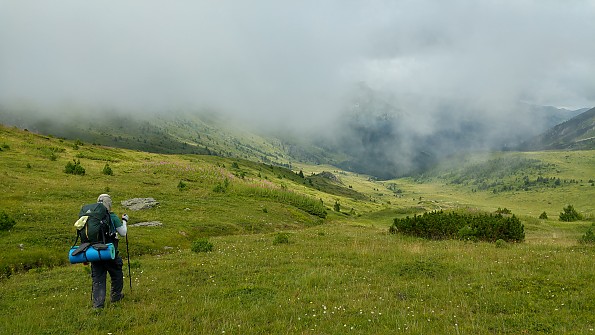 Comfort
It's as comfortable as a backpack can be, tight on the lower and upper back as it should be, combining with a thick broad waist belt that grips tight resulting in an excellent support and stability. The pack becomes a part of your body that moves with you and keeps your center of gravity close to its natural position.
There are multiple options to fit it correctly to your body build. The waist belt and shoulder straps are very well padded; the back panel is shaped perfectly and fits well to my back.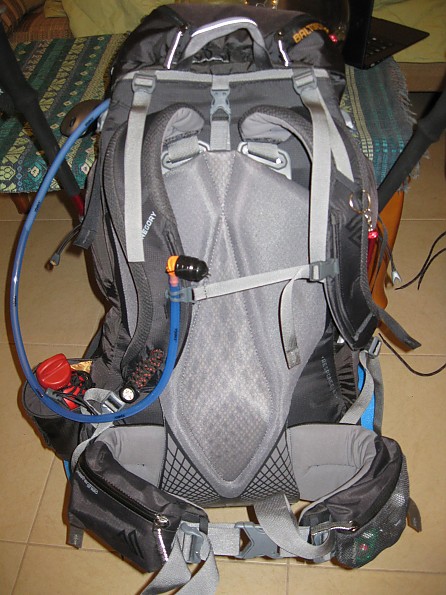 Durability
I am amazed at how tough this pack is. Initially I thought that the back panel is too soft and delicate and it will probably tear and wear fast, but it's still in perfect condition. It passed through numerous sketchy public transportation, flights, been leaned on rocks, thorn bushes, gravel, trees, and there are no holes, no cuts, all pieces are intact and in place.
The only thing that got worn and has small holes in it is the day pack. These are the result of the pack rubbing against the internal frame of the backpack, but it is still absolutely usable.
Organizing
I love all the pockets and options this pack provides. I found it easy to organize my pack so I will have everything handy. It has a lot of small features that make it very east to hang things on the outside of the pack.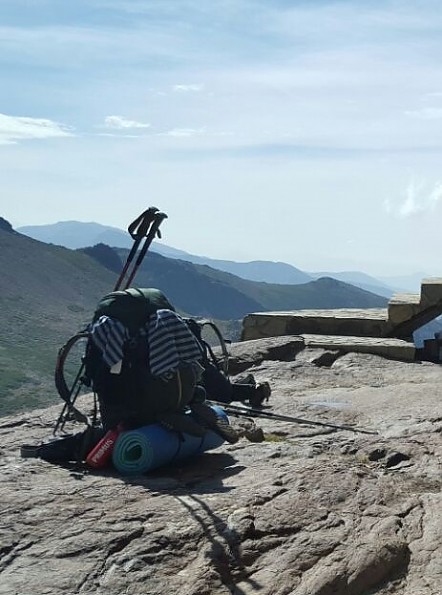 Cons
I got the black color, which faded into dark green after one month of use (hiking each day, all day, out in the sun). It doesn't bother me and in fact I prefer the "new" color but I guess it could matter to some people.
It's impossible to hang your trek poles on the pack while walking. Each time I had to take the pack off my back, hang the poles and put it back again, which made me give up on it and just carry them by hand for short stages, I really wish they could make loops that are similar to the Osprey Aether "Stow on the go".
The rain cover can be a little bit larger. I hike with an E.V.A foam mattress that I hang outside. The rain cover is not big enough to completely cover the sides of the pack with it, leaving it exposed to rain.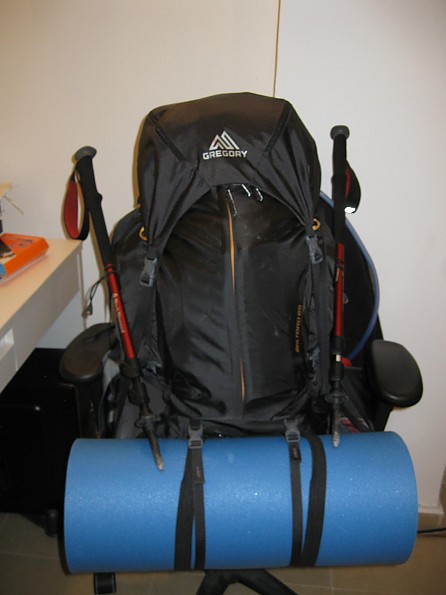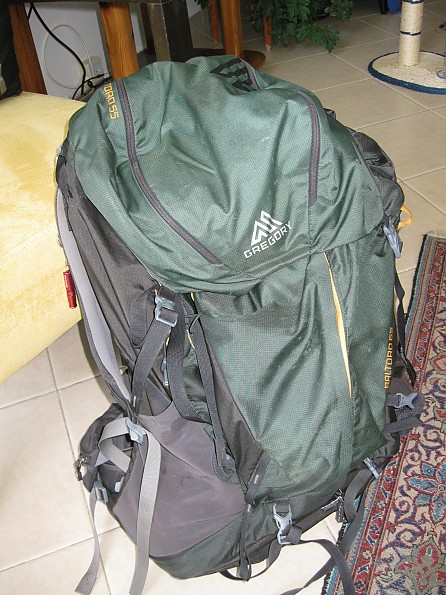 Source: bought it new
Price Paid: 300$

A comfortable and organized pack that handles heavier loads with ease. May not be the lightest backpack for its price range, but this pack is not the same heavy Gregory backpack everyone knows.
Pros
Exceptionally comfortable
Handles heavy loads
Lots of pockets for organization
Cons
Not the lightest pack on the market
Back of the pack sits kinda high on you
hip belt pockets are just a smidge small
This is a great pack. A huge 65L is a great versatile backpack you can use for just about anything. I usually carry around 30 pounds in this pack, although I've carried much more without no issues or notice in the weight difference.
The hip belt and shoulder straps are all super comfy and provide good cushioning. I love that the hip belt and shoulder straps move with your body, so you're not confined to the straps in your movement, giving you a little more freedom than you would normally have.
It comes with a rain cover free, which is actually of good quality. I've used it in a pretty nasty downpour and only the shoulder straps got wet as expected.
After normal use and torture, I can tell this backpack is very durable and won't be breaking or ripping anytime soon. Stitching is all superb where it has it. The top load lid has three pockets, under it and two above layered in a sense. This makes it super sweet for organizing gear you may need on the go or in a hurry.
The hip pockets are nice, but I wish they could have been bigger to actually store, say a phone or a GPS. There's no use in a waterproof pocket if nothing needing waterproofing can fit!
The giant pocket on the front of the pack is very useful for staying a rain jacket that can be easily accessed when needed, or other tools like a cat hole trowel or anything not big enough to fit into the top lid dividers.
Source: bought via a "pro deal"
Price Paid: $151 pro deal

Great suspension, great size. Comfortable.
Pros
Carrying capacity
Comfort
Adjustability
Cons
Empty weight
Water bottle storage
Great pack. Have used this on a few weekend expeditions as well as a long distance thru hike. I would recommend it. It has a multitude of adjustments. It has held up very well without any obvious signs of wear.
The capacity is large. This pack is too big to be in Trailspace weekend pack category. I had plenty of room for a two-month expedition (with weekly resupply). I found it comfortable, though if I could go back and buy it again, I would get the medium vs large. I am 6'0" tall, 185 pounds. I hit the limits of the large pack's ability to cinch the waist belt. Lots of spaces and compartments to cram your stuff.
Things I would improve upon if I could:
The hip belt pouches are small and the zipper mechanism makes it a little difficult to get into. Good enough for a compass, small flashlight, red pepper spray, and that is about it. I use the pockets on my cargo pants for items that I really need to get at easy.
Empty weight is 5 1/2 pounds. A bit heavy for a thru hike bag. I consciously traded weight for back support, so I knew what I was doing. The frame support for this bag is impressive.
Pack not meant for bushwacking. If you bend over, your water bottle will fall out, don't know if that is not true for all bags though. The other water bottle pocket can not be reached without taking the pack off. Though that was good because it did force me to take much needed pack breaks.
Plethodon 
Source: bought it new
Price Paid: $350

Would definitely recommend this pack to anyone looking for a large pack thats is all around great. Its suspension system is amazing making even the heavier loads feel light. This pack has so many great features there isn't really much more you could want.
Pros
Suspension system
Access panels/many pockets
Removable top lid
This pack is an awesome pack for anyone looking for a larger pack for weekend to extended trips. I got a medium and it fit me great. I am a 5'9" male weighing about 170 pounds, but you should measure yourself or get measured at a shop to insure proper fit.
Honestly this is the most comfortable pack I have ever had the pleasure to use. The suspension system makes 25 pounds feel like nothing and even in the heavier weights it's still comfortable and doesn't bruise your hips. The pack having a nice 65 liters can fit all your gear and food you need comfortably up to 5 days, and if you cut down a bit you can probably go for longer.
Along with great capacity there is great organization including a sleeping bag compartment with a removable divider along with this there is side access to the pack so you can quickly grab what you need without unpacking your whole pack. This pack also is equipped with many compression straps to help keep your load secure even with a lighter load.
Probably the coolest feature is the removable top lid to use as a small pack for any shorter day hikes while already on the trail. Also the belt pockets are great for storing things like snacks, compasses, camera, or whatever else you need really quick. Also this pack has a specific spot for a water bottle which can easily fit a Nalgene and has a strap to secure it down.
This pack is super durable and Gregory backs it with a lifetime guarantee if your pack has any defects. I've only been able to use this pack on a couple two-day trips on some well kept trail, but all in all it held up great and I absolutely love this pack and would recommend it to anyone looking for a multi-day pack. HAPPY HIKING.
Source: bought it new
Price Paid: $217 (On Sale)

Wow! After 33 years in the British Army, I wish I had something as comfortable as this to carry 100 pounds on my back. With semi-prolaxed discs at 3 and 4, this pack is awesome. The extra weight is more than made up for in comfort and the durability, pockets, and style make this an easy access pack for everything I need for pretty lightweight packpacking. My wife can carry 20-25 pounds and I can carry everything else in this great rucksack and still keep it under 40 pounds.
Cons
The strap locks take a bit of getting used to and the waist belt pouches are too small to be worth it.
Also the side pouches are constricted when the main pack is full.
Only a year away from retiring from the British Army and at my final tour attached to the U.S. military in DC for three years, my wife and I have taken up trekking and are slowly moving into lightweight backpacking.
I am determined to keep my carrying weight under 40 pounds and my wife can manage about 25 pounds. We see ourselves out for no more than five nights at a time, covering 15 miles per day.; Therefore my pack must be comfortable and easy to load.
From my younger days carrying heavy packs in the Army, I am amazed at what can now be bought commercially. I have tried many packs over the last few months and already had the Gregory Baltoro 65 in my top 3. Imagine my surprise when at REI's used sale, there it was, unused!!! And returned because it was not bigger enough!! Selling for $139. It is now mine and has been used today for a 14-mile, 5-hour hike.
It is great. It has easy access to all that you need when hiking—maps, water, cooker, rainwear, dry layers, snacks on the belt and then for the night, tent and sleeping mats come out of the main compartment. The material is strong and durable and the zips are sturdy. The frame itself is great with both the pack load, chest straps and waist straps adjustable. It is very comfortable and I really like the shoulder straps design, they fit really well.
On the downside the belt pouches are too small (I am used to a webbing belts with pouches all round. I used the front two for snacks etc). They need to be deeper and longer on this pack. Also the side pouches, are difficult to use when the main pack is full. They should have been bigger or with an extension zip, like on many overnight travel bags.
All in all, a great pack that keeps the pressure off my lower back. I have my alcohol stove and now just need cookware, tent, and sleeping mats and we will hopefully retire back to UK with the AT behind us!!
Source: bought it used
Price Paid: $139

Super comfortable pack with the best harness! Great organizational features and pack access.
Pros
Included rain cover
Bladder sleeve is a super lightweight pack
Cons
Weight is on the heavy side
I just love this pack. Although it is heavier than other packs with the same capacity, it is so comfortable  that you don't even notice it.
Great angled water bottle side pocket. Multiple access points to reach your gear so that you don't have to empty its entire contents. 
Lots of pockets! Very comfortable! Plenty of adjustment straps!
Pros
Pockets
Comfort
Straps
Love
LOVE THIS PACK!
Source: bought it new
Price Paid: $200

A great pack to start with because it is comfortable, great weight distribution system, and easy access.
Pros
Most comfortable hip belt
Best weight distribution system
Easy access to all pockets
Cons
Not a lightweight bag
Easy to overpack
I am a beginner backpacker and this was my first pack I liked. It is very comfortable, has a great weight distribution system, and easy access to all parts of the bag. The hip belt is wide and very padded, which makes it very comfortable and the shoulder straps are very ridged which I like because they will not rest on my shoulders unless I want them to. 
I carried around 55 pounds in this bag with no issues. The only issue I ran into was hip belt blisters because I had my pants too high and they were rubbing me.
This is a great pack for someone starting out who is not concerned with weight.
Source: bought it new
Price Paid: $280

Great pack, moves well, feels light.
Pros
It moves well with your body, although at 6-ish pounds it doesn't feel that way
Great company
Cons
Squeaks from time to time, I put sealant from water purifier on it and it stopped
Prior to thru hiking the AT, no previous hiking experience. This bag I walked one day without on a slack pack day, from that day forth I had it with me, way too comfortable to slack pack with something else when I was so used to the Baltoro.
Thanks from the Sunshine Gang 2012 Appalachian Trail family
Source: bought it new
Price Paid: $250

With a good design for contain bags allocation; With a perfect backing system, make hiking comfortable with 65 more liters.
Cons
Materials should be wearable more
Good enough for long distance hiking.
for 175cm+
Source: borrowed it

This is without a doubt the most comfortable backpack I have ever owned. It is tough and roomy. It requires very little adjustment. It left my shoulders and back feeling fine at the end of a long day of dodging blowdowns.
The only complaint is the weight, which comes in at 6+ pounds for the large.
Source: bought via a "pro deal"

A great pack, with nice features and very well made!
Pros
Adjustments to fit
Front zipper to main compartment
Comfort
I am fairly new to backpacking and have been building my gear through the years. I have always used a more inexpensive pack and wanted to upgrade.
WOW! I cannot believe how much a quality product makes a difference.
I received this pack from Gregory for testing in exchange for a review. I am so lucky that they chose me to test and review this product. I have had it only a week and have already taken it for 50+ miles, with 40+ lbs. in it, on many long hikes with steep elevation gain.
Not only did it take the load well, but it was surprisingly comfortable. I love how I could easily adjust it when need be, to make for the fit perfect. There are many adjustments to be made on the suspension system as well as the hip belt. It also has symmetrical pockets on the outside of the pack, so it is easy to balance your load.
It's a treat to be able to access the main compartment of the rucksack via a front zipper while on trail, so you don't have to pull out all of the items to get to something on the bottom of the pack. The removable water bladder holder that turns into a hydration/daypack is awesome too.
Very well made, with high quality materials, with features I don't see other brands using. I am telling all my friends and anyone I meet about this pack. I know this will be a piece of gear that I will have for many years and will take on many adventures.
Source: tested or reviewed it for the manufacturer (I kept the product after testing.)

Disclosure: The author of this review received a sample of the product from the brand or its representative in exchange for a review.
Your Review
Where to Buy
Help support this site by making your next gear purchase through one of the links above. Click a link, buy what you need, and the seller will contribute a portion of the purchase price to support Trailspace's independent gear reviews.
You May Like
Specs
small
medium
large
Price
MSRP: $299.95
Current Retail: $224.73-$329.95
Historic Range: $149.73-$348.95
Reviewers Paid: $139.00-$350.00

Weight
4.65 lbs / 2.11 kg
4.84 lbs / 2.20 kg
5.14 lbs / 2.33 kg
Volume
62 L / 3783 cu in
65 L / 3966 cu in
68 L / 4150 cu in
Fits Torso
16-18 in / 40.6-45.7 cm
16-18 in / 40.6-45.7 cm
20-22 in / 50.8-55.9 cm
Fits Hips/Waist
27-47 in / 68.5-119.4 cm
28-48 in / 71.1-121.9 cm
30-50 in / 76.2-127 cm
Packed Dimensions
28 x 13 x 13 in / 71.1 x 33 x 33 cm
30 x 13 x 13 in / 76.2 x 33 x 33 cm
32 x 13 x 13 in / 81.3 x 33 x 33 cm
Rain Cover Weight
0.22 lbs / 100 g

Sidekick
0.29 lbs / 132 kg

Max Carry Weight
50 lbs / 23 kg

Recently on Trailspace