Gregory Palisade 80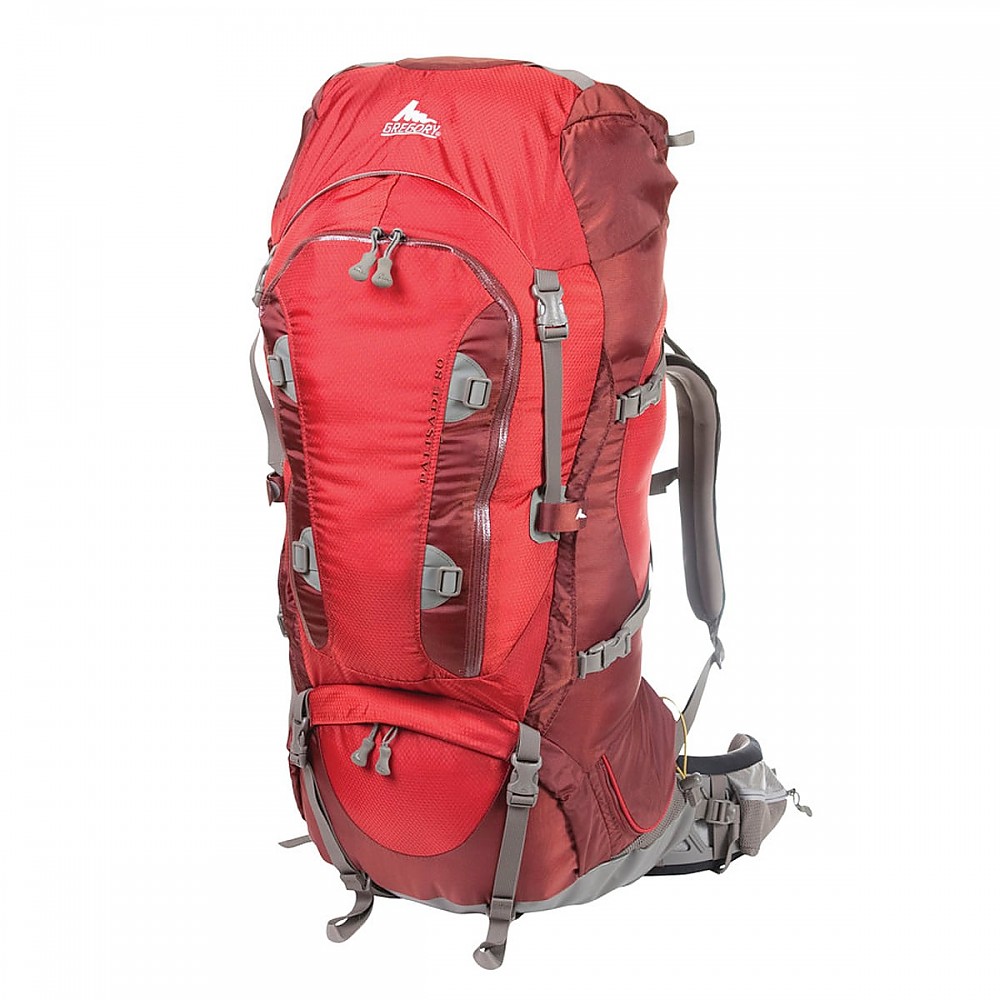 I used this in the Olympic National Forest in 2008 for a 5 day trek.
The Gregory suspension and hip belt were more than comfortable. Having the middle zippered access made life easy when I needed gear that wasn't accessible through the top. There is plenty of room for anything needed on week long outings.
I'll be using this pack on my upcoming Torres del Paine trip.
Price Paid: Bought used - $160

I was taken back by the price, but two salespeople urged me to avoid the Kelty packs and move up to this. I am 55 and have used about every kind of pack. I was partial to my REI pack but the Palisade 80 looked better. Oh the bill was high.
So I took it out on a five mile practice hike with 35 lbs to see how it would do. I was impressed so I gradually upped the weight. I am now doing 3 miles daily with 20 flights of stairs in preparation for an extended 70 mile hike. Each day this pack is exceeding my expectations. Yesterday I was in a severe downpour and had to run about a mile with 50 lbs.
The fit is incredible and the weight is only evident when you lift it. I love this pack and now I will purchase one for my son.
Design: Top load interna
Size: Model 80 - 5000 cu inches
Number of Pockets: six
Max. Load Carried: 50 lbs
Height of Owner: 5' 6"
Price Paid: $329

The best pack ever. The strength and durability to weight ratio is outstanding. Extremely durable, large buckles, amazing comfort with full independently flexing suspension system, and yet it only weighs about 6 lbs, not "7 or 8" as another reviewer had guessed.
And I would say, because the suspension system is so good, it even feels lighter than some packs that weigh less, but no pack matches the durability of this pack at its weight. This pack also has front access which is extremely handy. In my opinion one the best packs out there.
Design: Internal Frame
Size: 4973 cu. in
Number of Pockets: multiple
Max. Load Carried: 70lbs
Height of Owner: 6'
Price Paid: $300

By far the best pack I have used. Independently pivoting shoulder and hip straps allow range of motion I would never have dreamed of from a pack this size. Jump, twist, run, do what you do and the pack stays there and remains comfy. The exo-frame tech. really allows torso flexibility. The top comes off and makes a handy little day pack, I think it's meant as a fannypack, but I use it as a messenger bag.
Amazing versatility. I use this pack year round. It is awesome in the winter, easily fits my -20 bag, thermarest, 4-season tent and all necessary gear without a second thought. If you are headed out in the summer for two days, the compression straps will bring this pack down to a very small bag that you really barley notice. I'v done bike trips with it.
The only thing that has ever happened with it is that the tension straps over the shoulders occasionally slip if they have a lot of stress on them. But other than that, it's really the perfect pack for me. Indestructable, versatile and functional.
Design: front/top loading internal
Size: 5550 sq. in. 91 l
Number of Pockets: 4 zippered
Max. Load Carried: dont really know. quite a bit in the winter
Height of Owner: 6' 0"
Price Paid: just under 300

I love this pack and have owned two. I bought my first in 1996 and just recently bought my second and have used it on one four-day trip. Most of my trips are four days or less but I tend to carry a lot of camera gear (MF camera, 3-4 lenses, film, etc) which weighs between 10 and 12 pounds. The Gregory is up to the task and I never have to make shoulder adjustments because of their unique cam that rotates to fit your shoulders. The waist strap is bomb proof and comfortable.
Favorite features: 1) Top pouch can be used as a fanny pack (I use it all the time for morning/evening camera shoots)
2) shoulder cam.
3) outer pouch compatible with most bladders including my 100oz camelback
4) sturdy straps and clips that haven't broken on me in 10 years of use.
Improvements since my 1996 model:
1) they rotated the water bottle holder 90 degrees so that it is 100x easier to get to your nalgene.
2) the outer pouch that holds your water bladder has a pass through zipper to get into the body of your pack.
3) uses new lighter materials.
4) zipper on top pouch makes items in it much easier to access.
BTW, I couldn't possibly disagree with "Melissa" more (she is reviewing the men's pack?). I've been backpacking in Colorado for 20 years so I'm no beginner; I purchased this pack. And I pack exclusively between the months of May and October. Some of us like a few creature comforts out there (i.e. camp shoes, camp chair, real tent, etc.) and camp in colder climates where it can be 80F during the day and 20F at night. Could I use a smaller and lighter pack? Sure. Would I? No.
Design: Top loading internal
Size: 5500 cu
Number of Pockets: 2
Max. Load Carried: 60lbs
Height of Owner: 6'2"
Price Paid: $230

Unfortunately I haven't gone all out with this pack yet. I have gone on a two week trip through Big Bear. I packed extremely heavy on purpose to test Gregory's shop talk...WOW!!!!!!!! I packed 100lbs, carried 100lbs no problem whatsoever. I packed a month's worth of equipment and supplies.
It's very important that you learn how to pack correctly, if not you're doomed. It's true from what I've heard from other backers, I didn't once feel the 100lbs on my back untill I took it off!!! I'm going to purchase the Denali Pro asap when funds are there.
I more than strongly recommend this pack to each and every one of you. It's not an expedition pack, but I wouldn't doubt that it would do the job!!!
Design: front loading internal
Size: 5550
Number of Pockets: one
Max. Load Carried: 100lbs+
Height of Owner: 5/7'
Price Paid: $300

I used this pack for 4 months in Europe while camping in 14 countries, from July to the end of December. Great pack. I BPed alone and it carried everything I needed, from tent, sleeping bag, clothes, to any extra gear and it fit ALL inside without using external straps when necessary. For the first 2 1/2 months I carried 60-70 pounds, then luckily met some family and handed over some old stuff for lighter winter clothing and went down to 40 pounds or so.
The pack was great even after injuring my knee my first month out. It was very easy to adjust the weight when I needed to take pressure off my left knee. I'm right over the XS size measurements, so the size Small pack took a little time to get used to, but ended up being the best investment I made. BE SURE TO GET THE RIGHT SIZE, it is SO IMPORTANT. Don't just buy any pack out there. I'm glad I didn't.
The only thing I would prefer is a backpack daypack instead of waistpack-- all they have to do is keep the straps hidden underneath where the waist straps are-- but that's another day, another model I suppose. That's my only complaint-- everything else: Superb!
Design: Top loading internal frame rucksack
Size: Small, 4850ci
Number of Pockets: 3
Max. Load Carried: 65-70
Height of Owner: 5'4", 117 lbs
Price Paid: $275

While it isn't quite an expedition pack, I've found the Palisade to be just about perfect for everything from the Selkirks to Colorado's 14's to a 2 day outing in Appalachia (it also makes great luggage!). Versatility is one of this packs greatest strengths. This isn't to say that the quality isn't top notch (it is), but there just aren't many reasonably priced packs that can go nearly anywhere and fit SO well. While a Dana with probably deal with the heaviest loads a little better, this pack has been virually unnoticable under 45lbs.
The large outside pocket is very useful for rain gear and food and the top conveniently comes off and becomes a great little lumbar pack.
One thing to be sure of: go to a dealer and get sized. I ended up buying my pack off the web for considerably less than the dealer wanted, but I very glad that I got the right size. It makes a world of difference.
In the end, I don't think you can find anything more comfortable for the average 3-7 day outing. I've have mine for two years and, apart from a smaller climbing pack, I don't think I'll ever need anything else.
Design: internal frame
Size: 4700
Number of Pockets: 2
Max. Load Carried: 45 lbs
Height of Owner: 6'0"
Price Paid: $220

Finally used this for something beyond car camping. Went on a 4-day backpacking trip with son and a few others from his Boy Scout Troop. Pack was comfortable and a bottomless pit.
Pros
Comfortable
Light for its size
Cons
Bit hard to get stuff in the middle
Four-day backpacking trip with son's Boy Scout Troop and the Gregory Palisade 80 took everything I had ... even when I fell on it. It carried my gear and a good bit of the Troop gear with room to spare. The articulating hip belt made the pack feel like it wasn't even there at times even though it weighed in well over 45 pounds.  
We did a bit of bushwhacking up and down a wooded. rocky hillside with about a 200 foot elevation change.   While the woods were not thick yet, there were a number of thorns and such and beyond a bit of mud and dust there's no signs it was used. 
The only issue I have is there is no side access. If I needed to get anything out of the pack from the middle, I had to unpack everything out of the front or everything out of the main compartment. So a little time organizing the pack is certainly required in the morning.


Source: bought it new
Price Paid: $200

Gregory has a winner. See follow up below. Unfortunately this pack broke my heart
Cons
Waterbottle pockets
Small top lid
Weak seams
This is my third Gregory Palisade. I also own a Mystery Ranch G7000 and an Osprey Aether 70 (second iteration). First, I am a traditionalist and like a pack that can carry it all. I have a number of lightweight packs but prefer the above. 
First the Gregory Palisade. Properly fit it is the most comfortable and supportive of the three. The suspension uses twin aluminum stays and an aluminum cross stay (to prevent barreling) and which do an excellent job of weight transfer to the hips.
The waist belt and shoulder harness are well padded and comfortable. The zip away water bottle pocket is somewhat gimmicky and the other side pocket is mesh and impossible to fit a Nalgene into, barely accommodating a fuel bottle. The back pocket is roomy and provides convenient access to the main compartment.
Sleeping bag compartment is on the small side although accommodates a 3-season down bag without difficulty.  The top lid is small. The waist belt pockets barely accommodate a small digital camera or candy bar.  I think they are more or less useless. The lumbar pad is the best I have ever experienced. 
Compared to the Osprey Aether, the Aether does a superb job of weight transfer to the hips, using a peripheral frame of aluminum rods and a half length stay. The Aether is also lighter but doesn't handle weight as well, since shoulder straps and waist belt are thin. 
The Mystery Ranch G7000 is my largest pack. Materials and workmanship are first rate. This pack holds an enormous amount of gear. The top lid, twin back pockets and water bottle pockets are the best I have seen on any pack. Unfortunately, where it falls down is the suspension which consists of a frame sheet supported by two thin fiberglass rods. The frame is much less stiff than the other packs, not good when carrying large loads, although this is somewhat offset by the yoke and massive waist belt. This would be an excellent pack if it used twin aluminum stays instead of fiberglass. The Palisade is a taller narrower pack and carries weight closer to the back providing much better balance under load. 
If I were to get another Osprey I would look at the Xenith series.  As for Mystery Ranch, they are excellent packs but come up short compared to the Gregory, particularly given their weight and expense. 
If one needs a massive load hauler I would recommend the Gregory Denali Pro. As with all things, there is no perfect pack, no not even a McHale.  I've never used a McHale pack so am not qualified to comment, although I find the features listed on their website somewhat offputting, like the bayonet stays, the crazy double buckle on the waist belt, and the seeming lack of contoured shoulder straps. The harness and waist belt also look poorly padded.
Follow up review:  Unfortunately I must retract my recommendation of the Gregory Palisade. I just wrote the above review and now have egg on my face. It all came about when I loaded the pack with about thirty pounds of gear and noticed that one of the main seams on the bag was separating and with a very light load. Clearly something is wrong with quality control since none of my other Gregory packs have had this problem although they were manufactured years ago. 
I guess it's back to my Mystery Ranch pack which is bombproof.  Breaks my heart, but the Palisade is going back to REI and I am through with Gregory.
Source: bought it new
Price Paid: approx $400

Excellent backpack for multi-day journeys. Strong (as I'm finding out) construction. Carrys a lot of gear and a lot of weight.
Pros
Adjustable hip belt
Strong padding on bottom outside of pack
Comfortable harness
More than one access to main compartment
Cons
A bit heavy
Sleeping bag compartment could be bigger
I bought this backpack new in late winter. I hike Vermont's Long Trail and needed a pack that could hold lots of gear, because I tend to bring more than I need. I used to use a Kelty Redcloud 90 but had problems with the shoulder straps loosening.
I always wanted a Gregory pack but needed to find a large one that I could afford....finally find one!! I love this pack!! Love the color—Cinder Red!! It holds all the gear that I need and don't need. A big plus for me are these two features--hip belt pockets (for my phone, mace, led flashlight, whatever, and 2) more than one access to the main compartment.
Zippers seem to be pretty strong...preformed shoulder straps...preformed hip belt. The only thing I find wrong is the sleeping bag compartment is too small. Luckily my sleeping bag has a compression sack, so I can get it small enough to squeeze into the compartment.
Gregory packs are made with strong materials and built to last. Def enough space to carry enough gear for days out on the trail.
Source: bought it new
Price Paid: $246

Good quality backpack!
As I have taken this pack on a number of trips over the past two years, there is almost no frey or wear, just the smell of campfire. This pack fits nicely on your hips and distibutes weight like a champ. It has a very streamline shape that is not in your way and doesn't get stuck on debris easliy. 
The double cinch on the opening is a great feature, and adds another layer of protection from snow and dirt.  Hiking poles fit secure on the velcro braces. 
The only thing i wish this pack would come with is some expanding pockets on the outside, but maybe that would hinder the "streamline shape" I mentioned before.
Good backpack for the price!
Source: bought it new
Price Paid: $320

Carried a load great until the waist belt disintegrated at 17,200' on Denali. A pack is only good if it is durable and this lasted 21 days!
Max. Load Carried: 60
Height of Owner: 5' 7"
Price Paid: $285

When I was in the backcountry of Glacier National Park and the Tetons, this backpack carried 45+ pounds of my gear with ease. It seems deeper and more spacious on the inside than it looks on the outside, crazy as this sounds. I've never felt more balance while on steep trails (Paintbrush-Cascade Loop) in my life.
I had used external frame packs, and cheaper packs with group trips. This pack is amazing. I've read great things about the Denali Pro as well. Seems to be an axiom in the backpacking industry: truly, you get what you pay for. Gregory makes quality backpacks. A person needs to find what works best for their needs.
I bought my daughter a Gregory Deva, and she felt the same way: an amazing pack for someone with her smaller body frame! 5 stars. Couldn't be happier!
Price Paid: $240

The reason I only gave the Palisades only 4.5 stars is because I love the comfort of the pack. I am not, however, pleased with the durability of the waist belt.
The second hike (50 miles ) I went on,the plastic on the belt cracked and fell apart. I took it back to REI and they promptly replaced it (I love those guys!). I asked the salesman if I'd have to do this every fall and he said "Hope not, but if you do, you might want to go to another brand"
Didn't Gregory do any field testing of this pack? I've had less expensive packs last for years. Of course they didn't look and feel like a trail Maserati but they had the reliability of a Honda Civic. I hope Gregory will build better packs in the future or quit putting my name on them. It's kind of embarrassing !
Gregory L Kendall
Design: top and frontloading internal
Size: Large
Number of Pockets: 2
Max. Load Carried: 70
Height of Owner: 5'9"
Price Paid: $365

Yug! This here sucker is a real workhorse you see. I load it with a week's worth of gear and it seems to not have a problem. The bottom is tougher that a pelican in a salt mine and it has room to hold anything you'll need.
My only gripe would be the top pocket, although it does convert to a small waistpack, there's not so much room in it. The compression straps are a thing of beauty and the multiple access points put a smile on my face, kind of like a big batch of stuffed cabbage!
Design: internal frame backpack
Size: medium
Number of Pockets: just the front, and the sleeping bag compartment
Max. Load Carried: 57 lbs.
Height of Owner: 5'6 1/2"
Price Paid: $200 Federal Reserve Notes, give or take a few

Overall, this is a great pack. The buckles are beefy and the compartments are large w/ lots of room. Reason for four stars is that it is a bit heavy. I believe it weighs around 7 or 8 pounds empty. Also, there are a lot of straps... Don't get me wrong, I like this pack, but I feel you should get the full story. If those are my only complaints then I would say go for it...
Design: Internal
Size: medium
Max. Load Carried: 50
Height of Owner: 5' 9''
Price Paid: $200

I bought this pack off someone who traveled to the Himalayas with it. So it had seen some good use before I bought it. I love this pack, I love and trust it so much I bought the same one for my girlfriend.
Max. Load Carried: 27
Height of Owner: 6'1
Price Paid: $50

I absolutely love this pack. I purchased it in '99 and broke it in backpacking up and down Ireland's West coast a month later. Quality is wonderful and it had enough room for everything I took with me. What I couldn't/didn't want to fit inside I attached to the daisy chains and off I went. (this included a couple nalgene bottles and my bodhran)
I've tried friend's Dana and ArcTeryx packs and none feel as good as this does to me. With my height it's hard to find anything that really fits just right, expecially in backpacks but this one does the job. Unless Gregory really messes something up in the future, I intend to stay with this manufacturer when the time comes to upgrade.
Height of Owner: 6'4"
Price Paid: Around $250

Version reviewed: 2001
Traded in an '01 Shasta that I had used on the Georgia section of the AT for 8 days (great pack, just too big for my needs) for the '01 Palisade. Superb pack, just the right number of features for organization and quantity of gear. Pack performed excellent for 5 days in the Olympics on its first run. Also, unhooked and used the lid/fanny for a day hike up to Hoh Lake ridge with a 32oz Nalgene, PreCip, Sombrero, Fleece, Food, Camera, First Aid and other assorted goodies inside. The lid also makes a great pillow when stuffed with clothes and wrapped in a fleece sweater.
This pack is a winner.
Design: Top/Bottom/Lid/Extra Pocket
Size: 5150 Cu In
Number of Pockets: 6 (Lid/Chute/Front/Bag/Water/Mesh)
Max. Load Carried: 40 lbs
Height of Owner: 6'
Price Paid: $290

Version reviewed: 1998
Simply a fabulous pack. Four sizes of pack, shoulder harness and hip belt guarantee a customized fit. Excellent quality, very comfortable. The top lid pocket converts to a waist pack for light day trips from base camp. The spidrift collar is long enough so that the pack could be used for an unexpected bivy.
Design: internal
Size: 4700
Number of Pockets: 2
Max. Load Carried: 40 lbs
Height of Owner: 5'8"
Price Paid: $270 US / $335 CDN

Version reviewed: 1996
i've had my gregory for three and a half years now and it has performed extremely well for me. the construction and materials are unbeatatable.
for me, the hip belt took some getting used to. it is by far the least plush belt that i've ever worn (not including the classic army A.L.I.C.E. pack of course) but for the exchange in compfort, you get a belt that will stand up to years of hefty loads and provide consistant performance year in year out. this being said and after wearing the pack for three years, i'll be customizing my hip belt this year for compfort. i'm having the belt from a lowe contour sewn to fit the external plastic stays that the gregory owes it's great load stability to.
the palisade also has a great 4 crossover strap compression system. this system, if your bag is packed correctly, will perform extremely well and makes the pack very versatile.
the negatives to the pack are: i have to buy extra external pockets which leash to the back of the pack if i want extra cargo room. the place to leash these pockets are built into the pack, why did the pockets not come with the pack? at 60 bucks for two pockets, i'm opting to take it in to the seamstress and have pockets sewn in to the rear of the pack which are customized to the items that i'm carrying in them, such as my stove, fuel bottle, first aid kit, and other misc. items. cost? doesn't matter, the damn pockets should have come with the pack in the first place.
all in all, i'm very happy with this pack. it's outlasted two of my hiking buddies packs (one a lowe and one an arc teryx) it carries very well and has treated me well. i would recommend it if you want a pack that will last.
Design: internal
Size: 5400
Number of Pockets: main plus detatchable top
Max. Load Carried: avg 40-50lbs but have carried 75 lbs of meat
Height of Owner: 5'6
Price Paid: $300 u.s.

I have found this to be a very good pack when used with loads weighing between 35 and 60 pounds. At higher weights, 65-75 lbs, its frame and hipbelt are not stiff enough and do not properly distribute the load. The hipbelt and suspension are great and easily adjustable. I used this pack for the entire summer of '99 daily while teaching backpacking. During this time I encountered no undue wear or manufacturing defects (which I can't say for a few friend's dana packs). It's a great pack.
Design: internal
Size: ~5400
Number of Pockets: 2
Max. Load Carried: 75 lbs
Height of Owner: 5' 7"
Price Paid: $270

Love it. Although not cheap, a great value because it behaves and fits like packs costing alot more. Spend enough time getting the right belt, harness and cant fits (a good store/salesperson helps). The belt is a little on the stiff/hard side but provides great load support. It has a fair amount of summer, fall and winter miles on it and not one problem. Smallish for extended trips (12+ days) but when it gets tight it usually means I'm packing too much! Have fun.
Design: Internal
Size: 5000ish
Number of Pockets: 2 main, 1 outer, 1 lid
Max. Load Carried: 45 lbs.
Height of Owner: 5' 11"
Price Paid: $285

This is a great pack. I took it to Philmont, New Mexico, and it was superbe. This pack didn't give me any trouble for the ten days i was out there. I never had a sore shoulder, or waist, and was always comfy with the pack on. It didn't even give me trouble when I climbed up 1000 ft in under a mile. The zippers never got stuck up even though they were kinda dirty with sand and all sorts of crap, and i would definatly recommend this pack to anyone.
Design: internal
Size: 5000
Number of Pockets: 1 plus main bag
Max. Load Carried: 55-60 lbs
Height of Owner: 5'11"
Price Paid: $285

Version reviewed: 1998
This pack is incredible. I took it to Philmont, NM, in late June/early July and it performed like a champ. Prior to buying this pack, I had carried a Jansport D-4 (external) on a couple of training hikes, with no more than 35-40 pounds each time. I wound up with bruised and swollen hips. I bought the Palisade just before I left and broke it in on the trail. It carried wonderfully and handled my humongous load better than my old external could carry 35 lbs. Not to mention, I came off the trail on day 11 without having sustained a single bruised hip or having experienced any swelling. This pack is worth more than its weight in gold.
Hike on!
Design: Internal
Size: 5400 (L)
Number of Pockets: 2
Max. Load Carried: 65 lbs
Height of Owner: 6'0"
Price Paid: $250

Version reviewed: 1998
This is an awesome pack! I used it for 35 days in VA and not one seam split or one zipper got stuck. Everthing about this pack rocks!!!!
It has a huge spindrift collar that could be used for an unexpected bivy on the mountains. A huge single pocket on the back. Big enough to carry lunch, sunscreen, first-aid kit, and other small items. It also has a pocket on the lid of the pack that swallows up my raingear and a pair of Marmot Windblock golves. Underneith the lid is a plastic mesh that has a large whole at each end and I use that "pocket" to hold my 2 liter platy.
Some other great features of the pack include a sleeping bag pocket that eats up my 20 degree bag and has an easily removable divider. A pair of straps that work out perfect for lashing you pad to your pack. 2 ice axe loops. 4 compression straps on each side the zig-zag to compress even the biggest loads. And to top it off, the packs lid detaches and becomes a fanny pack complete with 2 web-belt and all.
The size is perfect. In the summer the pack is a bit big, but the compression straps take care of any shifting that might occur. In the winter every thing fits nice and snug.
The best part of the pack is the suspension! It has the patented Adjust-a-Cant shoulder strap that forms to your own bodies shoulder slope, it also has the best waistbelt that I have ever felt. Nice and firm to support weight but not to firm to bruse you hips. It has three different setting depending on you hip slope. I know really technical but well worth the extreme comfort. Like they say 80lbs. in a Gregory fells like 40. I believe they are right. I would never dare carry that much but I did carry 35lbs on a steep 11 mile hike and it felt like 20lbs. I couldn't believe it. The pack almost seems like it is part of you. It is never uncomfortable and it never sways as you walk.
All in all. This is the best pack that I have ever had and will ever have. Don't look for a bargain and buy something cheaper. Believe me it's not worth the extra nickle or two. This pack will out-live you!
Keep it pure!
Design: Internal
Size: 5050
Number of Pockets: 2
Max. Load Carried: 35lbs.
Height of Owner: 6'0''
Price Paid: $280

did 4 days in smokies and just completed 9 days in yellowstone/galletin mts....lot of ups.
great pack...carries everything i needed...i don't know what people put in those huge packs...i added a mesh outside pocket for wet sandals (lot of fording).
big exterior pocket carries my two platys, poncho and other stuff one needs on the trail without having to go into the main pack....has two holsters for water bottles so i can carry four quarts...no filtering all day...not a huge pack but seems just right and very comfortable...my first internal pack and i'm sold...takes some getting used to because the packing is the key...TIGHT
Design: internal
Size: 5000 +or -
Number of Pockets: one exterior
Max. Load Carried: 55lbs
Height of Owner: 5'9"
Price Paid: $270

Version reviewed: 1996
Very nice pack, the hip belt and shoulder hanrness are all contoured. This is the most comfortable pack I have used.
Design: internal
Size: 5700 cu in (82 litres)
Number of Pockets: 3
Max. Load Carried: 55 lbs
Height of Owner: 6'
Price Paid: Listed at $370 CND, I was lucky enough to get last years model at $200 CND

Version reviewed: 80
By far the greatest pack ever!!!! I have loaded this pack with its maximum weight capacity and walked about 20 miles, the frame makes is feel as if nothing is on my back.
The strength of this backpack is AMAZING it holds my sleeping bag, my 3.5 REI sleeping pad, my clothes, my bibs, my Big Agnes single man tent, my hydration system, my Cocoon sleeping bag liner, and many many more.
The pockets and straps on the outside make it prime for holding all my accessible item, GPS, folding cups, food, health gear, and extra goodies. The sleeping bag department makes is super easy to retrieve my back and release a lot of pressure in the pack. The removable top makes an awesome day pack, you look stupid wearing it, but who cares, it helps you save money.
However, the pack is not waterproof, like most packs, so I would recommend a waterproof pack cover.
All in all this is the greatest pack the world has ever seen.
Size: 80 liters
Number of Pockets: 7
Height of Owner: 5'11
Price Paid: $280

The reviews for this product astound me. It's a really good pack if you need to set up base camp somewhere, or haul mountaineering equipment, or otherwise carry way too much stuff, but for temps 15 F and above, this pack is never neccessary unless you're carrying stuff for a backpacking excursion with a child or three. Most people tend to go way overboard when packing, and this pack really helps them give in to that. If you pack correctly, this pack is just way too big. I've carried a week's worth of food with room to spare in a much smaller pack.
The Palisade is the beginner's backpack -- not because it's a good beginner's backpack (actually, it sucks as one) -- but because the beginner is often too ignorant to realize that it's the opposite of what they need. I was one of them. If you're thru hiking or weekend hiking in the U.S. between March and Dec, get a different pack. Someone wrote that this pack performed like more expensive packs. I wasn't aware that there were more expensive packs, but this pack is very solid, and takes a long time to break in.
Design: internal top loading
Size: small
Number of Pockets: too many
Max. Load Carried: 40 lbs
Height of Owner: 5' 1"
Price Paid: too much

Your Review
Where to Buy
Help support this site by making your next gear purchase through one of the links above. Click a link, buy what you need, and the seller will contribute a portion of the purchase price to support Trailspace's independent gear reviews.
You May Like
Specs
small
medium
large
Price
Historic Range: $55.99-$399.99
Reviewers Paid: $50.00-$400.00

Weight
5 lb 15 oz / 2700 g
6 lb 3 oz / 2800 g
6 lb 10 oz / 2900 g
Recently on Trailspace