Gregory Whitney 95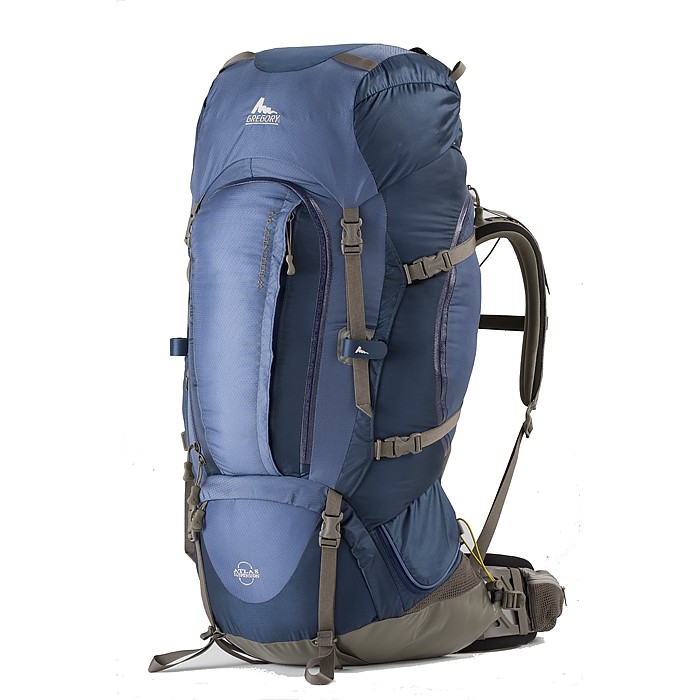 Great support system, durable, roomy, and should be able to hold almost anything you would want to carry for extended or short (2-3 day) hikes.
Pros
Support system
Capacity
Quality
Cons
Weight
Side pockets could be more useful
Note: I have one of the older ones (about 3 years old) with the black panels, different front access pocket design.
I have hiked with this pack on multiple trips in the Appalachians and out west, both short (2-3 days) and extended (week +) trips. The pack has been very comfortable with loads anywhere from 20 up to 50-60 lbs (I think may have been my heaviest).
Good for short duration hikes as well if you typically end up carrying the kids and significant others gear in addition to your own.
Very adjustable with multiple access points for gear (top, front, sides). The interior mesh dividers at the side pockets need a little re-engineering to be more useful, perhaps to make them stand off the pack rather than flush (I think they may have addressed this with current design), but otherwise not a big issue. The old design basically just makes anything you stick there intrude into the interior volume.
Top pocket detaches for quick daypack (lunch, water, etc). It has a front pocket on the front access panel that is good for small, relatively flat items that are useful for frequent access stuff (wipes/wet ones). Canted water bottle holder on hip area is good idea but needs a better retaining mechanism for the bottle (which can be solved with a lightweight dummy cord with clip of some kind dependent upon the bottle you carry). Also has water bladder capability.
Divider between sleeping bag compartment and main compartment that is adjustable. Top access panel expands to hold more gear (like you really want to carry!).
I have had no issues with durability or snap/belt issues as others have noted. I like the bottom of the pack which has a PVB or other rubberized material — you can set it down on wet surfaces without worry — although I'm sure it adds a few ounces. No noticeable abrading of the material anywhere.
Bottom line, this is an all-around great pack that you can use for virtually anything.
Source: bought it new

I have owned a Gregory Forester for years, wanted a more Expedition sized pack at a great price. This fit the order. Love the quality, durability, and most important the Gregory comfort factor. This passes all tests!!!!!
Pros
Comfort when handling a load
Quality, the name Gregory says it all
Better priced than most other expedition packs
Cons
You will end up carrying your buddies' stuff !!!
I have owned a Gregory Forester for several years. Was fortunate enough to get directed towards a Gregory from the beginning by other backpackers. Wouldn't own anything but a Gregory after punishing my Forester 4,000 miles!!!! 
So it was a no-brainer to choose Gregory for my larger pack needs. My first and only use of the Whitney was a 7-day 6-night trip on the High Sierra Trail in California – a pleasure trip — topping off a summit of Mt Whitney, the pack's namesake, the last day. And yes, my Whitney Pack summited with me all the way in two fresh inches of snow on Thursday, July 11, 2013.
Had the gear I needed because of all the room at 95 L to handle the weather — snow at 14,508 ft of elevation can be brutal even in July. Handled the load just fine as expected, was as comfortable as you would expect carrying a monster load.
I am not a Go-Lite kind of guy. The only drawback is if you're not careful you will end up carrying the bulk of the load for everyone else in your group. I packed a complete 3-person tent, half the food for two people, a luxurious Base Camp water filter, stove, and gas, that should have been divided equally between the two of us. But because of the lack of conditioning of my companion and the Great Pack that the Whitney is, I was able to handle it just fine. I even packed my ENO hammock as my luxury item.
Highly recommend and looking forward to many more adventures with this pack. Yes, I have done seven days with my Forester, but why not step up when you can pick up a Whitney at a great price and take the technical packing in confined space out of the picture, and the added weight capability makes the Whitney more comfortable in the situation described above.
Happy Trails!!!!!!!
Source: bought it new
Price Paid: $200

I actually have the Gregory Whitney, not the 95. I am very small and petite and this pack adjusts wonderfully. Lots of room, fits well on my back and hips, seems to hold an endless supply of items. The material does seem a bit thin but I have not had any breaks or tears. I have used the pack for both backpacking trips and backpacker travel. A large pack for long trips, made to be fully loaded.
Pros
Adjustable
large capacity
great color
Easy to load/unload
I have the Gregory Whitney pack and have used it for travel and multi-day backpacking trips. This is a LARGE pack made for the long haul.
I read some reviews about the thin material and breaking straps but I have not had a problem with the material ripping or the straps breaking and I have been rough on the pack and had it stuffed full. I've hauled it in the rain and on and off buses, trucks, through trees and shrubs, etc. It has worked well for me.
Some reviews say it is quite waterproof but I found I needed a raincover for this pack. But it's so adjustable, comfortable and easy to load/unload. Great hip belt and shoulder straps. Endless capacity. The water bottle holder on the side fits a Nalgene well but clip it on!
Great, comfortable pack for extended backpacking.
Source: bought it new
Price Paid: $270

Great Pack, although there are a few things I wish they would have done differently.
Positives
-Lots of pockets and zippers, you can get to just about anything in your pack without having to dig
-Comfortable, I've worn it all day with 60 lbs without a problem, straps are easily accessible to shift weight around in the pack. Harness and belt are adjustable to fit your frame
-Durable, can withstand heavy loads and extreme stuffing amounts without a problem
- Has the optional expansion at top for even larger loads
-Removable top can be used as a fanny pack
Negatives
-Side pockets are somewhat useless. They are more of an access point than a pocket, as they are not separate construction from the main pack. You also have to unbuckle compression straps to get to them
-Not so much a negative, but a personal preference. The mesh pocket on the lower left hand side I wish had a zipper instead of an elastic closure. I like to carry any wet gear outside of my pack in a mesh bag and would not have needed to purchase one if this had a zipper. The mesh compartment would probably work fine, but since I lose things quite often that aren't attached to me or secured with a zipper I won't carry anything in this pouch.
Design: Multiple entry internal
Size: Large
Number of Pockets: Many
Max. Load Carried: 60 lbs
Height of Owner: 6'
Price Paid: $300

Don't buy according to cubic inches like I did, when I was reminiscing about a three-week trek when I was hurting for pack space. Buy for your size. So you don't spend $50 for a proper sized hip belt.
Pros
Space
Top pouch converts to waistpack
Organization
Comfort
Awesome pack for staying organized. I bought mine at Sierra Trading Post for $170 to replace a 12yr-old REI New Star. It is a rather heavy pack at 7+ lbs. although it's very comfortable. Most of that weight is in the generous padding, and lumbar pad, and rubberized bottom of the pack, which is very durable.
The side zippers pockets add extra space, and have mesh pockets on the inside. Has a water bottle pouch next to the hip belt with elastic securing loop, sized for standard Nalgene.
Source: bought it new
Price Paid: $170

Nice pack. Side pockets and their access to main compartment, plus front access, is sweet.
I used to live in California and Oregon. Got an A16 external frame in 1972 (excellent for its time) and a Lowe single-compartment toploader in 1986 (a great pack). Now I live in a smaller city in the Midwest. Not a great place to find a variety of packs.
I ordered a Terraplane large from backcountry.com based on great reviews, but the belt they sent was a medium. I examined the pack, and was underawed. Backcountry offered free return and new-pack shipping. I asked them to send me a Gregory Whitney instead of another Terraplane. When I received it, it was obvious "This is a beautiful pack--I hope it is comfortable." And it proved to be so, carrying up to 60 pounds.
The popped buckles of an early version are not a problem today. Everybody makes design and component errors. Good companies like Gregory correct their mistakes, as is the case for their Whitney.
Today's version is a definite 5 star weekend to weeklong-excursion pack--if it fits you and distributes the load on hips and shoulders so you don't get sore, which is the ultimate test. My Whitney fits me very nicely.
Design: front & side-loading internal
Size: 5500 cu inches
Number of Pockets: 2
Max. Load Carried: 60 pounds
Height of Owner: 6'1"
Price Paid: List

As a fellow "Sherpa-Dad," I echo his comments. For any fellow contemplating going into the woods with Pre-K's, this is the pack to get.
With a 65# load, all the weight was on my hips, the shoulder straps were only necessary to hold the pack against my back. It has the room to haul all the gear the little ones can't but need. If it doesn't fit inside, the pack has a plethora of attachment points.
It weighs about 5# more than an ultralight pack, but for my money, that extra weight is leveraged into good load bearing characteristics, which makes carrying the same load easier than the lightweight models. I'd much rather have 35# in a Whitney than 25# in a GoLite. With lightweight solo gear, this pack allows you to go three weeks between resupply, and be comfortable doing it.
The side pockets are a bit eccentrically designed, but you actually get two compartments in each: the pocket itself, and between the pocket and the main body. I made the mental adjustment to the design easily.
Bullet-proof construction: mine is four years old and still looks new.
The frame fits me better than any pack I've ever owned. Custom fitting with the Whitney, although kind of a pain in the ass, gives you lots of options, and I tend to be barrel-chested. Very comfortable, balanced load, even with a ton of weight in it. Lots of pockets and very easy access...no need to go unpacking everything at every stop to find your toothbrush or your knife.
I do agree with the fellow who didn't give this pack a particulary good review on this point: If you really cram the main compartment, the side-pockets are sort of worthless. What I ended up doing when I was packing for a week-long trip in the Southern Sierra was to pack the side pockets first: it cuts down on the main-compartment space a little, but if you have things you need on the outside, it is one way of dealing with this one minor design flaw. It just takes prior planning.
Overall, a great pack. Oh, and the convertible top pocket can be used as a fanny pack. I never did, though.
Design: Internal, typical Gregory
Size: 6,000 c.f.
Number of Pockets: 3 plus main and sleeping bag compartments
Max. Load Carried: 95 pounds (no lie!)
Height of Owner: 5'11"
Price Paid: $235

I don't own this pack but a hunting buddy does. The problem mentioned with the pockets in an earlier post was the same experienced by my friend. The relatively smaller area for a sleeping bag at the bottom of the main compartment was also a bit of a problem he solved by buying a down bag that could be compressed. Not all of us can solve problems by throwing money at it, and this is not a inexpensive item already.
The kicker for me was when he and I went up to the Cassiars to hunt mountain sheep, the first 200m up and the fancy hip belt system's plastic broke on one side. That put me off the pack.
It was well looked after by Gregory and that's why I gave it a 3 star rating. There has been no issues since. Maybe it was just a Monday lemon but the pocket issue, thin webbing, and the fact that the plastic parts may break again put me off the pack.
I recently purchased the Gregory Whitney '04 pack comparing it with the Osprey Crescent 85 and Arc'Teryx Bora 80. I was always leaning toward the Whitney due to the water bottle holder and 3-point access to the main pack. All three packs had side access to the main compartment, but you have to unbuckle the straps to access them. The Whitney has a front access which you simply unzip to access your entire storage.
A major difference between the packs is that the Whitney is the only one without a thermo-formed waist belt. After trying all packs loaded with 40lbs, I realizes the thermo-forming is not as good as it sounds. The Whitney offered the most comfort by far. I have even taken it out for a few 6km afternoon treks loaded with 65lbs and let me say .... what a great pack! Tension straps hold great and shoulder strap adjustments are a breeze to modify on the move. Definitely a justified purchase!
Size: 90L
Max. Load Carried: 65lbs
Height of Owner: 5'9"
Price Paid: $330

As a "sherpa dad" who carries all the community gear for up to 3, I needed a large pack with beefy suspension. This is it. Very comfortable with monster loads, and very adjustable suspension.
I echo the sentiments of others regarding the side pockets; if these were separate from the interior or had a taller divider on the inside, they would be much more usable. They are nice for an extra access point, though.
This pack is not a light-weight either, but when you are packing 50-60 pounds, I'll take the unfailing suspension over a light-weight any day. The canted water bottle holder is a great feature, too.
Design: top/front loading
Size: large
Number of Pockets: many
Max. Load Carried: 55?
Height of Owner: 5' 11"
Price Paid: $220

I got this pack for my birthday two years ago from Northern Mountain Supply. It is awesome. I love the easy access pockets to store your frequently used gear. The inside of the pack can be reached from each side, the front, the bottom, and the top. I just returned from a backpacking trip in the Smoky Mountains and the pack was great. I have never had anything go wrong with it, and the buckles and side pockets are great. I would recommend this pack to everyone, I have not come across a better pack.
Design: front, side, bottom, and top-loading internal
Size: 6000 cu in
Number of Pockets: 6
Max. Load Carried: 45 lbs
Height of Owner: 6'2"
Price Paid: $219.99

This my third large Gregory (I wore out the previous two). It carries well on foot and skis, on the level or steep slope. I also have other Gregory packs, including a Rumper room (fanny) and Day and one-half pack. Well made and hold up to the roughest of use. External pockets very useful for incidentals. Great new design for 1 Liter water bottle on hip belt.
Design: Internal
Size: Very large
Number of Pockets: two on side, one on top, sleeping bag on bottom
Max. Load Carried: 45 kg
Height of Owner: 1.91 m
Price Paid: $325

Version reviewed: 2003
What were they thinking with the buckles? You can't even get the straps even close to being tight before the buckles give. and If you pack the main part tight, the side pockets aren't even useable! I tell ya, My friend that I was traveling with had a great time laughing at me fighting with my pack.
Number of Pockets: 4
Max. Load Carried: 70lb
Height of Owner: 6'
Price Paid: $390

This is my 3rd pack, and I am very satisfied with it. It is very comfortable - my standard load is 35 - 40 lbs, but it is advertised to hold much more. I agree with others about the strange side pockets - but aside from that I'm in love with the pack.
Price Paid: $260-ish

I used this pack to hike the John Muir Trail (211 miles over the Sierra Nevadas) last summer. Great pack, the hip belt was sturdy enough to carry my consistent 7 or 8 day load, lost of good zippers and webbing for access. I haven't yet seen a pack that compares.
Size: 5500
Number of Pockets: a zillion
Max. Load Carried: 55pounds
Height of Owner: 6' 0"
Price Paid: $250

Excellent pack. Tried on many, this and the Osprey fit me best. This replaces a pack I had for 13 years. It performed great in a 7-day trip in the Canadian Rockies and a hike across Isle Royale.
Max. Load Carried: 55-60lbs

Your Review
Where to Buy
Help support this site by making your next gear purchase through one of the links above. Click a link, buy what you need, and the seller will contribute a portion of the purchase price to support Trailspace's independent gear reviews.
You May Like
Specs
small
medium
large
Price
Historic Range: $144.54-$439.00
Reviewers Paid: $170.00-$390.00

Weight
6 lb 7 oz / 2.90 kg
6 lb 9 oz / 3.00 kg
6 lb 11 oz / 3.05 kg
Capacity
5309 cu in / 87 L
5797 cu in / 95 L
6285 cu in / 103 L
Torso length
16 in - 18 in
18 in - 20 in
20 in - 22 in