REI New Star

The New Star has been discontinued. If you're looking for something new, check out the best expedition packs for 2023.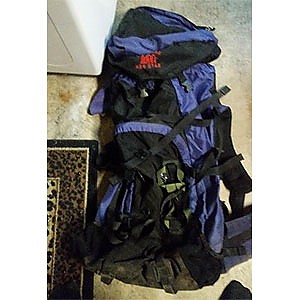 The performance of this pack has been unbelievable. Durable, comfortable, versatile...it was great.
Pros
I love the fanny pack lid. I have used this much more than the pack and will be looking for this option on a new pack.
Cons
It's a little on the heavy side.
I bought this pack in 1994. Anyone have an older one? Mine, I must say, is worn out.
It has been a great friend and I am a little sad that I need to replace it. I believe that I easily put 2,000 miles on it.
Source: bought it new
Price Paid: $175

Great pack. Rides well and very comfortable. Large size with plenty of compartments and straps to store and adjust load. Well made with beautiful colors—scarlet red and forest green.
Pros
Large size
Well made
Adjust for various size loads
Beautiful scarlet red and forest green colors
Comfortable
Cons
It can be a few ozs heavier than the more expensive newer ones.
I'm 6'1" and this fit me great, was very comfortable, with a huge capacity. Compression straps allow for various size loads and kept the pack riding well. Padded shoulder straps and hip belt stayed in place and were comfortable.
Three main compartments and a small one inside held items securely with easy access. The top extension is a great idea for when you start your trip, but then later reduce your load.
I was used to Marine Corps issued gear, so this was a delight. After years of hiking, I finally bought a really great pack, but unfortunately only got to use it once in the '90s due to an injury (MC life can be hard). 7174491098.  The one use was a short half-week trek, and all features worked as advertised.  It's a beautiful scarlet red and forest green color. 
I've kept it around all these years just because I liked it so well and hoped to use it again someday.  I guess that won't happen, but I still like getting it out once in a while, trying it on, and manipulating the features.
Source: bought it new
Price Paid: $175

I highly recommend this pack if you can find one used in good shape. Big enough for a long trip, not so big it isn't practical for a weekend. Well made and long lasting (mine finally quit after 19 years and 800+ miles).
Pros
Well made and very durable
The right size and features for short or long trips
Cons
Trickier to size for larger/taller people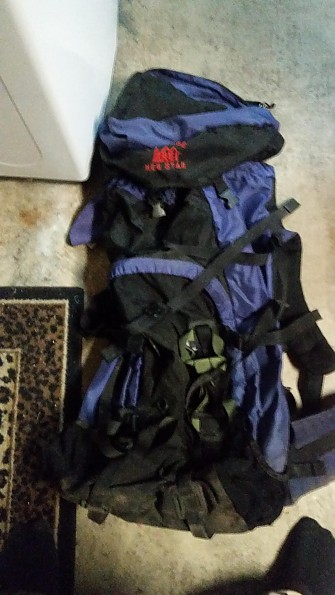 I bought my New Star two years used in 1997. It had seen some trail time then. Over the next 18 years, I added over 700 miles of use to it from there. The hip strap finally broke (actually only the plastic insert broke, the nylon and padding was OK; I finished two days and 16 miles of hiking with it broken without too much issue). 
The New Star was always big enough without being overbearing and always held up well. There was a reason the Boy Scout high adventure crew I was in almost all used them, and there is a reason you can still find them used today. Robust, cheap, and definitely gets the job done. 
I was going to buy a new (to me) New Star instead of a more modern newer pack, but my dad gave me his Great Star (circa 1997) which is just a bigger version of the New Star. 
Source: bought it used
Price Paid: 100$ (in 1997)

I really like this pack. It has held up very well on the trails.
Cons
Needs more outside pockets
I really like this pack. It has held up very well on the trails. The only drawback is no side pockets for small items.
Source: bought it used

This is a big, versatile pack. It's very durable.
Pros
Size—it's got tremendous volume.
Durable—no problems with it after years of use.
Cons
Can be a "hot ride" in summer.
I bought mine in late 1990s, have used in for about a week per year since.
I love the big main compartment—it has a zippered divider but I keep it open. The main zippered access to the compartment allows you to pull from the bottom of the load if needed.
I started out not liking the detachable, convertible-to-fanny-pack top compartment...but it's grown on me. I have actually used it as a fanny pack on occasion, but mostly sling it over one shoulder.
Lots of adjustments...it took a while to settle on the right fitting for me.
Much of my backpacking has been in Sierra Nevada, with lots of sharp-edged granite—still no tears or thin spots.
Source: bought it new
Price Paid: +/- $150

I've had my New Star for 18 years and I love it. It's held up to everything over time and the only thing that has broken is a couple of the zipper pulls. 
Others have complained about the lack of sleeping bag compartment, but that's a matter of preference. I love the flexibility of packing the sleeping bag in the main compartment or strapping it on to the bottom with the adjustable straps there, depending on what else I'm carrying.  've also learned to use the extension section with separate cinch cords as a separate compartment for food and other things that I may need for my mid day stops. 
I looked into replacing it with a newer, lighter pack a few years ago but decided the 1/2 pound or so of wieght savings wasn't worth the high cost of a lighter pack. Sweaty back is the biggest drawback, but overall a GREAT pack. 
Price Paid: $175

I've had this bag for nine years and it's never caused me a problem. Its simplicity and durability are what make it timeless. For the price, it's hard to beat.
Height of Owner: 6'2''

I've worn the thing out, and am looking for one that's not been used much.
Lots of room. Best part is no frills to make extra weight. Appreciate lack of a sleeping bag compartment. That way I, not REI, get to decide how to pack the bag.
Converting the lid to a fanny pack is a real plus. And the lid has enough room to hold a lot of stuff.
Tried a new pack from REI - had to return it for a number of faults.

Design: Top loader
Size: Big
Number of Pockets: None
Max. Load Carried: It will hold more than I can carry. 55 lb is my limit for any reasonable trip.
Height of Owner: 6-1
Price Paid: I forget

This pack is a good value; I bought it during REI's annual after-Christmas clearance sale in 2000 and at $140 it was a steal. The regular price is around $200 but even at that price it's still a good buy.
I've used it on several overnighters and multi-day trips and it's been comfortable each time. I have a relatively long torso and the adjustable ladder suspension allowed me to get a perfect fit. The top lid doubles as a hip-pack and holds a lot of stuff that you want easy access to during your hike (snacks, map, insect repellant, etc.) Due to its size it might be a bit unsteady when fully loaded, especially off-trail, but is still far more stable than a similar sized external frame pack.
My only complaint is that the hipbelt kind of dug into my waist when I first started using it, but since I've adjusted the shoulder strap height I'm able to wear it lower on my hips (where it's supposed to be worn anyway). This was more of a minor comfort issue and not an inherent design flaw in the hipbelt and probably had more to do with my "spare tire" mid-section than anything else.
All in all, it's a great pack in terms of quality, size, comfort and price and REI will stand behind it if anything breaks or if you just can't stand the pack for some reason, (but that's highly unlikely).
Design: front and top loading
Size: around 5000 (base volume)
Number of Pockets: 2 side mesh & top lid w/ 2 compartments
Max. Load Carried: 40 lbs.
Height of Owner: 6 ft.
Price Paid: $140 (clearance sale price)

This pack has performed outstandingly for an overniter and a 2 week trek. Only downside is no sleeping bag compartment.
Design: internal
Size: 5350 cubic inches
Number of Pockets: 2
Max. Load Carried: 65 lbs
Height of Owner: 6ft
Price Paid: $200

I used this pack on a number of trips. I found it to be a good value and is excellent for starters looking to go for about a week long trip. The major flaw is the lack of a sleeping bag compartment or any external pockets. This is a definate "no frills" pack and after a while the "no frills" approach begins to wear on you in terms of suspension, padding, and the problem that plagues every New Star owner I have ever spoken with, no pockets or sleeping bag compartment!
Overall it just leaves you wanting more, but gets the job done. I am going to purchase a new pack that is bigger and from a reputable manufacturer like Mountainsmith or Gregory that offers more advanced suspensions. One thing I have to say though is that this pack held up to a beating and is quality stuff.
Design: Internal
Size: 5000 Something
Number of Pockets: 2
Height of Owner: 5'11

This is a great backpack! It is large enough for a 1 week backpack trip but can be compacted down for overnight trips. It is very comfortable. Top compartment turns into a fanny pack. I used it on a 1 week bakcpack expedition in Philmont, N.M., and I had room to carry other people's things when they got injured or tired.
I also use it on overnight weekend climbing trips. The side zippered acces allows for it to be used like a suitcase while in camp. Lots of compression straps to compact load or make it smaller. Lots of external straps and loops to attach outer gear for more room. It has two ice axe loops. It doesn't have a separate sleeping bag compartment but you dont even need one. Ladder suspension allows it to adjust to almost any size person.
Absolutely NO COMPLAINTS. This is an EXCELLENT buy and I would recommend it to anyone.
Design: Internal
Size: about 5190cc
Number of Pockets: 1 top(fanny pack) 2 mesh
Max. Load Carried: 55 lbs 1wk(can carry more)
Height of Owner: 6' 1"
Price Paid: $200

Great value for the price. Very high quality materials and workmanship, but low frills. Very comfortable for a wide range of heights. The biggest flaw is the lack of a lower divider for your sleeping bag and no external pockets except for the rain cover/fanny bag. It does however, have lots of external lashing points so it's easy to add extra pockets if you need them.
Design: Internal
Size: 5000+
Number of Pockets: 1main, 1top / fanny bag
Max. Load Carried: 65 lbs
Height of Owner: 6'5"
Price Paid: $149 on sale

The pack is basically a smaller version of the Great Star. The backpack is a good buy for the money. When it comes to comfort it's not the best but it still works. It has a front "U" shaped zipper to get to all your gear. The pack has one flaw though, there is no sleeping bag compartment.
Design: internal
Size: 5190 about
Number of Pockets: 2 main
Max. Load Carried: 50lbs
Height of Owner: 6feet 2 inches
Price Paid: $190

The pack is a good deal for the money. I think that it's gone up in price recently, and the design has changed, but overall I think it's the same.
This pack has too many straps and lashing points, which can become a little annoying. The hip belt is a little flimsy (easily replaced). Overall it's nicely constructed and reasonably comfortable. I haven't carried any heavy loads for extended periods. The most was about 40 lbs for 4 days, and it was fairly comfortable.
Design: Internal Top/Panel loading
Size: 5122
Number of Pockets: 1
Max. Load Carried: 40
Height of Owner: 5'8"
Price Paid: $170

Your Review
You May Like
Specs
Price
Historic Range: $120.00
Reviewers Paid: $100.00-$200.00

Recently on Trailspace