REI Great Star

The Great Star has been discontinued. If you're looking for something new, check out the best expedition packs for 2023.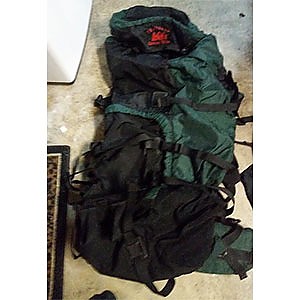 I bought this pack around '95 and have used it on various trips since then, carrying as much as 60lbs. This is the only pack I've ever owned so I don't have much to compare it to, but it is an OK pack. Like many others, one of the reasons I bought this pack is because it was cheap. The other reason was because it is BIG, not only volume-wise but fit-wise. I'm a big guy (22+ torso, 58" chest, 42" waist) and at the time it was the only pack in the REI store that fit me, so I really didn't have much choice in that respect.
It has generally been serviceable but there a few issues with the design. The hip belt is probably the biggest negative, it needs to be tightened on a regular basis. The same goes for the belt on the "lumbar pack". It's a nice feature to have the fanny pack, but for me it has been totally useless. I simply can't tighten the belt enough to keep the fanny pack from sliding down. It should really have some type of anti-slip coating to work properly. I've also had problems with stability if the pack has alot of weight in it.
Overall, I think its an average pack, but I wouldn't recommend it for someone who is going to regularly carry large loads on long treks.
Design: Extended Trip Internal Frame Backpack
Size: 6200 cu. in.
Number of Pockets: 0
Max. Load Carried: 65 lb.
Height of Owner: 6'2"
Price Paid: $150

I recently carried the Great Star on a 17-day trip on Colorado's Continental Divide Trail (CDT). The pack performed well, and was plenty big for any sensible hiker.
The quality of the pack is excellent, it has the features of packs costing $100 more. This includes: mesh bottle pockets, removable fanny pack; hydration bladder pocket; full panel loading capability; easy adjustment; well padded harness and hip belt. The workmanship and material were flawless; and appear to be designed to last for years.
For the money the Great Star is the best price performer going.
Design: Internal Frame
Size: 6200
Number of Pockets: 3
Max. Load Carried: 48 lbs
Height of Owner: 6'2"
Price Paid: US $210

Very large pack with lots of size adjustment and all the basic features you want. Well made and long lasting. Prone to being under filled and causing gear/load to shift or sit oddly, especially on shorter hikes. Great for big/tall persons or longer trips.
Pros
Well put together
More than enough room
Lots of adjustment for fit, especially for larger/taller persons
Cons
Top pouch can sit funny or shift if pack isn't mostly full
You almost need to overpack for weekend trips to get the load sitting right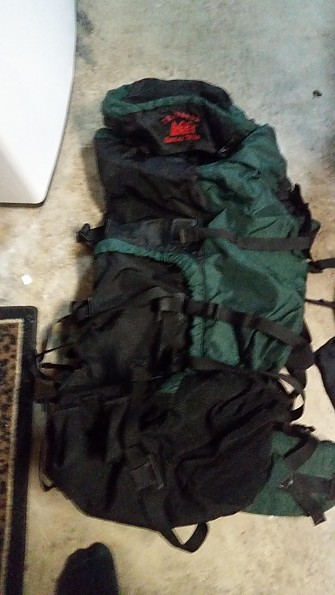 Just inherited my Great Star from my father after my New Star finally gave up (19 years and over 800 miles on it).  My dad bought the pack new in 1998 and it has about 400 miles on it from him. I can and have comfortably carried about 80 lbs of gear in this pack on weekend outings just to see how it did. 
The Great Star is well put together, pretty robust, and has enough adjustment to fit my height and size. The downside for me is that it's basically one giant space that I don't seem to fill, so I need to pack a little more carefully to help keep my gear from shifting while hiking. This also makes the top pouch sit funny if the pack isn't fuller than not. 
If you pick one up (and they are pretty cheap used), beware that it is really big. Good for longer trips (>10 days). Load can shift or sit funny when only packing for a weekend. For perspective, most people I hike with use 3000-4000 cu in packs for anything under a week. I like the extra space because I choose to carry a lot of extra gear (bigger first aid kit, extra fuel and food, etc.) and my clothes and bag are bigger, but this pack is still almost too big.
Well made, long lasting, all the features I want. Just in an XXL package.
Source: received it as a personal gift

Purchased this pack after researching several months. I did a 4 day trek through the James Peak Wilderness, CO carrying about 47 pounds. The pack held up very well. We were rained on every day, and the pack kept everything dry.
The suspension is very easy to adjust, and the material used to construct this pack is rugged as hell.

Price Paid: $175

I love my pack. I can fit everything I could ever want in it, and it's the most comfortable pack I have ever had.
Design: front or top loading internal
Size: 6000+
Number of Pockets: 3
Max. Load Carried: 55
Height of Owner: 6'1"
Price Paid: $66

I hiked with this pack from the Colombia Gorge on the Oregon/Washington border to the southern side of Mt. Hood. Overall the pack served me well. The size was excellent and things were easily accessible. The only complaint I have towards it is that the waist strap could not cinch down on my 36" waist the way I wanted it to.
Design: Top loading-Internal
Size: 6000 Cubic cm
Number of Pockets: 0
Max. Load Carried: 60lbs
Height of Owner: 5.10
Price Paid: $129.89

Great pack for the price. Plenty of room for the long trips. It treated me well for seven rainy days in the Catskills and multiple other trips. It may be an overkill for weekend trips. Plenty of adjustment straps to customize the fit. The one complaint concerns the size of the hip belt. It doesn't cinch down to fit my 32" waist too well.
Design: internal
Size: 6000+
Number of Pockets: 2 external mesh
Max. Load Carried: >60lbs
Height of Owner: 6'1"
Price Paid: REI sale $159

In a nutshell, this pack is a cheap imitation of a standard pack. It's massive but its limitations outweigh its functionality.
Some negative features: 1) Bottom lash strap covers the water bottle holder; 2) The plastic on the hipbelt is worthless and can affect legs if hiking steep terrain; 3) Extension from lumbar area seems too great, so load doesn't feel stable; 4) made in 3rd world.
Some +'s: 1) Cheap and 2) REI will take it back if you hate it.
Design: Internal
Size: 6,300
Number of Pockets: 3
Max. Load Carried: 60 lbs
Height of Owner: 5'8"
Price Paid: $210

I got this backpack at an anniversary sale for a great price! this monster pack fit even a small lad like myself. the lack of a sleeping bag compartment was not a problem for me as i use a stuff sack. i love the lack of frills...simplicity is what hiking is all about!
Design: internal
Size: 6500+
Max. Load Carried: 60 lbs
Height of Owner: 5'9"
Price Paid: $149

This is a great backpack for the price. The straps are completely adjustable to match different torsos and the feel with heavy loads is comparable to more expensive packs. I took it for a long weekend and had plenty of room to carry the extra gear my family wanted to bring. I recommend the pack for its versatility. You can use the outside straps to compress the load regardless of what you bring. It is a top loading pack with front zipper access which makes it convenient when you need to get something at the bottom of the pack. Great for weekends or weeks.
Design: INTERNAL
Size: 6000+
Number of Pockets: 2
Max. Load Carried: 65 LBS.
Height of Owner: 5' 10"
Price Paid: $210

This pack is incredible. it has a great suspension system and plenty of adjustments for a great fit and a stable pack. i have a long torso and it fits me fine. my load lifters are more than the suggested 20 degrees high. the adjustments can fit any tall person. i've seen better quality but this pack will still takes many years of hard use before it starts to give up.
you can get everything into this pack. it will even accomodate some things outside of it. access to your gear is easy as well--it is top loading but also has access from the front. for those who don't need 6000+cu.in. this bag can scrunch down to hold smaller loads. those of you that require over 6000 cu.in., you have too much stuff. this pack is definitely worth looking at. it sure beats that external frame Jansport i've been using the last eight years.
Design: internal
Size: 6180
Number of Pockets: 1 + day pack
Max. Load Carried: 65lb
Height of Owner: 6 ft, 2 in
Price Paid: $200

Your Review
You May Like
Specs
| | |
| --- | --- |
| Price | Reviewers Paid: $66.00-$210.00 |
Recently on Trailspace