Gregory Z 40

Top 25 in men's Overnight Packs
The Z 40 has been discontinued. It was replaced by the Gregory Zulu 40.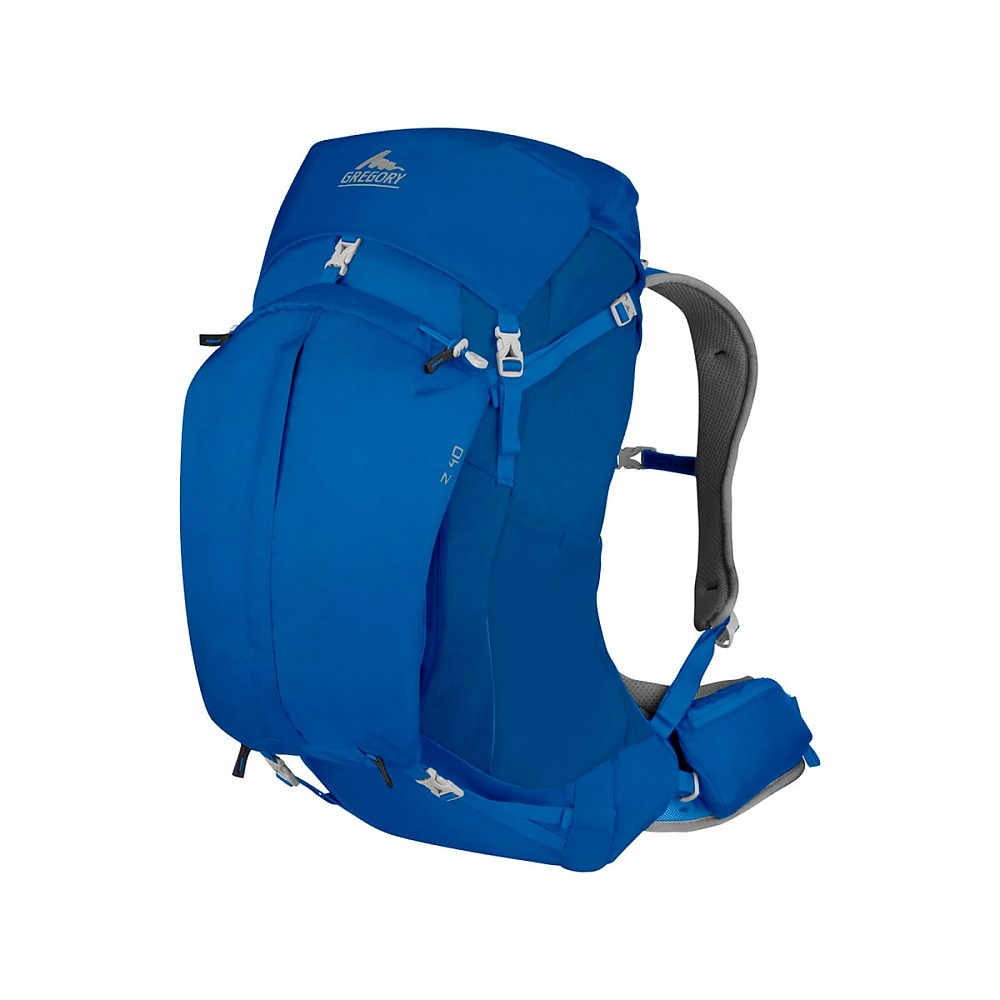 Gregory packs are very easy to use and offer excellent storage options. This pack is very light, yet holds a ton. It's also very well made and has features that larger packs have. This is an excellent day pack or "over nighter" for men and women.
Pros
Very durable
Excellent storage options
Excellent ventilation
Rain cover included with pack
Top loaded like the larger packs
Cons
Waist belt seems small
Waist belt pockets are very small
I wanted to wait till I used this pack a few times before I reviewed it. I just used this pack for the fifth time in the last couple of months and I love it. I have about 45 miles on it and it appears to be very rugged and light. The backpack includes several adjustments on the pack to allow it to fit most anyone.  
The pack seems like it holds more than the rated 40 liters due to the number of compartments provided. These compartments allow you to organize your gear to make finding the important gear like your headlamp in the dark with ease. The pack is large enough to hold enough gear for an over night trip yet it fits very snugly against your back and has a small footprint.
The pack is a top loader but there's also a zippered cover that allows you to get to the gear in the bottom of the pack with ease. The Z40 has so many compression straps that you can keep your gear from moving weather loaded light or heavy. One of the nicest features of this pack is the ventilation.   It sits a few inches off your back with a mesh front making this an excellent warm weather pack.
The only thing I would recommend changing on this pack would be the belt. The belt could be a bit bigger, as in longer, and the pockets on the belt need to be a bit larger.  
Source: bought it new
Price Paid: $165

Small bags make you carry less, or get smaller gear.
Pros
Very comfortable
Packs down small when empty
Made of very durable material with reinforced seams
Includes rain cover
Breathable back netting for increased ventilation
Reasonable over all weight
Access to the main compartment from the top, bottom, and front
The small size will motivate you to shrink your gear
Cons
Tiny waistbelt pockets
Very small "sleeping bag compartment"
Might be too small for multi-day use if you have any bulky gear
This is a nice pack. The small size is great for crawling through thick brush without getting snagged, but it's big enough to carry all my necessities. I've had it for a few years now, and it's still rock solid.
I can fit all of my long distance hiking gear in it, but the Z45 or Z50 would probably be a little more ideal for carrying bulkier or larger amounts of gear for most people. When I used a one-man tent, a sleeping mat, and sleeping bag, my gear filled the bag to the brim.
Now that I use a tarp and hammock with top and underquilts, I have half a bag to spare after it's fully packed. My bag weighs 14 lbs. with all of my trail gear in it (18 lbs with added cold weather camping extras like in the picture), and it is very comfortable and hugs the back well. 

It has access points to the main compartment from the top, bottom and the front, leaving plenty of options for you to get at your gear easily without having to unpack everything. There's a top flap with two pockets in it, one on the top, and one on the under side. The top pocket is much larger than the bottom.
The inside of the bag is just an open compartment with a flap and a zipper in the bottom for an optional separate sleeping bag compartment (barely fits a pair of sandals, a sleeping bag will not fit. This is where I keep my tarp).  It has a water bladder sleeve that goes all the way to the bottom of the pack, and two ports for the hose, one on the outside of each shoulder strap.
There are two outside mesh pockets, one on each side of the pack, and two mesh pockets on the waist belt. Unfortunately the belt pockets are the only part of this bag that I consider somewhat poor in design, due to their almost useless size. I don't think my headlamp even fits in them. I usually just use them for empty snack wrappers.
Source: bought it new
Price Paid: $140

I love this pack! I was looking for a pack that could get small enough for a day pack but also get big enough to hold my gear for an overnighter. It did the job. The crossflow system provides excellent air flow to avoid the sweaty back.  
Without a rainfly it did well in wet conditions but not in a downpour. That's why I'm glad they added the rainfly. I also like how they added the sleeping back compartment in the bottom.
Overall this is an amazing pack!
Price Paid: $120

Great build quality and very versatile. This pack offers all you need.
Pros
Sturdy aluminium frame
Lot of useful pockets and panel loading available
Raincover included
Water bladder compatible (bit narrow though)
Air flow mash back
Great for overnight and even for multi-day hikes
Very, very comfortable on multi-day hikes
Relatively small price in Europe's market (85EUR)
Used it on winter on heavy snow without a problem
Cons
Relativelly small hip pockets
Narrow side pockets
Non removable or adjustable top lid
For 42L in size L is bit small when compared to other brands
Not so good attachment cords and points for trekking poles (too tight)
Fixed top lid (no floating option)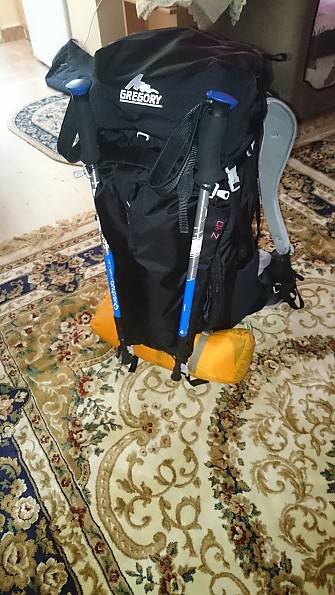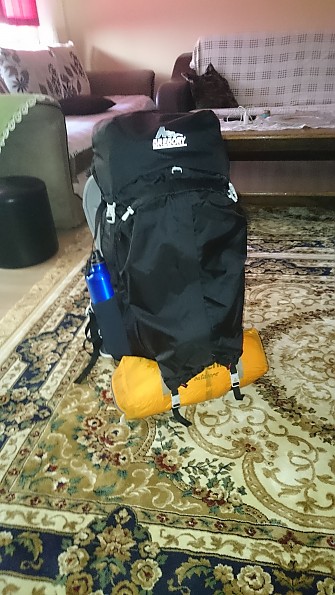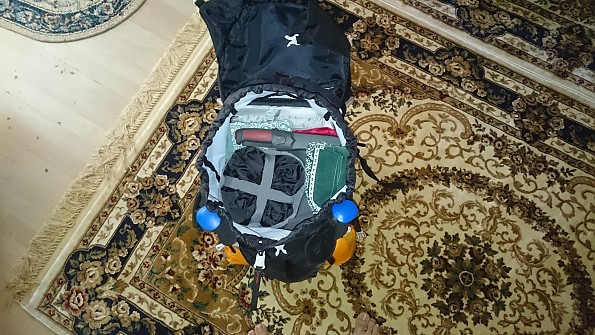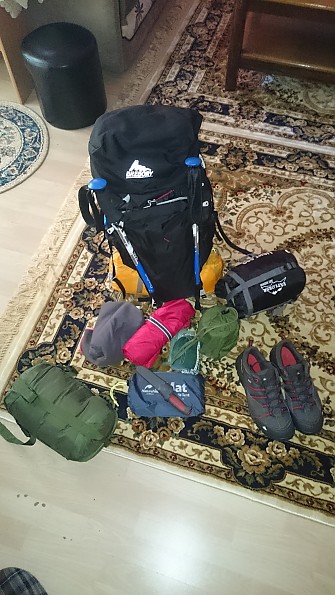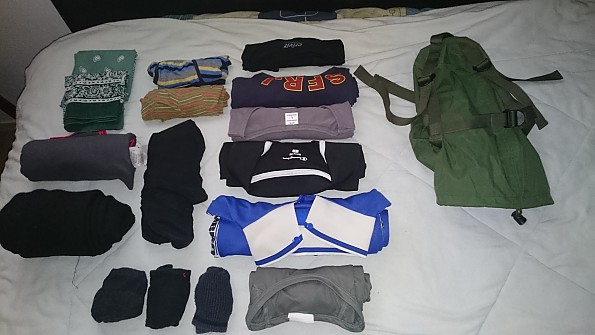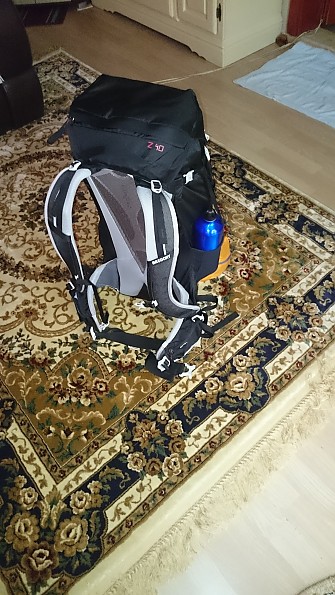 I have had this pack for 11 months now and I really can't be more happy. It has some of above stated flaws, but that is just my personal opinion. I've mostly used it on multi-day hikes throughout woods and mountain areas and I am very satisfied. Came after I had sold my Osprey Farpoint 70.
Personally I think that it is a bit heavy with those 1400g in size L, but I usually pack it very light no matter where I go, so it never was loaded over 9kg with it included.
Now in about 20 days I will go on few months travel through Georgia and Armenia mostly hitchhiking and hiking so we will see its durability. For about 80 EUR you can't go wrong with it.
Also, used it few times as a carry on luggage with Ryanair and few others because it is below 115cm combined.
Source: bought it new
Price Paid: 85 EUR

This is an excellent pack for three-season use a daypack or as a 1-2 night, minimalist pack. Lightweight. Very good weight distribution. Even when the pack felt heavy lifting it, once it was on it felt like I wasn't carrying anything at all.
Pros
Lightweight
Access from top and front
Hydration compatible
Integrated rain cover
Multiple pockets
Comfortable suspension
Cons
Limited attachment points
Mesh water-bottle pockets difficult to use
I was looking for a pack to replace my old Jansport Odyssey 39 liter pack that I had been using. This was OK, but the capacity was limited by several different pockets and was better suited as a school/book bag.
The Z40 was just what the doctor ordered. It has plenty of space for an extended day hike (extra clothes, food, stove, 10 Essentials, and even a tarp as emergency shelter) or even a fair weather overnight. New with the 2014 revision is there is no longer bottom access or sleeping bag compartment. Instead, the front access zipper opens from the bottom and flips up over the top of the bag. This allows for very easy access to the entire main compartment, especially the bottom. The top is easily accessed through top opening.
The suspension is top notch. When loaded with about 35 lbs of gear, the pack felt heavy lifting it but as soon as I put it on I was AMAZED at how light it felt. The trampoline suspension does an excellent job of distributing the weight. I also noticed there was absolutely no sway while hiking or scrambling over blow-down.
Downside is the lack of attachment points. There are two trekking pole/ice ax attachments, but I am not sure I would use them for the latter. This reduces its functionality for winter use as there is also no way to attach snowshoes or skis. However, for three-season use it is now my go-to bag for day hikes.
Source: bought it new
Price Paid: $180

Most comfortable pack I have owned. Great padding without being to cumbersome. Great from travel, day and multi-day hikes.
Pros
Gread padding in waist and shoulders
Instant access to entire inside at once
Cons
A bit on the heavy side
Top flap not removable
I have had this bag for the last three months, including a cross-country road trip, with lots of day hikes. This bag has been with me to the bottom of the Grand Canyon and back on a three-day trip.  Most recently I just spent the last month traveling around Turkey with this bag. It was small enough to fit under my seat during bus trips within the country, but big enough to hold everything i needed for a 3 day hike. Also worked well for day hikes using the compression straps on either sides. This bag is also small enough to fit in the over head compartments of airplanes so could be used as carry-on luggage.
Access to the main compartment was easy with the main zipper, which avoids the problem that most "tunnel" style backpacks have. Which is that you have to take every thing out to access things buried at the bottom great for trips where you sleep in different place every night. Extremely comfortable even when overloaded. Spent the last day overloaded walking around Istanbul with about 20kgs worth of gear and barely noticed.  Extremely comfortable Im 6 ft 200 lbs and the large size fit me like a glove.  an added bonus is the integrated rain cover pocket with rain cover.
I'm pretty hard on my gear and the pack seems to be holding its own. A few nicks and scrapes here and there but the construction seems to be solid.
Source: bought it new
Price Paid: $169

Your Review
You May Like
Specs
medium
large
Price
Historic Range: $62.73-$179.00
Reviewers Paid: $120.00-$180.00

Weight
3 lb 4 oz / 1.50 kg
3 lb 7 oz / 1.55 kg
Capacity
2441 cu in / 40 L
2563 cu in / 42 L
Torso length
18 in - <20 in
20 in - 22 in
Recently on Trailspace