Gregory Z 65

The Z 65 has been discontinued. It was replaced by the Gregory Zulu 65.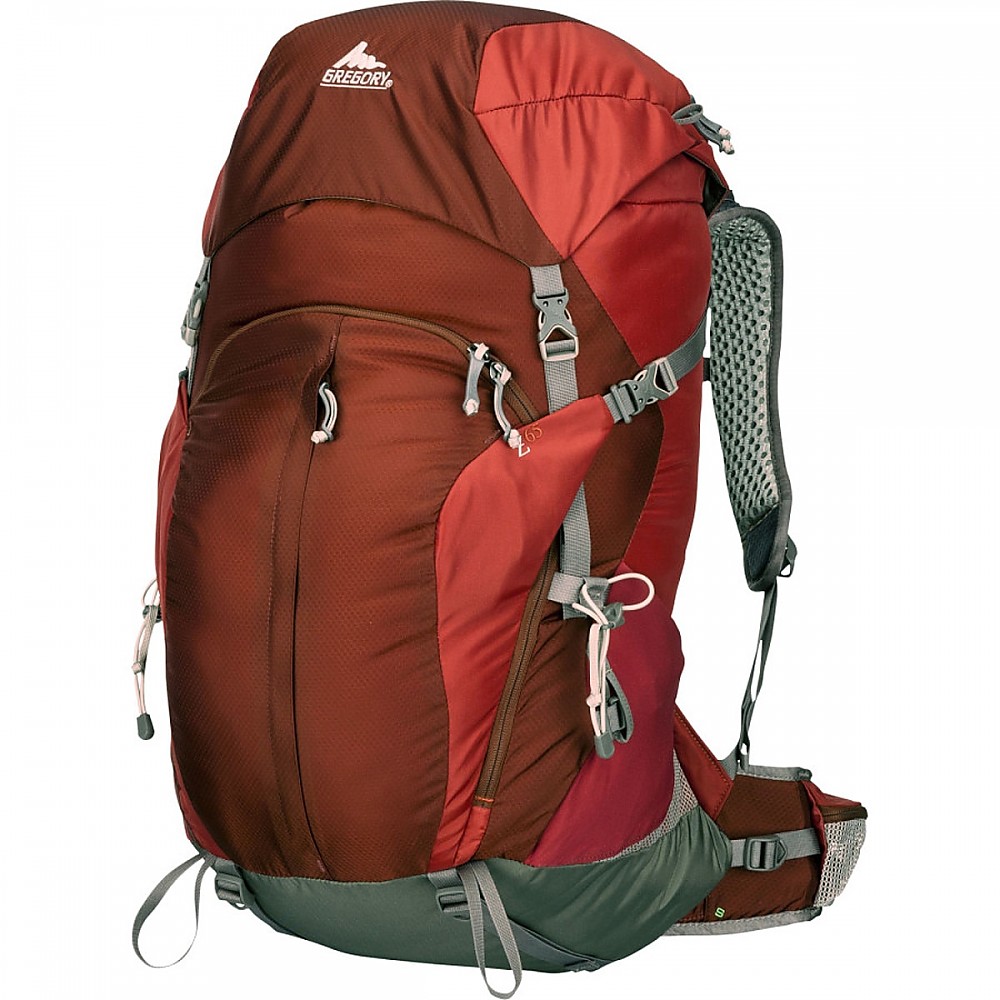 Specs
small
medium
large
Price
Historic Range: $98.73-$249.95
Reviewers Paid: $139.99-$289.00

Weight
3 lb 15 oz / 180 kg
4 lb 3 oz / 1.90 kg
4 lb 7 oz / 2.00 kg
Capacity
3539 cu in / 58 L
3906 cu in / 64 L
4272 cu in / 70 L
Torso length
16 in - 18 in
18 in - 20 in
20 in - 22 in
Reviews
9

reviews

5-star:

4

4-star:

4

3-star:

0

2-star:

1

1-star:

0
I just got this pack in March, and have only used it once so far, on a one-night snow-camping trip. The trudge up was only 2.5 miles, but had a 2000' elev gain, and much of it was through deep snow, being rained on.
This pack is so comfortable, I thought I must have forgotten a bunch of gear, or something; but no. It's roomy enough so I don't have to be too clever in packing. The air-flow through the low back section seems to be a great thing (although I was plenty cool enough in the weather we had). The pack conforms to my body really nicely too, so it feels like an extension of my body, even loaded.
Only reason I didn't give it 5 stars is because I haven't used it much.
Here's something else, though. I've been a little worried that the waist buckle system is a bit wimpy, and might snap - a horrifying thought! I emailed Gregory, and they immediately offered to send a replacement, just in case, free of charge. Having that extra buckle along will be a great weight off my mind (and shoulders, if I have to use it!). I thought that was very good customer service.
Design: Top/front loading internal frame
Size: large men's
Number of Pockets: 3, not including 2 water-bottle pockets and 2 small, zippered pockets on the waist belt
Max. Load Carried: 35 lbs so far
Height of Owner: 6-1
Price Paid: $190

This new design by Gregory revolutionizes the basic backpack harness by distributing more weight from your shoulders, making for more comfortable and longer trips.
Pros
Durability
Lightweight
Design
Tried on several packs before settling with the Gregory Z65. Comfort and equal weight distribution helps considerably in long trips. I've put this pack through its paces, been on 20+ trips, and I am well pleased.
By far most comfy I've been.
Source: bought it new
Price Paid: $175

Great weekend pack that is super comfortable on summer hikes.
Pros
Air flow across back
Suspension system
Overall build quality
Cons
Waterproof zippers can hestitate under high load pulls
Center compartment can be hard to use if the pack if full
I'm 5'11" and 190 pounds, with a 18.5 inch torso.  I've used my Z65 as my primary pack for a wide range of weekend and multi-day excursions.  The suspension is comfortable and supportive at loads up to and slightly over 30 lbs. 
Although this isn't a ultralight pack, the fabric and build have performed well over nearly four years of monthly use (abuse?) without a tear, broken strap or hardware failure. 
Source: bought it new
Price Paid: $230

Great hauler of loads under 45 lbs loads.
Pros
Light for the amount of space and support
Ease of pack ability
Fit: Sizing is true to form for Gregory, as usual measured my torso and found appropriate size on the chart and bam it fit.
Comfort:  The ventilation is fantastic when doing summer trips in the RRG Kentucky.
Capacity: I had it packed for a fall fly fishing trip and I topped out at 47 lbs and it was a little rough the first couple days. Since that time I have kept all my loads under 35 lbs, which it preforms remarkably well
Organization & Accessibility: Having the two entry points allows for easy packing opportunity and load balance (you don't have to worry where you put things you can go by weight) thanks to the panel entry. I also enjoy having the large pocket on the back for items that i need to get to quickly and do not want to mess with re-compressing my pack.
Ride: It is remarkable balanced and stable with loads under 45 lbs, loads under 30 you don't even know it's there.
Compression: The compression strap were designed with thought in mind and usability.
Ease of Use: No torso adjustments, just measure, find your size, packet it up, put it on and rock out.
Features: The only downside I have had is the hip belt pockets are smaller than other pack companies provide, which is not that big an issue but a little more space would be appreciated.
Source: bought it new
Price Paid: $139.99

I have had this backpack for a couple of months now. I have been highly satisfied with this pack, so far it is really comfortable and lightweight.
This pack is great for a weekend hike in the spring through the early fall. I would recommend this pack to anyone who has been thinking about purchasing it. When fully geared up the pack is comfortable and snug make sure to get the correct size I am a large it most everything I wear but the medium size fit great.
The only downside to this pack is the foam material used in the straps is very thin and lightweight so if your pack is heavy you will notice it when hiking for a long distance but nothing to unbearable to overcome mind over matter.
The longest trip I have taken this pack on was in the Blue Ridge mountains on the parkway at the Three Ridges Wilderness 14 mile trip pack was doin great.
Price Paid: $289

Fit, comfort, and space make this my "Go To" pack.
Pros
The lumbar support and hipbelt
Top as well as front loading
Lightweight
Trampoline back
Here goes...I have owned this pack and used it well for the last 4-5 years. It has been on the Appalachian Trail, Continental Divide Trail, and various other regional trails from the East Coast to the Rockies. Without fail this has been the best pack I have ever owned.
I went in to Campmor (Paramus, N.J.) to purchase the "sexier" Osprey Atmos 65. The salesman compelled me to load up and try on the Z65. I tried so hard not to like it but the comfort, fit and lightweight features made this my dream pack.
I cannot tell you exactly how many miles I have put on this "bad boy," but I can tell you that every mile I have it has performed above my expectations. It loads from both the top and front. And when you get to camp, or stop for lunch, this is a great feature. It doesn't have a plethora of pockets—but what pockets it does have perform well for my style of backpacking.
I did have to send it back to Gregory for a "very small" repair and they returned it free of charge and in under two weeks. I have also purchased and put a bunch of miles on my Z30 daypack. It performs as well as the Z65.
I'm telling you that if this pack feels right for you, buy it! You will enjoy the comfort and performance for years to come.
Source: bought it new
Price Paid: $220

On the heavy side and the shoulder straps are uncomfortable. Good size for 3-5 day trips.
Cons
Uncomfortable shoulder straps
Have taken this pack on about 10 trips over the last two years, from 1-4 night trips. Plenty of room for packing. I found shoulder straps uncomfortable tho.
Source: bought it new
Price Paid: $160

Loaded weight was at 31#, and it was like nothing on my back. I put the same things in two other packs and both hurt within minutes.
What was most impressive was after an all day hike I was checking out tents sites before dropping my pack, which has never happened before. This pack is a real keeper.
As an update after several years use this is still an awesome pack, it did start squeaking in the waistbelt but Tim at my local REI store was able to remedy that problem.
Source: bought it new
Price Paid: $169 on sale at REI

Purchased the large olive color Z65 last year. Was great for a 6-day hike from Onion Valley down the JMT, a five day trek over the Teton Crest Trail, and a four day hike from the Hermit Trail.
This pack is very comfortable and will sit solid. The design of the hip strap and padding was a dream. The designed space between your back and the pack allows good ventilation. Love the front (actually the back of the pack) access! My previous pack only had the top access- bummer. Just the right size and weight. My bear canister stowes easily.
The Z65 is a rock-solid pack that can take a punch. My search for my perfect pack is over. Thanks Gregory and Moosejaw.
Design: INternal front / top loading
Size: 3000
Max. Load Carried: 48
Height of Owner: 5' 7"
Price Paid: $189

You May Like
Recently on Trailspace