Specs
Price
MSRP: $7.95
Historic Range: $6.95-$22.95
Reviewers Paid: $10.95

Weight
3.6 oz

Dimensions
3.60 in x 1.60 in x 6.80 in

Reviews
1

review

5-star:

0

4-star:

0

3-star:

1

2-star:

0

1-star:

0
If you are like me and enjoy a daily dram or shot of your favorite beverage in the back country, I highly recommend looking into this GSI flask. Drink responsibly, but enjoy comfort in the knowledge that your whisky (or other favorite beverage) will be safe and sound no matter where you store it or if you drop it.

2019 update—I lowered the rating due to continued discoloration in the flask and worries about that. See update at bottom (did not edit original review).
Pros
Lightweight
Sturdy, durable construction
Easy to fill/pour
Shot sized cap if you need it
Easy to grip
Seals tight
Easy to clean and see inside
100% Recyclable and BPA Free
Cons
Cap not tethered to flask
Some discoloration at top
May affect taste (not very noticeable)
Not as slim as some other options
I rarely strap a pack on my back for a trip to the wilderness without slipping a flask into a side pocket with just the right amount of my favorite single malt scotch. A daily dram after dinner is a ritual that I skip only when necessary. The GSI Outdoors 10 oz flask has been my go-to guardian of my scotch for over two years, after trying a couple of other options.
Waiver
I would hope if you are considering this as a purchase that you will drink responsibly while on the trail, and at home. I am not condoning irresponsible or dangerous use of alcohol in the back country, and am not trying to convince anyone to bring alcohol to the woods.
Testing
First a quick summary of my usage of the GSI flask…as mentioned above I can't recall a trip that I have not carried at least a small amount of scotch (chalk it up to being born in Scotland but I almost consider it the 11th essential!). The flask has gone on backpacking trips of 1 to 6 nights with anything from a full flask to a few ounces, depending on trip length.
Primarily I have used it for single malt scotch (the Glenlivet 12 year or Laphroaig 10 year are my usual choices for backpacking) but occasionally an empty flask has been transformed near the end of a trip into a sipper bottle on hot days, as it seems to keep the water a little cooler (and a might bit tastier at first!).
I have used this flask in temperature ranges from below 10 degrees to near 90. In the extremes on either end of that scale, it rides in my pack to moderate the temps, and in mid-range it usually rides in an outside pocket for convenience and in case of leakage (which has never happened, see below).
Product Description:
The GSI Outdoors Flask is made of PET plastic (100% recyclable and BPA free). It has a sturdy and easily gripped cap and a rubberized outer coating around the middle for no-slip grip.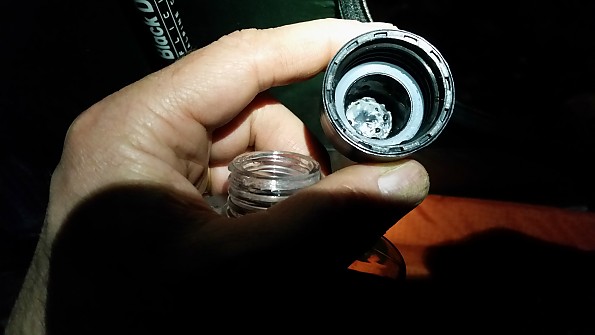 The cap has an o-ring nested inside to prevent leakage. The maximum volume is listed at 10 ounces, and I have found that to be spot-on accurate.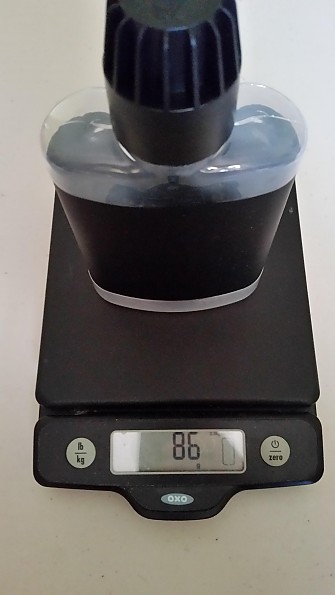 GSI lists it as 3.6 ounces, but my scale shows it at just over 3 ounces (86 grams). It is listed accurately by GSI as 3.6 inches wide, 1.6 inches deep, and 6.8 inches tall (with cap on).
Results:
I have found the GSI Outdoors Flask to be worth its weight in gold (-en hued whisky)! 
Design & Construction
The GSI Flask seems to be sturdily constructed and there were no apparent flaws in my flask. It is a simple design that just seems to work. The plastic is 100% recyclable if you want to get rid of it, and for those concerned about BPA there is none. The shot-sized cap is easy to grip and I guess useful if you want to measure your drinks.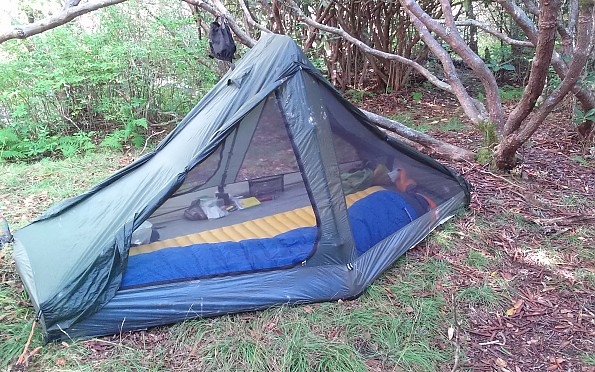 The cap and built-in o-ring seal tight and have not leaked in the two years I have been using it. I am so confident in the leak-proof cap that you can often find the flask laying around in my tent without concern (you can just see it in the back center of my Solong 6 near the trekking pole)—something I rarely do with any other potentially spill-able container.
If I had to get picky and find one flaw in the design, it would be the lack of tethering of the cap to the bottle. Many of the ubiquitous metal flasks have a cap that connects to the top of the bottle so they can't get lost. I have not found this to be an issue on the GSI Flask as it is a large enough cap to sit to the side and find again.
The spout and neck of the bottle are large (3/4 inch) and easy to fill and pour out of, which is an issue in several other flasks I have tried. Some now sell a funnel to help fill the flask which is unnecessary in this GSI version.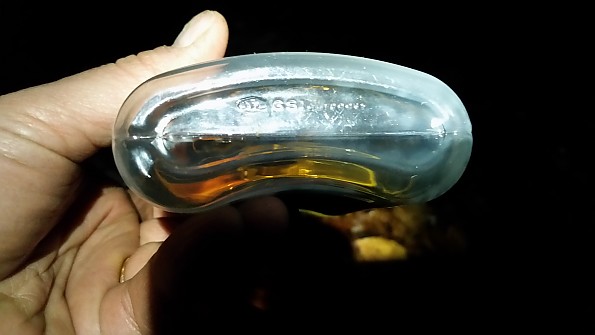 The curved shape, in my opinion, adds to its stability as it has a wider base than most metal flasks and with the curve it balances slightly better.
Durability
As I mentioned above, in moderate temperatures the GSI flask rides in my outside pack pocket and has taken a beating sometimes during my off-trail wanderings. There is no evidence of any weaknesses in the flask and I would consider it bulletproof as it has fallen out of my pack while unpacking things a couple of times with no damage or leaks.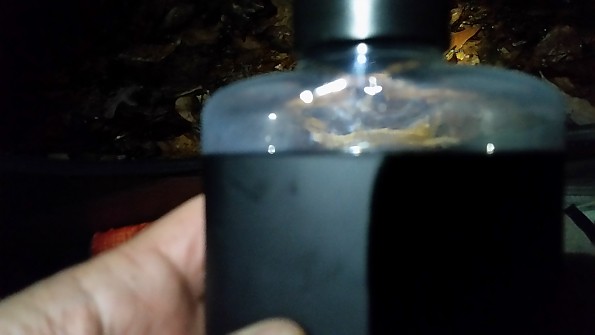 The only issue I have seen is a slight discoloration of the clear plastic at the top corners of the flask (see photo above, apologies for the blurriness). It has not affected the functionality, construction, or apparent taste of my whisky. I don't recall when this occurred, but I may have thrown it in the dishwasher a year or so back.
Weight & Packability
At three ounces, I can't fault this flask's weight as it is significantly less than most of the metal flasks on the market. Anything lighter would probably sacrifice durability, which I am not willing to do. The design is a bit deeper and wider than other flasks that are made for hip pockets, but since I am reviewing this flask for use in the back country I don't find that to be an issue warranting a lesser rating.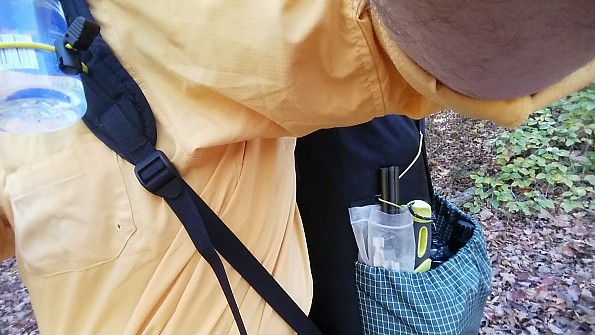 It slips easily into a side pocket or down the side of my main pack compartment, and due to its sturdiness I don't have a worry about leaks. You can just see the black cap poking up on the outside of my side pocket in this shot.
Ease of Use
The ease of filling and pouring liquids from the flask are due to the design and wide mouth discussed above—much better than many other flasks on the market. The thoughtful rubberized grip makes it easy to hold onto with or without gloves. I have never lost my grip on it in any temperature (although I only have a little at a time!).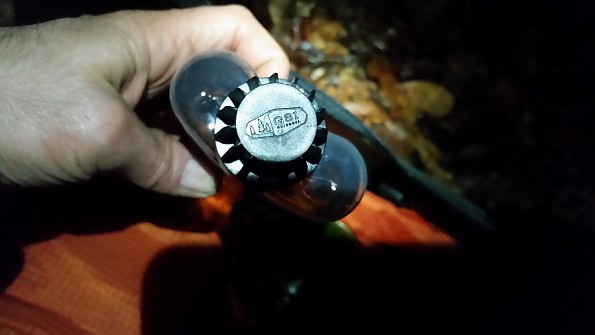 The cap is easy to grip and while it holds tight I have not had any trouble loosening it in temperatures down to the single digits.
I like the clear plastic areas and being able to see inside and check out my stock to see how much is remaining, or if a fly committed suicide into it, etc.—an option that is missing in my metal flask (although surprise is the spice of life they say!).
The flask is easy to clean due to the wide mouth and visibility. I can rinse it out thoroughly with hot water and soap, and be able to tell if I got all the soap out. The larger opening also allows it to air dry faster.
Miscellaneous Thoughts
The PET construction has some advantages and disadvantages over metal flasks. In colder weather, the plastic construction seems to insulate better than metal, which I much prefer as cold whisky has a lot less flavor than at moderate temperatures. For those who like their drinks on the rocks, this will not be an issue. 
The PET plastic has not affected taste of the whisky that I can tell, but that is an issue of concern to some. I think the short duration alcohol is stored in the flask, and the increased enjoyment of having an after dinner drink in the wilderness, greatly offset any minor changes in flavor.
With plastics, there is always the rumor of health effects. With the PET plastic being BPA-free (the health of which is much debated, see some of the comments on my Smartwater Bottle review), the potential risks are questionable. I take the approach that any potential risk is much less than exposure to other compounds that occur in our human environment every day (and maybe offset by the concentration of anti-oxidants in Scotch!), but I am in no way recommending or making health claims about this product. I leave that to personal decision.
Conclusions:
Overall, the GSI Outdoors 10 ounce flask has become my constant companion on most backpacking trips. The light weight, sturdy construction, and ease of use make an after-dinner drink a regular celebration of another night under the stars. For those who imbibe responsibly in the outdoors, this is a solid choice.  Slainte mhath!
2019 Update
I lowered the rating on this flask since the discoloration mentioned in the original review, which I did not edit above, has continued. As you can see by the photo below the flask is now discolored throughout the plastic—compare it to the photo in the original review where the discoloration was only at the top—shows progression of the issue. I have used it regularly on trips for holding a nightly dram of Scotch, and washed it out with warm water and soap between trips. I now cannot comfortably continue to carry it due to worries about taste, contaminants, etc. I have no proof of those but don't need them. I would just prefer not to carry it. I leave that choice to the individual.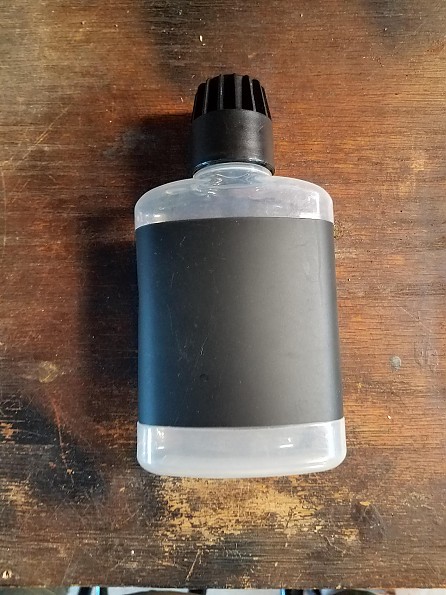 Experience
I have carried a whisky flask for years on many trips throughout the seasons except for deep winter when Scotch is too cold to taste. Either a plastic one like this, a steel flask, or an aluminum "soft" bottle. My current preference is steel—heavy but trustworthy.
Source: bought it new
Price Paid: $10.95

You May Like
Recently on Trailspace