GSI Outdoors Pinnacle Dualist HS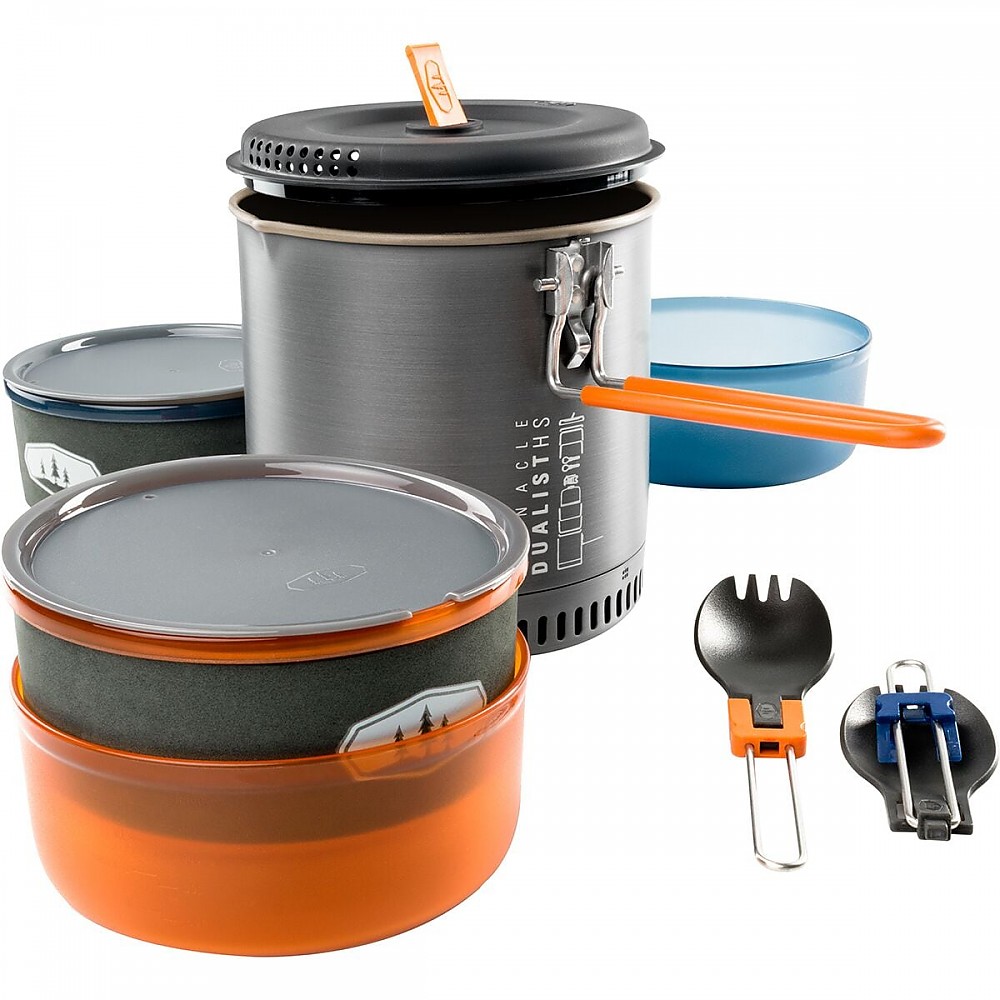 A compact two-person cook set that stows neatly in its own pot, the Pinnacle Dualist HS offers a few perks similar sets lack, such as a PFOA-free Teflon-coated pot with heat exchanger and "Foons," GSI's folding sporks. The heat exchanger pot contributes to faster boil times and lower fuel consumption, and the inclusion of mugs, bowls, and utensils makes this a good option for a backpacking duo who wish to share a cook set that is efficient, compact, and durable.
Pros
Durably made from practical, easy-to-clean materials
Heat exchanger pot speeds boil times and reduces fuel consumption
Compact set nests completely in the pot
Cook set components lend themselves to flexible use options
Cons
Contents seem to cool quickly in awkwardly shaped mugs
"Foons" are too short to reach the bottom of dehydrated meal pouches
Pot measurement markings can be hard to read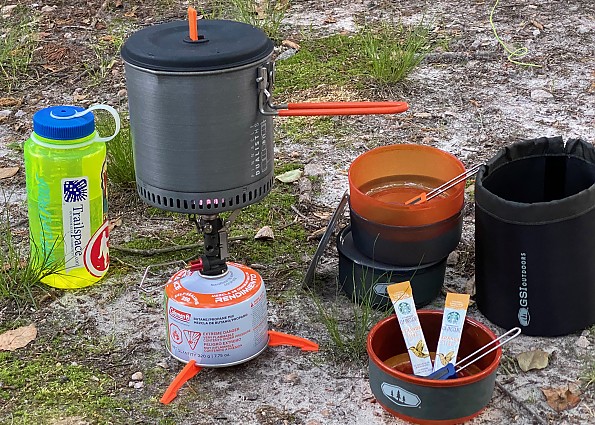 In the Box
The Pinnacle Dualist HS is a two-person cooking set, intended for backpackers, that includes:
1.8 L hard-anodized aluminum, Teflon-coated pot with heatsink (hence "HS") and folding handle

Strainer lid

2 20 oz/ 592 ml insulated mugs with "sip-it" lids

2 20 oz/ 592 ml bowls

2 folding "foons"

Seam-welded storage sack that doubles as "sink"
The personal items—bowls, mugs, and foons—are color-coded in orange and blue, allowing users to keep track of their own otherwise identical items while eating. The set is also designed to store a 230 g fuel canister and stove in addition to the components listed above. GSI Outdoors lists the complete package as 5.9 x 6 x 7.1 in/150 x 152 x 180 mm. GSI claims a weight of 23.1 oz/654 g; I weighed the set I received for testing at 22.8 oz/646 g—sans stove and fuel.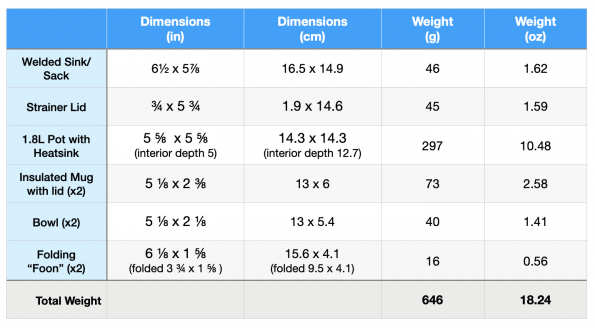 Note: there is no frying pan provided with this set, but for what it's worth, I discovered that the Pinnacle Dualist HS set nests perfectly inside the inexpensive Mini Trangia Non Stick Fry Pan, an option I took advantage of to complement the Pinnacle Dualist HS on occasion. 
The Pot
The hard-anodized aluminum pot appears to be well-made with a rolled rim, riveted stainless steel handle bracket, and welded heat exchanger. A coated  stainless steel handle inspires confidence even when wielding a heavy, full pot of water.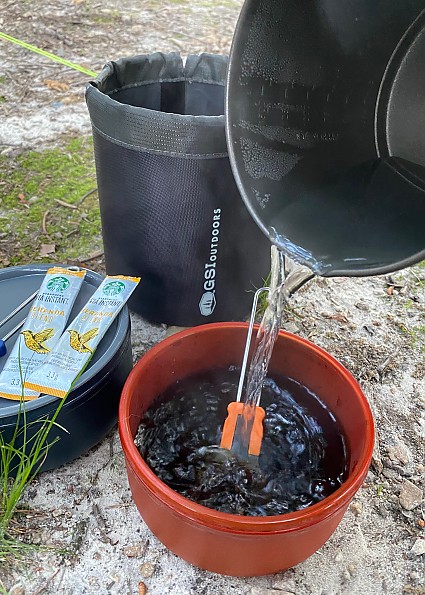 The handle clicks open securely for use or clicks closed atop the lid to keep the contents of the cookset secure. Its 1.8L (7.6 cups) size is ample for two-person use. In the field I seldom used a majority of this capacity, but it was welcome when cooking quantities of pasta.
GSI Outdoors calls the pot "rugged." Despite being relatively lightweight, the pot is well-made and endured  getting kicked over by a spooked wild pony one evening in the Mt. Rogers high country of Virginia when the pony wandered through our campsite and tripped on a black tarp guy line. The Pinnacle Dualist HS pot escaped uninjured (as did the pony!).
Measurements are embossed on the interior of the pot in both metric and Imperial units, from 8 to 48 oz and from 250 to 1500 ml. Unfortunately, the PFOA-free Teflon coating makes these markings exceedingly hard to read in any but optimal light, though one does learn where certain amounts are based on familiarity acquired through repeated use.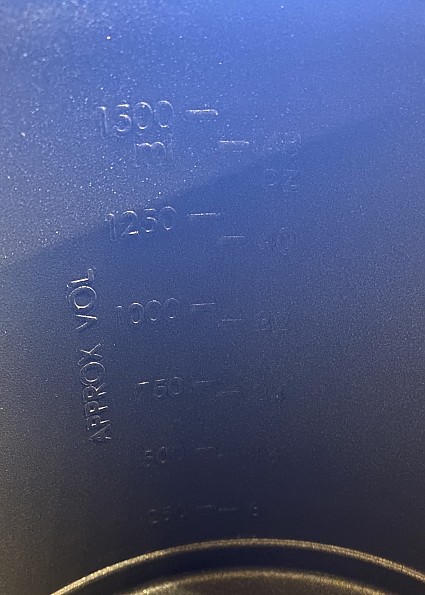 The PFOA-free Teflon coating "with Radiance Technology" is evidently quicker to heat than some coatings; GSI claims that "Radiance's three-layer coating reaches temperature 25% faster than other coatings." I have no real way to test coatings, but I will say the pot boils quickly and certainly appears unhindered by the coating in terms of achieving a rapid boil.
The coating appears to be durable, too. GSI claims that metal utensils can be used with this coating, and accordingly I used an aluminum Gerber Devour Multi-Fork when cooking. The coating suffered no ill effects from the metal utensil, and the interior cleaned easily—at times, a quick swirl of hot water was sufficient to get the pot "trail clean." GSI notes in the instructions that "Pinnacle cookware can often be cleaned out with nothing more than a damp cloth while boiling water works ideally as a soaking and cleaning agent...when you are in the field." Yep, that's what we found.
The black lid is molded nylon, so it stays cool to the touch. It has a contrasting, orange lift tab for raising the lid, a feature that can stand on its own for ease of use or lie flat on the lid to accommodate ease of packing. The fit on the lid on the pot is not super tight, but it is perfectly adequate. Strainer holes in the lid allow one to easily strain pasta water should the need arise, a feature I appreciated when I made Pasta Bolognese.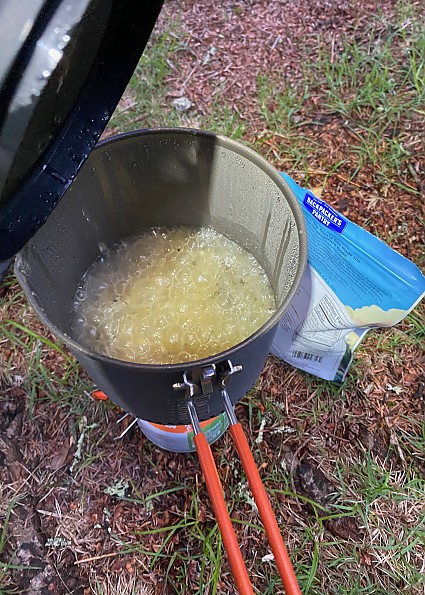 The bottom of the pot features what GSI terms its "Heatsink Technology"—a ring of aluminum fins intended to absorb more of the heat released by the stove and transfer it to the contents of the pot, theoretically producing faster, more fuel efficient boils. More on that in a moment.
This heatsink (heat exchanger) feature does mean that not all stoves will work with this pot if their pot supports don't align well with the .79 in/20 mm wide ring that surrounds a 3.82 in/ 97 mm gap. The image below shows how this pot aligns with various stoves.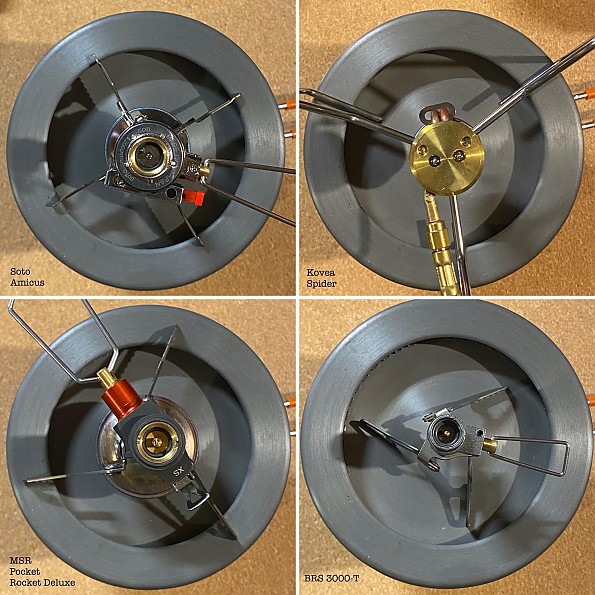 I've included two stoves on the lighter end of the spectrum. The Soto Amicus I deemed too precarious for use with this stove—there isn't enough pot support length to gain sufficient purchase on the bottom of the pot. The BRS 3000-T actually fits within the outer ring, but I'd be leery of balancing 1.8L of water on top of those whimsical little pot supports.
In contrast, then, the Kovea Spider offer a solid, wholly supported stand for the pot, and the MSR PocketRocket Deluxe was actually my stove of choice during field tests with this pot because it fits nested with the rest of the kit within the pot (even with fuel, too) and has wide enough pot supports to manage this pot securely and fairly easily.
Only once did I pay less attention than I should have and returned the pot to the stove while only catching two of the pot supports on the rim. With time, though, I became practiced at judging my placement of the pot on the stove. Below is a shot of the MSR PocketRocket Deluxe in use with the Pinnacle Dualist HS pot.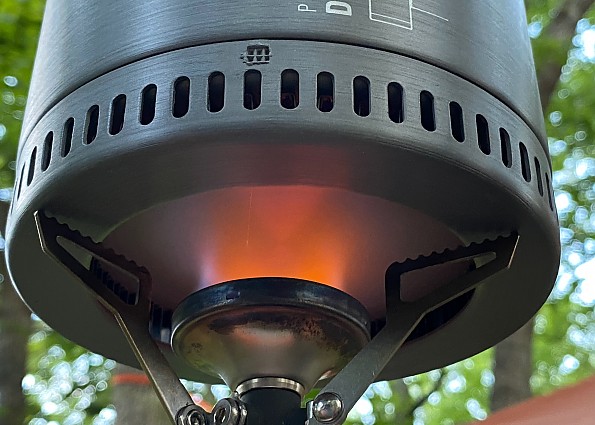 The bottom line: if the circumference of your stove's pot supports is around 4.5 in/ 11.4 cm or larger, you will likely be able to rest the pot on your stove without much of a problem. I did find I preferred to use a snap-on canister stand to give my stove greater stability when the 5 ⅝ in/ 14.3 cm tall pot was full of water or food--it does become fairly tall atop a canister stove.
Testing GSI Outdoor's Claims about the Pot
On the packaging, GSI claims that using the Pinnacle Dualist pot with its "HS Technology" can provide one with 30 percent faster "boiling" while using  "30% less fuel." The fine print indicates the test was performed with 1L of 20-21˚C (68-69.8˚F) water, raising it to 95˚C (203˚F). That isn't water boiling temp, unless one is at an elevation of about 4900 ft/ 1493.5 m.
To test GSI's claims, I boiled 4 cups/ 946 ml of 74˚F/23.3˚C water in both the Pinnacle Dualist HS pot and in another pot. I used a venerable aluminum pot from a WFS Four-Party Cook Set (No. 106!) because it was also aluminum and closest in size and diameter to the Pinnacle Dualist HS pot of any I had. By venerable, I mean that it was part of a cook set my family used when camping in the late 1960s and 1970s!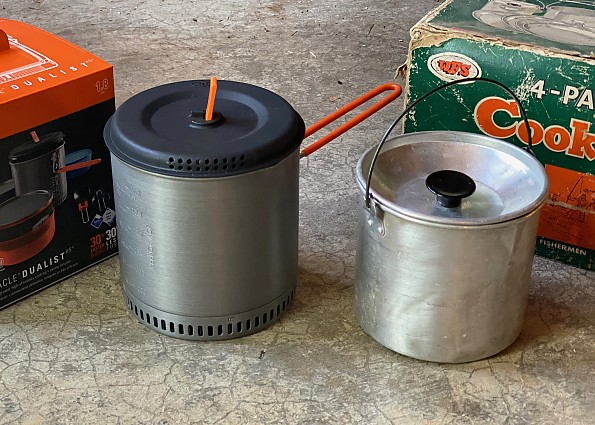 I used Coleman Performance Blended Butane-Propane fuel and an MSR PocketRocket Deluxe stove for both tests with the valve open to approximately the same position—two different canisters at the same starting temperature. While this was not scientifically uber-accurate, it was close enough to get the idea. The tests were conducted in a ventilated, windless garage. Results of the test appear below.

As you can see, the Pinnacle Dualist was almost 30% faster to boil than the WFS pot, but only 18% more efficient. The speed claim seems accurate; the fuel efficiency claim was seemingly exaggerated. Still, not bad.
In the field, my son and I loved the speedy boil times as we made hot drinks to fend off rainy, chilly weather or as we huddled behind a bear box, using its mass to block fierce mountain winds as we boiled water. The faster boil time (when compared to other pots without heat exchangers) was tangibly clear in the field and a significant boon when cooking for two. The frugal fuel consumption also meant that I didn't mind firing up the stove for an extra round of hot drinks, knowing there would still be plenty fuel left for the remainder of the  trip. This efficiency is a definite bonus for backpackers.
Mugs
The two BPA-free mugs are less like mugs and more like flat bowls with secure sipping lids. Their height is less than half of their width, something I found a little off-putting, but which doubtless was intended to allow efficient nesting of the whole cook set within the pot. One can't wrap one's hand around the circumference of the mug and feel comforting warmth in quite the same way as one can with a taller, smaller diameter mug. However, one adapts to the unique shape fairly readily. I found I preferred a few fingers beneath the mug and my thumb on top. One benefit of this shape, though, is that the mugs are exceedingly stable, an observation my son made as we ate breakfast one morning.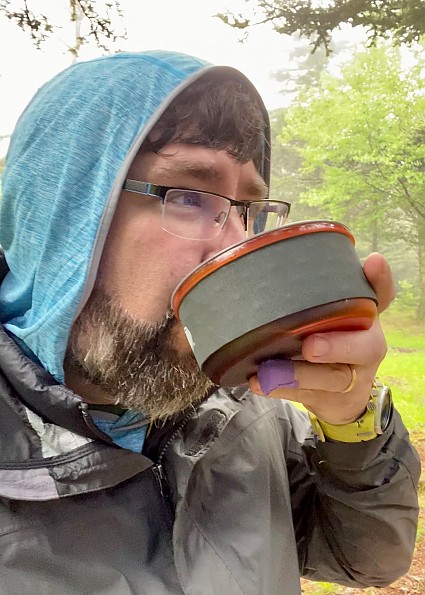 A ring of thin insulation shields one's hand from any hot contents. The soft hand feel of this insulating ring gives one decent grip, but I felt as though my drinks did not seem to stay hot for long, losing approximately 20˚F/ 11.2˚C of temperature in the first 10 minutes or so after being heated. I think the broad surface area of the lid and the bottom of the mug, both uninsulated, make the mug susceptible to heat loss and thus better suited for a quick morning shot of caffeine rather than a slowly savored brew.
I experimented with nesting the mug inside the bowl (see image, below), but this produced no meaningful insulating benefit—even when tested at home with temperature probes.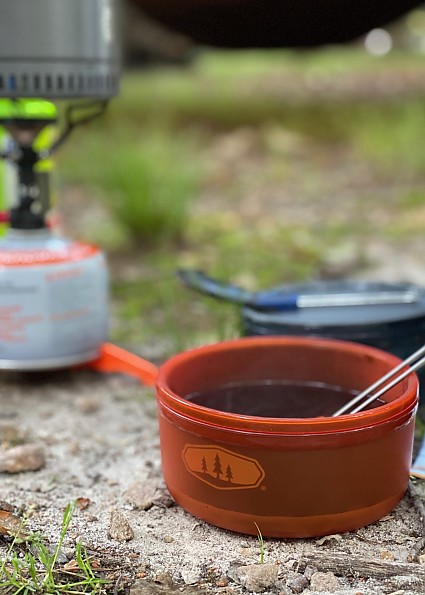 Bowls

The two BPA-free bowls conveniently nest around the mugs, taking up very little space. Unlike the mugs, whose shape is nearly identical to the bowls' shape, the bowls feel well shaped for their purpose. Since they don't have to be raised to one's lips like the mugs, they feel good in the hand—not too big, not too small. The 20 fl oz/ 591.5 ml capacity is adequate for single helpings of foods, and here, too, GSI has included raised measurement markings inside the bowls.
These markings are easier to read than the pot's by virtue of the bowls' translucence, and in practice I found them more useful for measuring amounts of water into the pot than the pot's own harder-to-read markings.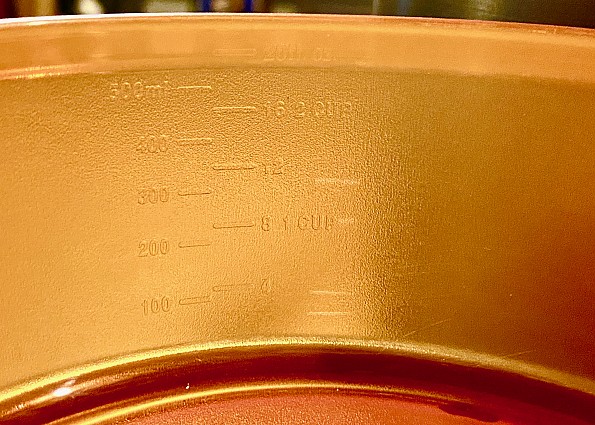 The bowls are faintly textured (visible in image, above), offering a bit more grip than one would imagine a smoother surface might have provided. They are uninsulated, so consequently hot food in the bowl can be felt in one's hand pretty easily. Naturally, one can wait for the food to cool a bit or use the more insulated mug as a bowl if one wishes. 

Foons
The two "foons" are admirably collapsible utensils, what GSI calls their "spork upgrade." For use, the foon is unfolded and a colored U-shaped lock slides down the stainless steel handle to snap into the spoon portion of the utensil, creating a rigid 6 in/ 15.24 cm utensil. The bowl of the foon is slightly angled away from the handle, facilitating scooping of food and allowing the utensil to be held at a natural angle in the hand.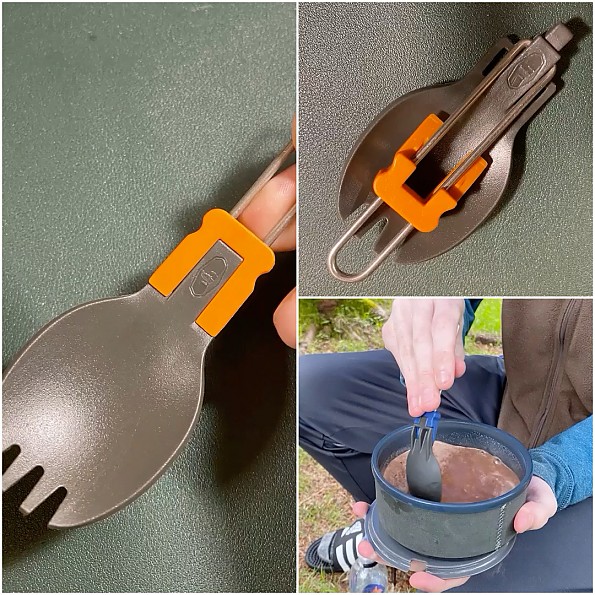 In use, we found the foons to be sturdy and comfortable, well-suited for the provided bowls or mugs, but their compactness proved a liability with deep dehydrated food pouches. I suppose one could dump the rehydrated food into the bowls for consumption, but we were too lazy to clean the bowls if we didn't have to and thus just dealt with getting food on our knuckles as we dug into the pouches with these compact foons.
Organization
The Pinnacle Dualist HS set excels in terms of organization: foons, mugs and lids, bowls, a 230 g fuel canister and a compact stove (I used the MSR PocketRocket Deluxe without storage bag) all fit neatly into the 1.8L pot, which in turn drops neatly into the welded storage pouch. This feat of engineering does require one to study the box to get the correct nesting sequence of objects down, but after a few uses it becomes quite natural.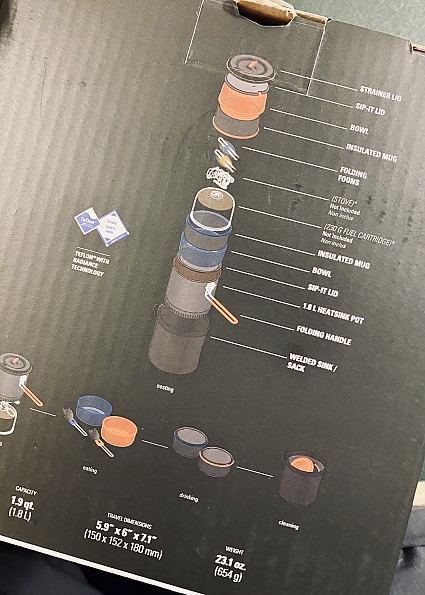 Storage Sack/Sink

The storage sack may ultimately aspire to more than it should. It has sealed seams and thicker material that add weight, but then again this also gives it more of a structure than a simple stuff sack, and that in turn allows one to easily pack the cook set in it without trying to keep a floppy bag open. It does not cover the top of the pot, just its edge. The cinch cord keeps the stuff sack tight around the pot while the pot's folding handle secures all of the contents within the pot.
The sealed seams and heavier materials are intended to allow one to use the sack as a sink for cleaning the Pinnacle Dualist HS components. I wasn't a fan of this application of the sack, though it did work: a few drops of Dr. Bronner's and a sponge got things clean quickly (props to GSI on choice of materials used!), but this dishwashing naturally left the stuff sack wet afterwards.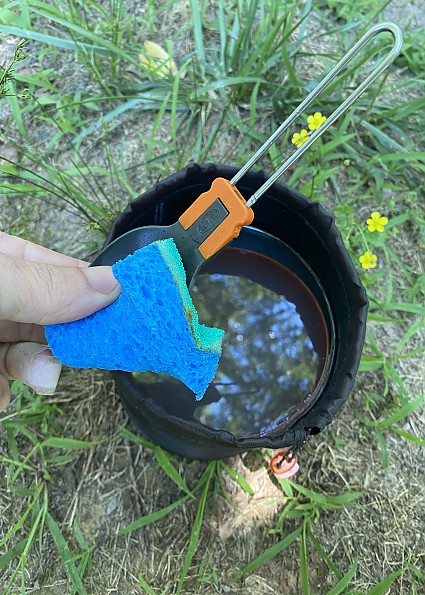 That may be fine on a sunny day, but on foggy, misty days when the air is laden with moisture, it may mean stowing your cook set in a wet sack, or even stowing a wet sack in your bag, since I found it a bit of a challenge to wash dishes in the close confines of the sack without spilling some water over the edge. Using the sack as a sink seems a little unnecessary: the pot can actually be used as a make-shift "sink" to clean the rest of the kit once the pot itself is at least wiped out since it can't practically be submerged in the sack to be washed there anyway. 
Conclusions
The GSI Outdoors Pinnacle Dualist HS cook set is a well-made cook set that offers the convenience of stowing a complete backpacking cook set for two with stove and fuel in a relatively small package. Ideal for backpackers, the sturdy nylon bowls, mugs, and foons and the PFOA-free Teflon-coated hard-anodized pot provide durability and ease of cleaning.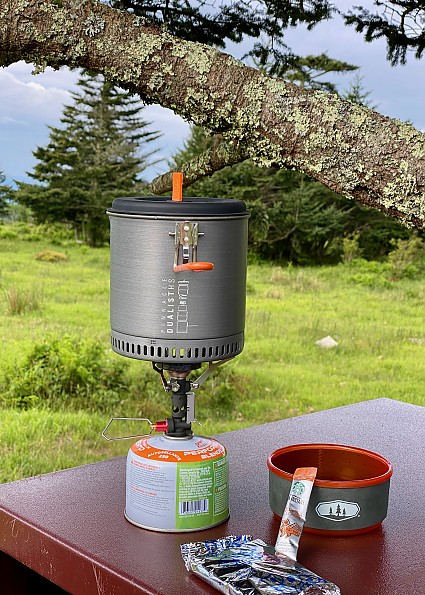 There are inherent compromises that result as a consequence of its relatively compact form factor: the foons are very packable but too short to probe the depths of a dehydrated meal pouch, while the bowl-like mugs nest neatly in the bowls but are a bit awkward to hold and seem to lose warmth quickly. The sack/sink is an interesting idea but not one that I used after experimenting with it—who wants to wait on a storage sack to dry?
However, the pot is well-sized for two and offers speedy boil times and contributes to fairly thrifty fuel consumption—you won't be waiting long for hot food with this system. Its "Heatsink Technology" does mean that you will need to choose your stove judiciously to provide adequate support for the bottom of the pot, though.
The GSI Pinnacle Dualist HS is more expensive than many economy cook sets, but also considerably better designed and better made than many of these. Its MSRP of USD $89.95 is exactly the same price as MSR's MSRP for their analogous Alpinist 2 two-person cook set, which features a 2.4L pot (no heat exchanger) and handle, strainer lid, two double-walled lidded mugs, and two plates (but no utensils). It's USD $20 more than Sea-to-Summit's Alpha Cookset 2.1, which offers a 1.9L pot with strainer lid, two lidded insulated mugs, and two bowls. There are give-and-takes with each of these cooksets, but given that the Pinnacle Dualist HS includes a Teflon coating and a couple of foons, I think the cookset is competitively priced and offers good value for the money.
I will add that my Review Corps colleague, LoneStranger, noted that this kit also provides flexibility: 
These kits work well for more than two assuming you weren't going to use the cups to drink out of anyway. We leave one cup home and use the other and the bowls to hold our FB breakfasts and dinners while we eat. I used the first kit solo for years as well. That flexibility adds to the value.
I agree; that flexibility does add value. Thank you, LS!
Ultimately, this thoughtfully designed and solid two-person cook kit would be ideal for a backpacking duo wishing to share a kit, or, indeed, for any camp situation where a kit for two would be desired. With its compact form, rapid boiling time, efficient use of fuel, low-fuss clean-up, and adequate cookset components for two, the GSI Outdoors Pinnacle Dualist HS is a worthy choice for the field. 
Background
I'm a bit of a cook kit junkie, still owning and using my old BSA mess kit from 40 years ago as well as countless other stainless steel, aluminum, and titanium cookouts and pots and pans I've acquired in the intervening decades. I used the Pinnacle Dualist HS cookset over a period of months this spring, frequently in my backyard during the quarantine of the Covid-19 pandemic, but then also on day trips and eventually as the sole cookset on a three-day backpacking trek with my elder son as phased reopening allowed us to get into the backcountry again.
Source: received for testing via the Trailspace Review Corps (Sample for testing and review provided by GSI Outdoors)

A compact and robust cooking set for two.
Pros
Compact
Can feed up to four
Heat sink greatly improves boiling time
Cons
"Wash basin" isn't really large enough to wash in.
Expensive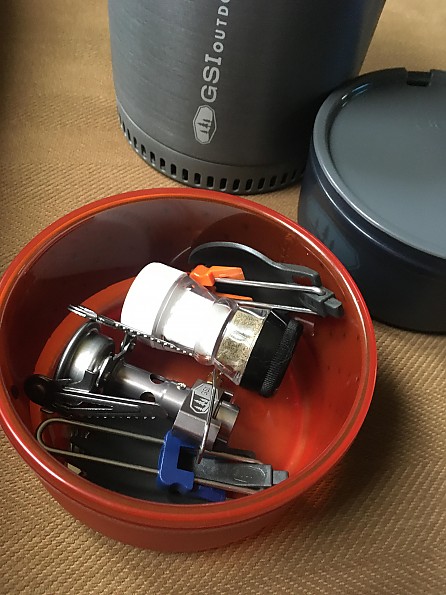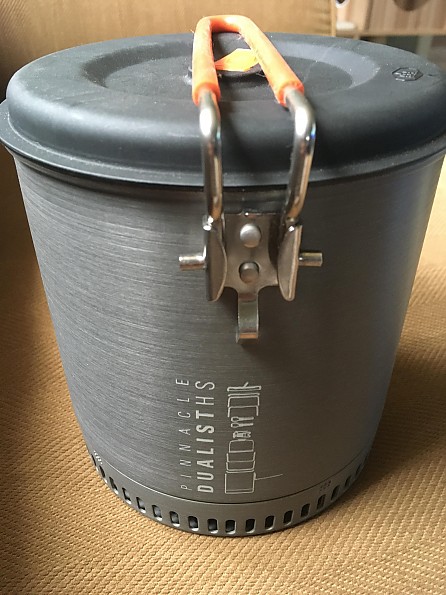 A compact, relatively lightweight cooking system that can easily fit a stove and gas cannister. The included bowls and lids can feed up to four, but more comfortably two. Lids allow for sipping hot items, and the coozie can insulate your hands when dealing with very hot items. Gradations in the pot for measurements are a very welcome addition.
I've had no issues with spilling or seating the pot properly. Any cannister-top cooking setup can spill if not centered properly, and this is no different. I've included pictures to show how far off center you'd need to place the pot before the heat sink became a problem.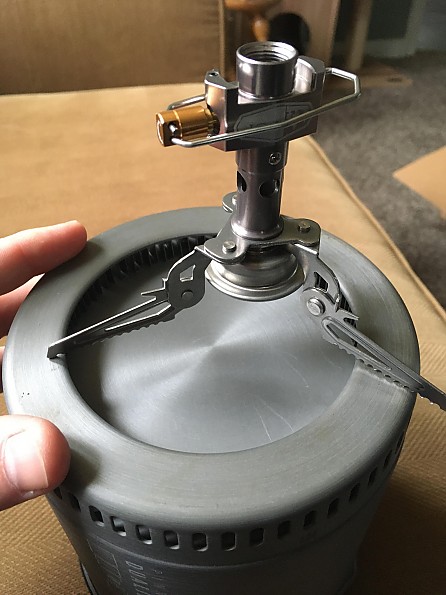 Source: bought it new
Price Paid: $80

This stove is unsafe on any canister stove.

This stove is unsafe on any canister stove. The heat sink feature only allows the pot to be off center a half inch, before the user gets a lap of scalding contents.
Background
Extensive. Also, we visited REI and two salespeople agreed it was not safe with a single canister stove.
Source: bought it new

Your Review
Where to Buy
Help support this site by making your next gear purchase through one of the links above. Click a link, buy what you need, and the seller will contribute a portion of the purchase price to support Trailspace's independent gear reviews.
You May Like
Specs
Price
MSRP: $94.95
Current Retail: $94.95
Historic Range: $70.93-$94.95
Reviewers Paid: $80.00

Weight
1.4400 lbs

Material
Non-Stick Coated, Hard Anodized Aluminum, PP, Nylon, Silicone, Aluminum, Stainless Steel

Major Dimension
1.9 qt.

Includes
1.8 L Pot, Strainer Lid, 2 20 fl. oz. Mugs w/ Insulated Sleeves, two 20 fl. oz. Bowls, 2 Sip-It Tops, 2 Folding Foons, Welded Sink

Dimensions
6.2 x 5.8 x 5.9 in

Recently on Trailspace