GSI Outdoors Spice Rack

#9 in Storage Containers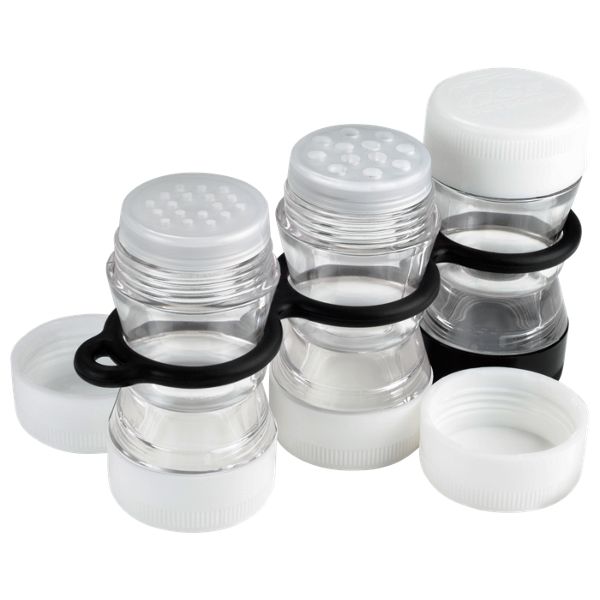 Specs
Price
MSRP: $10.95
Current Retail: $12.95-$12.99
Historic Range: $6.95-$12.99
Reviewers Paid: $12.95

Weight
3.5 oz

Dimensions
4.70 in x 2.80 in x 1.50 in

Materials
Co-polyester

Includes
Salt + Pepper Shaker, 2 Universal Spicers, Removeable Spice Labels, Large and small screens for different spices, loopable bandolier

Reviews
1

review

5-star:

0

4-star:

0

3-star:

1

2-star:

0

1-star:

0
Convenient, durable, and waterproof option for storing six spices while backpacking. Not the lightest option, but definitely one of the more elegant. Sure to please those who like to tweak prepackaged food or indulge in their own culinary creations. A comfort option for those willing to sacrifice a few ounces or grams to have more flavorful food.
Pros
Durable construction
Waterproof containers
Efficient, two-sided design
Convenient "loopable bandolier" holds containers together
Cons
Weight: ultralighters will want to avoid this
Included spice labels come off easily
A little pricy
I purchased the GSI Outdoors Spice Rack prior to visiting Yellowstone National Park this summer, seeking an option that would allow me to brings some of my own favorite spices as well as a few of my boys' preferred seasonings.
The Spice Rack consists—according to the packaging—of a "Salt+Pepper Shaker and 2 Universal spicers" that "hold six different spices in individual compartments."
Let me decode this for you: the kit basically consists of three hourglass-shaped, double-sided spice holders (two waterproof, screw-top lids per container) held together by what GSI terms a "loopable bandolier." The Spice Rack also includes 18 pre-printed labels and 4 customizable labels. 
The bandolier is a clever little addition that holds the containers together while also allowing them to twist and turn about, making them more packable than a more rigid option would have allowed, and allowing individual containers to be removed for more precise seasoning adjustments.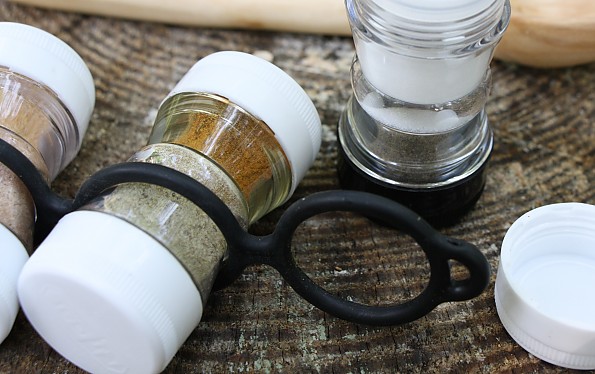 Specs
Prior to Yellowstone, I loaded up the Spice Rack with salt and pepper, Greek seasoning, Tandoori seasoning, garlic powder, and a cinnamon-sugar mix. So what does the loaded kit weight? Obviously the weight of the Spice Rack varies depending on choice of seasonings, but in my iteration, it weighed 5.12 oz/ 145 g. Held by the bandolier, the kit is about 4.7 in/ 120 mm long, each container standing 2.8 in/ 71 mm tall and being 1.25 in/ 31.8 mm across. It packed easily for carrying.
There are two styles of sifter caps under the screw-top lids, one with larger holes for flakier sorts of seasonings, and one with finer holes for finer spices. See images, below.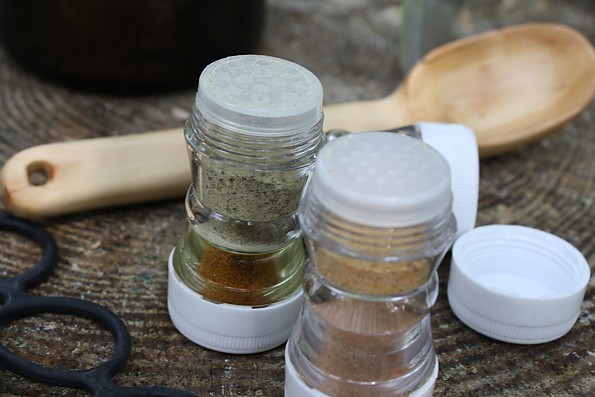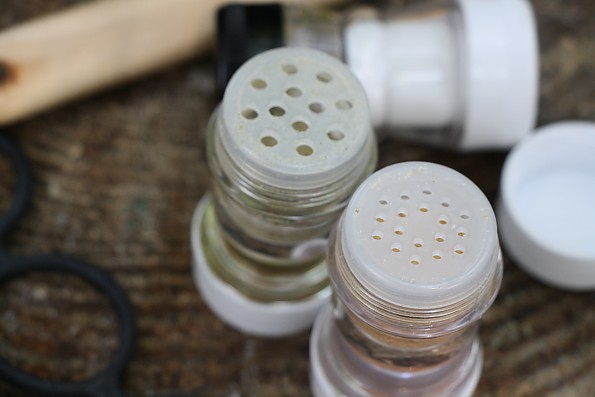 I filled the containers and snapped on these sifter lids based on the fineness of the seasoning in each container.

Observations from Use
First, the provided labels did not stay on the containers, or more accurately, some did and some didn't. Not a big deal, though, and certainly this is nothing that affects the utility of the Spice Rack.
Initially I attempted to season foods with the Spice Rack containers still held by the bandolier, but I was quickly disabused of this impulse by the unwieldy feel of this configuration: it was simply too hard to adjust seasonings with any measure of nuance with the weight of the other containers swaying and dangling from the bandolier. Happily, the bandolier is made of what appears to be stretchy rubber, allowing the individual containers to pull free when effort is exerted while retaining them nicely otherwise.
Note: a loop on one end of the bandolier gives one the option of running a small carbine through the loop to attach the Spice Rack to the exterior of a pack or anywhere else one might wish to hang it.
Used separately, the containers were fun to use! No need to endure bland, dehydrated fare when one can custom tailor the seasoning to one's own liking. Sitting in Yellowstone and tapping the side of a Spice Rack container to adjust my seasoning felt truly indulgent! The 5.7 oz of weight seemed well worth the satisfaction of having a mini spice kit with me. The differently sized sifter lids worked well, allowing me to control the flow of my spices easily with the tap of my finger on the side of the containers.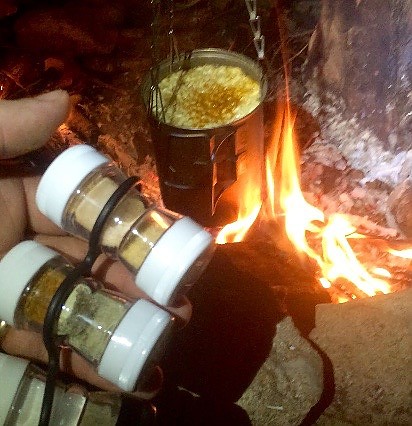 The GSI literature claims that these containers are waterproof. I am not one who risks wet food when camping, so I decided to test this on my kitchen counter by placing the Spice Rack in a bowl and filling the bowl with water. So I did, leaving them for a few minutes. Opened thereafter, the contents were dry, with no evidence of water seepage. So yes, they are also waterproof.
Conclusions
The GSI Spice Rack works as advertised. It is made of good quality materials, and I expect it to last quite some time. I really enjoyed having this task-specific tool when cooking, although I would probably have to give more consideration to the 5.7 oz weight if I were to go on an extended backcountry trek. It is not the lightest option, to be sure: I'm sure ultralighters who crave spices may opt for serving-specific amounts in pieces of clear, heat-sealed drinking straw or some other creative solution to the spice-carrying dilemma.
I found the flexibility of double-sided containers useful. One can pair seasonings in a single container based on meals one is cooking, just as the salt and pepper container allows one to use both of these easily without juggling between containers. But the double-sidedness also limits the amount of contents each container can hold. A prolonged trek would require resupplying some of the containers at some point, though I did not run out of seasoning in my tests.
I also found myself wishing I had one more double container—eight seasonings would better suit my own preferences, but the relative priciness of the Spice Rack ($12.95) discourages one from doubling up on containers, a potential drawback for thrifty backcountry gourmets.
However, for those willing to pay for a luxury item and sacrifice weight savings for a more flavorful backcountry meal, the GSI Spice Rack certainly merits consideration as a functional, well-design spice kit option.
Source: bought it new
Price Paid: USD $12.95

You May Like
Recently on Trailspace