Hammock Gear Cuben Fiber Hammock Hex Tarp

Top 25 in Tarps and Shelters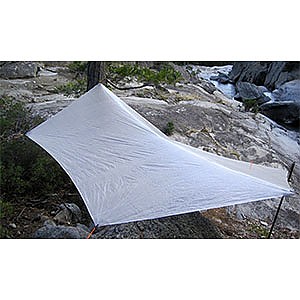 A lightweight, hex-shaped, "cat" cut tarp, for hammocks, constructed of cuben fiber. Increase coverage while decreasing weight, but at what cost?
Pros
Ultralight weight
Great coverage
Small pack size
Doesn't stretch when wet
No 'wetting through' or misting
"Cat cuts" facilitate taut pitch
Made in USA by a cottage industry manufacturer
Cons
Expensive
Some dislike the cuben's translucency
Expensive
The tarp that came with my Hennessy Hammock is a small rectangular design, hung on the diagonal. Such designs minimize weight, but provide minimal overhead coverage  For that reason, they require careful site selection to minimize wind, and blowing rain. It's constructed of 30 Denier sillnylon ripstop, and weighs 9.4 ozs.
After buying the hammock at Trail Days, I was treated to thunderstorms on my first couple of nights back on the Appalachian Trail. I quickly figured out to choose trees that would allow me to put the fat side of the tarp towards the coming storms. I stayed pretty dry, but I yearned for more coverage. I'm also always looking for ways to cut the weight on my old knees.
I had read quite a bit about tarps over the years. Camped with an 8x10 sil-nylon tarp with a bivy once upon a time… I decided to buy for a cat-cut, hex-shaped tarp made from cuben fiber, if I could find one that wouldn't put me in the poor-house!  I found Hammock Gear made exactly what I wanted at a competitive price point. Many positive reviews confirmed my finding, so I pushed the button.  
HammockGear sometimes has tarps in stock for immediate shipping, but their website does warn "All tarps are made to custom order - Please allow 2-4 weeks for tarp orders to be processed."  Mine was shipped 5 days after I ordered it.
Material:
Marketed by Cubic Tech Corporations, cuben fiber is a high-performance non-woven fabric for applications such as yacht sails, airship hulls, kites, and outdoor products which require strength, rip resistance, and light weight. 
Cuben Fiber, is a laminated fabric constructed from Ultra High Molecular Weight Polyethylene (UHMWPE) fiber monofilaments, such as Dyneema, laminated with various films. The result is a high strength, tear resistant, waterproof, breathable, and extremely light material perfect for outdoor activities.
This tarp is made of CT1K.08 cuben fiber. At .5ozs/sq yard, it is very light, and the finished tarp comes in at 5.2 ounces. Mine weighs 6.63ozs with all guy lines, and a pair of Dutchware Tarp Flyz. Early reviewers of cuben fiber questioned it's durability over the long term.  Recent reviews seem to have put those concerns to rest.
One review I read said "One positive is its translucency! A negative is the translucency!"  On the one hand, you can kinda see through the material, tho the images are quite ghost-like, On the other, if you want to sleep in, the rising sun is bound to make that difficult. Some are concerned about privacy. If you have a light on while in your hammock at night, you may have an issue. During the light of day, you may be able to see out, but others are not likely to see in.
Design: The standard design has a 10' 10" ridge-line, and is 8.5 feet wide. The hex shape saves weight over rectangular tarps by using less material, while still providing good coverage. Catenary cuts on the ridge-line and the perimeter edges are designed to facilitate taut pitches. Many believe that shallower cat cuts are most effective. Hammock Gear's cat cuts are just deep enough to achieve a taut pitch, which helps to prevent flapping in windy conditions.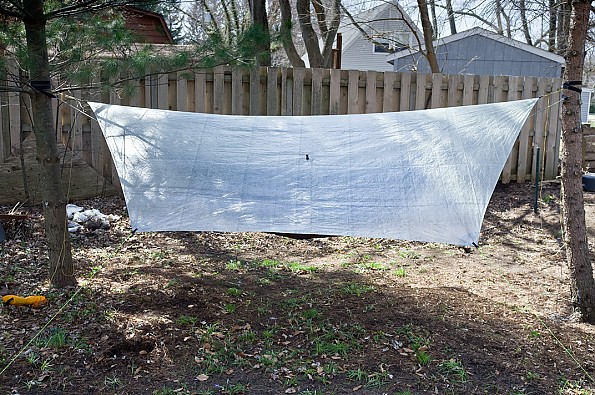 Catenary-cut ridge-lines can limit one's options when using the tarp to sleep on the ground. If you set it up like you would over a hammock, it would be fine.  But trying different pitches might make achieving a taut pitch difficult.
The tarp's ridge-line is not sewn, and so does not require seam sealing. Two panel pull outs, four perimeter tie-outs, and 2 ridge-line tie-outs are all bonded and sewn for maximum strength. 1/2 inch nylon rings are used on panel and perimeter pull-outs. One-inch triangles are used for ridge-line pull-outs.
My experience: So far I've hiked with it for four days and four nights. I found it easy to achieve a taut pitch, and I was happy with the increase in coverage. The ends are still open, so care in site selection and consideration of weather are still important.  I was concerned about how rain would sound, and was relieved that it was nice, dull, gentle patter.  
Weight Reduction: On my blog, I often joke about weight reduction in terms of $/oz being similar to the squeezing of more horsepower out of a Harley.  The first few are relatively cheap, then it gets more and more and more expensive.  Taking stuff out of one's pack that's not needed is free. Replacing gear with lighter stuff gets expensive. Recent changes to my gear averaged ~$24/oz. I knew adopting anything cuben would likely blow that average up …
The stock Hennessy rainfly is constructed of 30D PU / Silicone-coated nylon ripstop, and weighs 9.4 ozs.  By replacing it with Hammock Gear's 5.2 oz Cuben Fiber Hex Tarp, I saved 4.2 ozs. It cost me, um, $239 including shipping, so the cost per ounce was $56.90!  And that, unfortunately, seems inline with other items I had considered upgrading to cuben.  Call it the cuben tax.
Bottom Line:  I'm ecstatic with it, and it will be with me for this summer's long-assed section hike of the AT.
See it at: www.hammockgear.com/cuben-fiber-hammock-hex-tarp/
Source: bought it new
Price Paid: $239 incl shipping

Your Review
Where to Buy
Help support this site by making your next gear purchase through one of the links above. Click a link, buy what you need, and the seller will contribute a portion of the purchase price to support Trailspace's independent gear reviews.
You May Like
Specs
Price
MSRP: $235.00
Reviewers Paid: $239.00

Recently on Trailspace