Happy Yak Meals Happy Yak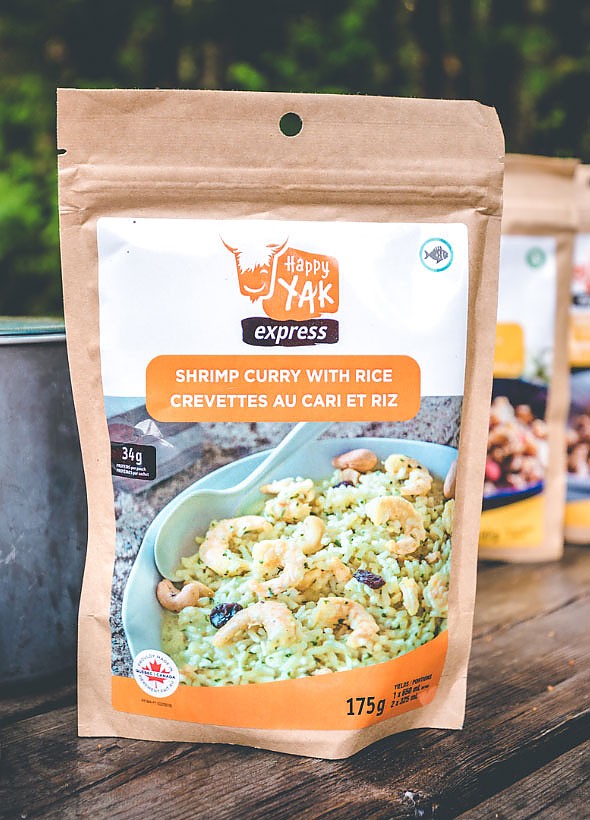 Happy Yak offers really cool recipes made with simple, high protein-dense, high-quality ingredients that are filling and fueling. Quite possibly the best quality freeze-dried meals I've had so far.
Pros
High protein
High carb
Low sodium
Simple ingredients
Exotic recipes break the monotony of camp food
21 meal choices!!
Free delivery on orders over $100
1% donated to environmental causes
Vegan options
Cons
A couple entrees require simmering
 Real ingredients

Vegetarian and vegan options

Breakfast, lunch, and dinner options

Made in Cowansville, Quebec, Canada

22 offerings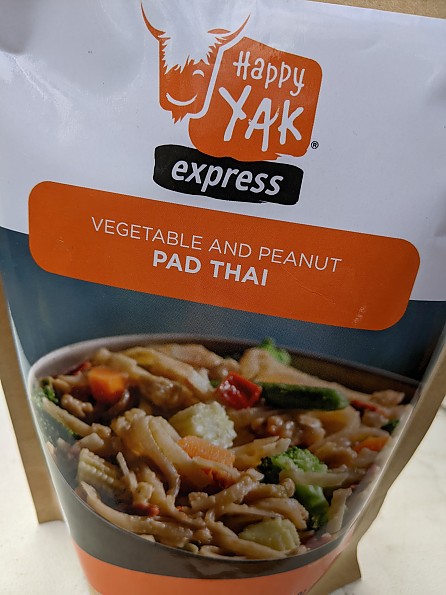 Planning meals in the mountains is, to me, one of those things that complicates something that should be simple; enjoying the place you are going. I don't go to the mountains to cook; I go there so I can be there. Good food that is easy to plan and prepare lets me focus on the important things while fueling my trip. 
Over the years I have gone back and forth from eating the most space-age freeze-dried products with ingredient lists that would make any chemical engineer proud to just bringing food like sandwiches, pop tarts, and pizza.  With Happy Yak I think I may have found a nice middle ground with lightweight meals that provide generous amounts of carbs and protein, low salt content, good flavor, and real ingredients. 
I once made the rookie mistake of packing only freeze-dried meals on a hike to discover that my four-year-old son hated every single one. As with all camping food, read the ingredient list or even test a meal or two at home if you are packing for picky eaters.  
Manufacturer claims:
Nutritionally balanced meals, first quality ingredients, proven recipes, all of this with a distinctive taste.
Generous portions
Ingredients that you recognize and appreciate
Low in sodium (especially compared to other brands)
High protein content
A variety of succulent, delicious and nutritionally balanced dishes
The Company
Happy Yak is a French-Canadian company. As an American living in a state that borders Canada I find the country intriguing because, like most Americans, I know almost nothing about Canada. However, Happy Yak has a team of really badass brand ambassadors who test their products and are themselves really cool to read about on the Happy Yak web page.
Most companies make around 3-5% profit margins, so the fact that Happy Yak donates 1% of their gross revenue to environmental causes is no small feat.  
Nutritional Quality
Each pouch states the nutritional contents for one of the two servings contained in the pouch. I think that every freeze-dried meal I have ever eaten stated that each pouch contained two servings, which I find pretty odd, but I'm used to it. I can't remember ever splitting a freeze-dried meal, so I will be considering the nutritional contents of the entire pouch. 
The three things I look for in freeze dried meals are carbohydrates, protein, and total calories. I usually bring several pounds of additional fat along with me (around my belly), so I don't focus so much on fat in my meals. Many backpacking meals are so low in calories (250 per serving in some) that they're practically useless. I could just eat a Snickers bar for that, and it would require a lot less prep time. If I am going to boil water, it had better be worth the fuel.
Most of the Happy Yak meals I tested have adequate calories to be considered standalone meals. Many of the other 17 meals they make also act as stand-alone meals. Additionally, they also all contain adequate amounts of protein and carbohydrates. I also like that they limit the salt content, so I don't have to chug a quart of water afterwards.  
Happy Yak sent me four meals to try on a recent trip to Northeastern Washington state. I brought backup food in case they were a flop and I'm happy to say that there was no need.
All but one of the Happy Yak meals were simple to prepare; you just add boiling water, stir, and wait. More about that one exception below.
 Thai Coco Soup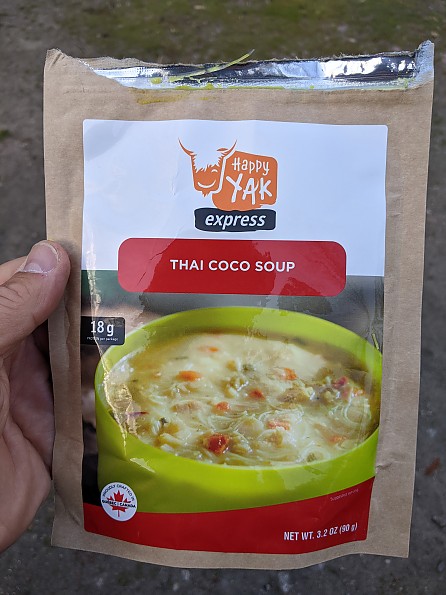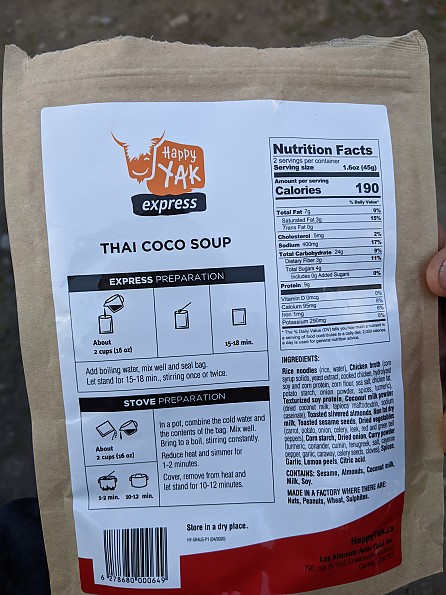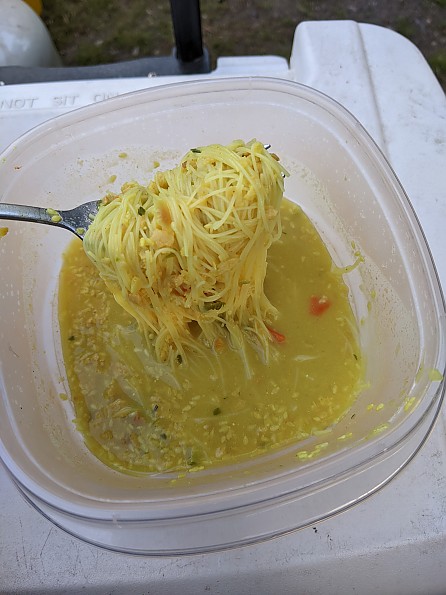 I had no idea what to expect with this meal because I'd never even heard of coco soup. This meal also has the lowest calorie count (380 per pouch) of the meals I tested, making it more of a great side dish, not a whole meal. Still though, 48 grams of carbs and 18 grams of protein isn't bad for such a low-calorie count. 
The first taste I noticed was sweetness that came from coconut milk powder. It was a little unexpected but really made me want to eat more. The protein in this meal comes from textured soy protein and the thick, creamy noodle texture really hit the comfort food button in my belly. The sweetness paired with curry and other spices had me constantly stopping, smiling, and saying, "hmmm, that's really good. Different, but really good."
Happy Yak describes the taste as "exotic" and I agree. A little sprinkling of vegetables added a little flair to what would otherwise look like straight noodle ramen. I was left wanting a lot more of this soup. Two of these meal packages would make a nice dinner. 
It's not a whole meal, but it tastes amazing. 
Mandarin Beef and Rice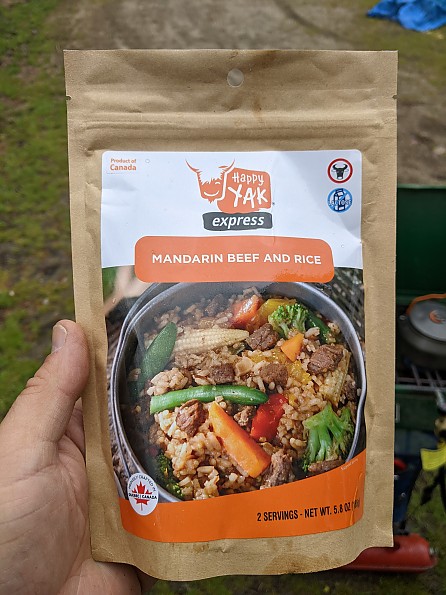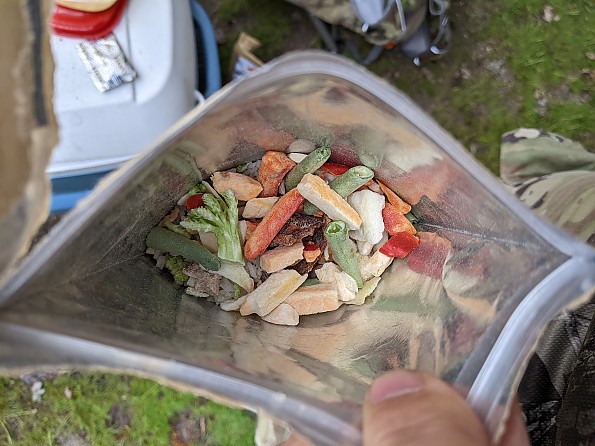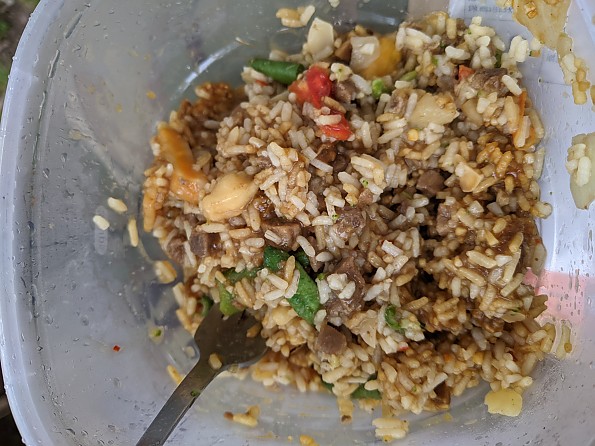 Imagine some really decent Chinese takeout or the Mandarin Beef and Rice at your favorite deli and you'll get the gist of this very edible meal. 
Prior to pouring the boiling water in this pouch I was struck by the large pile of vibrantly colored freeze-dried vegetables sitting on top of the other ingredients.  It looked like real food! 
Besides being straightforward to prepare, this meal packs 640 calories, 32 grams of protein, and 108 grams of carbohydrates placing this energy-packed meal firmly in the dinner category. The protein is provided by a combination of beef and soy. Despite the healthy serving of vegetables in this meal I was a little surprised to see only 6 grams of fiber in the pouch so perhaps consider packing a fiber rich food for your other meals. 
I can't say enough that I really liked the slivered almonds, slight flavor of orange, and the feeling that I was eating real food. You could have told me this came from an Asian deli and I'd have believed it. 
Braised Pork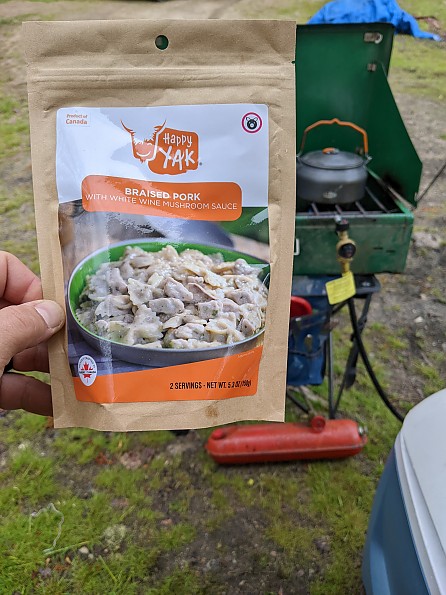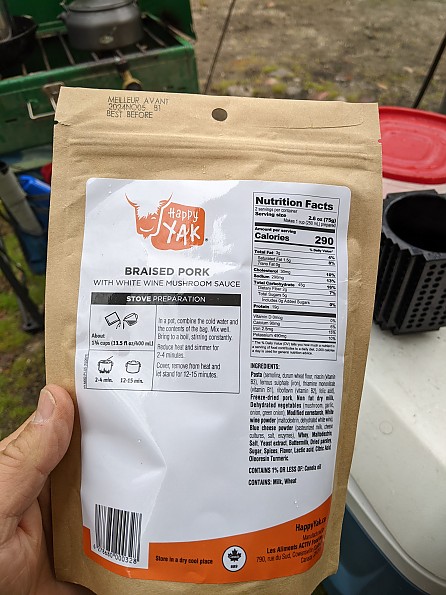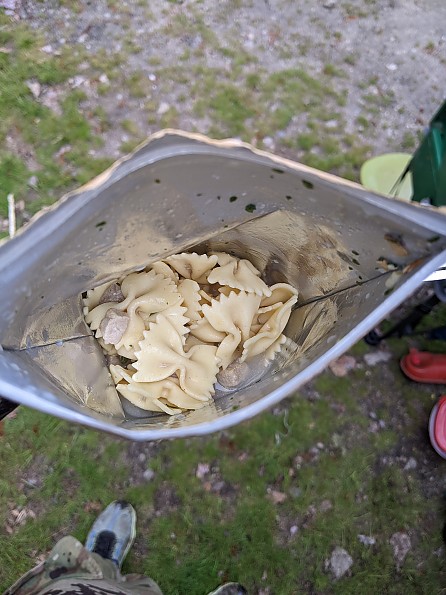 I had a couple problems with this meal, and one was kind of my fault. The instructions clearly stated that I was supposed to simmer this meal in a saucepan for 2-4 minutes, but I didn't bring a pot to cook in, just a kettle for boiling water. I didn't notice this until I had already ripped the envelope open. So, that was on me. 
HOWEVER, I expect freeze-dried food to always be simmer/boil free. I expect just to have to add boiling water, stir, wait, stir, and eat. I would never buy a freeze-dried meal I have to simmer. If I wanted to cook my food, I'd just buy something off the soup shelf at the grocery store for $2.50. As expected, after adding boiling water and waiting 15 minutes, the noodles were still brittle and inedible.
Half-star deduction.
So, I improvised. I let the pouch sit with the boiled water in it for a few hours while I went and did some outdoorsy stuff in the woods. I came back and my meal was properly hydrated, just a little cold. I added a tiny bit of boiling water to heat the meal up and VIOLA I had a proper meal. Mother Necessity wins again! 
Do you like Mountain House Stroganoff? Of course, you do. Missing mom's cream of mushroom soup with noodles and ground beef from your youth? This scratches that itch. Think of this as really fancy stroganoff. All that noodle-y gravy-y saucy goodness you expect PLUS some clever spicy goodness that elevates the dish to semi-fancy status, giving you something to ponder as you refuel, "…do I taste blue cheese?"
This meal is a little thin on calories at 580 per pouch but still packs 90 grams of carbs and 38 grams of protein, which is over half of the 56-gram minimum that an adult man (46 for women) needs per day, which is nothing to sneeze at. So, plan on gobbling a generous handful of dried chickpeas to finish off your hunger and give you some much-needed fiber and you have a really decent meal, as long as you have the time to wait or the ability to simmer.  This meal even packs some iron, calcium, and potassium!
Pad Thai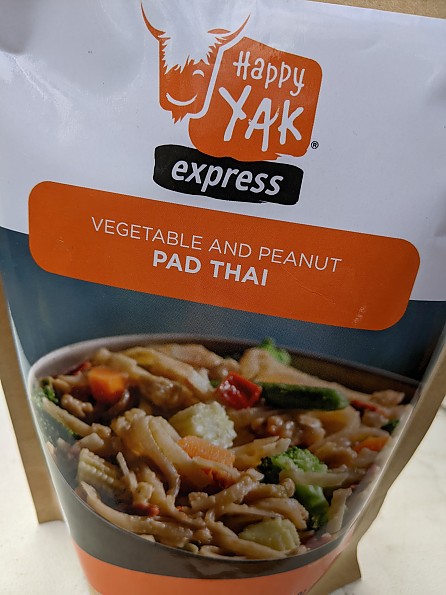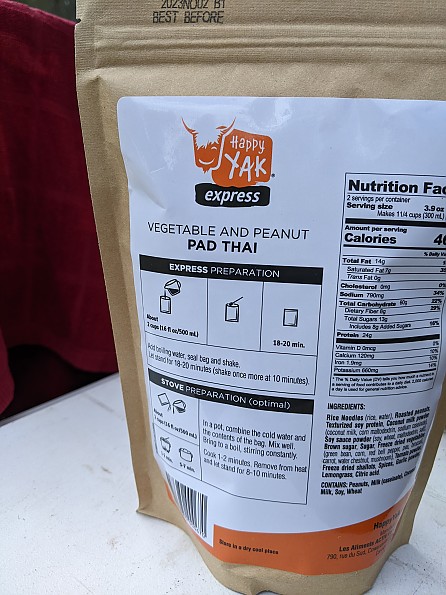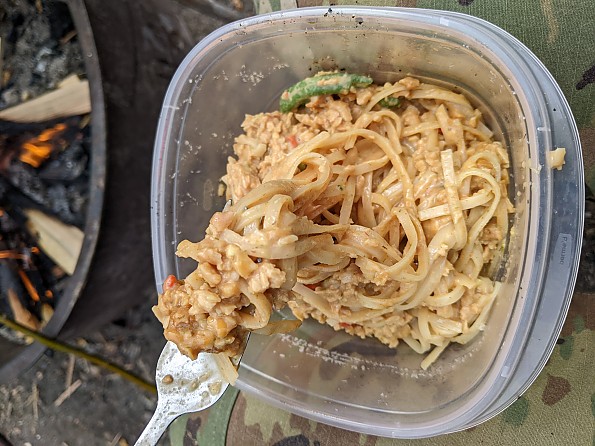 I have an acquaintance who operates a Thai restaurant, so I feel decently calibrated to judge this meal. 
Interestingly, I also missed the note on this pouch that said you had to simmer this meal, but it made absolutely no difference. I think they're wrong; you can eat this one without simmering. All I did was add boiling water, stir, and wait 15 minutes and it was totally ready. 
This is really the crown jewel of the Happy Yak meal set I tried. By far my favorite of the samples I tested.
This meal was like a flavor grenade going off in my mouth, in a good way. Even before adding water, I was confronted with a gigantic (by camping food standards) floret of gorgeous broccoli sitting on top of the other ingredients. After rehydrating, the roasted peanut flavor dominated and was complimented by the soy and sweetness. The sauce was a little thick because I under-watered the pouch (I under-filled my kettle) but the baby corncobs, bell pepper chunks, and noodles resurrected nicely and made a meal I'd be happy to buy as take-out. 
Nutritionally you get a whopping 920 calories per pouch including 120 grams of carbohydrates and 48 grams of filling protein. I almost couldn't finish this meal by myself. The Pad Thai is also vegan and lactose-free for those who prefer options without animal products. Happy Yak also claims the meal is less than 1% gluten if you need an almost gluten-free option. 
No matter what else you do, BUY THIS MEAL AND EAT IT. 
Conclusion
Want real ingredients, ultralight packaging, and flavor that is beyond the regular freeze-dried fare? I highly recommend Happy Yak.  
Order meals regularly? Happy Yak offers subscription service
Experience
I've been hiking, climbing, and eating freeze-dried meals from sea level to 10,000 feet for more than 35 years.

Source: received for testing via the Trailspace Review Corps (Samples for testing and review provided by Happy Yak)

Your Review
Where to Buy
Help support this site by making your next gear purchase through one of the links above. Click a link, buy what you need, and the seller will contribute a portion of the purchase price to support Trailspace's independent gear reviews.
You May Like