Helly Hansen Rivaridge Puffy Jacket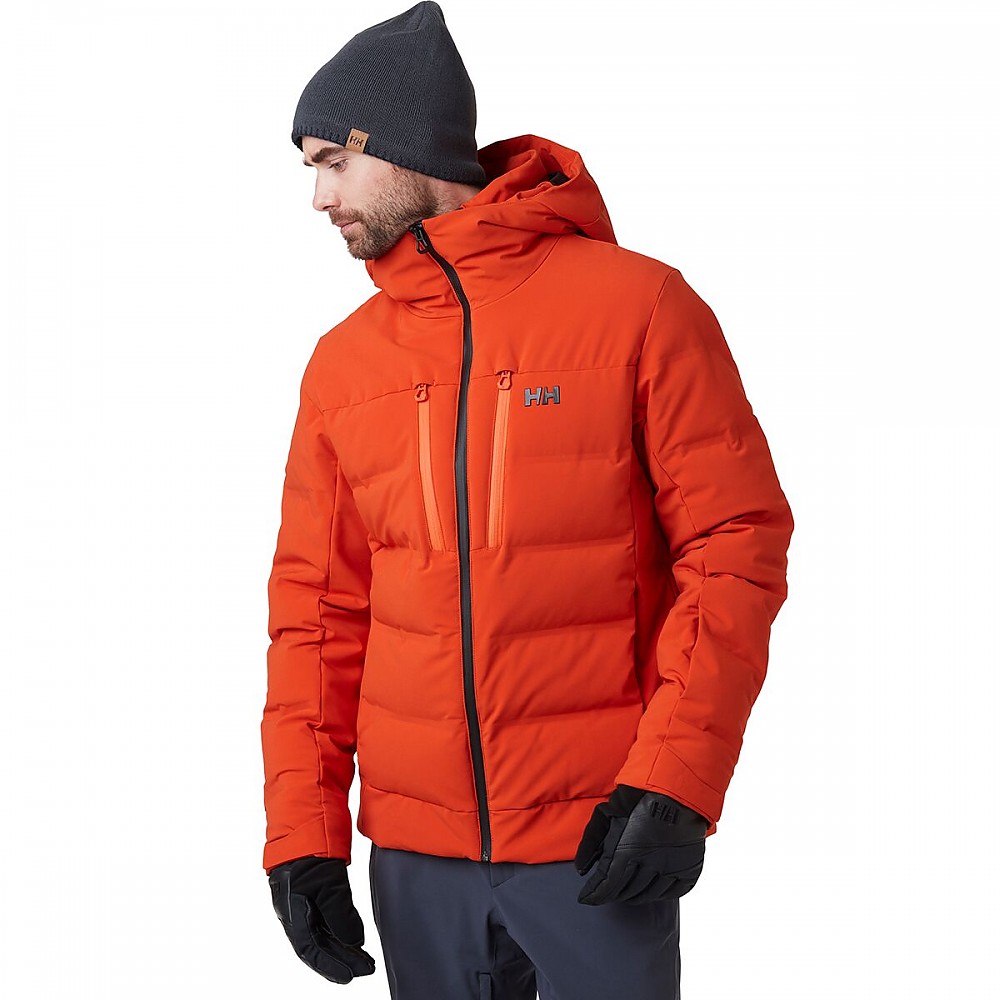 Warm and waterproof, but also bulky and heavy, the Rivaridge Puffy Jacket is an uncompromising jacket for cold-weather downhill skiing (and maybe long, windy, winter walks on the beach). It has all the right bells and whistles to keep a lift riding skier comfortable and connected in both up- and downhill modes, but it's not really practical for backcountry skiing.
Pros
Wind- and waterproof
Roomy enough for added mid layers
Oversize hood fits over helmet
Elastic wrist cuffs with thumb holes
Insulated pocket for mobile phone
RECCO reflector
Cons
Bulky and heavy
Insulation sags/compacts on shoulders
In Norwegian, "uvær" (unweather) is a general-purpose word for bad weather, and here that usually means blowing rain or snow, sometimes at wind speeds that keep you leaning at a 45-degree angle and gusts that can sweep you off your feet. There is also the common saying: "Det finnes ikke dårlig vær, bare dårlige klær.» (There's no such thing as bad weather, only bad clothes.) That seems to be the motto that drives Helly Hansen (in neighboring Sweden) in designing not only the Rivaridge Jacket, but its entire lineup of outdoor clothing, which covers outdoor uses in the full range of Scandinavian environments at their weather-worst, from the raging waters of the Barents Sea to wind-whipped mountain summits. One example that comes to mind is the rime-encrusted summit station at Åre, Sweden's biggest downhill ski area and a few hours' drive or train ride over the border from my home in Trondheim: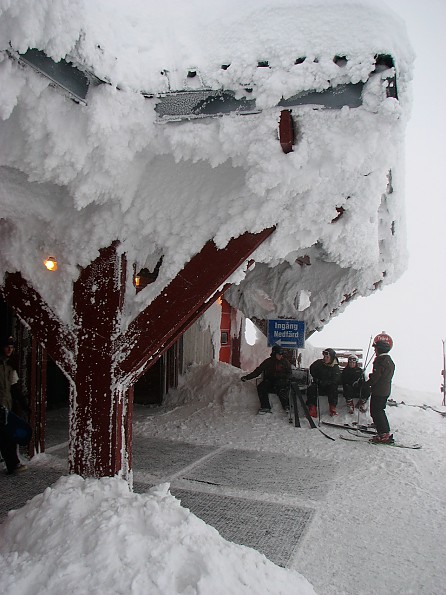 The Rivaridge is an uncompromising, feature-loaded jacket for skiing at Åre, and similar places, at its worst, but would work as well many other windy and sometimes wet environments—as long as its weight and bulk aren't a problem. HH targets it for resort skiing and (pre-) racing, good for standing around in the cold while coaching or waiting your turn.
Materials, Construction, and Weight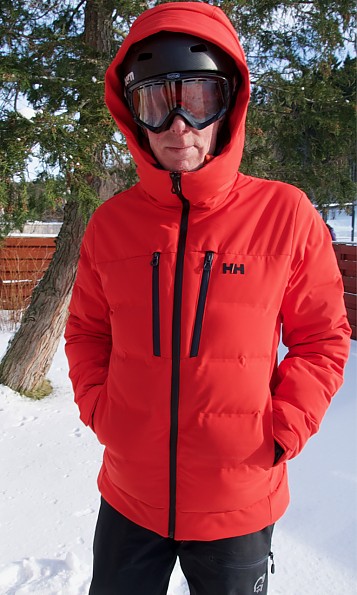 This is a complex, multilayered jacket. Helly Hansen (HH) describes the outer shell material as "2 ply construction" and "4-way stretch", and confidently gives it perfect 6/6 on its windproof, waterproofness, breathability, and durability four criteria, claiming it is (completely) windproof, extremely waterproof, extremely breathable, and heavy-duty durable.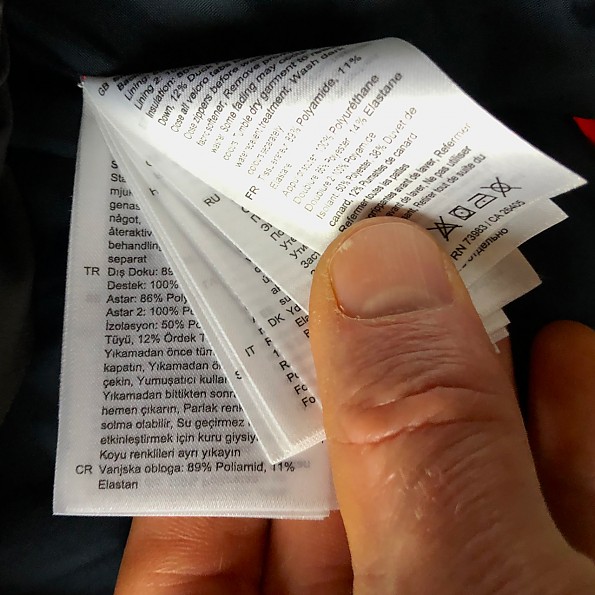 The 10-page, 30-language "booklet" affixed inside the hem describes the shell material as 89 percent polyamide (nylon) and 11 percent elastane with a 100 percent polyurethane backing, the latter presumably a waterproof/breathable membrane. It's not impressively stretchy, but has some give to help track body movement. HH says it is fully seam sealed, but that detail is hidden away under the liner and fill, as are the welded baffles, intended to resist water movement between compartments when things get really wet. As with most jackets these days, it comes with an outer water repellent treatment.
The soft-touch liner is a taffeta-like polyamide material. According to booklet, the fill is 50 percent polyester (Primaloft), 38 percent duck down, 12 percent duck feather. Details from HH: the Primaloft-down blend is used on the body front and back, upper sleeves and hood, with just Primaloft on the shoulders, sides, hem, underarms, and collar.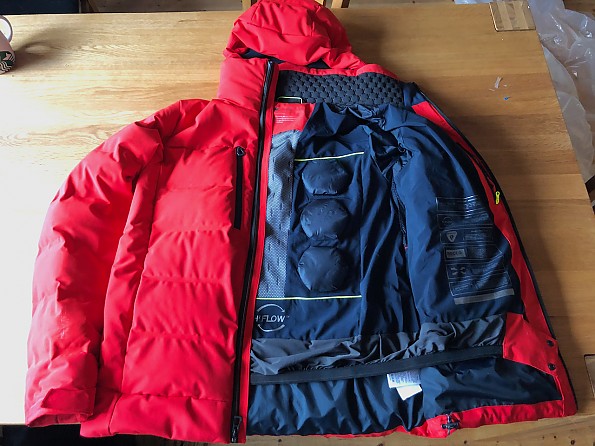 The collar is lined with soft, textured fabric with small fleece comfort panels where it zips up over  the mouth.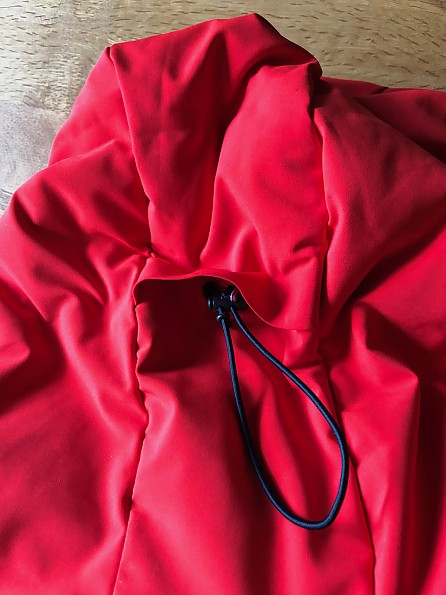 The oversized hood is big enough to go over a helmet, with an elastic drawstring with a tethered slidelock on the back at the back to snug it onto head or helmet.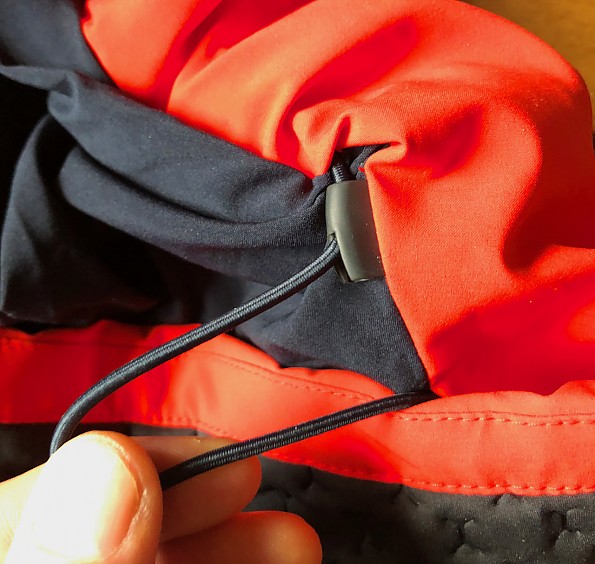 It can also be snugged around the face via elastic drawstrings with simple friction locks inside the collar.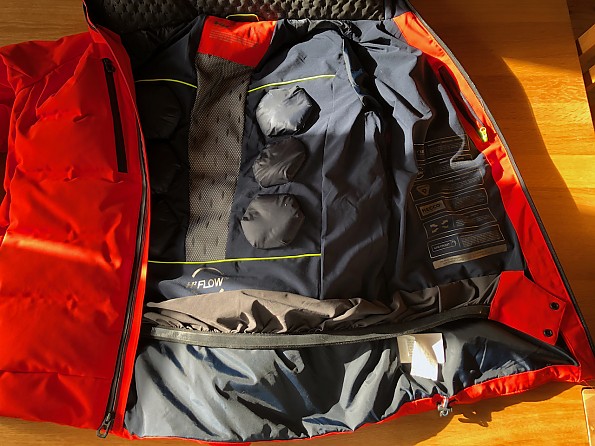 The "H2Flow" system (for some reason the 2 is super- rather than sub-scripted as in H2O) includes a mesh back panel, two rows of puffy pillows to create an airspace, and pit zips.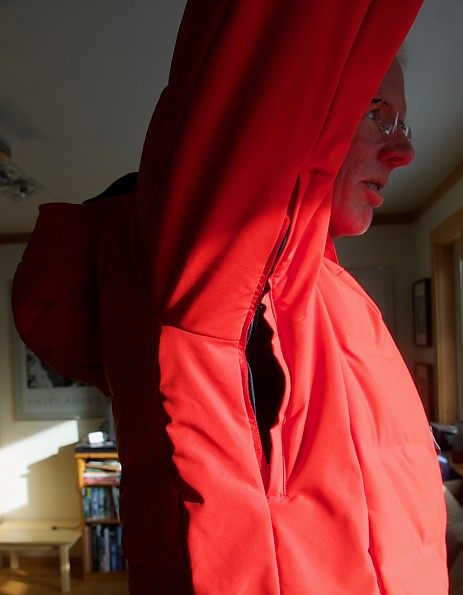 I count no less than seven pockets on this jacket: two each of hand warmer and exterior chest pockets, a left side inside chest pocket, a lift pass pocket on the left sleeve, and a big, zipless mesh pocket on the inside right waist. All except the last close with zippers. Add in the two pit zips and the front zipper and you've got no less than nine zippers on this jacket. The main zipper and outer chest pocket zips are water resistant with oversized pulls.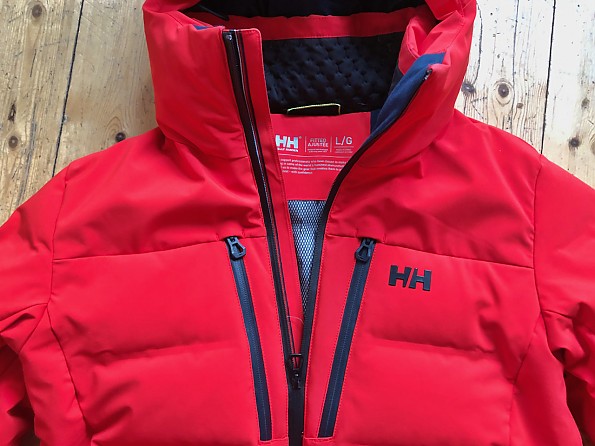 As a thoughtful detail, HH has tethered a little goggles/sunglasses wipe inside the left chest pocket.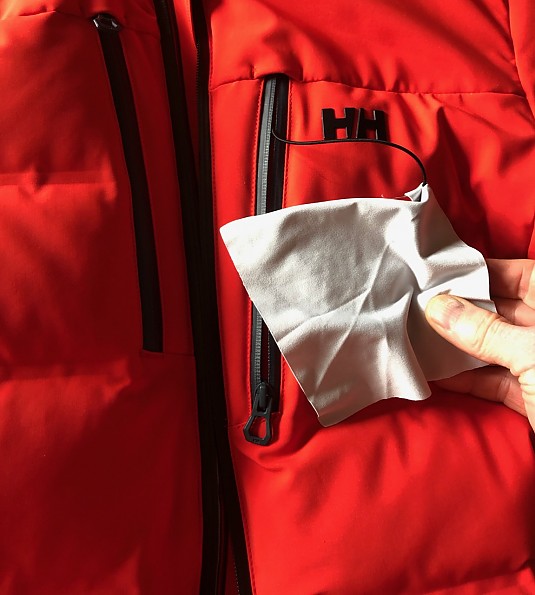 The mesh pocket isn't big enough to comfortably swallow the climbing skins for my big powder skis but might be able to accommodate smaller skins. This is a common demand for sidecountry yo-yo skiing, but I have hard time imagining doing much climbing in a jacket this warm anyway.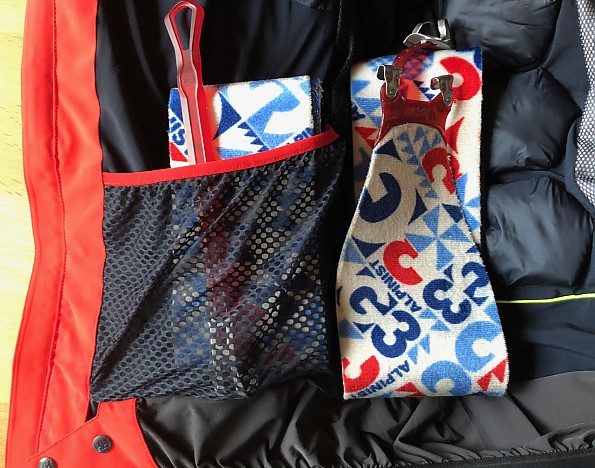 The Life Pocket is an insulated pocket that promises to extend the battery life of a mobile phone or other pocketable device by as much as three times (without stating what the 1x standard is) by keeping it warmer via a layer of aerogel insulation. Which pocket(s) this applies to is unclear, but I think it is the two outer chest pockets. I have not tested my smart phone battery life in cold conditions, but based on experience, I'd say that the insulation between the pocket and outside should help prolong battery life over an uninsulated pocket, but it would be even better to keep the phone closer to the body if possible.
The jacket is cut long in the back for butt-comfort when riding chairlifts. The sewn-in powder skirt snaps together at the waist, with an extra pair of snaps to allow some adjustment for waist size. A silicone-coated band on the inside helps keep it down when surfing the fluff. It can be snugged around the waist via drawstrings with tethered slide locks on the hem.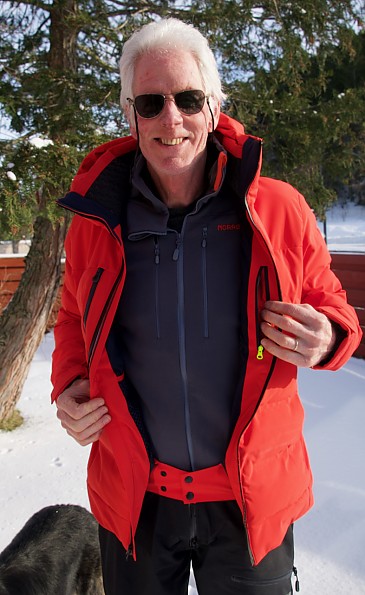 The lycra wrist cuffs have thumb holes and are sewn in with a mesh band at the base to allow some air flow up the arms. On my hands, they will fit comfortably under roomy gauntlet-type gloves, but not with liner gloves. The oversized zippers pulls on the main and chest pockets allow access with clumsy gloved or mittened fingers.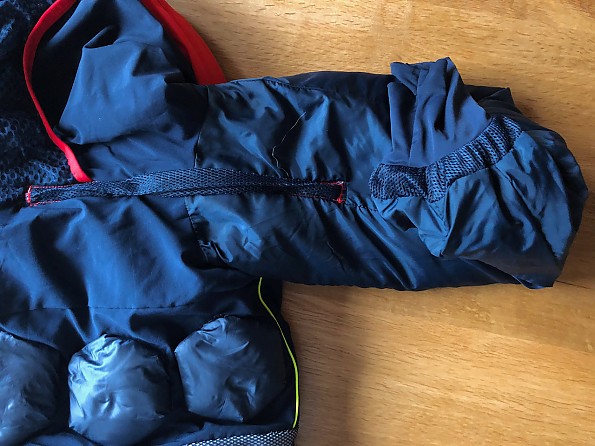 HH claims that the jacket has "articulated arms and elbows for superior fit," but I don't see anything special in that department.
A RECCO chip sown into the right shoulder ups the chance of rescue or recovery in the event of an avalanche for side-country skiers in reach of rescue teams.
I weighed the jacket at a whopping 1440 grams, under the 1480 grams given on the HH web page. That's just over three pounds. It's also quite bulky and so not a good choice for backcountry skiing when it may have to go in a pack. For that I'll stick to my layering system, thanks.
Fit, Comfort, and Layering
The Rivaridge comes in five sizes S to XXL for men, but there are no women's sizes. I went through HH's online Fit Finder wherein I entered my height, weight, build, and age and it gave me a 72 percent chance of preferring a size L. Indeed, size L fits me well in body and arm length; I am tall and skinny so the jacket is a little loose around the waist and hips. It should fit true to size on a more average body.
I would describe the feel of this jacket when first putting it on as "beefy". The sheer weight of it promises warmth and protection, and it mostly delivers on that promise. Fully zipped and hooded, it really seals the weather out. Although the loft of the filling isn't all that impressive, it traps enough heat to maintain comfort at temperatures well below freezing,
Warmth, Waterproofness, Breathability, and Durability
The Rivaridge is plenty warm enough for riding lifts and downhill runs at temperatures at least down in the -10s C / teens F. It is roomy enough to accommodate added layers to extend the comfort zone down below -20˚C / -4˚F, even on a windy chairlift ride. One cold spot: it has a top shoulder seam, which allows the fill to sag away from the shoulders, leaving them a little thin and cold.
A 6 out of 6 on the waterproofness scale implies that the jacket is "perfectly" waterproof, a claim that any experienced outdoorsperson will take with a shaker full of salt. To put it to the test, I put it on over a base layer and Gore-tex bib pants, with the hood up and zipped up the chin, then stood and moved around under an ice-cold shower for six minutes, plus another minute or two for a photo shoot.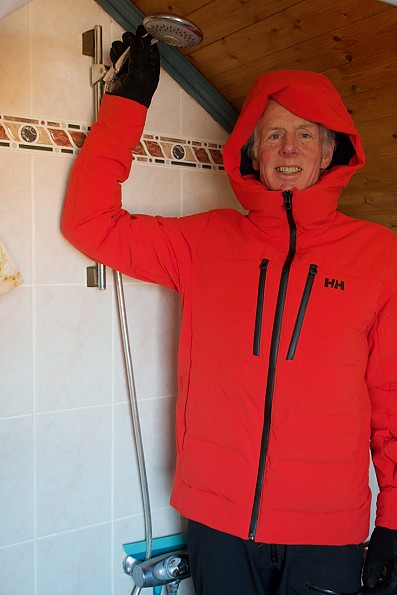 I came out feeling completely dry inside, except where some of the hood drip got in the front, mainly when I lifted my head to look into the camera. A few drops also got in the left wrist via the lift pass pocket zipper, which is not water resistant.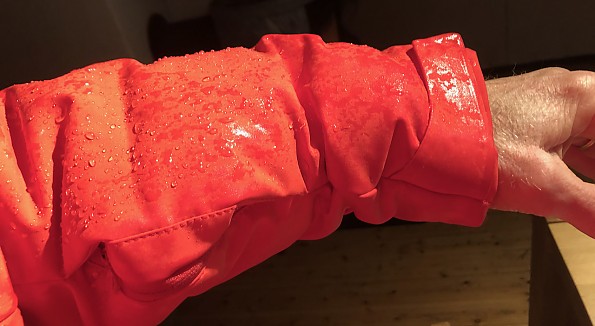 The shell fabric was mostly wetted down, but still beading up on the arms and a few other protected places. Given the extreme test conditions, I'd say the Rivaridge passed the waterproofness test with flying colors.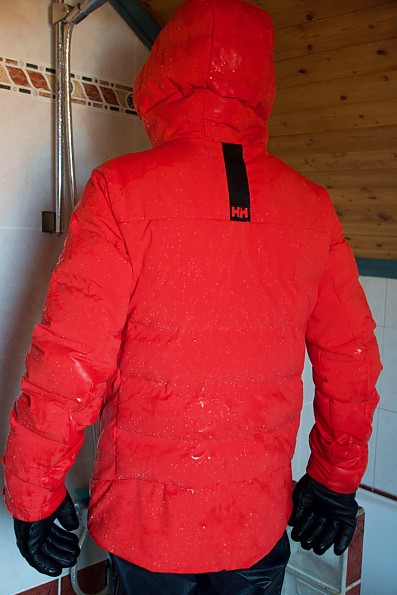 I gave it a shake after I took it off, then weighed it. It had picked up about 450 grams of water weight. It's a bit hard to believe that the shell fabric absorbed 450 ml (over a quart) of water, but I found no sign that water had gotten into the insulation.
I have taken some walks in the Rivaridge in near-freezing conditions without feeling overheated. The real test will be how it feels after an energetic, top-to-bottom downhill powder run, maybe through trees, which requires a certain agility. If the ventilation system and breathable membrane works it should provide some cooling capacity via body movement and vent excess moisture. Alas, that hasn't happened yet in my experience with the jacket.
The tightly woven shell fabric looks like it can take a beating, but only time and use can tell. Abrasion isn't much of an issue in snowy environments anyway, so the shell should last for years. Synthetic insulation usually fatigues faster than down, so the 50 percent of the insulation that is Primaloft might gradually thin out.
Best Use
This jacket is designed for downhill skiing, with its mix of cold, exposed chairlift rides and high intensity downhill action, the latter generally short enough duration to keep from overheating. To be honest, since I rarely go lift-serviced skiing, I have been using it mostly for evening dog walks, often up "akkebakken" (the sledding hill), a windy hilltop in the center of our neighborhood. It's been great to be able to just throw it on over whatever I happen to be wearing, with full confidence that I can hood- and zip up and stay comfortable up there in the wind.
Another common stroll in Trondheim is the 5 km path that runs along the edge of the fjord on the Lade peninsula. With this jacket and some suitable pants I can easily see taking on that walk in complete comfort in some of the nasty winter rains that have been coming our way lately.
Experience
I have been a skier of one kind or another for nearly 60 years, including a few seasons as a ski patrol or ski instructor, which involves wearing mountain-issue parkas something like the Rivaridge, just not as nice. As mainly a backcountry skier for the last 20+ years, I now use mostly layering systems to thermoregulate.
Source: received for testing via the Trailspace Review Corps (Sample for testing and review provided by Helly Hansen)

Your Review
Where to Buy
Help support this site by making your next gear purchase through one of the links above. Click a link, buy what you need, and the seller will contribute a portion of the purchase price to support Trailspace's independent gear reviews.
You May Like
Specs
Price
MSRP: $525.00
Historic Range: $247.50-$549.95

Weight
1480 g

Best for
Resort Skiing, Alpine Racing

Recently on Trailspace