Helly Hansen Verglas Light Jacket

The Helly Hansen Verglas Light Jacket is a hybrid soft shell (double weave) and down insulated (800 fill goose down) midlayer meant to bridge the gap between changing weather fronts during high output activities like hiking, trekking, ski touring, and mountaineering.

Initially, my main concerns with this jacket resulted from an overly large fit which limited versatility and restricted its uses to an emergency or ultralight top layer in warmer conditions. I highly recommend sizing down, as I ended up doing, if you wish to use this as a midlayer as Helly Hansen intended.

With a correct fit the Helly Hansen Verglas Light Jacket is a quality, versatile option in the light insulation and summer jacket category. It would be best for either high output aerobic activities (climbing, hiking, cross-country skiing) in cold weather as a mid-layer, Or as an emergency backup as an outer jacket for more mild temps.
Pros
High quality 800 fill down
Durable soft shell fabric
Quality zippers
Cons
May need to size down
Hood cinch
Weather resistance
Narrow temperature window
Warmth
The Verglas Light Jacket, available in men's and women's models, is described as "a lightweight, softshell, down jacket, designed for layering under a shell or worn by itself." It's part of Helly Hansen's Classic performance Verglas series, which "has been protecting outdoor professionals and enthusiasts for over a decade" and is designed to be "a hybrid jacket which can be the bridge between high output activities and changing cold weather fronts, providing both protection and versatility."
Fit and Comfort
To begin, I am six foot tall and 175 pounds. Before ordering I took the "Fit Finder" test on Helly Hansen's website to determine my ideal size. It came back 67% large and 33% medium (see below). I thoroughly tested a men's large jacket (my usual size) for more than six months, but was disappointed with the overly large sizing, which made the jacket fit solely as an outer layer, not the midlayer it was designed to be.
I then tested a size medium, which changed my views on this jacket almost entirely. It now fit to be properly utilized as a mid-layer, which I believe is its best application. So, be aware that you may need to size down for a proper fit and performance.
First, let's get the (too) large jacket sizing out of the way. Despite using the "Fit Finder," the initial Verglas Light Jacket (size men's Large) was too big in about every regard, except hem length. The stomach section was quite baggy, the arms too long and oversized in diameter, and the hood looked like an Arc'teryx hood (you could probably fit my head three times in there). To compound the problem, there are minimal options for tightening and fine-tuning fit—the hood has two side cord locks which might be the worst I've ever seen and the wrist closures are just elastic. The bottom hem has the best designed system, but it's also the area that fits me the best and doesn't need adjustment.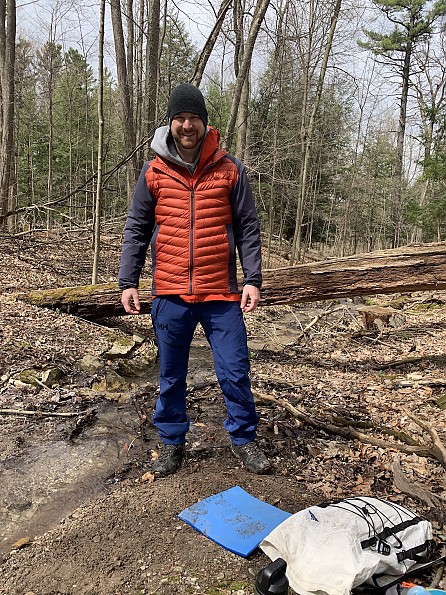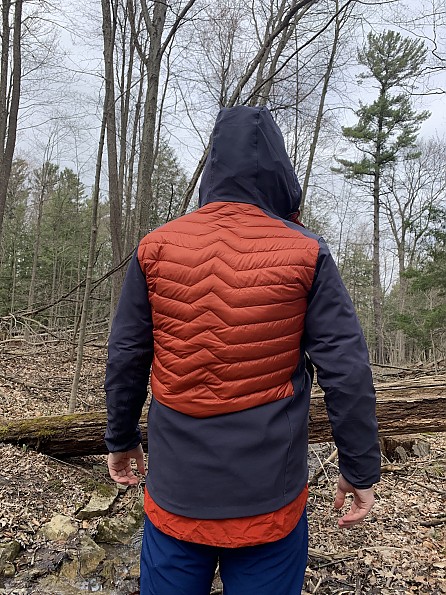 There's a long sleeve merino base layer, fleece hoodie mid layer, AND an Arc'teryx Alpha SV underneath the large size jacket! You can imagine how much extra space there is when trying to wear only a light synthetic base layer shirt underneath.
Moving on to second Verglas Light Jacket (size Medium), the chest/arms and hood size now properly fit me and allow the jacket to more efficiently trap heat, especially important when using this as a standalone layer for warmth. I found the hem size remained the same, which is a positive as it was something that I found fit well in the larger size.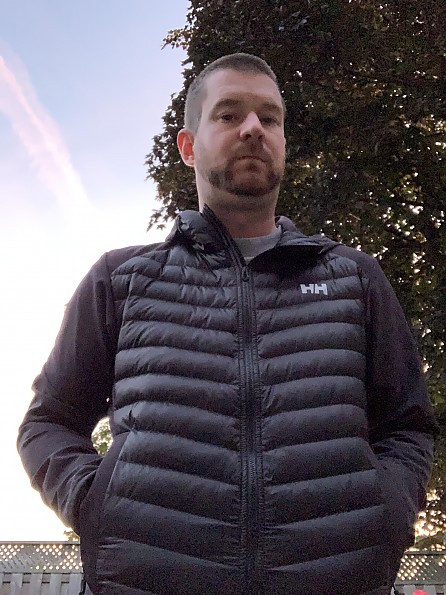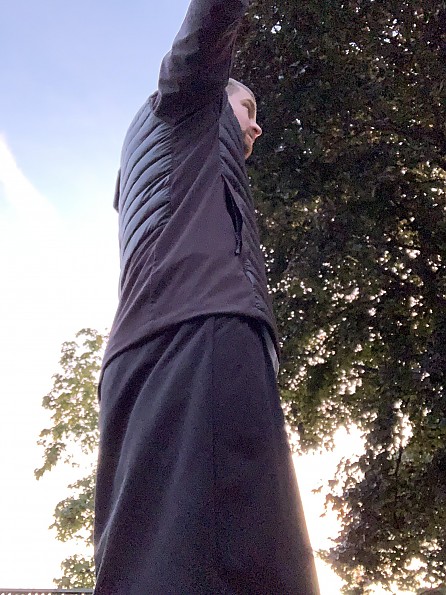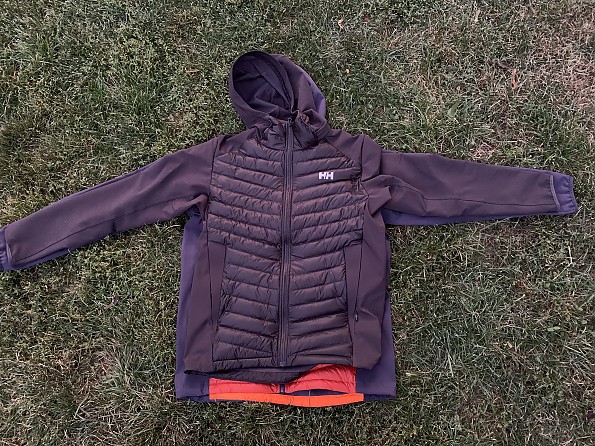 You can see the significant difference in sizes when the black (size medium) is laid out on top of the orange (size large).



Not only that, but the proper fit opened up a whole new possibility of layering as the jacket could now fit comfortably under a shell making it far more versatile. I received the size medium with only a couple weeks to use in cool spring temperatures, but found it a nice addition to a shell, on rainy days.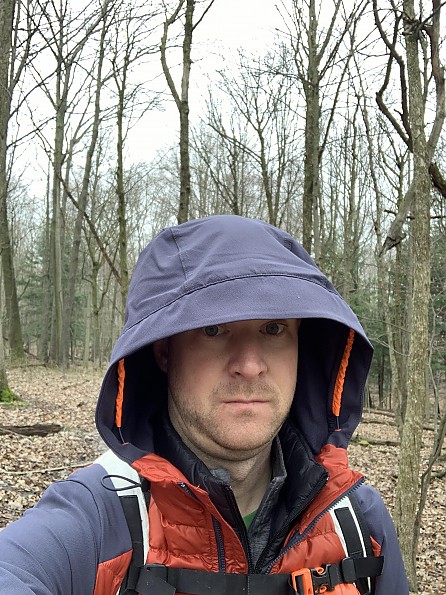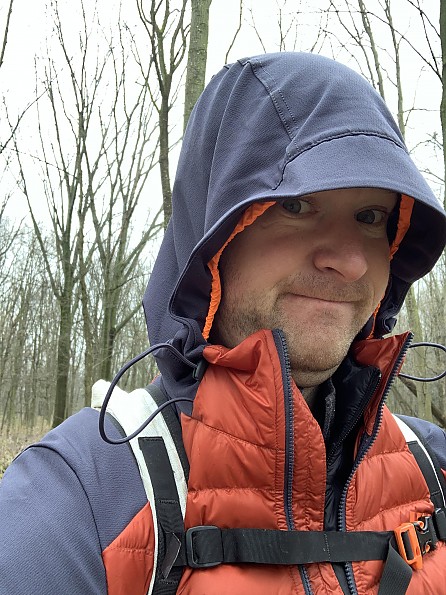 The one sizing issue that stands regardless of jacket size is the hood cinch system—terrible. The jacket's intended uses include backcountry/ski touring and mountaineering, so being helmet-compatible is essential, however you also need a reliable option for tightening down the hood when not in use with a helmet.

Your options with this hood are insanely oversized, or tightened up which makes large hoops and comes uncinched all the time.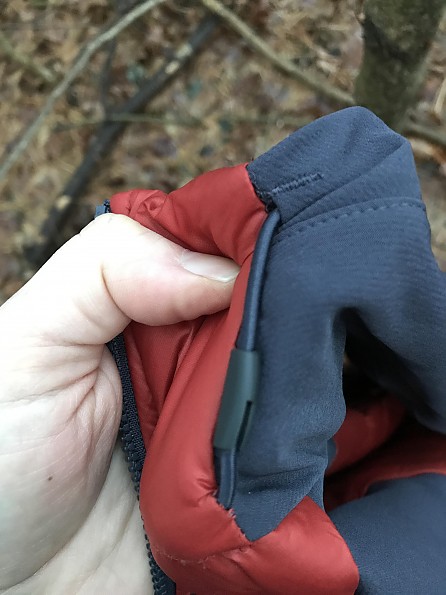 This is the tightening and cinching mechanism on the hood. The cord is pulled up into that notch...any slight tug and it comes out.


Another note on comfort, there is a large seam that runs down the inner arm of the soft shell fabric. It is very chunky in size and can be an inconvenience when wearing the jacket with a T-shirt where it rests against the skin. This was consistent in the size medium, and over a longer period of time, say a couple hours or more, can cause some chafing.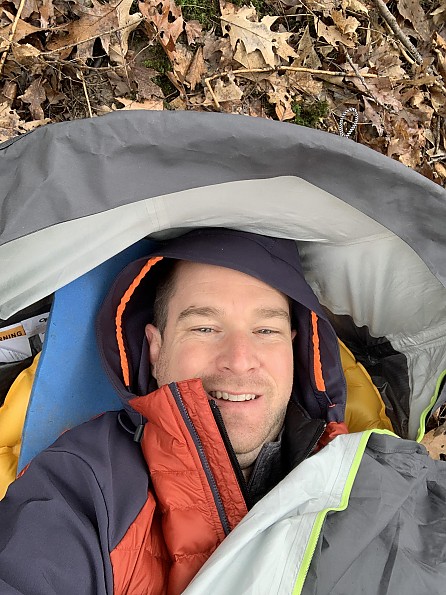 Worn as an outer layer, and an extra layer in the sleep system.


Warmth
I've taken longer to write this review than any other that I've previously done. The reason for that is that I just could not figure out the ideal temperature range for this jacket. For reference, Helly Hansen intends it to bridge the gaps between high output activities and changing cold weather fronts.
I received the initial jacket last year in the middle of October with temps at a daytime low of 0 degrees Celsius and highs of 12 degrees Celsius (32° to 53° F), already too cool for hiking in as a standalone (might be fine for some in milder climates during the fall, not here in Canada). I primarily used it over this first season as a backup layer, although it spent most time in my pack.

No problem. I figured I'd transition into using it as a midlayer throughout the winter for high output activities—snowshoeing, ice climbing, etc. Helly Hansen specifically designed the Verglas Light to be used both layered under a shell or worn by itself. Unfortunately, the initial large fit made it almost unusable under a shell. However, once I sized down to the medium, I found the jacket could be worn as an outer layer in cool conditions and as an additional insulation layer or a weather protecting shell, when you need one. Any high output activity such as rock or ice climbing, uphill hiking, or cross-country skiing during the winter with this jacket worked quite well.
For reference, Helly Hansen gives the Verglas Light Jacket a 5/6 for insulation. Two quick thoughts: Who in their right mind judges on a scale out of 6?!?! And, to say that this jacket is a 5/6 for warmth is misleading and potentially dangerous.
Ultimately, I found the Verglas Light's temp range to be around 12° to 15° C (53° to 59° F) with low winds and moderate activity, such as light hiking and scrambling with a low pack weight. Regardless of size, it provides minimal warmth alone and is best used as a lightweight summer emergency/rest stop/mountain top layer.
Weather Resistance
The Verglas Light is a hybrid jacket and has both a double weave softshell fabric and a 25D down proof fabric. Both have a DWR treatment, but not a lot of weather resistance. Unsurprisingly, Helly Hansen rates the jacket a 2/6 for windproof ("moderately windproof) and 2/6 waterproofness ("water repellant"). 
Wind
The jacket's 90/10 goose down (800 fill power) is centered around one's core (full front, upper back) and those areas are fairly windproof. The zipper also has a nice draft tube. All that is for naught though, as wind comes through the soft shell parts (low back, arms, hood) and essentially pulls away any warmth from your core.

Rain/Snow
You'll want to leave true wind and water resistance to other shells. This one is best for active pursuits like uphill hiking, scrambling, and cross-country skiing, where breathability and mobility matter.
The jacket's DWR treatment provides light protection, but once any down wets out, well, I'm sure you know how that goes. Again, any warmth is gone. The Verglas Light handles snow best, which makes sense as it is intended as a cold weather midlayer.
Layering
This is where a proper fit becomes essential. The right size jacket (medium in my case) opens up the possibility of using the Verglas Light Jacket in numerous situations: as an outer layer in fair conditions, under a shell if it starts raining, as an additional insulation layer if the temperature drops, or even both if you need a full winter setup.
The large (my usual size) allowed for more than enough room to layer a merino base layer, a fleece, and an insulated jacket all under this thing. That's way oversized in my opinion, especially when its ideal use is as a midlayer. So, consider sizing down to make the jacket work for your layers.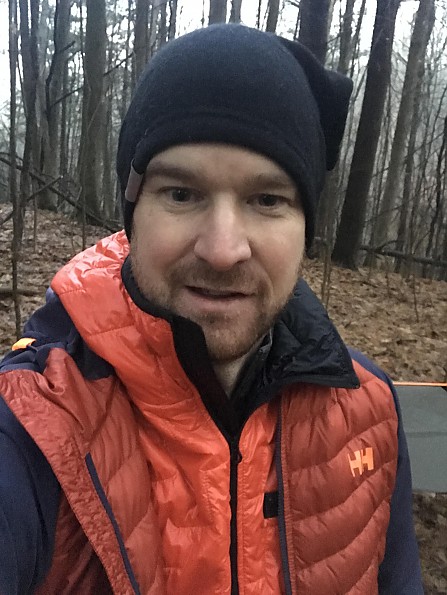 The Helly Hansen Lifaloft Insulator easily fits underneath (both in a size large).


Construction and Durability
As I said I've been wearing the Verglas Light Jacket on and off for almost seven months now, and the construction is top notch. There aren't any loose threads, no down leakage, no signs of abrasion from pack straps or general wear and tear.
The arms and hood are a double weave soft-shell, extra durable for those times you need to bushwhack or shimmy through a chimney. It also comes down the lower back which is great for both breathability under a heavy pack waist belt and the rubbing it can cause.
The down is very good quality (800 fill power 90/10 goose down) that lofts quickly, and compacts just as easily.
The second jacket has the same high quality and attention to detail as the first. No worries about any of the construction.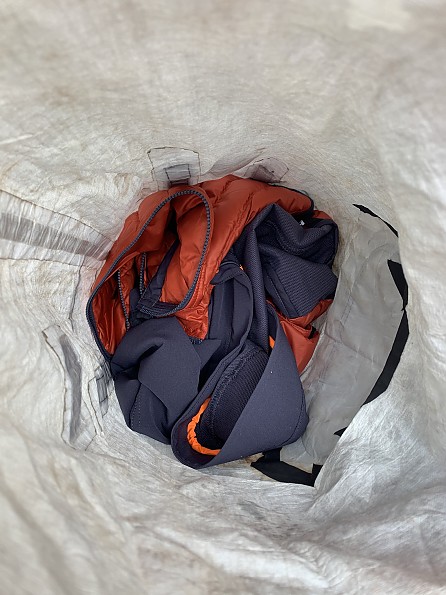 Features
Zippers: The main zipper is small but high quality; it glides smoothly without snagging and there is a more than adequate draft tube (down filled) behind it. The hand pockets have nice large zipper pulls for use with mittens and gloves, but oddly not on the main zip.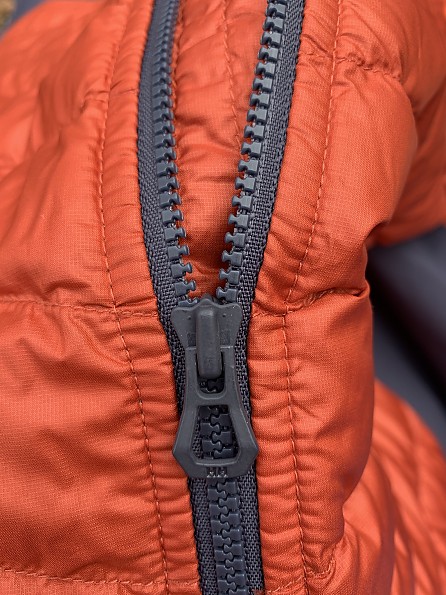 Weirdly, the hand warmer pockets have larger zipper pulls than the main zip.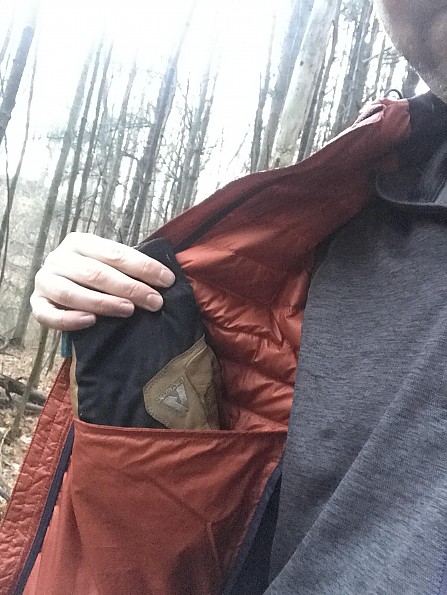 Nice large interior dump pockets.


Pockets: The hand warmer pockets are insulated on the outside (I'm still baffled when you see jackets with the insulation between the body and the hand but nothing on the outer side) and are well sized. They are also positioned high enough to be accessed while wearing a harness as well. There are two nice large interior dump pockets that fit a one litre Nalgene nicely, store mitts, or electronics, etc.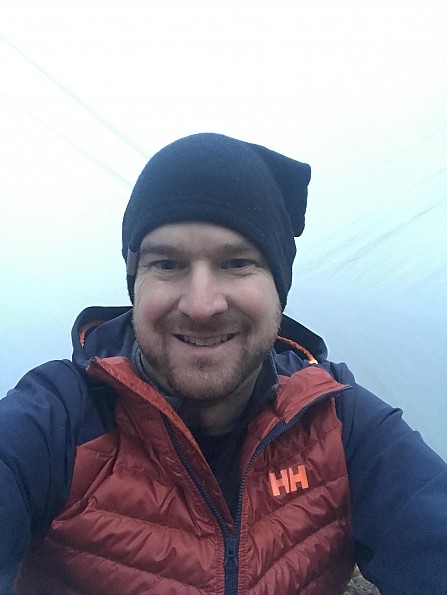 CONCLUSION
I love the idea of a versatile, hybrid down/soft shell garment...
The Verglas Light Jacket's down is very high quality as is its soft shell fabric. 
I would like to see a little spandex or elastane added to the soft shell to improve the range of motion. Also, the hood needs a major overhaul as it just blows away in any kind of wind and becomes unusable without a proper cinch system. Both the large and medium are more than accommodating with a helmet but ridiculous without (the size medium is a little more manageable as it is slightly smaller volume to begin with, but the cinch never stays closed on either).

But other than that the Helly Hansen Verglas Light Jacket is a quality option in the light insulation and summer jacket categories. Make sure you size the jacket properly to fully maximize its utility as a mid-layer and for your intended active use. In my opinion the best utilization for a jacket like this is as a mid layer for cold weather, high exertion activities, and if sized as such it works very well.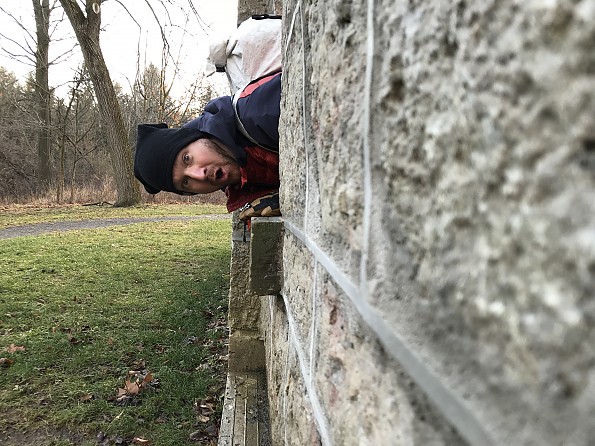 Conditions
I have been testing this jacket (first in size large and second in size medium) for more than 10 months, from the fall of 2018 up until now, the end of summer 2019. Safe to say, I'm very confident that I've tried it in almost any weather conditions possible -30°C to +30°C (-22°F to 86°F). I live in Hamilton, Ontario, Canada, but it has also travelled with me, most notably on a climbing trip in the Adirondacks in January.
Experience
I have used the Helly Hansen Verglas Light Jacket for more than seven months, from mild autumn to the worst winter weather to warmer spring temps. I have used down, soft shell, and hybrid insulations for more than 20 years.
Source: received for testing via the Trailspace Review Corps (Sample for testing and review provided by Helly Hansen)

Your Review
Where to Buy
Help support this site by making your next gear purchase through one of the links above. Click a link, buy what you need, and the seller will contribute a portion of the purchase price to support Trailspace's independent gear reviews.
You May Like
Specs
Men's
Price
Current Retail: $79.17
Historic Range: $74.96-$185.00

Women's
Price
Current Retail: $91.99
Historic Range: $64.97-$185.00

Recently on Trailspace