Hennessy Hammock Expedition Asym

The Expedition Asym has been discontinued. The Hennessy Hammock Expedition Asym was renamed and is now called the Hennessy Hammock Expedition Classic.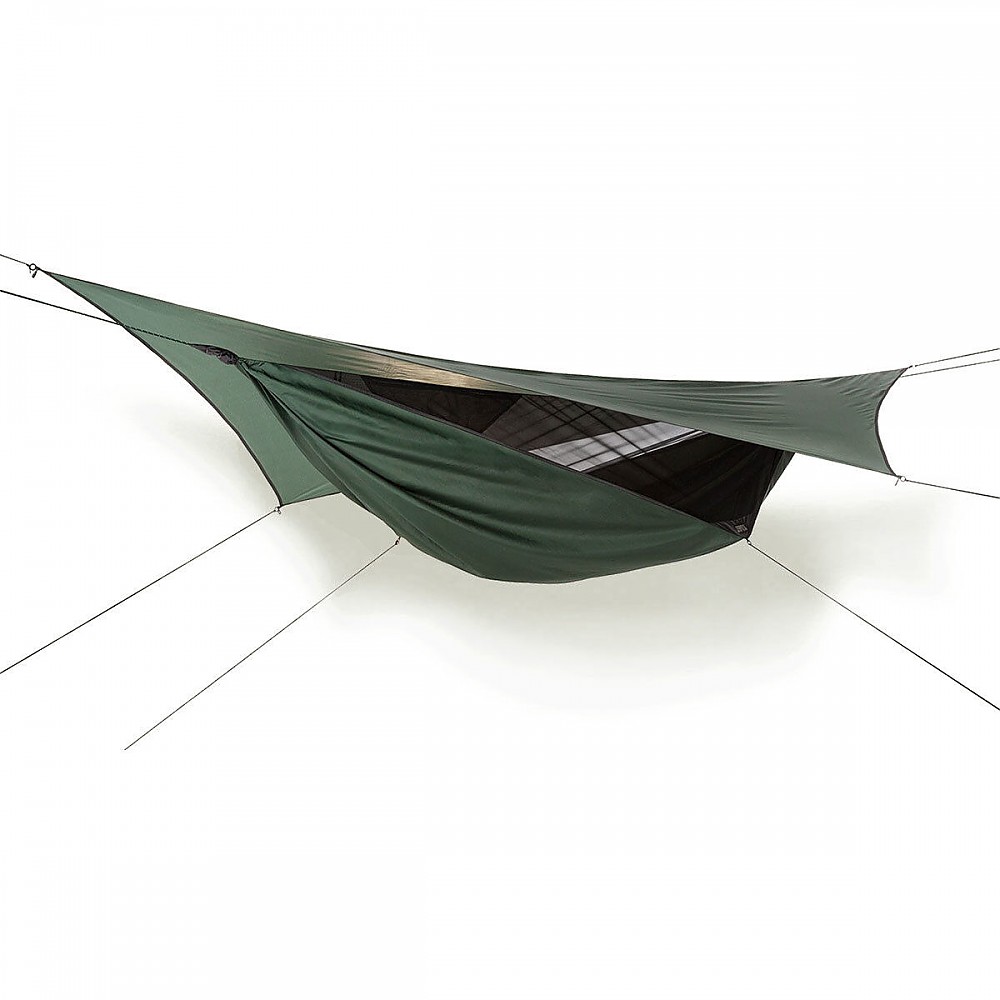 I bought the Hennessy Hammock for solo backpacking trips and so I could avoid sleeping with 3 other guys in a tiny tent on canoe trips. I'm a 3-season camper in Ontario, usually go on 3-4 multi-night trips per season, so the Expedition model seemed perfect for me, and the reviews were generally good, so I thought I would try it out.
I tried it out in my backyard first to make sure I was comfortable setting it up and to avoid any surprises on the trail.  I spent a night in it, but it was hard to make a solid judgment in the suburbs- there's still lots of light and noise including the neighbour's sprinkler system going off right beside me at 4am.
Two important points before the trip: get very familiar with knots, and bring lots of extra rope, as the ropes are not very long and I wanted to have lots of options for picking a site.
On the trail it was nice saving the space and weight from the 2 man tent I normally bring.  Setup was fairly straightforward.  Strength is required to pull it tight so it doesn't sag though. After I set it up on the first day I felt a lack of having a 'home base', as my clothes, bag and gear were scattered around when they would usually be tucked into my tent or vestibule.  There was no rain, but I imagine it would be difficult to keep your gear dry- I brought an extra tarp just in case.
My trip was delayed until October this year (approx 15 degrees C daytime, down to approx 5 degrees night), and I packed enough to stay warm, including my insulated sleeping pad, as I read that its necessary as there is no insulation on the bottom from the wind.  I woke up freezing the first night as the wind picked up, causing the fly to flap and let wind in.  I got up and wrapped a rope around the hammock, tying the flaps down, which stopped the wind from getting in.
The problem that created however was condensation building up on the inside, making it quite damp in the morning.  It was pretty cozy around the face, which probably didn't help the ventilation after being tied shut.
These issues were completely tolerable and didn't bug me (I just included them in case they are deal breakers for others), the only real problem is that I didn't sleep very well. I'm a side sleeper, and tend to shuffle around a lot in my sleep. I could manage to get into a comfortable position on my side, but adjusting was very difficult, I would struggle and shuffle around in the dark trying to keep my sleeping pad under me as the hammock would rock back and forth, not accomplishing much. Every night (3 total) I would wake up and be wide awake until I got up, and had to go for a midnight stroll. 
I ended up returning it and getting a lighter weight tent, but still think its a fantastic product- just not for me.  If you are a back sleeper, or don't shuffle in your sleep, it would probably work perfectly for you.  
To finish off on a few of the more positive notes, I was very impressed with the asymmetrical construction.  Basically a pocket is built on opposite ends, and opposite sides of the main support rope for your feet and head, to allow you to lay more flat.  The bottom entry worked quite well too, and there was some space inside to keep my book, hat, mitts, and harmonica.
Bottom line:
Pros: Very lightweight, flatter than typical hammock, well constructed
Cons: Lack of 'home base' feeling, hard to adjust sleeping position
Price Paid: $139

A nice warmer weather sleeping shelter, with rain and bug protection under three pounds. Can be set up in unusual terrain and gets you off the ground, doubles as a chair.
Pros
Light and easy setup!
Can pitch over uneven ground and unusual (Cool!) places.
Doubles as chair and hangout spot.
Very stealthy, and your camp is not so obvious.
Cons
Not for stomach sleepers!
Can be cold if you don't insulated under.
Can be a hassle in strong wind.
No place for the dog!
Takes a few times to get used to to sleep well.
I have a lot of tents, and usually obsess over cleaning up my site for a level, non rocky, lumpy or wet place to pitch. This system brings a whole another dimension to places to camp! Over a small creek on a rocky ridge, hidden away in the trees ect. etc. It is not my first choice if it is cold, or there is good level ground or no trees, but a completely viable and fun way to camp in the summer.  
The setup takes a little bit to get used to, but after a couple of times it goes quick and the enclosed directions are good. (There is a lot of tips  on the i net as well)
I had a hard time sleeping well for the first few times, then all ok. It is hard to sleep on you stomach. I found if i let air out of my pad and folded it up under my stomach I could get sorta comfortable for a while, but it's for back and side sleepers mainly.
It can be cold as you are hanging in the air. A pad helps but is hard to stay on, a down sleeping bag will just compress under you and provide little insulation. In warm weather, not a problem as it's comfortable without a pad (and saves weight).
I found it works best with a Big Agnes bag and pad, as every thing stays together in the hammock as you twist and turn. 
The coolest thing I found is by far the neat places you can set it up,  away from the heavily used sites and any company you may not want. Also mine has cover up sleeves (snake skins) that you can roll down easily to cover the fabric from rain and they are green so the hammock disapears into the canopy as two thin green lines. (great for stealth camping in those great areas the goverment is always closing off or keeping your secret sites secret and your gear undisturbed.)
The zippers, fabric, and quality of workmanship seem good so far. Overall A lot of fun!
Source: bought it new
Price Paid: $150

I have been tent camping since I was a kid and I always thought that the only other way to spend the night outdoors was directly under the stars. Hammock camping is an absolutely brilliant way to enjoy the outdoors while eliminating some of the old hassles involved with tents (or dew on your face in the case of under-the-stars folks).
The hammock "system" involves at least a hammock with no-see-um bug protection and some type of tarp rain cover. I checked out many designs, but finally opted for the Hennessy Hammock (HH) Expedition Asym system because of its clever bottom entry method and high ratings from many other HH users.
Several great aspects of the HH Expedition Asym:
1) This is a complete system - nothing else is needed to provide 3 season shelter outdoors.
2) This is about as light weight as shelters come (43 ozs, complete).
3) Packed volume is approximately half to three quarters that of a comparable 3 season single person tent.
4) The bottom entry eliminates worry about the enclosure of the no-see-um netting - it is always secure and your weight actually ensures that the bottom entry seals properly underneath you.
5) The integrated tarp attachment points make sure that the tarp (which comes with the HH) is always over you. After a few minutes at the campsite, you can use your head to figure out whether to tie the free ends of the tarp up, down or however to make sure that rain in high winds won't drive onto you.
6) Comfort in these hammocks is outstanding while sleeping on the diagonal (not aligned with the hammock tie off points)! I have found that I can even sleep on my belly comfortably.
7) You can eliminate a sleeping pad from your normal load (I use a Prolite 4 for tent camping, but with the HH I eliminate about 1.6 lbs by shedding the pad)
8) No more ground cloth or "mess" resulting from your shelter touching the ground - set up and take down can be done without the system hitting the dirt.
9) You can pitch this on a hillside, over a stream, etc. without having that long search for a good spot to pitch the tent.
Some cons:
1) It is a bit cooler with wind blowing over the hammock bottom, so it works best in warmer weather.
2) Looking for 2 properly spaced trees can at times be harder than it seems.
3) The "tree hugger" straps that come with the system are not for larger trees, but HH sells larger straps. You just better know what type of trees you're going to see or pack an extra longer length strap.
All in all, this is a fabulous way to lighten your load and enjoy a new and comfortable way of sleeping outdoors.
Design: Asymmetric hammock "system"
Sleeps: 1
Ease of Setup: Extremely easy, anyone can do it after a single practice round
Weight: 2.69 lbs (43 ozs)
Price Paid: ~ $115

Have had my Hennessy Expedition Asym for just over a month and used it about 20 times now. Got it off CL and read up on how to use it at the Hennessy Hammocks site and at HammockForums.com   Great advice at those sites. I found using the Hennessy lash to be easy and fairly quick, but moved up to using carabiners and rings to adjust the hammock more quickly, and the few ounces added weight was worth it.
As far as the hammock itself, it's perfect for my needs. I'm 5'8 and 155, and found the light weight of the hammock and its comfort far outweigh carrying a tent below treeline. Couldn't believe how comfortable the hammock was...much better than any bed I've slept in. I recently took 8 other people kayak camping, showed the hammock to the others who brought high end tarps/tents and had them try the hammock for a bit. Several are now planning to get a hammock. Try a correct sized hammock and see for yourself.
As far as the quality, the Hennessy is top notch, entering or exiting thru the bottom is quick (and bugproof); the bug net works well (even here in Florida), and the standard tarp works well even in wind or rain when adjusted correctly. The snakeskins made set up-and breakdown very quick (and clean) and are definitely recommended. Couldn't be more pleased with the product.
Two tips:
Keep the hammock strung as tight as possible.
Keep the ridgeline level.
Both are easy to do, and make for a better night's sleep.
Price Paid: $135 (included snakeskins and nite-eyes)

I purchased two Hennessy Expeditions about three years ago (after seeing the display at the World Scout Jamboree in England). My wife and I have spent about 60 days in them, in both hot and cold weather.  I've got a bunch of suggestions that I think would greatly improve the product, but I can never get a return call from the company regarding these ideas.
It is important to get the ridge line very taut.  In the setup shown in the firehouse, the two anchor poles are too close together and do not allow a taut ridge line. I found it very easy to set up always less than 5 minutes, even from the very first use.  As with everything, the more you use it, the easier it gets. 
I did have problems with the tarp being insufficient, and one night during a thunderstorm it filled with about two gallons of water; I managed to get out and follow the trail to a shelter that kept me dry the rest of the night.
When I go out, in addition to the hammock, I carry a very small REI two man tent; I use this for gear storage and changing; but sleeping in the hammock is so much more comfortable than on the ground. 
Getting in and out is somewhat of a challenge, in the sense that it is hard to get into your sleeping bag inside the hammock. I've tried several approaches and have gotten it down to a method that works pretty well.
The idea is to unzip the bag (I use a mummy) and as you enter through the bottom of the hammock, sit your butt right into the open bay, slide feet in, and then pull the bag around the shoulders and zip up. Also, any items like a light, watch, book, etc, I just load into the center ridge bag and it is quite handy.  
Getting out of the hammock: I just exit through the bottom and with my feet still in the bag, I just stand up on the ground, and let the bag slip down to my ankles.
The hammock also makes a good seat when you "sit" on the top and dangle your legs over the side.  Very comfortable for eating or reading.
Overall: I'd buy more if they incorporate my suggestions for improvement. Most comfortable sleep in the wilderness, even better than an air mattress for me.
Bill Crielly (age 65)  
Price Paid: $160

After hearing a number of people talk about Hennessy Hammocks, I decided to give one a try. Unfortunately, I was pretty disappointed in what it had to offer.
The tarp is borderline useless, it is far too small to offer adequate protection from a decent storm. The entry system, while novel, is too much of a hassle to get out of and it makes using the hammock as a chair pretty inconvenient. Mosquitoes are able to bite through the bottom fabric. The hammock feels tiny and cramped.
The suspension system isn't bad, and the overall setup is not particularly heavy, but at $140, I decided to return my Expedition Asym and went with a Warbonnet Blackbird (which doesn't come with a tarp, but everyone I've spoken with who stuck with the HH Expedition ended up getting rid of the tarp anyways). For $100 less, you could get yourself a Grand Trunk Skeeter Beeter.
If you are a shorter than I am (6') and aren't going to encounter bad weather, this hammock would probably be fine for you but based on my experiences with this hammock I would not recommend it.
Price Paid: $140

This was the best $175 dollars I have every spent!
Pros
Comfort
Dry when set up right
Lightweight
Easy to pack up
Cons
Difficult to set up the rainfly so you don't get wet
Stakes not provided
I got this hammock about two years ago for about a $175 dollars. I had seen other people in my Boy Scout troop using them and they said that they loved them. I looked up reviews for them and they were fantastic. I immediately went out and purchased one.
I use this at every opportunity. The only reason I didn't give this five stars was because when setting this up you have to get it just right in order to stay dry. I solved this issue by purchasing a Monsoon rainfly.
Source: bought it new
Price Paid: $175

Good, but not what I really wanted as compared to an ENO. 
This hammock does what it says, but I think five stars is a slightly higher average than it deserves.  I ditched the rope set up system and used a couple of NRS straps that I already owned, which added a little weight.  I found that a strap system is easier to use because the system has to be centered on the trees, the rope system makes that hard to do in a timely fashion. 
Hennesy vs. ENO
I found that on a good night I would rather not have the mosquito net or rainfly.  The mosquito net and fly block any kind of cool breeze that you might get out in the open.  What's good about it is the fact that the Hennessy is a complete shelter as soon as you set it up.  I put the whole business, rainfly and all, into the snake skins and using straps I can set it up in under 30 seconds.  But I just think its more of an army style jungle hammock, and I would only take it to places where I KNOW there is going to lots of mosquitoes and rain.
You can see from other reviewers some of the other stuff you need.  I just thought to myself, if I'm going to be carrying a tarp, a sleeping mat, and using straps instead of the rope system, and you want to able to sleep under the stars on a good night, why not just buy an ENO?  The ENO Double Nest is very little extra weight, and I can actually bring two bivouac systems (tarp and hammock) with me for almost the weight of a hennesy.  The ENO is the more popular hammock for a reason. 
Price Paid: $120

I got to spend a few weeks with this hammock on loan from a friend.  Here's my thought on it.
Price Paid: $200

Good afternoon. I bicycle tour and canoe trip. My Hennessy Asym has made my life much easier. On wilderness solo canoe trips, it is often difficult to find a cleared flat area to land and camp. Generally you are faced with rocky beaches, rough, damp forest areas, thick with bushes and deadfalls.
My Hennessy instantly made camping a cinch. I can drag my canoe up almost anywhere, and sling my hammock just as easy. There's never a shortage of trees. My trips are usually in the summer and the hammock is cool and breezy. No more sweating in a hot tent.
On my touring bicycle I enjoy solo trips as well. Legal campgrounds are expensive. For me on a bike tour commercial campsites basically offer a pricey piece of ground to pitch my tent. Often the campground - the best campground - or any campground is off my route. Or I arrive at a suitable place too early or too late. Now most of the time I "Stealth Camp" - and save a fortune.
When I'm tired, or it's getting dark I pull my bike out of site, into the woods and sling my hammock between the trees. I leave no trace, use no lights, have no fire. I slide my hammock into its snakes skin and hit the road at first light. I'm silently gone in a matter of minutes. Washing in rivers and lakes is good enough for me. Once a week I clean up in a campground or motel.
My Hennessy Hammock is worth ten times more than I paid for it - and paid for itself ten times over.
Leanandfit
Design: Expedition Asym
Sleeps: 1
Ease of Setup: simple - I'm not too fussy.
Weight: 3 pounds
Price Paid: $90 Canadian

I've owned a Hennessy Exped Asym for over 6 years now.  It is still in nearly brand new condition, has never failed me, and made it to where I actually get great sleep in the back country.  Back when I bought mine, there was no other option other than the bottom entry, but I had grown to love it over time.  
It's really comfortable, durable, light, and I find the tarp to be perfectly adequate.  Even during some real thunderstorms I have never gotten wet when sleeping inside.
I have years of experience with this hammock, and see no reason to drop money on another type of hammock.  Hennessy hammocks have changed my back country life, and made it a much more enjoyable experience.  
Right out of the box there is no better value than the Hennessy Hammock Expedition Asym.  I've tried out Clarks, Warbonnett, and Eno.  After it was all said and done, I saw no reason to throw money into a more expensive system.  Each has their advantages and disadvantages. If you have $150 to spend on a hammock setup, then there is no other choice to provide everything in one terrific package.  
I think some of these reviews are more than a bit unfair, if you can't stay dry and get comfy in this hammock, then I doubt the hammock is the issue.
Price Paid: $140

I have backpacked for about 15 years, mostly in the Sierras of California. I'm 56. For the past 5 years I have packed the Mt. Washington area, summer and fall. I bought a Hennessy Hammock this season, it has enabled me to sleep out all year, and I will never use a tent again. It is just perfect, sets up in minutes, anywhere.
This fall I bought the complete cold weather Super Shelter addition, and have been out in the coldest weather so far this season, 19 deg. F. It is unaffected by wind and snow fall. I have set up in the dark several times, what a great adventure, the Hennesy website directions work well. I have a few little extra hooks to speed stretching guy lines in the cold with gloves on. Minor condensation, though present, has never affected my sleeping bag.
Even with extra insulating pads, all the equipment is feather light, and ties on anywhere to the pack, or stuffs inside, taking up little space. If I could use the hammock at home, I would sleep in it all the time, it's really comfortable, warm and dry. Can't wait for more cold nights out. The cost is worth it if you are serious about backpacking.
Design: Super Shelter 4 season
Sleeps: 1
Ease of Setup: Very easy
Weight: 3 lb.
Price Paid: $130

Some other tips:
1. Buy rap rings and look at YouTube for amended set up. Adds a little weight but worth it.
2. I have an Exped mat. I've learned to semi-inflate it.  It pushes your hammock out to the side, giving you more room and provides insulation.
3. Ditch the tarp and buy a new one. The tarp is indeed too small and you will encounter wetness in bad weather.
4. If you're a guy, you WILL learn to pee by opening the velcro bottom, sitting up and letting nature take care of business. Just be careful where you store your boots. And just ensure the velcro is redone or else your arse will be sticking out of your hammock the next morning.
5. I also ditched the guide lines that came with it and bought longer, brightly coloured line.
6. The biggest downfall is loneliness. Once in, you're alone. So if it's very bad weather, you didn't bring a tarp and you turn in for the night, you lose the option to converse with your mate/friend. You just lie there! On the positive side, you don't have to tolerate your partner's snoring EVER again.
Price Paid: $99

Have used mine for several years - for multi-day backpacking as well as camping trips. It is compact, light, durable, storm-worthy, easy to use and, most of all, comfortable. Now, I only use tents for winter camping or above-treeline use. If you have ever had lower back problems, general stiffness or poor sleep during your outdoor adventures, this is the solution you've been looking for!
I have had some truly stellar nights sleeping in my hammock. Not to mention some of the siting possibilities it opens up - at the edge of a rock face with an amazing view, on the rocky shores of Lake Superior - basically, wherever two trees with about 12' between them happen to be.
This is a truly revolutionary product and I recommend it without reservation. Once you work out insulation issues (it sleeps WAY colder than a tent), it is without parallel as an outdoor sleep system.
Design: single-person shelter - adaptable to all seasons
Sleeps: 1
Ease of Setup: Can you read and follow simple instructions? You're in!
Weight: 2.5 pounds
Price Paid: $80

This is the way hammocks should have been made all along. I set mine up for a weekend getaway and was very surprised and pleased with the quaity and ease of set up. The weather was bad but I hardly noticed (rain one inch per hour for five hours, temp low of 48). The hammock remained dry and stable throughout the night.
I addressed the cold sleeping problem by wearing poly long johns to bed. With a sleeping bag draped over me the hammock felt snug and warm. Take down was a breeze, w/snake skins I had the hammock rolled and stowed in two minutes flat. I would recommend this hammock to anyone who camps in rough or wet terrain.
As a final note I would point out that my camping buddy spent the above night in a standard hammock with tarp. His opinion of the hennessy? He ordered one Tuesday!
Design: hammock
Sleeps: 1
Ease of Setup: very simple
Weight: 2.5 pounds
Price Paid: $100

I bought my Exped Asym from HH when they had a sale on their stuff last year. At 56 years I got to the point where I can't sleep on the ground anymore without making a hole for my shoulders and hips and leaving craters behind wherever I camp.
I have toyed with hammocks for 30 years but could not figure out how to stay warm in them anywhere but the tropics. The Exped is big enough to take an ensolite pad in with you. However, this winter I sewed up a quilt that hangs underneath, which is easier to put up and smaller to pack. I'll never go back to sleeping on the ground.
Downsides: 1) not much proom for gear inside with you, and 2) therefore, no room for your spouse or girlfriend.
Design: Hammock
Sleeps: 1
Ease of Setup: Find two trees at 12-15 ft apart. Tie one end to each. Test setup. tie out sides (2) crawl in with sleeping bag
Weight: Less than 3 lbs

This hammock is a very comfortable and well designed. This hammock is also one of the largest hammocks I've ever used and liked.
Pros
Easy setup and a ridge line that holds the organizer and the bug net up too!
This hammock can be modified when ordering any way you need it to be!
Cons
A little heavy for UL hikers!
Does not compact down very small.
I would recommend this to anyone that would like a very comfortable set up that can be built any way you like! The nice thing is they have the option to come with tarp and insulation also!
Source: bought it new
Price Paid: Very stable and comfortable!

I sleep great and wake up refreshed and renewed from my Hennessy hammock. Whenever I can use my hammock instead of a tent I do so. No longer do I have to look for even soft ground to pitch my tent. Just 2 trees and I'm good. The tarp adjusts to keep out driving rain and the velcro opening in the bottom is a great design.
Design: hammock
Sleeps: 1
Ease of Setup: easy once you learn the knot

Your Review
Where to Buy
Help support this site by making your next gear purchase through one of the links above. Click a link, buy what you need, and the seller will contribute a portion of the purchase price to support Trailspace's independent gear reviews.
You May Like
Specs
Price
Historic Range: $99.00-$220.00
Reviewers Paid: $80.00-$200.00

Recently on Trailspace