Hennessy Hammock HH2O AutoMagic Water Collector & Rainfly Tensioner System

Top 50 in Water Storage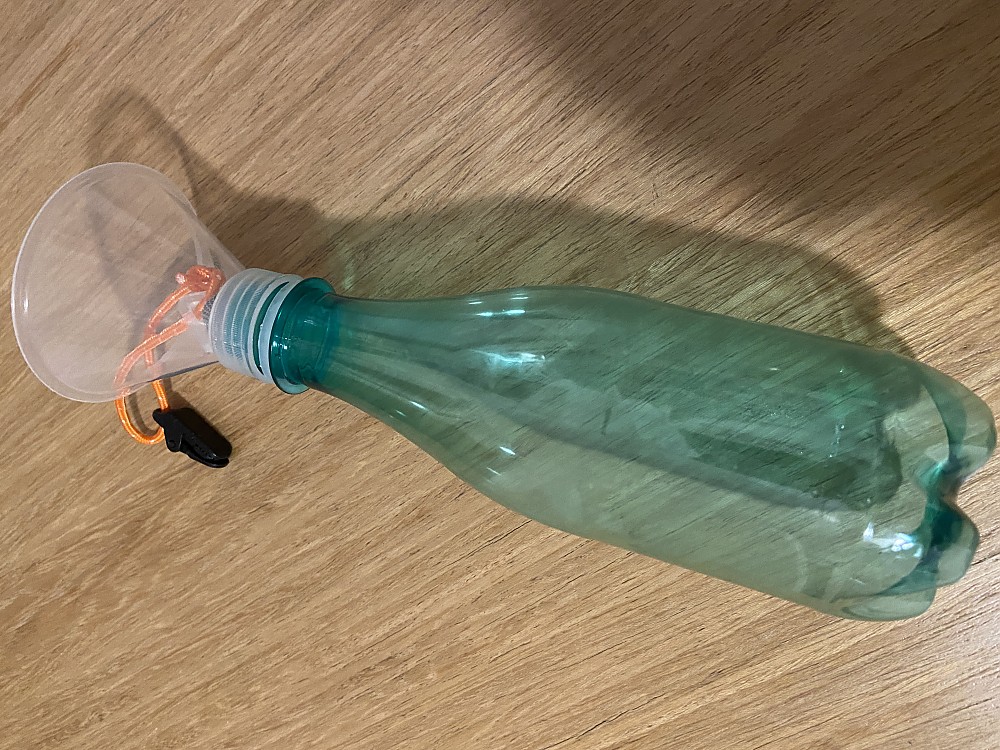 Specs
| | |
| --- | --- |
| Price | MSRP: $9.95 |
| Packed Weight | 0.85 oz / 24 g per pair |
| Packed Size | 4 x 3 x 3 in a pair |
| Size | 2.5 x 2.5 in per piece |
Reviews
1

review

5-star:

1

4-star:

0

3-star:

0

2-star:

0

1-star:

0
Despite the ultra-long name and the gimmicky factor, this clever water collector and automatic tarp tensioner does work quite well for its dual purposes: collect rainwater and keep tarps (especially SilNylon) taut and stable during rain and storms. It's inexpensive, durable, and versatile with a 28mm thread for reservoirs.
Pros
Clever
Convenient
It works
Small, light, and cheap
28mm thread is used everywhere
Cons
Still require treatment of the collected water, especially if there's dirt on the tarp.
Oftentimes, the simplest things are the most versatile and effective to have around. Simplicity is a good thing for outdoor activities, actually.
Hennessy came up with a simple yet clever device to help collect and store rain water from tarps. The HH2O AutoMagic Water Collector & Rainfly Tensioner System is a unique product that works as intended for both purposes.
The "system" is comprised of two clear plastic funnels. Each one has an attachment strut to be clipped to cords, clips, hooks, mitten clips, etc., and then attached to the tip end of tarps and rainflyes.
At the bottom, the HH2O has a 28mm thread. It's the same one found on most common PET plastic water bottles, and also many of the outdoor water bags and bottles in the market, such as those from Sawyer, CNOC, and Platypus bags. Plenty of options and also easy to find alternatives, too.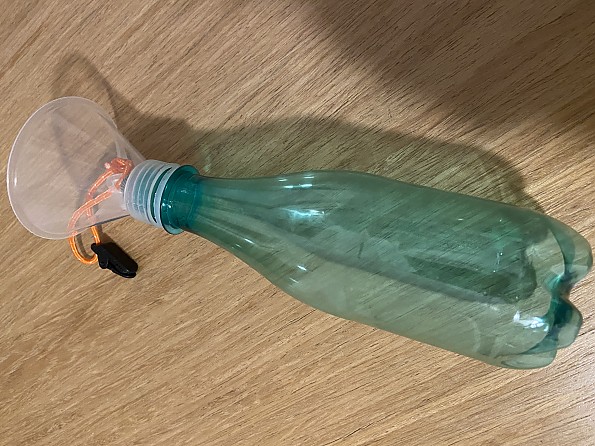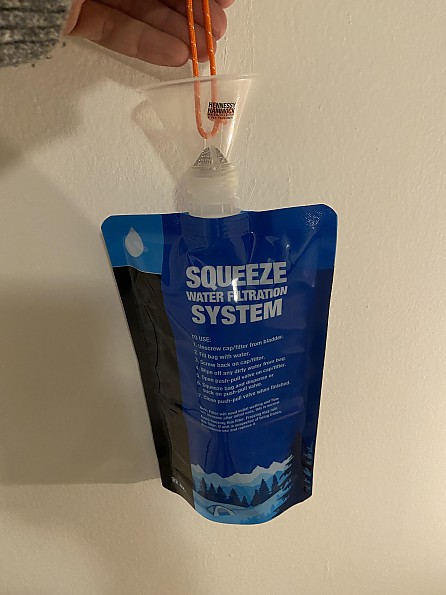 There's a small detachable stainless steel screen to pre-filter largest particles that may be on the tarp (tree leaves, insects, feathers, whatever) and come down together with the rain.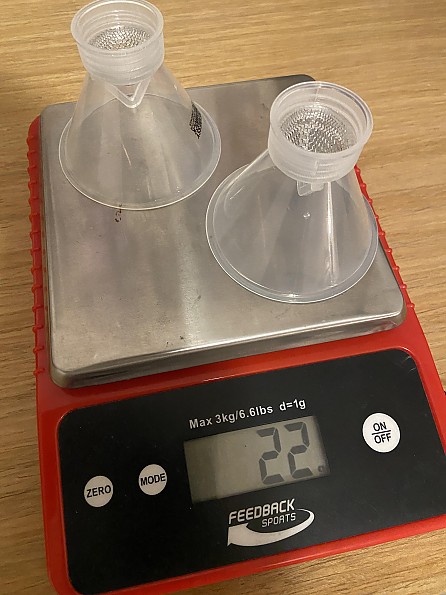 In use
Just screw the HH2O into a bottle of your choice, clip it to the end tip of the tarp, and it's ready to work. As rain falls, it will be diverted into the funnel and fill the bottles.
As it does this, it will weigh down the tarp ends and work to pull it down, keeping it tensioned as it sags from the rain, especially SilNylon that tends to absorb more humidity when compared to SilPoly or DCF. 
When I first got the HH2O's I would use them all the time, just for the novelty. I still do when stealth and wild camping, but not as much when backpacking or camping near fresh water, unless I'm sure to have some rain pouring. 
I've tied a small piece of cord to the funnel tie-outs and into a small plastic clamp, as seen on the image. This allows me to clip the HH2O's anywhere on the tarp, and even make "gutters" to improve water collection. But any other way of attaching and clipping it will work, really. 
Some tips
It's easy water, but it still must be treated if intended for human consumption. Tarps can get all kinds of stuff on them in short time, like dust, sand, leaves, insects, bird poop, and more. Some of it can be unhealthy, so I filter and sometimes even boil or throw a chlorine pill in the collected water. 
Another trick is to let the rain wash the tarp for a few minutes before attaching the HH2O's. Sometimes I put a piece of thin cloth (those from compressed towel pills work best) between the bottle and the funnel inside the thread, to add another filtering layer. This works well, too.
All these tricks improve the quality of the collected water. We have a lot of rain around here during the summer, and sometimes even during winter (no snow, though). The Hennessy AutoMagic really comes handy to ensure easy and free water while camping and backpacking. 
If there's plenty of rain, I'll leave it open (i.e. without a reservoir) with the water dripping on my collapsible washing basin. That way, there'll be enough water to wash my stuff the next day. 
Conclusion
While simple and inexpensive, this little device is clever and does work as intended. Water collection is an important part on any outdoor trip, and Hennessy just made it easier and more convenient with the HH2O. 
Experience
Before the HH2O's, I had no experience with a product of this kind. I'd do what every other camper/backpacker does and put together some concoction made from PET bottles or whatever to try and collect some rainwater every once in a while. Hennessy made this so much more practical and efficient. And use rocks, shock cords, or other crazy contraption to keep tarps from sagging too much during storms. HH2O's help with this too, so overall it's a gimmick, but a nice and functional piece of gear.
Source: bought it new
Price Paid: US$ 11 plus taxes and delivery

You May Like
Recently on Trailspace