Highgear Aerial

The Aerial has been discontinued. If you're looking for something new, check out the best altimeter watches for 2023.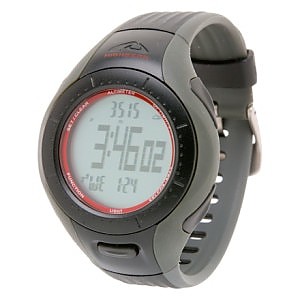 Ik heb het horloge pas via op pad het lijkt mij een goede koop maar ik mis een nederlanse gebruiksaanwijzing wie kan mij die leveren.
Price Paid: €45

I was looking for a basic altimeter to take hiking and skiing. I found this one on sale and thought I'd try it out. It's pretty good stuff for the money.(got it for a steal!)
I've had it for 2 years now and wear it every day. I like the 'Ski' mode which tracks your accumulated vertical feet. It seems accurate enough for my use - within 20 feet or so between 7000' and 13,000' - and it stays pretty even with my friend's Suunto.
Like all other barometer-based altimeters, you have to calibrate it at known elevations, but it's an easy thing to do - just push a couple of buttons. And you can store a few known elevations (e.g. home, favorite trailhead, parking lot at the ski basin, etc.) to make it brainless.
The only issue I've had with it was the watch case came detached after about a year of not-too-hard use, but they have a 2-year warranty, and they happily replaced it (with no questions asked) with a newer watch that seems to have a beefier case.
A slight nag that i do have, is the 'function' button is on the bottom left, and it often gets bumped by my wrist somehow. I occasionally look down to find that it has changed from the 'time' display to the 'barometer'.
I know others have complained about this...but ALL WATCHES that have a thermometer will be affected by body heat. The best way to really use them as a thermometer is to attach it to the outside of your pack for a little while. (hey...it is on your wrist...what would you expect?)
In all...i really like this watch and definitely recommend it. I can't imagine spending hundreds of dollars on an altimeter after how well this has performed.
Pros: Altimeter seems pretty accurate, large face is easy to read, ski chrono is pretty cool, excellent company service, buttons easy to reach.
Cons: Buttons a bit TOO easy to reach (often get bumped), poor case design (that may have been re-designed?).
Price Paid: $35

My review is similar to many of the previous ones submitted by others...thermometer problem reading body heat, plastic like casing beginning to separate after 4 months, the "scratch resistant" glass scratched within 2 weeks out of the box, and the metal/painted parts began to fade in about 2 months.
Needless to say, but this watch is a great disappointment for $170. I gave it to my father and knowing that it is still under warranty will try to get him to send it in for some type of repair...Fail
Price Paid: $170

Watch and other functions serve as they should, but I am now sending BACK my second unit, since the case perimeter material separated once again from the case proper. For a watch at this MSRP (approx $130) this should not occur. I would NOT purchase another High Gear product given my experience with the durability of my unit.
Price Paid: $80

Product works great, but the casing gave out 2 months after the warranty expired. Now Highgear won't respond to any request for information on repairs, etc. FAIL.
The watch is pretty cool, The altimeter works well so long as you adjust it periodically to a known altitude. However they put a thermometer on the watch that is useless. The thermometer just reads your body heat. Whoever was the engineer who designed the thermometer for this watch should go back to school. If you can't insulate it from the person's body heat just leave it off of the watch.
Other than that the watch has an altimeter, barometer, clock, and alarm.
Price Paid: 100$

The second altimeter watch I owned and I liked it until I decided to return it...
The altimeter works well, but the programming creates problems. The auto-lock is designed to recognize when you have not changed your altitude for greater than 30 minutes and then lock in that altitude so that slow changes in barometric pressure do not alter your altitude reading. The watch is supposed to then recognize when a change in pressure occurs rapidly (signalling that you are changing altitude again) and automatically turn off the lock feature. Alternatively, you can manually turn off the lock feature by pressing any button.
I found that the autolock NEVER turned off automatically. I could change my altitude by even 1500 ft in a matter of 10 minutes (driving or on a ski lift) and the watch did not unlock. In fact, sometimes I would manually unlock the watch and it would autolock while I was out skiing the resort! This also means that the run-counter (a cool feature idea) did not work.

So I returned the watch and am looking for one that does not include an automatic altitude lock. I'm also looking for more reviews of this watch to see if other people ran into a similar problem.
Update: October 1, 2007
So this is my review update. I would generally change my previous rating to 3.5 or 4, but since I can't, I'll just submit a 5 and it will average out. A few things have happened since that review...
1) I called Highgear, they said the issue with the log that kept reading far less than it was supposed to at the end of the day was a programming error that had been fixed. They exchanged my watch for free.

2) The new one they gave me didn't have the problem with locking out any more.
3) After about 8 months it had a piece of rubber on the side of it separate from the body. Another call to Highgear and they replaced that one too.
In summary, the current version of the watch works fantastically. But given the fact that I've had to return it twice I have concerns about quality of product. But MANY kudos to Highgear for standing behind their products. Highgear is clearly a company to be trusted.
Price Paid: $141

Your Review
You May Like
Specs
Price
Historic Range: $31.25-$135.00
Reviewers Paid: $35.00-$170.00

Recently on Trailspace