Highgear Axio HR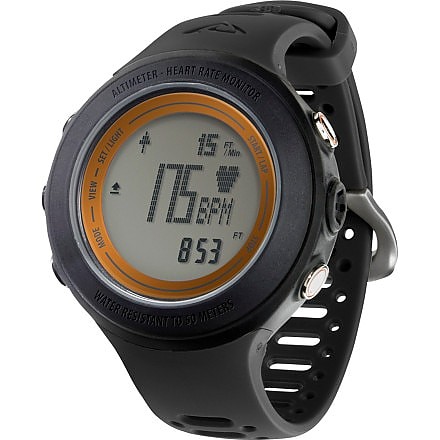 The HR monitor and altimeter just aren't very reliable. If you really want the HR and altimeter recording functions that this watch offers, consider paying more for a Sunnto or Garmin. Still useable as an altimeter if you just want to know your elevation.
Pros
Price
Minimally functional altimeter
Tough enough
User changeable batteries on both watch and chest strap
Cons
HR monitor somewhat unreliable
Altimeter rate of climb function unreliable
Coarse display
Complex "OS"
I've had this watch for over a year now but have held off reviewing it to give it a second chance. The last straw came this morning when, after a week or so of fairly normal operation, it once again started showing heart rates that are well above my absolute max. But more on that in a minute.
The watch is solidly built with a strong glass face and a sealed batter compartment that can be opened with a coin to change the battery. I have worn it while swimming and paddling and have never seen any signs of leakage. The HR chest strap also has a sealed battery compartment that can be opened with a coin to change the battery.
The display is rather coarse (see photos below) and I find some of the smaller text hard to read if I am not wearing my bifocals or if I have to take them off because they are fogged up (I can see distance well enough to get by without them).
There are no less than five buttons, three on the left and two on the right to rotate through and control the various functions, and a pressure transducer and presumably temperature sensor in the middle on the right side. The mode button cycles through no less than nine screens (TIME, BARO, ALTI, LOG DATA, HRM, HRM DATA, CHRON, ALARM, and SET). I haven't used all the functions extensively and will focus mainly on the altimeter and HR monitor. Here's a look at the watch in TIME mode: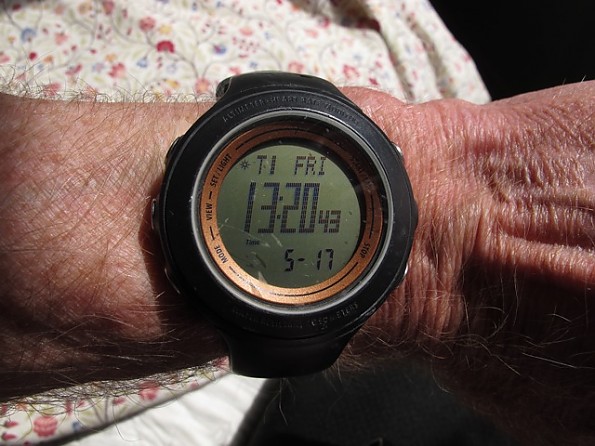 Another button is used to shift through various sub-modes, for example in time mode the day and date fields can be changed to display (wrist) temperature, air pressure, and altitude (but for some reason not HR) information, and all of the above for a second time zone, so that there are no less than eight sub-modes in the time mode.
While there are fewer screens in some modes, all this means that the watch has a whole has a complex OS which can take a while to learn, with some procedures that are are hard to remember if you don't use them often, and it can take a lot of button pushing to get to where you want to be. I have also found that it is possible to press the mode button accidentally, I think by flexing the wrist against a shirt or jacket cuff, so that I sometimes find it in a different mode.
On to the altimeter. When the buttons on my old Suunto started to get unusably sticky so that I started looking for a new altimeter watch, I ruled out a lot of options because they won't display rate of ascent, which was one option on the Suunto that I used quite a lot to check my pace and estimate time of arrival while hiking, running, or skiing uphill. The Axio displays rate of ascent, but it fluctuates wildly, so that I don't get a single number that tells me how I am doing.
Here's a little video to show you what I mean:
I was climbing steadily at a rate that I would estimate at about 6-8 meters/minute, so it was doing pretty well at first but the end it suddenly jumps to 36 meters per minute. At other times it has displayed negative numbers while I was going steadily uphill, and then jumped to rates far way above the real rate. So my favorite altimeter function is unuseable.
The watch seems to track actual altitude more reliably and stably, so it's OK there. It will also record total ascent and descent over a whole trip and individual sections that you can define using the start/lap button, but I haven't used the recording much, in part because I'm not sure how reliable it is based on the altimeter's performance.
I have also found the HR monitor to be somewhat erratic, mainly by displaying heart rates that are way out of range for me. Here's proof, a recorded maximum HR: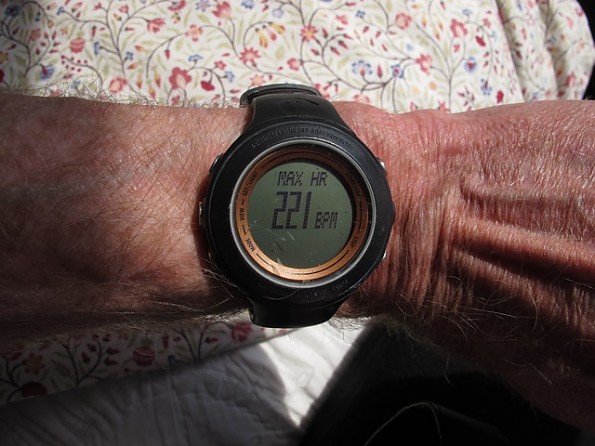 I actually got an "official" max HR about a year ago when I signed as a guinea pig for an exercise and aging study (only in the pilot group unfortunately) and went anaerobic on treadmill. Let's just say that the number in the photo is physiologically impossible for me or just about any other adult. It's not just a single data point – the watch will unpredictably display over range HRs for a couple of minutes, then it might be OK for the rest of the run and for the next several days.
To me this means that the recorded max HR and time in zone info is somewhere between questionable and bogus, and that is the main output of the recording function. You can enter in your own training zones, but you also enter your age and it seems to use this, not the user-specified zones, to calculate the HR percentages (based on 220-age, inaccurate at best) that are displayed while running, so I have to enter a bogus age to get these about right. You can also enter gender and weight and it will guesstimate calories burned, but I don't exactly have a weight problem.
Barometer and temperature: I don't have much use for these, the former because I do a lot of up and down and the latter because I consider wrist temperature to be pretty useless.
In summary, the Axio HR is tough enough and will function well enough as a basic time piece and one-function altimeter, and the HR info that it does deliver is far from useless, but the erratic altimeter and HR monitor compromise the usefulness of the recorded data, so the watch doesn't really deliver on its promises. I'll keep using it, but I'm wondering if I can get that old Suunto repaired or maybe go all-in on some kind of Garmin GPS-HR-you-name-it thing.
Source: bought it new
Price Paid: About $150?

Your Review
Where to Buy
Help support this site by making your next gear purchase through one of the links above. Click a link, buy what you need, and the seller will contribute a portion of the purchase price to support Trailspace's independent gear reviews.
You May Like
Specs
Price
MSRP: $190.00
Historic Range: $112.73-$190.00
Reviewers Paid: $150.00

Recently on Trailspace