Hilltop Packs Large Food Bag

#7 in Food Bags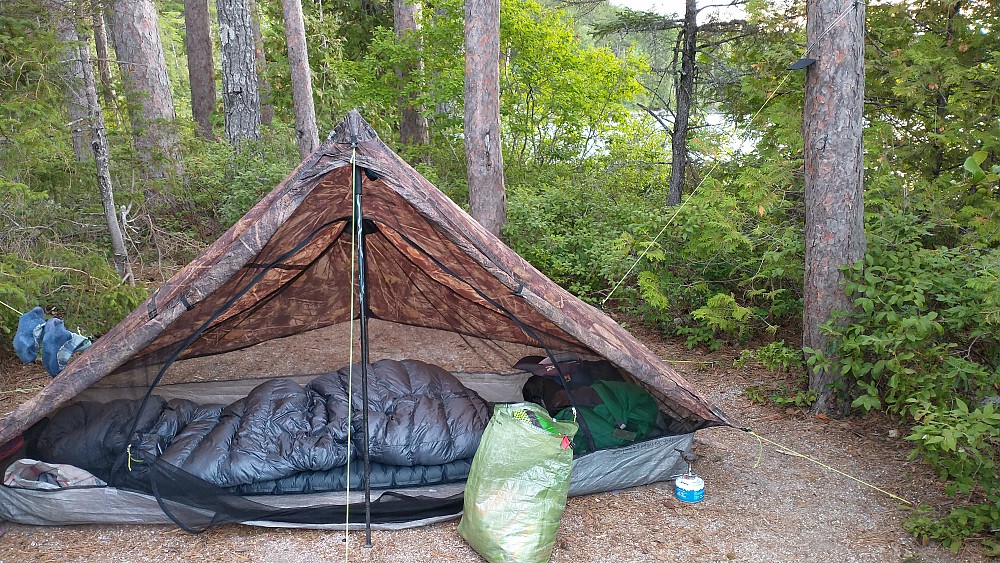 A Hilltop Packs Food Bag is a lightweight accessory for organizing and storing a variety of items inside a backpack, around camp and while visiting trail towns. I especially like that it has a flat bottom, making for a better fit inside my pack and a bag that will stand upright on its own. It's durable, simple, and comes in a variety of colors... even unique custom prints and patterns!
Pros
Flat-bottom design superior over similar DCF bags
Simple snap and roll-top closure—no velcro to snag on clothing
Made out of ultralight and durable Dyneema 1.43 oz/sqyd
Offered in a variety of colors and prints, including customized prints and logos, conducive to finding your food bag among the crowds
Made in USA by a PA family-owned business
Cons
Cost
DCF stretches and warps slightly over time, namely near the collar of the bag
Background: When I first got into lightweight backpacking, DCF (formerly known as Cuben Fiber) was all the rage. While I now realize not everything in my pack needs to be made from it to be a successful and happy lightweight hiker, I still prize the material for its weight, water-resistance, durability, and ease-of-use. For these reasons, I think it's especially ideal for food bags. Making this case in bullet points:
1.4-1.6 oz/sqyd DCF is durable enough to withstand the pointy edges of food packets and other irregularly shaped items (electronic cables, toiletries, small tools, etc). It also resists punctures from branches when hanging/blowing around in a tree.
DCF is water-resistant. A food bag can be hung outside in the elements. DCF doesn't absorb water (wet-out) like nylon and dries very quickly.
DCF is easy to wash with soap and water, in the inevitable event that wet food spills/leaks. Because of its impermeability, food odors wash off, making for a more hygienic experience.
DCF seems to deter rodents. Though I'm sure there are instances to the contrary, I've personally never experienced a mouse chewing through a DCF product (my tent, food bag, or pack). It's difficult to cut DCF with scissors, so I can see why most rodents might not bother, unless very determined.
DCF is one of the strongest fibers for the weight...a food or dry bag typically weighs less than 2 oz.
Perhaps the most notable company to specialize in DCF products is Zpacks. When preparing for my first thru-hike, the clear choice in ultralight, water-proof food storage was a Zpacks Large Food Bag. These days, it's almost comical to open an AT shelter bear box and see dozens of these blue food bags crammed inside. They're at the top of ubiquitous thru-hiker gear, making it hard to distinguish which one is yours in a crowd.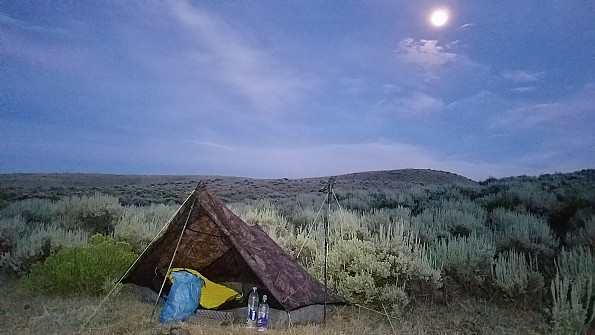 I'm now on my second Zpacks blue food bag, having completed multiple thru-hikes with each. The first lasted about 5,000 miles before I finally deemed it too deformed, de-laminated, and full of holes, so I gave it to a friend. These bags are still more durable than most others...mine just get used heavily, suffering from the friction/abrasion and environmental factors that would take more casual hikers a lifetime to inflict.
When I began looking for a replacement for my second bag, I noted that Zpacks was no longer the only player in the DCF game. There were quite a few new cottage gear companies offering food bags in various shapes, sizes, and colors.
Hilltop Packs, a family-owned Pennsylvania-based company, has gone one step further by custom printing designs onto DCF. They make backpacks and a list of other complimentary storage bags. But what really attracted me to their food bags was a flat-bottom design....something I'd been seeking specifically. For my most recent thru hike of the Appalachian Trail, I opted to try one. First, here are the specs on my bag:
Size: Large

Weight: 1.3 oz (my scale)

Dimensions: 19″ x 16″ flat bottom

Volume: 13L

Material: 1.43 oz DCF 

Color: green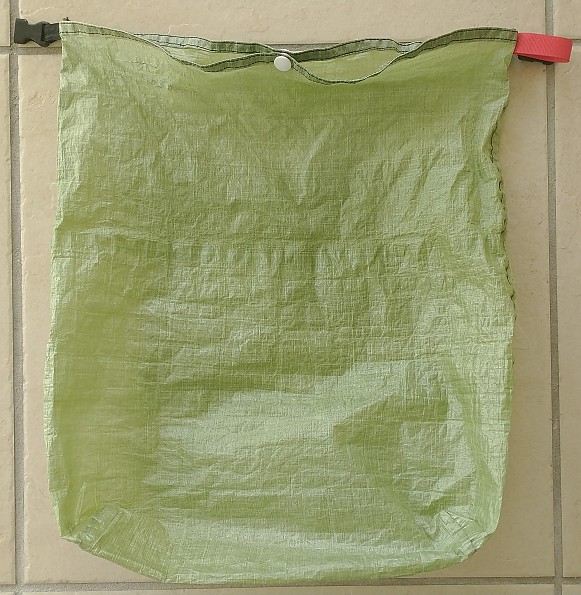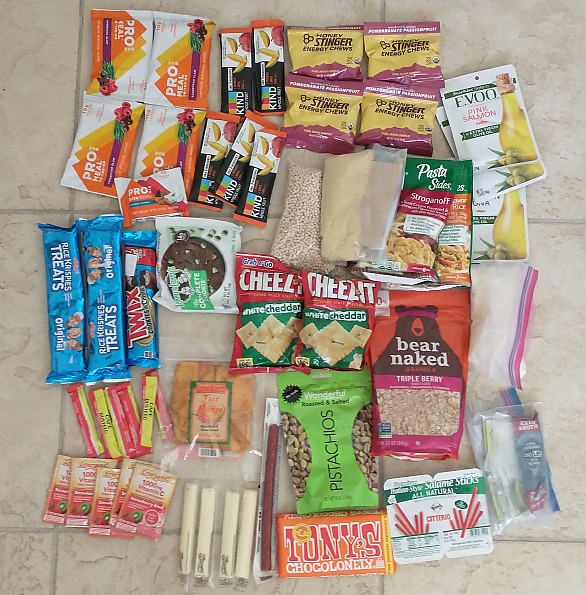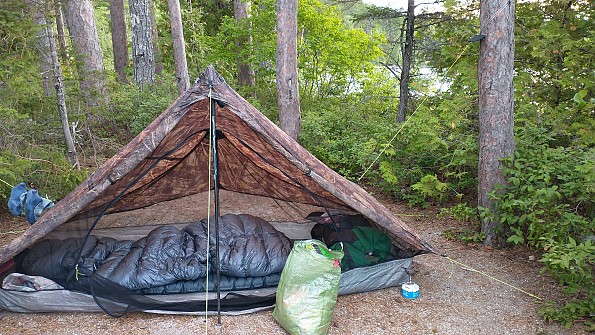 Ease of Use: As previously noted, my main reason for buying the Hilltop Packs food bag was the flat bottom design. This is an optional feature, costing a few dollars extra, but well worth it. It fits more efficiently inside my backpack, as there are no odd-shaped nooks and crannies at the corners, resulting in less awkward, unused space. Why not just stuff all my items loosely into my backpack? While this might be the fastest and most efficient use of space, I require a minimal level of organization and compartmentalization.
On the other hand, I don't like having tons of separate storage bags inside my backpack, precisely because of the amount of dead-space this results in. I prefer a simple modular system of just three bags...a number that's easy to keep track of, too:
A dry bag to contain my tent/stakes/ground tarp plus all their subsequent wetness and dirt.
A dry bag to contain my spare clothes, quilt, and mattress (my 20L Exped Schnozzle size small doubles as my mattress inflation device and ultralight pack liner).
A DCF food bag for storing food and everything else, such as electronics and toiletries (my food bag is the equivalent of a home's junk drawer).
Generally, my food bag goes on top the other two bags, providing quick access to my food, toiletries, and electronics during the day. More importantly, I think it's hygienically necessary to keep food contained in a separate bag...in case something spills. It's also more efficient to remove my food from my pack during a break, having it close at hand while I rest.
Sometimes I'll drop my backpack to take a side trail to a fire tower or water source, but my food bag always comes with me. I've seen too many instances of fast and opportunistic critters (squirrels, crows, chipmunks) getting into food if it's not kept at arms length or at least within sight.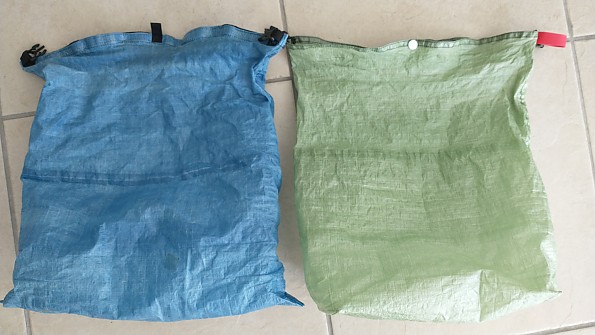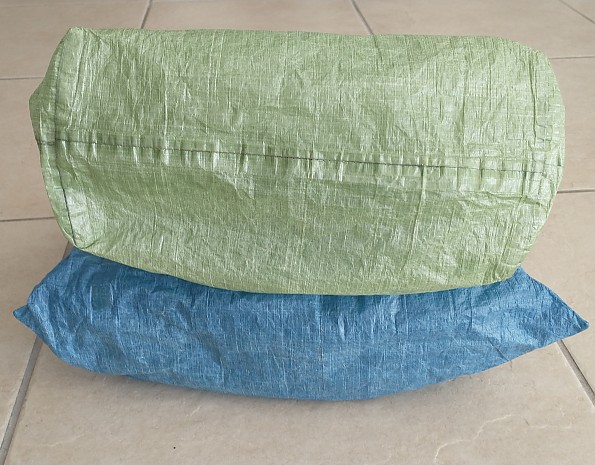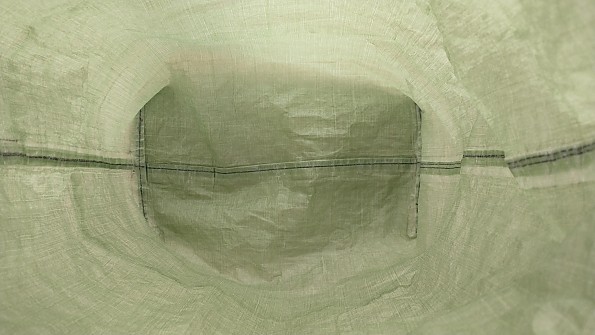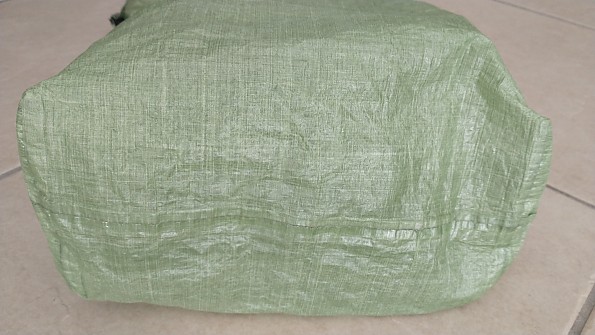 Features: There are several other design features that make this food bag not just stand up, but also stand out. I particularly like that it sports a simple snap closure in the middle, plus a small buckle to secure the top after it's been rolled and folded. I found this velcro-less closure to be sufficient and easy to use. My other food bags had a strip of velcro at the top, which I found annoying because it frequently snagged on my clothing when I reached inside the bag.
However, if the food bag is pretty full, it can be hard to get a good seal by simply rolling the top. In the Smokies, I discovered that a mouse had sneaked into a small gap at the outer edge of the rolled top, scoring some of my trail mix. Actually, I'm glad it managed this acrobatic feat rather than chewing a hole in my bag, as a mouse did when I first backpacked in the Smokies 20 years prior. This was the only animal-food interaction I had on my AT thru-hike and is sadly a theme I've seen played out every time I've ever backpacked in the Smokies...what's with the mice there??? Too many people visiting on a regular basis, that's what.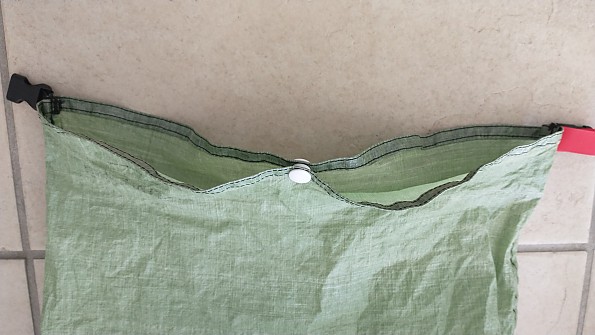 Perhaps the biggest selling point for Hilltop Packs is their custom printing process and wildly diverse collection of unique patterns and logos. I encourage everyone reading this review to check out their website. You'll find close to 50 different prints, many with pretty funny themes and sayings such as" You Can't Touch This!" with a picture of a bear in a MC Hammer outfit. Or customers can submit their own logo to have printed on their pack or bag...the possibilities are endless, virtually ensuring your items will never be confused with anyone else's, ever again.
Personally, I went with the cheapest, most boring option of a plain green DCF bag, figuring this color would be distinguishable enough from all the blue bags. So far I've been happy with my choice, as I avoid crowds as much as possible (one of my biggest reasons for hiking long trails southbound). I also like the color because it lets in plenty of light, allowing me to more easily see the contents of my food bag.
Lastly, Hilltop Packs offers the option of adding a "spoon stash" pocket to a food bag. It's a little mesh bag that will hold a long handle ti spoon. I didn't get this option but probably should have, since I've spent countless hours searching for my spoon inside my food bags...it's just one of those daily rituals that I'm used to by now.
Never knew a food bag could come with so many options, did you? Thanks to the innovations of Hilltop Packs, now we all know to expect more of such a simple piece of gear. If nothing else, a food bag with cannabis leaves printed all over it and the title "Evidence" is an endless conversation starter around the picnic table.
Construction & Durability: My Hilltop Packs food bag made it through my AT thru-hike (2,200 miles) without one hole or even a scratch, so I'd say it's pretty durable. The seam tape is also still clean and in-tact. All the stitches are like new. I made sure to wash the bag regularly on my hike, so there are no odors or stains (nothing to attract bears).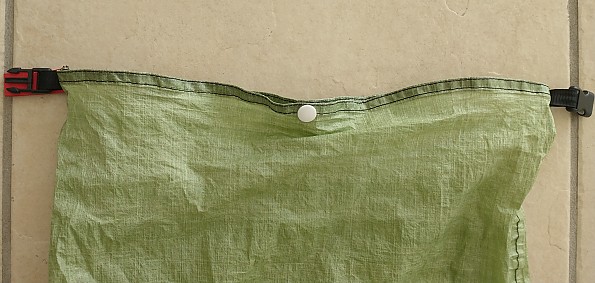 As is common of all my previous DCF food bags, there is noticeable stretching and warping around the collar. This is due to the collar being rolled and then hung under weight. But it's still fully functional and I expect to use this food bag for many more thousands of miles.
Conditions:
I used my food bag to store food and other miscellaneous items while on the trail. It was repeatedly removed and stuffed into my pack, exposed to the elements (the ground, dirt, rain, etc) quite regularly. In towns, I often used my food bag to double as a shopping bag, reducing the need for single-use plastic bags. It's handy as a tote bag when clipped to my fanny pack. This keeps me from having to wear my stinky backpack everywhere in town, giving me a well-deserved break from it.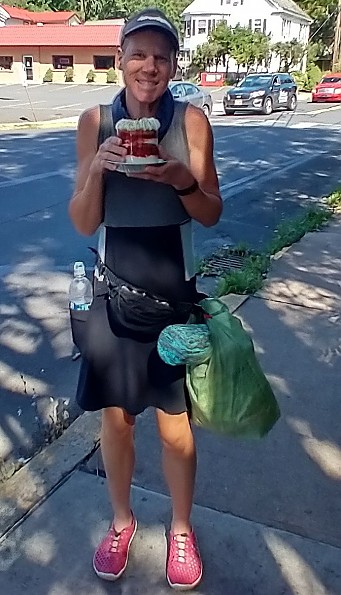 Experience
I've utilized DCF bags in a variety of shapes and sizes. I've been using one to store my food and other random items for all the years that I've been thru-hiking. I prefer DCF material specifically for storing food and being an all-purpose storage bag.
Source: bought it new
Price Paid: $43

Your Review
Where to Buy
Help support this site by making your next gear purchase through one of the links above. Click a link, buy what you need, and the seller will contribute a portion of the purchase price to support Trailspace's independent gear reviews.
You May Like
Specs
| | |
| --- | --- |
| Price | Reviewers Paid: $43.00 |
| Weight | 1.30 oz |
| Dimensions | 16 x 19 in |
| Material | 1.43 oz Dyneema |
Recently on Trailspace