Hoka Kaha GTX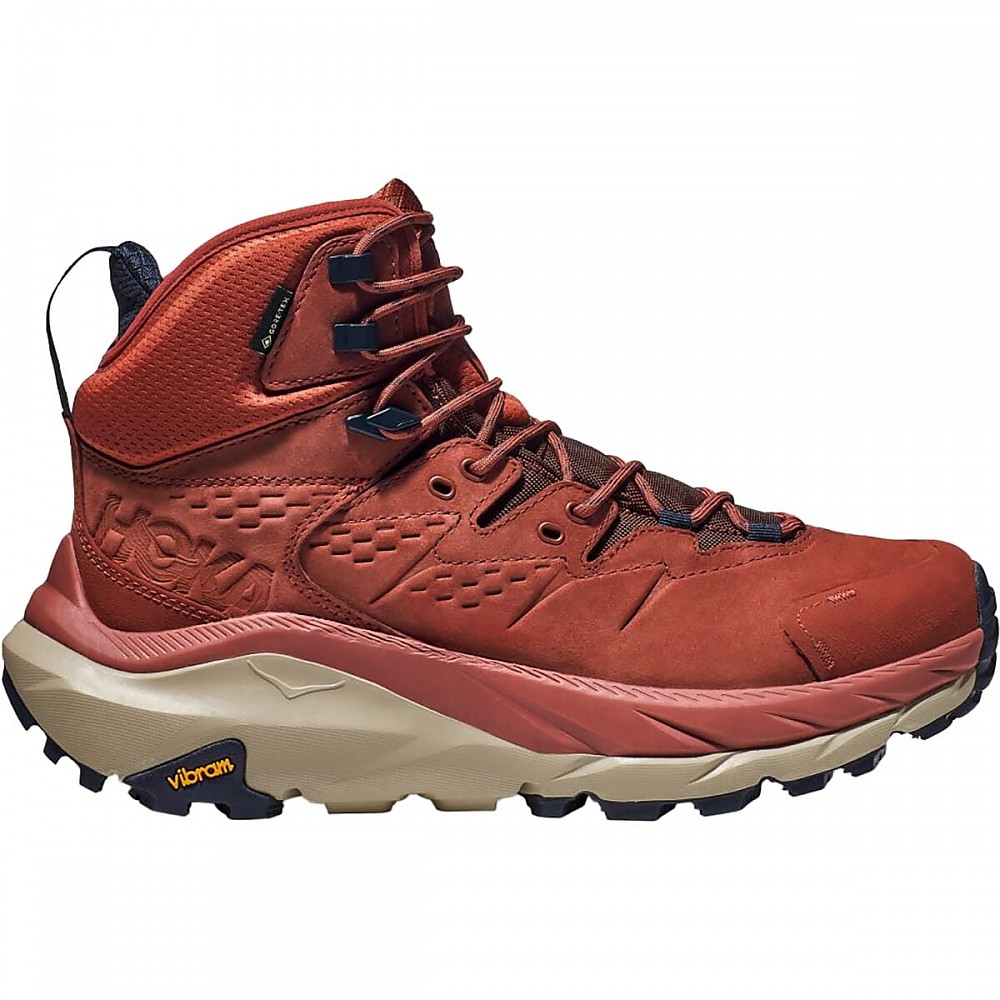 The Hoka Kaha GTX is an updated version of the Hoka Kaha that now features a waterproof Gore-Tex bootie where the previous version had an eVent waterproof lining. The Hoka Kaha GTX's most notable characteristics are the outstanding comfort and stability that is unique to the patented sole design used across entire Hoka line of shoes. The Hoka Kaha GTX takes that unique sole design and combines it with a well thought out leather upper to make a very lightweight, waterproof hiking and backpacking boot. This probably is the most comfortable hiking boot on the market today.

Pros
Very cushioned sole—very Hoka
Vibram Megagrip sole—5mm lugs—very sticky
Open tread design provides good traction and doesn't clog
Wide sole at heel for stability
Nice eyelets and pointy hooks that work well with the laces provided
Mid eyelets have minimal friction and allow easy adjustment
Reasonably sized toe box
Gore-Tex bootie performs well
Very good traction on snow and ice
Cons
Waterproof leather upper isn't really waterproof
Open tread design tradeoff with reduced tread wear life
Lack of wide sizes
Loose fit in the heel for my feet, but nice smooth low friction material minimized blister risk
Overview
The Hoka Kaha GTX is positioned as Hoka's most supportive, lightweight, waterproof hiking/trekking boot that also retains Hoka's signature highly cushioned sole. The combination of a full-grain leather upper, Gore-Tex bootie, and Vibram Megagrip sole provides you a boot with the features you would expect to see in this class of hiking boot, but when those features are merged with Hoka's highly cushioned sole you end up with a very unique hiking/trekking boot that is extremely comfortable, but still provides the support needed for extended hikes and backpacking trips. 
Prior to getting the opportunity to review this pair of Hoka Kaha GTX hiking boots, I have had significant experience with multiple pairs of Hoka Challenger ATR 5's that have been my go-to shoes for section hikes on the John Muir Trail in the California Sierras. While the Hoka Challenger ATR 5's have been great trail runners for backpacking trips in the Sierras, in the Western Washington Cascades where I live, my primary hiking boots have been Asolo FSN 95 GTX's, which are great for the cold, wet conditions that are unfortunately typical for a good part of the year here.
The Hoka Kaha GTX combines many of the features I enjoy from both my Hoka Challenger ATR 5's and my Asolos, and my experience to date is that the Hoka Kaha GTX does a good job at creating a hiking boot with the plushness of a trail runner with the all-weather attributes of a typical full grain leather upper hiking boot.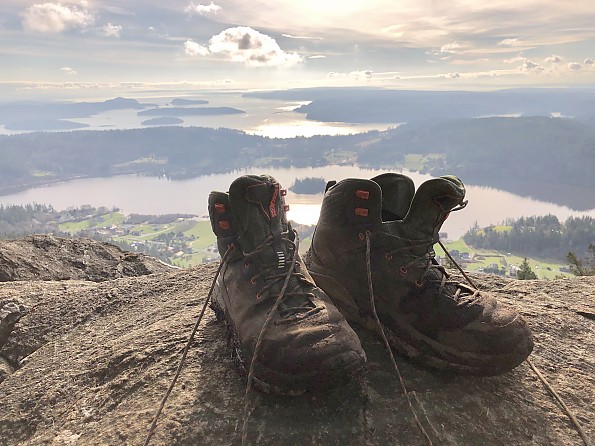 My Impressions to Date
I have had the Hoka Kaha GTX's for a few months now and have been using these boots on all of my regular hikes, snowshoe trips, and for just about any and all of my other activities. In addition, I have ended up using the Hoka Kaha GTX's as my everyday shoe given it's winter here in the Pacific Northwest and they are ideal for the cold, wet conditions that exist on a typical day. Overall I have found the Hoka Kaha GTX to be a very comfortable and good all-around lightweight hiking boot for my activities here in the Pacific Northwest.
Hiking
The Hoka Kaha GTX boots are targeted as being a very lightweight, full leather upper hiking boot that has great traction, but that is also unequalled in its weight-to-cushion ratio, and I think that the Hoka Kaha GTX delivers in each of those areas.
In addition to wearing the Hoka Kaha GTX as my everyday shoe, I try and get out each week on a hiking or snowshoeing trip.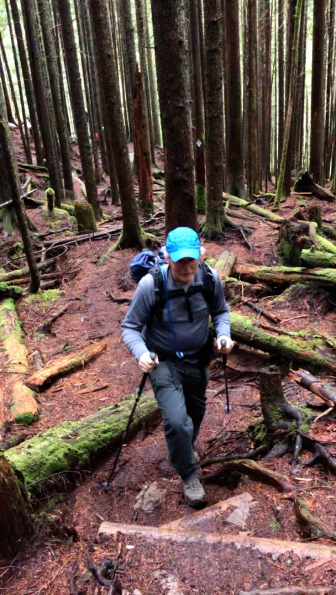 I have been using Hoka Challenger ATR trail runners for backpacking for a couple of years and very much like the significant cushion that is inherent to a Hoka shoe, but if you have only had experience with what I'll call more traditional hiking boots with a very firm sole with minimal cushion, trying a boot like the Hoka Kaha GTX will be a very new experience.  
The rocker and highly cushioned sole has a unique feel if you have never worn a pair of Hokas before and may take a little getting used to. However, from my perspective I can't see ever going back to a typical hiking boot for most of my general hikes and multi-day backpacking trips. The highly cushioned sole of a Hoka was a real game changer for me as my feet were no longer able to do long days in the typical leather hiking boots I have owned since the '70s, but now with Hokas I have no problem doing a 15-mile day.
While I have never had any serious issues with my hips or knees, I think wearing Hokas will go a long ways in helping to enable me to continuing hiking and backpacking well into the future. If you are someone who has been wearing Hoka running shoes you will find the Hoka Kaha GTX to be very similar and only slightly heavier.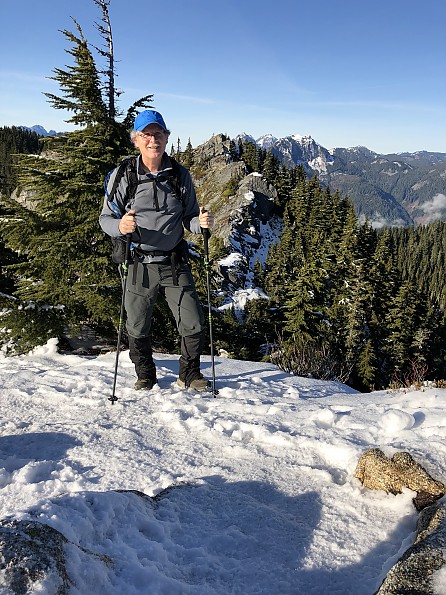 I have been hiking in a variety of conditions from muddy wet trails, wet rock, snow, and some crust ice and the Hoka Kaha GTX's have done great at keeping my feet dry and warm. The wide spaced lugs on the sole combined with the Vibram Megagrip compound provide great traction under all of the conditions I have encountered. The Vibram Megagrip compound seems almost as sticky as the rubber on my rock-climbing shoes.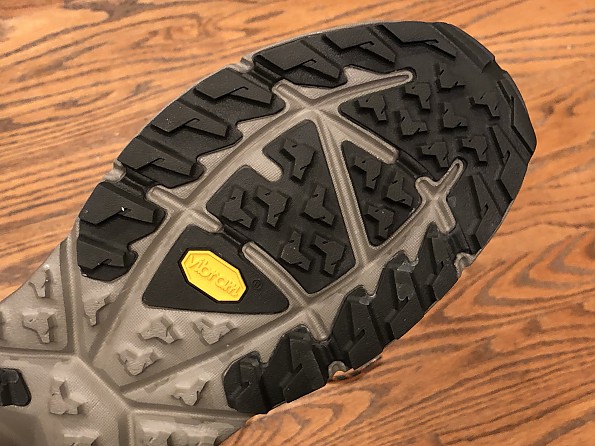 I have used the Hoka Kaha GTX's on several snowshoe trips where I was using a pair of MSR Lightning Ascents with Paragon bindings and thee Hoka Kaha GTX's worked well as the thick cushioned sole also acts as a great insulator from the cold and the Gore-Tex bootie kept my feet dry. When paired with a pair of Smartwool socks, my feet stayed warm in the mid-20 to 30 degree F temperatures I experienced on most of my trips.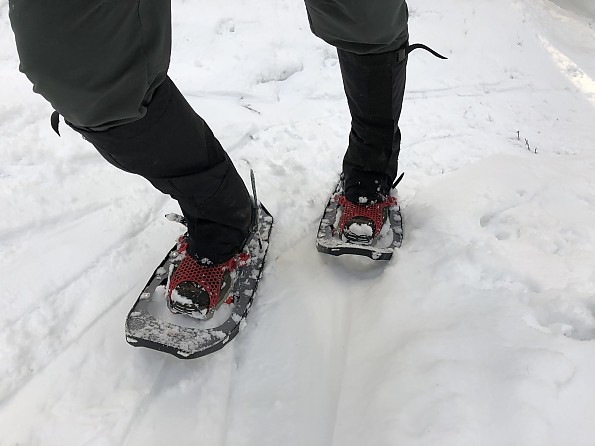 The Hoka Kaha GTX's have a very large and wide heel, which is great for stability, but I was initially concerned that my medium sized Hilsound Trail Crampon Ultras might not fit. However, when I went to use them together for the first time they were able to stretch and fit nicely over my Hokas.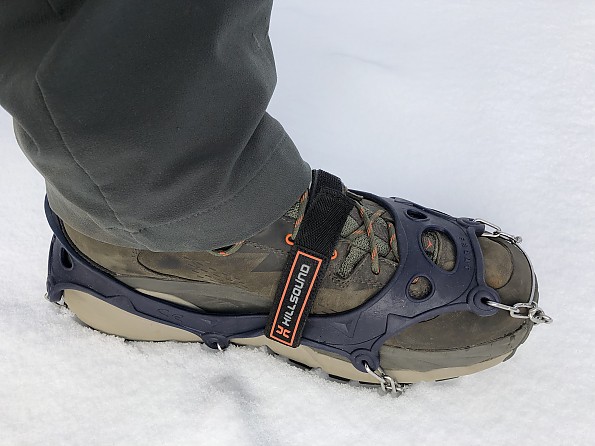 Waterproofness
In the description of the Hoka Kaha GTX at the Hoka website it states that the Hoka Kaha GTX's have a full grain waterproof leather upper and also a Gore-Tex waterproof bootie. The Hoka website doesn't provide any guidance or info about pretreatment of the leather of the boot, so I tested the Hoka Kaha GTX's just how they came out of the box when I received them.
With respect to keeping my feet dry, my experience to date has been good as I have tried my best to expose the Hoka Kaha GTX's to extended periods of being in water. In all cases the Gore-Tex booties have done a great job and I haven't had a single leak yet. Here is a picture of how I would typically expose the boots to water by standing in a creek whenever I had an opportunity on a hike.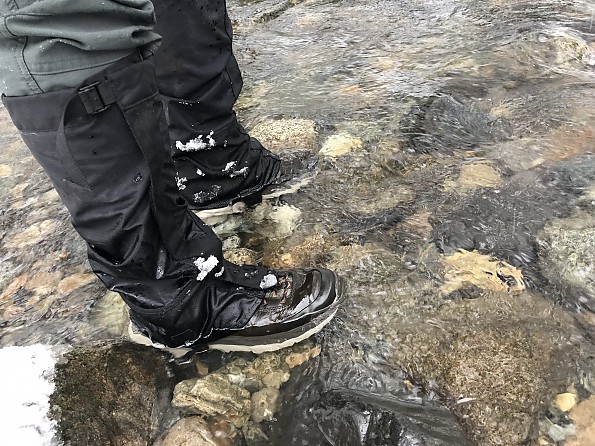 You'll notice in the picture above that the leather of the Hoka Kaha GTX's was wet, and my experience from day one was that if I went and exposed the boots to water the leather would always get wet. So I'm not sure what Hoka means with the claim of full grain waterproof leather uppers as the leather on my pair of boots isn't waterproof as it gets wet. However, I haven't had any issues with wet feet as the Gore-Tex bootie has been doing a great job keeping my feet dry.
Another example of the wet conditions I used the Hoka Kaha GTX's in was when I was helping a friend clear some downed trees on his property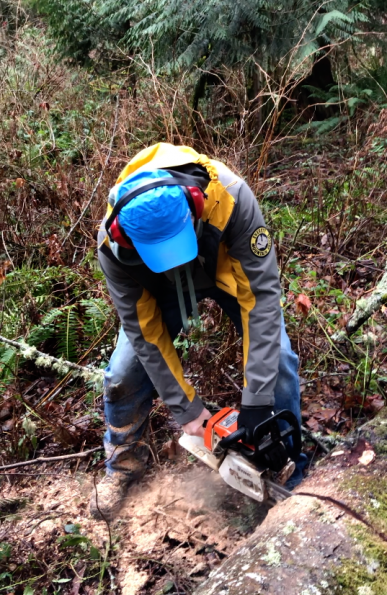 This person's property is boggy in places, so for a few hours while I was out there helping cut up trees, I was standing in water much of the time, like shown in the picture below. My feet stayed dry even though the leather on the Hoka Kaha GTX's was wet, but the boots worked well and even did a great job from a traction standpoint  when I was climbing over wet logs and debris.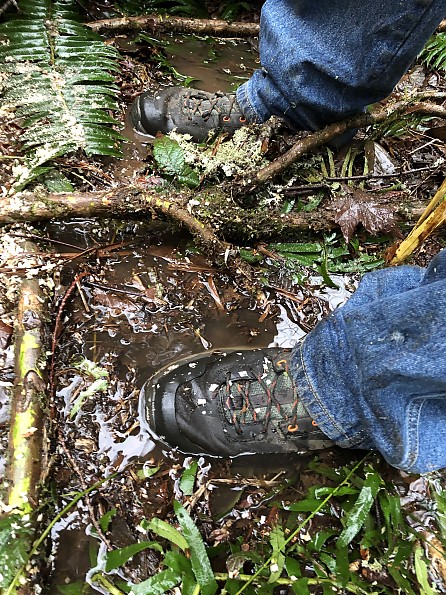 If and when the Hoka Kaha GTX's do ever start to leak, I'll make sure to come back and update this review with the overall time it took to get to where the Gore-Tex bootie finally broke down and started to leak.
Fit
With a discussion on fit you always needs to keep in mind that what fits one person may not fit another, and this is especially true for footwear. In hiking boots, I have found that Asolos fit my feet well and with trail runners the Hoka Challenger ATR's have fit extremely well also. Both the Asolo and Hoka Challenger ATR's held my heel securely and were always purchased in wide sizes, which I have leaned towards for more room in the toe box and to avoid plantar fasciitis which I had problems with in the past.
When I agreed to test the Hoka Kaha GTX's I knew they didn't come in wide sizes, but I had seen other reviews that indicated that the toe box had ample room, so I thought it was worth giving them a try as I thought the unique Hoka sole design combined with a hiking boot style leather upper would be a great combination.
When I initially tried on the Hoka Kaha GTX's in a size 11, which is the same size that I have been getting in the Hoka Challenger ATR's, the fit was noticeably different. While the toe box was a little more snug then the wider size shoes I normally wear (which I expected), over time I have found the width not to be an issue. Most shoes that only come in one width are a D width, which for a size 11 men's shoe typically is 4.1 inches wide. I had the opportunity to ask Hoka what width last they use for the Hoka Kaha GTX and they responded as follows:
"We do not divulge any specifics regarding our lasts and geometries, etc. That said, the Kaha GTX was built on a last based on the standard 'D width' with small adjustments made to help provide accommodation and comfort around product use—hiking, backpacking—which allows for socks and foot swell as a result of environment and backpacking activity."
From my experience, the small adjustments that Hoka made to the standard D width were significant to how the boot fits me personally as I always buy wide shoes, but the Hoka Kaha GTX's have been tweaked just enough that I haven't experienced any of the issues I would normally see with standard size shoes. So I think that most people that typically wear standard width shoes would find the Hoka Kaha GTX toe box nice and roomy.
The area where I did notice the most difference was with the heel pocket. With my Hoka Challenger ATR's the heel pocket is very defined and secure, but with the Hoka Kaha GTX's the heel pocket is not as well defined and I have had more movement of my heel then I would have liked. The looser fit hasn't been an issues or caused any hot spots or blisters on longer hikes, which I think in large part is due to the very smooth low friction nylon material Hoka selected for the inner bootie.
To help with my loose heel issue, I have recently started to use the outer most top eyelet which I have found to be effective as it helps to pull your heel into the heel pocket for a more secure fit.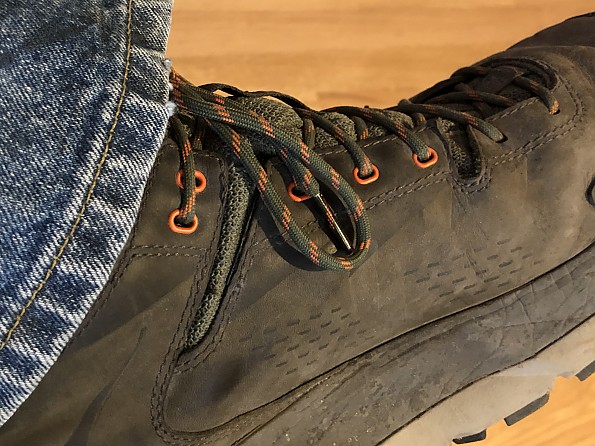 For break-in, there really isn't any required. The materials used for the upper are very compliant and forgiving. Overall I have found the fit of the Hoka Kaha GTX to be good with my feet and it seems to be getting better with time as the leather upper conforms to my feet.  
The socks you wear can have a big impact on the fit of your shoe and boot, and the majority of the time during my review I wore Wrightsock Adventure Crew Socks on hikes and during other outdoor activities.
As a side note, one of the other questions I asked Hoka was if they had thought about developing a non-Gore-Tex version of the Hoka Kaha. A non-Gore-Tex version would be great for hotter, dryer areas like the Southwest where maximum breathability is desirable and waterproofness isn't a concern. Hoka's response to my question is that they are constantly reviewing opportunities to improve and innovate their product line and a non-Gore-Tex option is an option they are looking at, but at this time there are no products that will be in the market in the next 12 months.
Design and Construction
The design of the Hoka Kaha GTX is very similar to other lightweight, over-the-ankle hiking boots in most respects except for the design of the sole.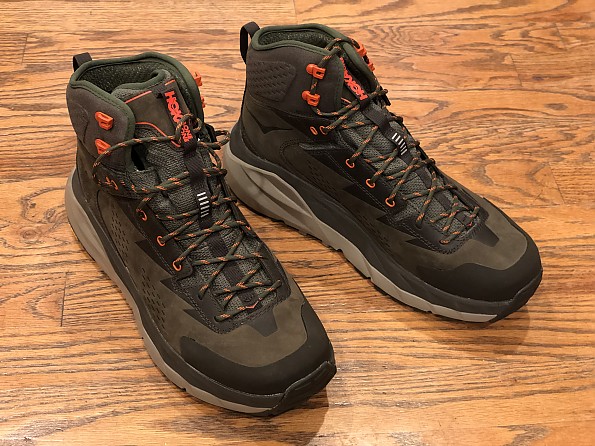 The real centerpiece of the Hoka Kaha GTX is the unique patented Hoka sole that features a Meta-Rocker design and a unique combination of materials to provide great cushioning and support. In addition, the Hoka Kaha GTX incorporates Vibram Megagrip compound in the tread of the sole that provides great traction on a variety of surfaces.
The picture below gives you a good perspective of how substantial the sole of the Hoka Kaha GTX is.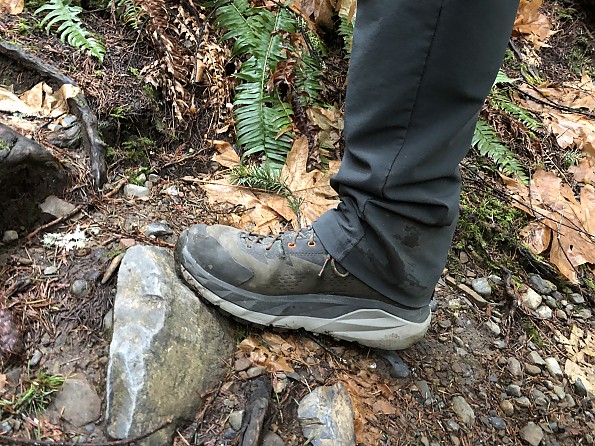 The sole of the Hoka Kaha GTX is also designed with a built-in 6mm drop from the heel to the toe.
If you are curious about the patented sole design, here is a link to the Hoka patent #8,881,427.
In the picture below you can see the overall design of the outside of the Hoka Kaha GTX. The upper has leather covering up to just beneath the ankle and then the area around and protecting the ankle is foam covered by a synthetic material. The toe of the boot has a protective rubber cover to protect your toes and prevent wear.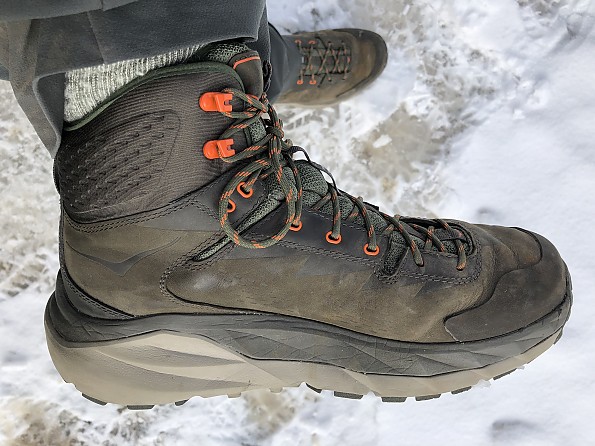 The lacing system used on the Hoka Kaha GTX consists of holes through the leather in the toe region, metal eyelets over the mid region, and hooks for the upper ankle collar.
I've found the system to work very well as it is easy to control the tension in the laces in each region. The eyelets in the mid region are very low friction, so it is easy to adjust the tension in the laces which doesn't impact how the toe area has been adjusted.
I found the hooks used on the upper collar to work very well as the pointed design easily holds two layers of lacing and because the point of the hook is close to the rivet that attaches it to the boot, the round lacing easily "snaps" past this restriction, but the restriction helps keep the lacing on the hook while securing your laces.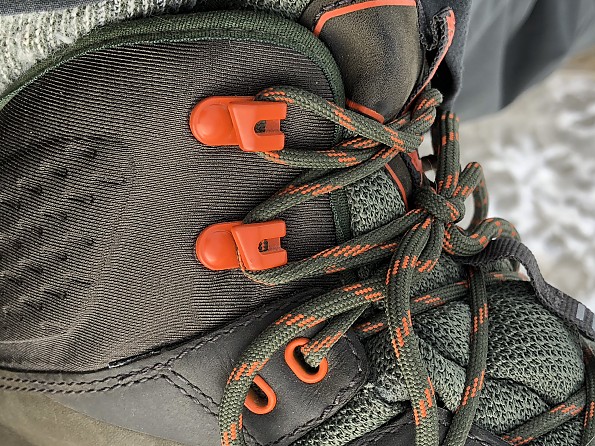 The Hoka Kaha GTX has only a partially gusseted tongue as shown in the picture below, so the effectiveness of the integral waterproof Gore-Tex bootie only extends up through the eyelet region of the boot. It's also worth pointing out the generous loops located on the tongue and above the heel of the boot that easily accept two fingers or a single gloved finger.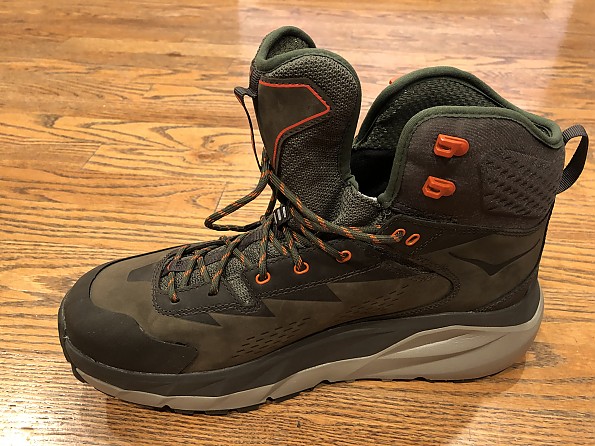 The tongue of the Hoka Kaha GTX has an adequate amount of padding and is in line with the lightweight design of the boot.
As stated earlier, the tread on the sole of the Hoka Kaha GTX's contain lugged areas that utilize Vibram Mega-grip compound that I have found to have great friction similar to what is found on a rock-climbing shoe.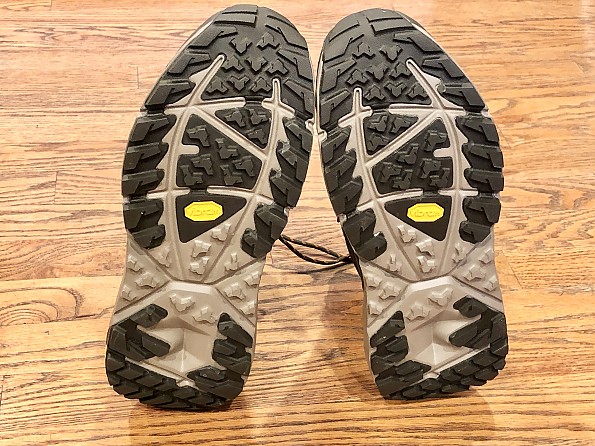 The lugs are widely spaced which works well from a traction standpoint, and the design sheds mud and other debris. I never experienced the tread becoming clogged up with mud or dirt.
With the widely spaced lugs what you gain in traction takes away from wear life. I have been wearing the Hoka Kaha GTX's daily for a little over three months at the time of writing this review, and while I have seen minimal wear with the sole in the heel and the toe area, the lugs under the ball of my feet have worn from their initial 5mm height down into a range of 2.4 to 3.0mm.
I have roughly 60 trail miles on these boots, which at this time of year would be mostly on mud, dirt, and snow.  I don't think my trail miles contributed as much to the wear I have seen compared to the wear due to the 6,000 to 7,000 steps a day I average during my daily activities that involve more concrete and pavement. As we get into spring and then summer more of my hiking will be on rockier terrain and I'll come back and update this review if I see any significant change in how the boots are wearing.
To give you an idea of what the wear looks like, the first photo below is of the sole of one of my boots when I first received the Hoka Kaha GTX's and before I started to wear them. The second photo is of the same area done at the time I wrote this review.
From a durability perspective, the soles will most likely wear out well before the upper and may only provide a season or two of use for the active hiker. For someone less active these boots should last several seasons.
The weight of the Hoka Kaha GTX is stated as 17.92 ounces per boot or 35.84 ounces for a pair based on the Hoka website. The Hoka website doesn't state what size boot that weight is for, but my pair of men's size 11 Hoka Kaha GTX's weighed 39.2 ounces for the pair when I first received them new, which seems to be in line with the published weight from Hoka.
Price
The list price for a pair of the Hoka Kaha GTX's is $220, which is in line with similar over-the-ankle hiking boots available from other manufacturers. I also think you have to keep in perspective that the sole of the Hoka Kaha GTX is more like a trail runner than a traditional hiking boot, and therefore the longevity will be similar to what you would see with a trail runner. With the Hoka Kaha GTX what you are paying for is lightweight performance and not necessarily longevity.
Summary and Recommendation
The Hoka Kaha GTX's does a very good job at filling the niche between a light hiking boot and a trail runner by providing a design that is waterproof and has the protection of a leather upper, but is also very light with a cushioned rocker style sole that is second to none. I think that the Hoka Kaha GTX is a great option for anyone looking for a waterproof hiking boot that can be used under most conditions, including longer multi-day backpacking trips. This is also a great option for anyone who would put themselves in the "creaky knees" class of hikers as the unique Hoka sole design really goes a long way in helping make hiking more pleasurable.
Many thanks to both Trailspace and Hoka for the opportunity to evaluate and test the Hoka Kaha GTX boot for the Trailspace Gear Review Corps! 
Background
I have been testing the Hoka Kaha GTX's for a little over three months and have used them in a variety of activities from hiking, snowshoeing, shooting trap, and just sitting and watching football. I have been hiking and backpacking since the '70s and have used a variety of hiking and mountaineering boots over the years and in my senior years have come to embrace and appreciate the use of trail runners for most of my spring and summer hiking.
Source: received for testing via the Trailspace Review Corps (Sample for testing and review provided by Hoka)

Huge chunk of the sole fell off after very light use.
Only support is to mail them back at my cost to be evaluated - either spend another chunk of money to be without hiking boots for a month or bite the bullet and buy a pair from a manufacturer with better build quality and customer support.
Background
Never had boots fail on me within the first couple years of my light usage - until these.
Source: bought it new

Your Review
Where to Buy
Help support this site by making your next gear purchase through one of the links above. Click a link, buy what you need, and the seller will contribute a portion of the purchase price to support Trailspace's independent gear reviews.
You May Like
Specs
Men's
Price
MSRP: $220.00
Current Retail: $204.00-$240.00
Historic Range: $141.99-$240.00

Weight
17.92 oz

Heel to toe drop
6.00 mm

Best for
Hiking

Women's
Price
MSRP: $220.00
Current Retail: $168.00-$240.00
Historic Range: $108.97-$240.00

Weight
15.03 oz

Heel to toe drop
6.00 mm

Best for
Hiking

Recently on Trailspace