Hoka TenNine Hike GTX

The Hoka TenNine Hike Gore-Tex is a new hiking boot design from Hoka where the focus is on providing a highly cushioned smooth ride—and it definitely delivers on that design goal. One of the design features that really stands out—from both a performance standpoint and an in-your-face design statement—is the extended Hubble heel geometry. In use, the Hubble heel provides a very noticeable and beneficial heel-to-toe transition that gives this boot a truly smooth ride, with the added benefit of being a good conversation starter with other hikers you meet on the trail.

The TenNine Hike GTX features a waterproof Gore-Tex bootie and Vibram Megagrip sole with Litebase technology that enable this boot to take on most conditions a typical hiker or backpacker might encounter.

Pros
Hubble heel design performs very well—noticeable, comfortable, stable
Vibram Megagrip has good traction and covers the entire sole
Very cushioned sole—very Hoka
Open tread design provides good traction and doesn't clog
Roomy toe box for a D width
Gore-Tex bootie performs well—feet stay dry
High padded ankle guards, but nice low cut relief for Achilles
It's a trail runner for people that want greater stability and ankle support/protection
Cons
Gusset opening is a bit tight for getting my feet into the boot
Wide soft sole limits this design from having any sort of approach shoe/scrambling capability; this is primarily a trail shoe.
A non-Gore-Tex version would be desirable for warmer dryer conditions; with all the synthetics this shoe would be fast drying if also designed to drain easily.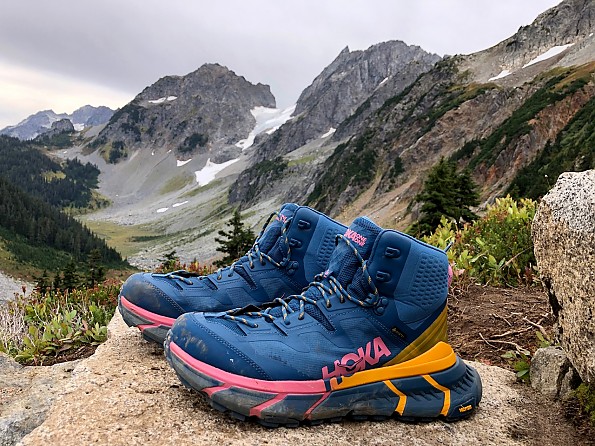 Overview
The Hoka TenNine Hike Gore-Tex was designed to be a hiking boot with an exceptionally smooth ride by utilizing the unique Hubble extended heel geometry first introduced on Hoka's TenNine running shoe. This new sole profile provides a very efficient heel-to-toe transition. When combined with the plush level of cushioning and Hoka's J-Frame technology, you end up with a hiking boot that is both stable and comfortable to hike in all day long. 
In addition to the unique sole design, the TenNine Hike GTX also incorporates a Gore-Tex bootie and gusseted tongue for wet conditions and a full Vibram Megagrip sole with 5mm lugs and Litebase technology that provides ample traction in most typical trail conditions.  
Prior to getting the opportunity to review the TenNine Hike GTX hiking boots, I have had significant previous experience with Hoka's Kaha GTX hiking boot and multiple pairs of Challenger ATR 5's that have been my go-to shoes for summertime section hikes on the John Muir Trail in the California Sierra.
I'll admit up front that I fundamentally have a bias towards Hokas as I find their designs comfortable. They have enabled me to continue to do week-long backpacking trips even though I am now in my early 60s.
My Impressions to Date
I have had the TenNine Hike GTX's for about two months now and have used them on and off as my everyday shoe given it's fall here in the Pacific Northwest and we're starting to get our typical cold and wet conditions. In addition, I also have been using the TenNine Hike GTX on my regular local hikes and on trips to other areas here in the NW. 
Overall I have found the TenNine Hike GTX to be very comfortable and a great all-weather, lightweight hiking boot for on-trail adventures in the Pacific Northwest. However, when I venture off trail, the unique soft sole design of the doesn't perform as well in some conditions compared to a more traditional hiking boot with a closely trimmed hard rubber sole.  
Hiking
The TenNine Hike GTX is targeted as a very lightweight hiking boot that has great traction, but that is also unequalled in its weight-to-cushion ratio, and I think it delivers in each of those areas.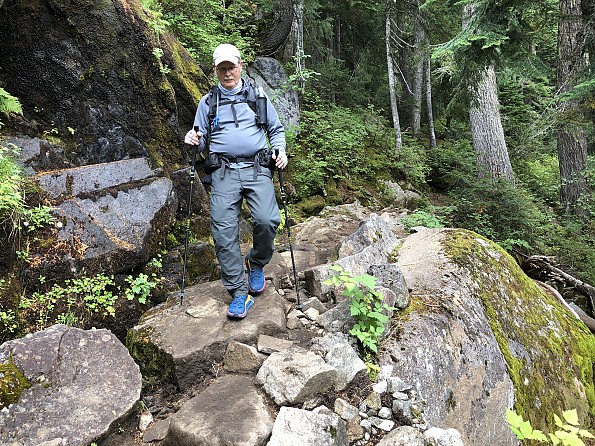 As I mentioned earlier, I have been using Hoka Challenger ATR trail runners for longer multi-day backpacking trips over that last couple of years as they really have been a game changer for me. And, as mentioned in my review of the Hoka Kaha here at Trailspace, I can't see ever going back to a traditional hiking boot for hikes on established trails.
The TenNine Hike GTX takes the trail runner experience up a notch with the Hubble heel design. This is the primary feature that differentiates this boot from other lightweight hiking boots.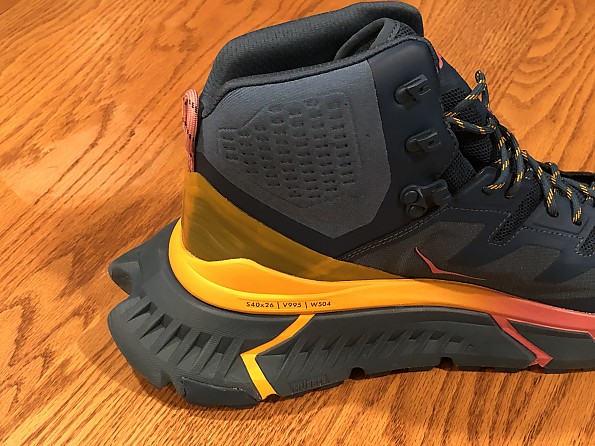 The Hubble heel is not subtle by any means, both in how it performs and how it stands out as the most notable design feature of the shoe. When I was asked to review these boots I had no idea what I was going to receive, except that it was a new design being released by Hoka.
To be honest, when I received the boots in the mail and opened up the box, I let out a big "whoa!" and my wife snickered a little, but when I first put on the boots for a walk around the house, I really liked how they felt. The best way to describe it is that the TenNine Hike GTX just gives you a nice smooth ride that is noticeably different from a standard trail runner or other lightweight hiking boot.
When hiking in the TenNine Hike GTX, the transition from the time your heel begins to contact to rolling through to the front of your foot is very smooth. It's almost impossible to have a hard heel strike. For hiking on the trail I really enjoy the experience, but I long ago converted to Hokas and like the very cushioned ride that comes with the thick foam sole, which is 40mm in the heel and 26mm at the front of the boot.
The collar of the TenNine Hike GTX is well padded for protection and I found the design of the collar provides support similar to other lightweight hiking boots I own. I wouldn't hesitate to use these while carrying a moderate weight 30-pound pack.
The TenNine Hike GTX doesn't have a rock plate, but I don't feel it is needed with a sole this thick. I haven't had any issue on rocky trails with these boots or any of my other Hokas for that matter.
Off-Trail Hiking
The area where I don't think the TenNine Hike GTX's perform as well as a traditional hiking boot is when you venture off trail. The softer edges of the sole just don't perform as well as a closer cut harder sole hiking boot when you are trying to dig an edge in on a steeper dirt slope, scrambling, or plunge steeping down through snow or scree. This is not really a negative, but a recognition that the TenNine Hike GTX is tailored to provide you an outstanding on-trail experience, which it handily does. 
That said, there are off-trail conditions where I think the TenNine Hike GTX would perform well. The picture below is from an area in southeast Oregon where we were exploring volcanic craters and most of the area was covered in pumice and volcanic debris. While we were using rudimentary trails in the area, I wouldn't hesitate to recommend the TenNine Hike GTX if someone wanted to use them for cross-country hikes over this type of terrain.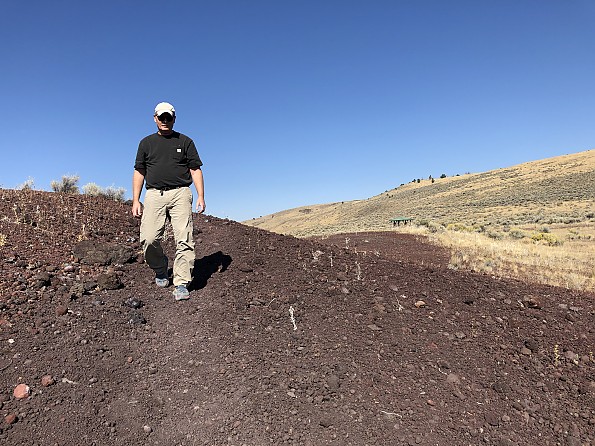 My First Hiking Boot with a Caution Label
One thing that is very different about the Hoka TenNine Hike GTX is that it is the first hiking boot I have ever had that came with a caution label, as shown below.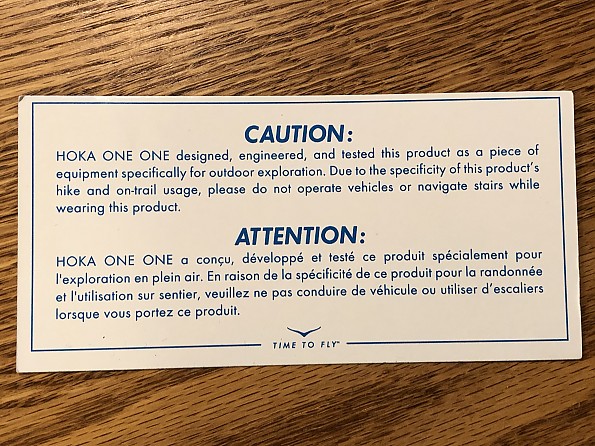 The caution label was a little perplexing as how do you define "stairs." Steps cut in stone or made with rocks or logs are regular features on many (if not all) the trails I have been on. So it's somewhat questionable having a caution label like this for a hiking boot.
The Hubble heel on my men's size 11 protrudes about an inch and a half behind my heel, and it's noticeable while wearing the boot. For this test and review, I decided I would wear these boots like I would any other lightweight hiking boot. This meant that in addition to hiking, I would use them daily while working in my yard and shop and when I'm out and about, which also means I would be using stairs and driving my car.
With respect to stairs, I haven't experienced much of an issue. In my two-story house I initially had the back of my heels rub on the riser of the steps while going down stairs, but now that I have been wearing the TenNine Hike GTX for a month or two I have adopted a little bit of a sideways super model walk when going down the stairs, which I do now without even thinking about it. Out hiking I have never had an issue.
I recently made a trip down to Smith Rock State Park in Oregon, which is a great place to visit if you haven't been, but it's also a place where a number of the trails have a large number of steps like in the pictures below.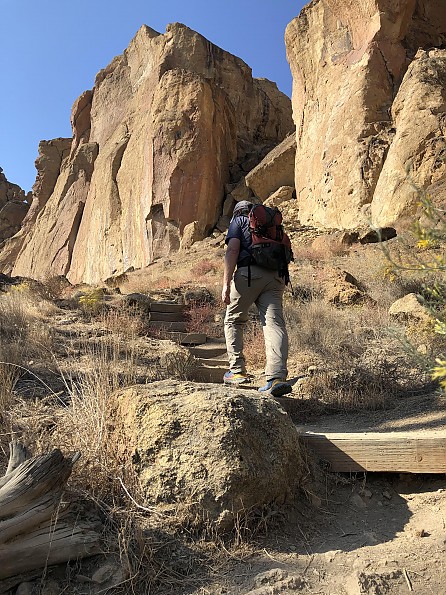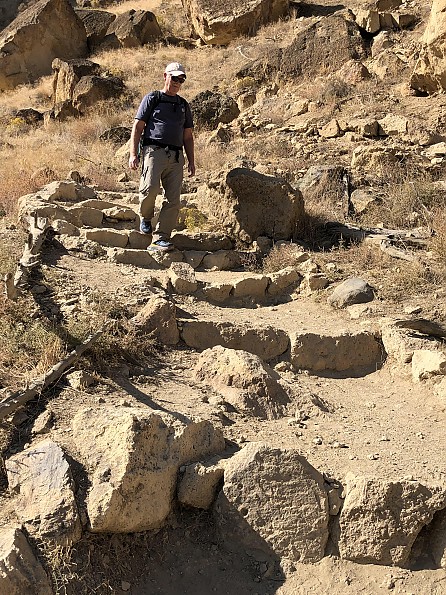 In the day we spent hiking there, I can't recall ever having an issue with the heel of the TenNine Hike GTX catching or dragging on a step. I think that by wearing these boots on a regular basis (almost daily) I have developed the muscle memory and that I now subconsciously take into account the larger heel while wearing the boot. If someone were to only wear these boots occasionally they might have more of an issue.
I also have been driving regularly while wearing my TenNine Hike GTX boots and haven't experienced any issues. In the spirit of being open and honest, I have in the past driven in Crocs, mountaineering boots, fishing waders, and a variety of other footwear that my wife would consider non-ideal for driving. For me personally, I have no concerns driving while wearing my TenNine Hike GTX boots. For reference, the cars I drive on a daily basis are a 2015 and 2020 Subaru Outback (both automatics), and I might be a little more cautious if I were driving a car with a manual transmission.
Traction
I have been hiking in a variety of conditions from muddy wet trails, wet rock, and dry desert condition and the Hoka TenNine Hike GTX's have performed well. The wide space lugs combined with the Vibram Megagrip compound, which covers almost 100 percent of the sole, provide great traction under all of the conditions I have encountered to date, including smooth wet granite, muddy and rooted trails, and dry sandy trails.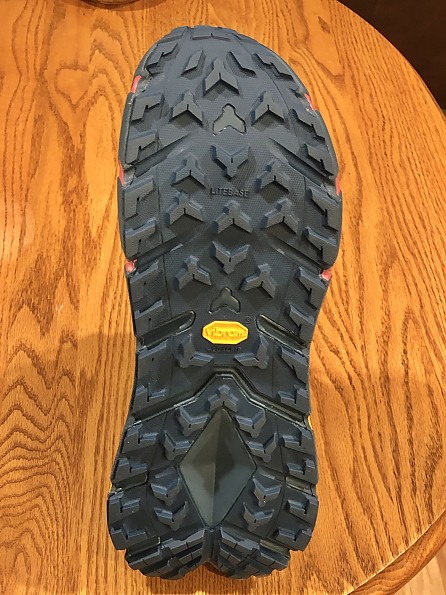 We are just starting to get lower temperatures and snow in many of our local hiking areas, and while I haven't been able to try out the TenNine Hike GTX boots yet in snowy and icy conditions, I plan to in the next few months and will provide an update to this review on what I experience.    
The TenNine Hike GTX's have a very large and wide heel, which is great for stability and comfort, but I was concerned that my medium-sized Hilsound Trail Crampon Ultras might not fit. I consider slip-on trail crampons a necessity here in the Pacific Northwest if you are going to hike when it gets icy, and they are something I always carry in my pack in winter.  
I found that I could barely stretch my medium-size Hilsound Trail Crampon Ultras over the TenNine Hike GTX's; I would need to get the next size larger to fit properly. My current Hilsound crampons fit all of the other shoes and boots I wear in the winter, and I doubt I would buy another pair just to use with the TenNine Hike GTX. This is something to take into consideration, since the sole of the TenNine Hike GTX' is reflective of a shoe size several times larger than the actual shoe size, which may limit compatibility of trail crampons you may already own.  
Style
From a style perspective the Hoka TenNine Hike GTX really stands out, especially the Hubble heel design. While the Moroccan Blue/Saffron color scheme is typical Hoka, the Hubble heel is unique and a very noticeable aspect of the design. I've been wearing these boots everywhere I go, and I have total strangers come up and ask me about my boots as they are curious about what they are.
The look of the Hubble heel may not appeal to everyone at first glance, but I wouldn't let the look keep you from trying a pair on. If it was feasible, I think the best way for people to experience the TenNine Hike GTX would be to first blindfold them, and then have them put on a pair and try them out. I think most people would like what they would experience, but I fear some people may not give them a chance due to how they look, which would be unfortunate.
If there is a second generation TenNine Hike GTX, it would be great if Hoka could team with someone like Chip Foose, who seems to have the natural ability to make things look cool, to help refine the look of the design. 
Waterproofness
The TenNine Hike GTX incorporate a Gore-Tex bootie to make the boots both waterproof and breathable.  
With respect to keeping my feet dry, the TenNine Hike GTX has been good as I have tried my best to expose them to extended periods of being in water. In all cases the Gore-Tex booties have done a great job. I haven't had a single leak yet.
Here is a picture of how I have typically exposed the boots to water by standing in a flooded area or creek whenever I had an opportunity on a hike.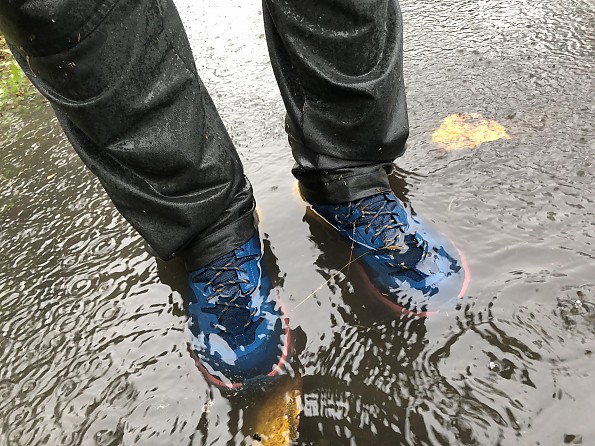 If and/or when the TenNine Hike GTX's ever start to leak, I'll come back and update this review with the overall time until the Gore-Tex bootie broke down and started to leak.
Fit
With a discussion on fit you always needs to keep in mind that what fits one person may not fit another, and this is especially true for footwear. In hiking boots, I have found that Asolos fit my feet well and with trail runners the Hoka Challenger ATR's have fit extremely well also. Both Asolos and the Hoka Challenger ATR's hold my heel securely and I have always purchased them in wide sizes, which I have leaned towards for more room in the toe box and to avoid plantar fasciitis, which I had problems with in the past.
So, while I generally only purchase shoes and boots in wide sizes, I previously tested a pair of Hoka Kahas that only come in a standard D width. However, I found them to have a very generous toe box which has never given me any issues during the year I have been wearing them. So when I had the opportunity to test the TenNine Hike GTX's, I was hoping that the fit in the toe box would be similar to the Kahas, which is exactly how it worked out.  
The toe box on the TenNine Hike GTX is a little more snug than the wider size shoes I normally wear, but is very generous for a standard width D, which has worked out great and I haven't experienced any issue with my feet. In my previous review of the Kahas I had the opportunity to ask Hoka what width last they use (which I assume is the same for the TenNine Hike GTX). They responded as follows:
"We do not divulge any specifics regarding our lasts and geometries, etc. That said, the Kaha GTX was built on a last based on the standard 'D width' with small adjustments made to help provide accommodation and comfort around product use—hiking, backpacking—which allows for socks and foot swell as a result of environment and backpacking activity."
So from my experience, the small adjustments Hoka made to the standard D width toe box were significant to how the boot fits me personally. While I otherwise always buy wide shoes, the TenNine Hike GTX's have been tweaked just enough that I haven't experienced any of the issues I would normally see with standard D width shoes. I think most people that typically wear standard width shoes will find the TenNine Hike GTX toe box to be nice and roomy.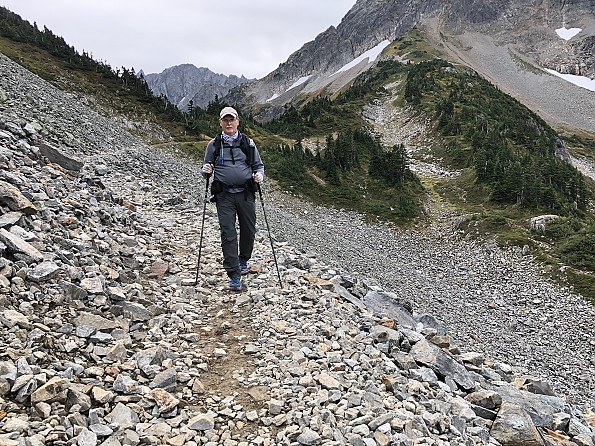 The one area where I have noticed a difference in the fit between the Kahas and TenNines is with heel fit. My Kahas didn't have a well-defined heel pocket, but the TenNines have a more well-defined heel pocket that is an improvement to help capture my skinny heels. The heel fit is still looser than I would like with the socks I like to hike in, but it hasn't been an issue or caused any hot spots or blisters on longer hikes.
I feel that the material Hoka used for the inner bootie helps by being a smooth and low friction material. The liner material is RPET, which is recycled polyethylene terephthalate (i.e. old soda and water bottles), which is nice to see Hoka using in its products.
Overall I have found the fit of the TenNine Hike GTX to be good with my feet, and while this boot is made with mostly synthetic materials, it seems to be getting better in the short time I have been wearing the boots.
The one area where I had a minor fit issue is the size of the gusseted opening when putting on the TenNine Hike GTX boots. I've found the opening to be noticeably tighter compared to the Kahas and other boots I own. It's tight enough to where I initially had to use the loop at the back of the heel to get my boots on compared to the Kahas which just slip on.
I don't know if there was a specific design driver that caused the gusseted tongue on the TenNines to be designed this way, but I would like to see a slightly larger opening since these boots are made with synthetic materials and won't loosen and stretch over time like a leather boot would.
I included the picture below of the TenNines and Kahas, which are both men's size 11, to show you the difference in the openings. It's a tough feature to measure, but I found the Kahas have an opening that is about a half to three quarters of an inch longer than the TenNine Hikes.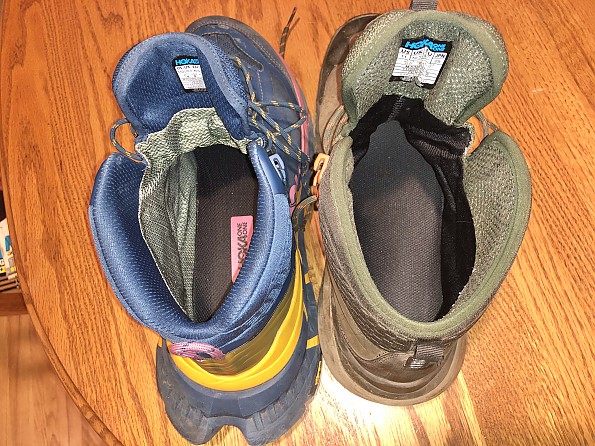 Design and Construction
The design of the TenNine Hike GTX is very similar to other lightweight over-the-ankle hiking boots in most respects, except for the design of the sole.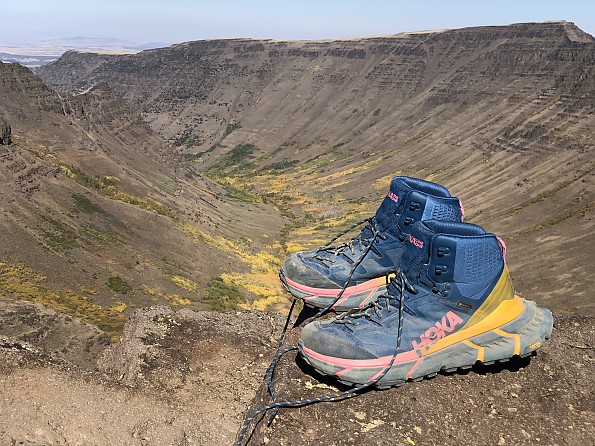 What sets the TenNine Hike GTX's apart from other hiking boots in this class is the unique patented Hoka sole that features a Meta-Rocker design, Hubble heel, and a unique combination of materials that provide great cushioning and support. In addition, the TenNine Hike GTX incorporate Vibram Megagrip compound in the sole tread that provides great traction on a variety of surfaces. 
In the picture below you can see the overall design of the outside of the TenNine Hike GTX. The upper is comprised of ripstop synthetic materials up to just beneath the ankle; then the area around and protecting the ankle is foam covered by a synthetic material. The toe of the boot has a protective rubber cap to protect your toes and prevent wear.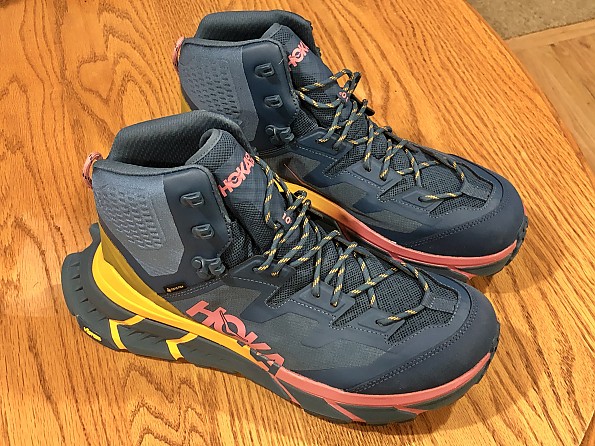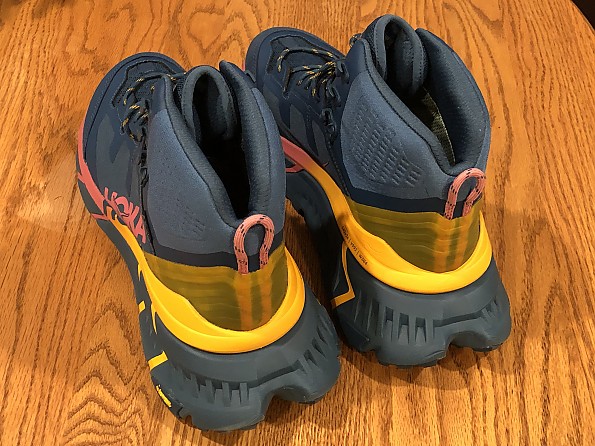 The heel area is covered in a yellow protective /stiffening cap, which also retains a robust finger loop to help put your boots on; I find I need to use it due to the minimal gusset opening.
The collar feature around the ankle is well padded and provides good support. I find that the low cutout/relief at the rear of the collar makes the boot very comfortable to wear, especially when hiking downhill.
The synthetic materials used have held up well for the short time I have owned the boots and are just now starting to get permanent creases and folds based on how they flex when I am wearing them. I plan on watching how the materials hold up, especially the creases and folds, and will report back if I see any breakdown in the material.
The sole of the TenNine Hike GTX is also designed with a built-in 4mm drop from heel to toe, which I personally like.
The lacing system consists of holes through reinforced synthetic materials in the lower region and hooks for the upper ankle collar. While there are no eyelets on the holes for lacing in the lower region, the round laces provided slip through and allow the laces to be tightened without any issues.
I found the hooks on the upper collar to work very well as the pointed design easily holds two layers of lacing. Because the point of the hook is close to the rivet that attaches it to the boot, the round lacing easily "snaps" past this restriction, but the restriction helps keep the lacing on the hook while securing your laces.
The TenNine Hike GTX has only a partially gusseted tongue as shown in the picture below, so the effectiveness of the waterproof Gore-Tex bootie only extends to just above the lower lacing hook of the boot.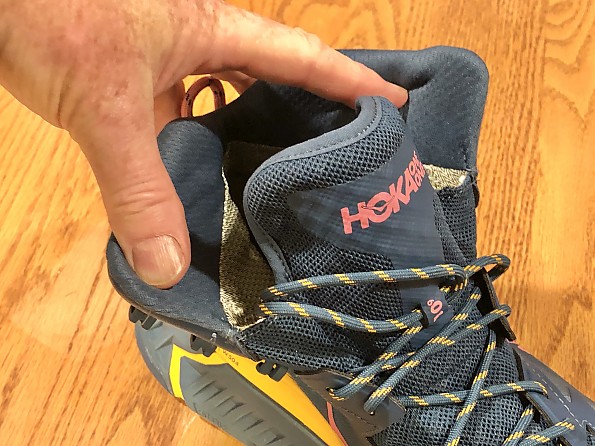 The tongue has an adequate amount of padding and is in-line with the lightweight design of the boot.
As stated earlier, the tread on the sole contains lugged areas that utilize Vibram Megagrip compound that I have found to have great friction, similar to what is found on a rock climbing shoe. The Megagrip compound also utilizes Vibram's Litebase technology, which is supposed to reduce weight by 30 percent and sole thickness by 50 percent, while still maintaining the same grip, traction, and durability.
If you want to learn more about Litebase here is a link to Vibram's webpage on the technology.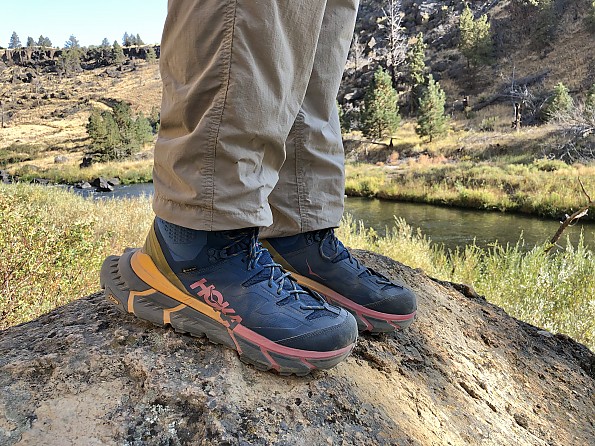 The widely spaced lugs works well from a traction standpoint and the design easily sheds mud and other debris. I never experienced the tread becoming clogged up with mud or dirt.
Also, with the widely spaced lugs what you gain in traction potentially takes away from you in wear life. I have been wearing the TenNine Hike GTX's daily for more than two months at the time of writing this review, and I have seen minimal wear over the length of the sole. The lugs have an initial height of 5mm. After a couple more months I'll provide an update on the wear that I have experienced at that point. 
The weight of the TenNine Hike GTX is stated on the Hoka website as 17.80 ounces per boot or 35.60 ounces per pair. Hoka doesn't state what size boot that weight is for, but my men's size 11 boots weighed 38.60 ounces for the pair when I first received them. 
The Future
While the TenNine Hike GTX is a good all-weather boot, there are times, especially in hot, dry environments, when a more breathable, non-waterproof design would be preferred. Through Trailspace I asked Hoka if a non-Gore-Tex version would be available in the future. Here is the response I received:
"There are no announced plans for one, but watch for a continued expansion of Hoka's hiking boot line."
So while it's hard to say if a non-Gore-Tex version of the TenNine Hike GTX will ever be offered, it seems like Hoka is committed to expanding its line of hiking boots, and I look forward to seeing what designs they offer in the future.
Price
The list price for a pair of TenNine Hike GTX's is $250, which from my perspective is a bit high for a lightweight over-the-ankle hiking boot made from synthetic materials. That said, the TenNine does have the Hubble heel, which is unique to Hoka and I think makes a notable difference in providing a very comfortable and smooth walking experience. If getting a full height waterproof hiking boot that allows you to comfortably hike endless miles is important to you, then the current $250 retail price is probably justifiable.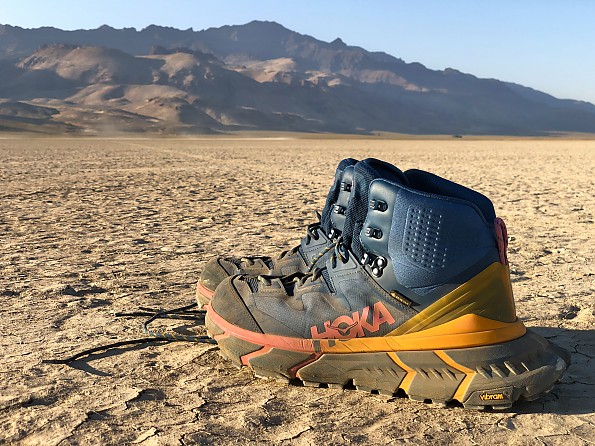 Summary and Recommendation
The Hoka TenNine Hike GTX sets the standard for the level of comfort that can be obtained in a lightweight hiking boot designed for on-trail use. That comfort comes at a cost in reducing its capability off-trail where a more traditional hiking boot is better suited.
I think hikers who spend the majority of their time on established trails will find the TenNine Hike GTX a great option. I also think these boots would be a great option for hikers thinking of doing the John Muir Trail, Appalachian Trail, Pacific Crest Trail, or any other long-distance trail, as I can't think of a better environment to have your feet in as you pound out miles, day after day.
At 62, I am now officially a senior and while I currently don't have any joint issues (knock on wood), I think that anyone who puts themselves in the "creaky knees" class of hikers would find the TenNine Hike GTX a great option to make their hiking trips more pleasurable.
Many thanks to both Trailspace and Hoka for the opportunity to evaluate and test the Hoka TenNine Hike GTX boot for the Trailspace Gear Review Corps!
Experience
I have had these boots for about two months at the time of writing this review and have used them on local hikes here in Washington and also elsewhere in the greater Northwest. I have been hiking and backpacking since the 1970s and have owned and used the various types of hiking boots and now trail runners available over the years.
Source: received for testing via the Trailspace Review Corps (Sample for testing and review provided by Hoka)

Your Review
Where to Buy
Help support this site by making your next gear purchase through one of the links above. Click a link, buy what you need, and the seller will contribute a portion of the purchase price to support Trailspace's independent gear reviews.
You May Like
Hoka's Bizarro Extended Hubble Heel Comes to Hiking Boots
New for fall 2020, Hoka took the extended heel of its specialized TenNine downhill trail-running shoe and added a waterproof hiking upper to create the TenNine Hike GTX. The shoe's unique profile features loads of cushioning (this is Hoka, after all), and promises durability, traction, and a smooth and stable ride—whether going uphill or down.
Wondering what the deal is with that extra-long heel? First seen on the TenNine trail runner, it features Hoka's Hubble geometry midsole and is designed to provide an efficient heel-to-toe transition and a cushioned, shock-absorbing ride over long distances. The stack is a fat 33mm under the men's heel and 30 mm under the women's heel.
In addition to all that cushion, Hoka says it designed and engineered this long-distance hiker to reduce weight so you can hike comfortably all day long. The TenNine Hike GTX is made with a Vibram Litebase outsole, and a Megagrip outsole compound that reduces weight without reducing durability. The men's come in at 17.8 ounces and the women's at 14.7 ounces. The 5mm lugs add grip for secure traction.
The upper is made from ripstop material and includes recycled polyester in the collar, laces, heel pull, and vamp webbing. The waterproof bootie features Gore-tex Leaf technology and includes post-consumer recycled content.
The boot's midsole is made from a new proprietary compression molded EVA foam to absorb impact and provide stable footing.
There's no question that this is a bold, unique design; Hoka even cautions to only use the TenNines hiking and on-trail, not for driving or stairs. That said, Hoka says that while these shoes are distinctive they are intended for all hikers, especially those frustrated with stiff or heavy boots. (One of Trailspace's Review Corps members is currently testing a pair, so we'll let you know how they perform for regular hikers on the trails and in the mountains.)
The TenNine Hike GTX will be available in men's and women's sizes in November 2020 in one color (Moroccan blue), with more colors to come in February 2021.
Specs
Men's
Price
MSRP: $250.00
Current Retail: $260.00-$275.00
Historic Range: $250.00-$275.00

Weight
17.8 oz / 504 g

Heel Stack
33 mm

Forefoot Stack
29 mm

Heel to Toe Drop
4.00 mm

Volume
995 cm3

Spring Measurement
40 x 26 mm

Stability
Neutral

Cushion
Plush

Sizes
7-13, 14

Women's
Price
MSRP: $250.00
Current Retail: $162.97-$275.00
Historic Range: $138.52-$275.00

Weight
14.7 oz / 416 g

Heel Stack
30 mm

Forefoot Stack
26 mm

Heel to Toe Drop
4.00 mm

Volume
756 cm3

Spring Measurement
35x23 mm

Stability
Neutral

Cushion
Plush

Sizes
5-11