Honey Stinger Mini Waffles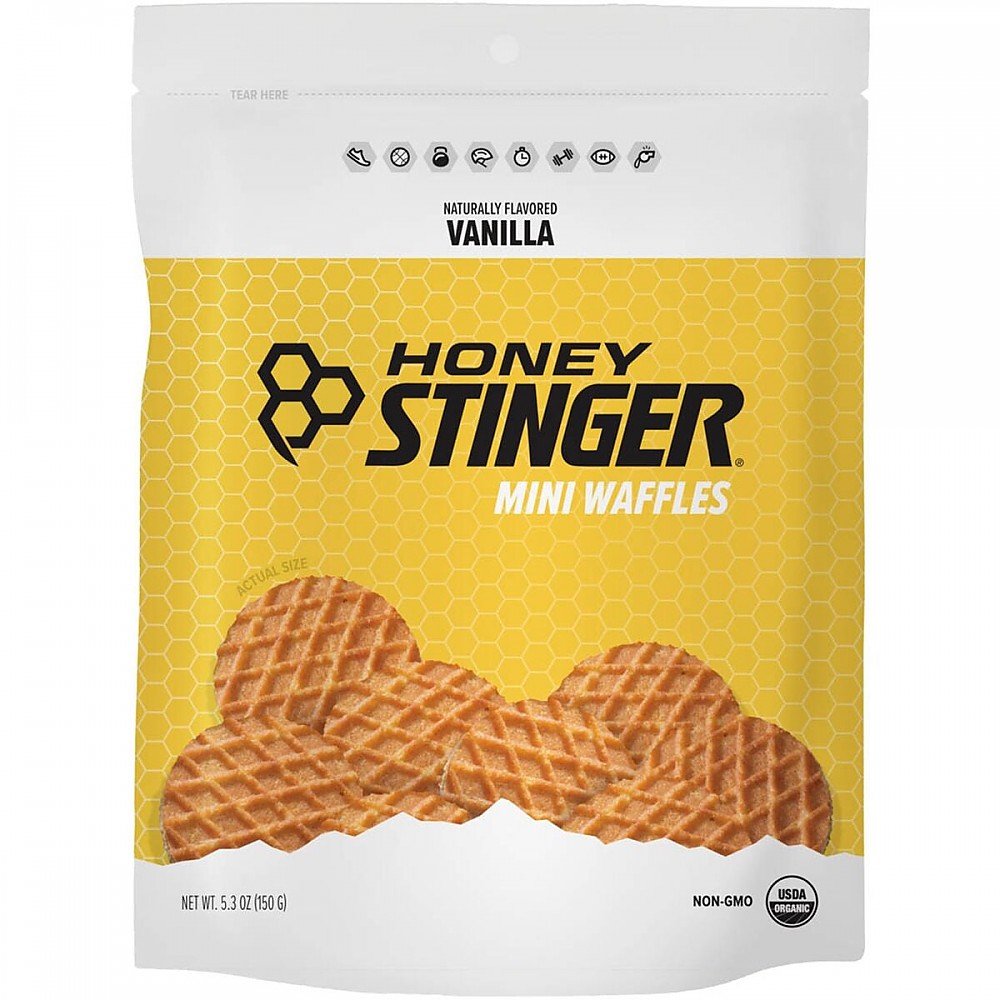 Honey Stinger took its popular—and tasty—organic waffles and shrunk them down into a mini snack size in a convenient, resealable bag. Mini Waffles come in honey or vanilla flavor and provide the same fuel and flavor as the original thin wafer cookies. You won't have as many flavor options, nor any gluten-free versions in this size. However, a bag of Mini Waffles will probably empty faster than you expect on a hike or at home. Whether to go large or mini comes down to personal preference and how you like to eat and carry your waffles on the trail.
Pros
Honey and Vanilla are same great flavors as original
Certified organic
Mini size allows for eating in smaller doses
Resealable bag
Sharable
Similar price to original
Cons
Only available in two flavors
No gluten-free versions
Bag makes it easy to mindlessly snack (that may be a personal fault)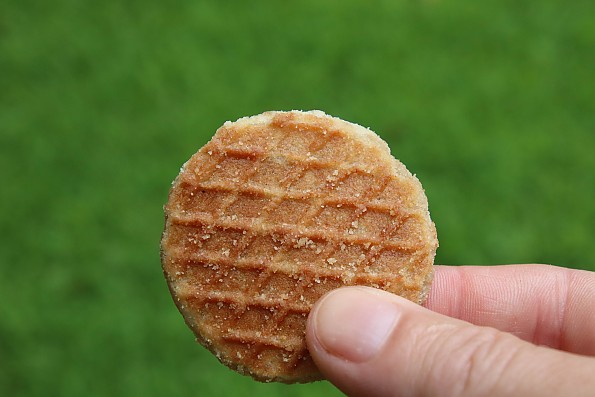 I already am a Honey Stinger waffle devotee, primarily for long runs. I also take them along hiking, skiing, and biking. If you haven't tried one yet (and you should!), Honey Stinger's waffles are made with a thin layer of honey sandwiched between two thin waffle cookies of various flavors. You'll also find these types of waffles called stroopwafels ("syrup wafer/cookie" in Dutch) and they can be filled with caramel, chocolate, or other fillings.
Honey Stinger's waffles naturally use honey as their middle layer, so technically they are honingwafels ("honey wafer/cookie"). They taste good, are easy on the stomach, slide into pack pockets easily, and remain enjoyable over long days on the trails. My kids love them too. I have eaten way too many waffles to count over the years. You can see my original Organic Waffle review over here, but I also recommend you just go try some for yourself.
Since the Mini Waffles are a new size and format of an already popular product, I thought it would be most useful to compare the two sizes.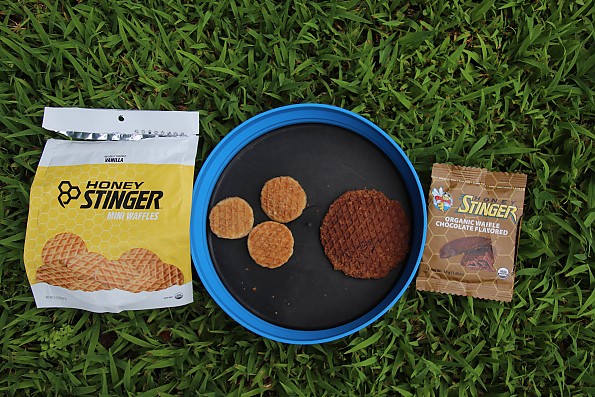 Flavors: Honey and Vanilla
Mini Waffles: 2 organic (honey and vanilla)
Full Size Waffles: 7 organic, 5 gluten-free/organic
Mini Waffles are currently only available in in two flavors, honey and vanilla, both organic. In comparison, full size waffles have been around for a decade and come in seven organic flavors (honey, vanilla, chocolate, caramel, strawberry, lemon, gingersnap) and five gluten-free/organic flavors (salted caramel, cinnamon, vanilla chocolate, wildflower honey, chocolate mint). All of Honey Stinger's waffles are certified organic and kosher. 
You'll have far more flavor choice with the full waffles, and if your diet is gluten-free you'll want the gluten-free organic waffles.
However, honey and vanilla are two widely appealing flavors—honey is the brand's bestselling waffle—and an excellent launching point for the Mini Waffles. Now, if they'd just add chocolate...
Serving Sizes
Mini Waffles: 3 mini waffles, 130 calories, 25 g
Full Size Waffle: 1 waffle, 150 calories, 30 g
The Mini Waffles are a little thinner and obviously smaller overall. The smaller waffles are handy to dole out if you're hiking or biking with little kids. Also, if you don't want to eat all of a serving at once, the minis let you space it out more easily...or just keep snacking until the bag is empty. Seriously, with 17-18 Mini Waffles per bag this could happen easily, especially if you're hiking with a child or two. I had to hide our bag, just so I could complete this review.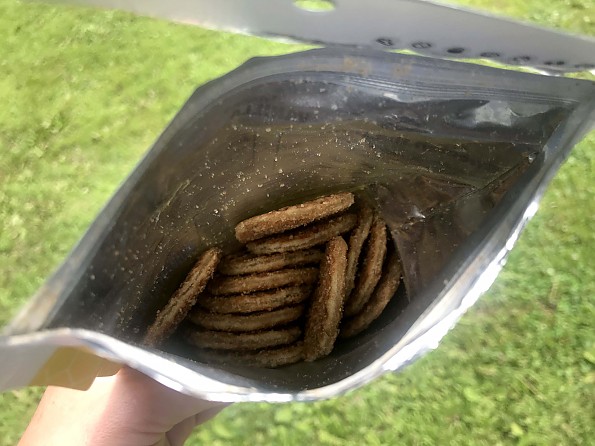 If you just care about the calories, know that you'll need to eat more than three mini waffles to equal a full size waffle, which leads us to....
Cost and Value
Mini Waffles: $7.99 per 150g bag (5.3 cents per gram)
Full Size Waffle: $1.50 per 30g waffle (5 cents per gram)
Since the product is otherwise the same, I wondered if you'd pay more for a bag of Mini Waffles. It depends, but probably not...
The Mini Waffles' MSRP is a fraction higher per gram. However, prices vary between retailers and whether you're buying in bulk or individually anyway. So do the math, but know that Honey Stinger is pricing the Mini Waffles, full-size Organic Waffles, and Gluten-Free Organic Waffles fairly comparably.
Packaging and Waste
Empty Mini Waffle bag: ~9-10 g per bag
Full Size Waffle wrapper: ~2 g per wrapper
The resealable Mini Waffles bag is handy and feels more substantial than the individual wrappers, so I wondered if you'd end up with more or less trash by eating waffles out of a bag. According to my postal scale it's pretty close to even, yet again. You'd need five full size 30g waffles to equal a 150g bag of Mini Waffles, which comes out to around 10 grams in waste either way.
Neither packaging is recyclable, but neither is more wasteful than the other.
Convenience: It Depends
Since mini and full waffles compare fairly evenly for cost and waste, it comes down to the flavors you want and how you like to carry and eat your waffles.
I primarily use waffles for fuel on long runs or races, though I also keep a few full waffles in my ski bag and hiking packs, since they are so easy to stash away for just-in-case, and they hold up fairly well inside a top pack pocket.
I'm not going to carry a bag of Mini Waffles while running or biking though, so I have to put those inside a ziplock to carry in my running vest. This isn't a problem for me, since I already bring Fig Newman's as fuel and can just add some Mini Waffles to that ziplock. However, it's something to be aware of. That said, the smaller size means they may fit some narrow pack shoulder and hip pockets better than the full-size version.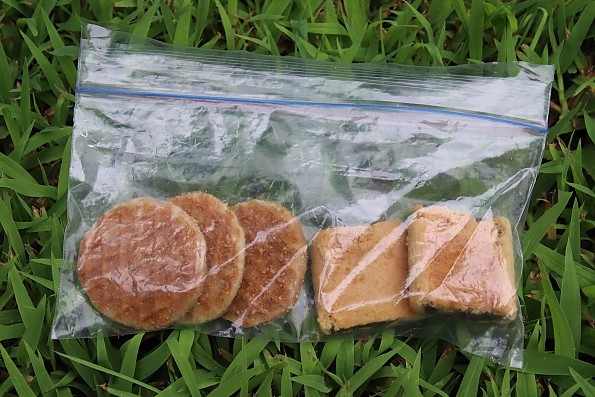 Also, if I'm running a race and want to track my calories, having a full waffle and its empty wrapper makes it easy to know how much I've eaten. An open bag with some missing waffles is a bit trickier. But, those aren't typical examples. If you're not obsessively tracking calories in an endurance event, and just want to eat some yummy waffles on a hike or bike ride, these will not hold you back.
The resealable Mini Waffles bag makes it easy to take as many or as few waffles as you want. I expect that will mean more waffles for many of us and lead to snacking, so I wouldn't expect a bag to last very long once opened. The bag also makes it easy to share with family, making the waffles disappear faster...
Personally, for back-up fuel, I prefer the full-size waffles for their packability. But if I want to eat smaller bits along the way, I can easily pack some minis for a long run. I'd also take a bag to share as a treat on a hike. If you're hiking, biking, or otherwise recreating with kids, the Mini Waffles are a great choice.
Conclusions: Eat Waffles!
Honey Stinger's waffles taste great in any size, even after miles on your feet. I recommend them in whatever sizes and flavors you prefer and that fit in your backpack. You won't have as much choice yet with the minis nor any gluten-free, but honey and vanilla are delicious flavors and popular for good reason. 
As soon as my kids eyed this bag they said "those look good!" I had to stop them from eating the bag before I could taste test and review them. They also would happily eat a full waffle. Basically, they just want to eat some waffles, because waffles are tasty.
Mini Waffles provide one more option to carry and share these wafer cookies while hiking, running, skiing, camping, mountain biking, or whatever you enjoy doing outdoors. And I eagerly await the chocolate version. Check the pricing, but you'll likely spend roughly the same whether you buy big or small. Both sizes of waffles have a place in my running, hiking, and ski packs, depending on the outing.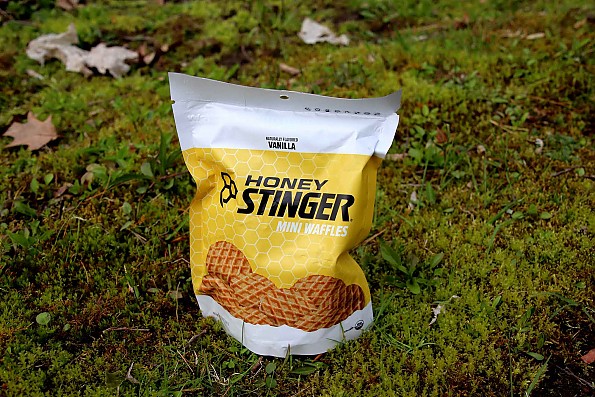 Experience
I like Honey Stinger waffles and have been using them for running and other outdoor recreation for the past decade. Yum. I have probably bought and consumed hundreds of them over the years. Yikes. I've also eaten Honey Stinger gels, chews, and organic cracker bars, among other brands. I've occasionally eaten other brands of stroopfwafels, but Honey Stinger is my go-to for waffles.
Source: received for testing via the Trailspace Review Corps (Sample for testing and review provided by Honey Stinger)

Your Review
Where to Buy
Help support this site by making your next gear purchase through one of the links above. Click a link, buy what you need, and the seller will contribute a portion of the purchase price to support Trailspace's independent gear reviews.
You May Like
Specs
Price
MSRP: $7.39
Current Retail: $7.99-$8.00
Historic Range: $6.49-$8.00