Hydrapak Shape-Shift 3L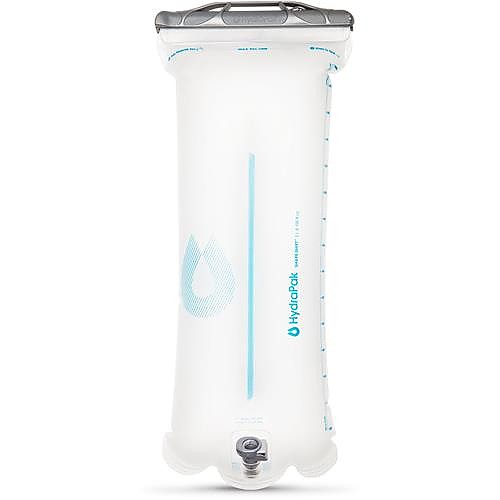 No hydration system lasts forever, and after one of our older ones sprung a leak (family hikes = multiple hydration systems), we tried the HydraPak Shape-Shift because we were impressed by its light weight and affordable price. And it offers more—a great bite valve, an interesting and effective top opening, and an internal baffle that opens to make this the easiest-to-clean hydration reservoir I have ever used. Nothing but happy with this one.
Pros
Modular hose detaches for cleaning or replacement
Easy to fill and clean the bag
Hardware for hanging the bag works well
Good bite valve
Light weight, fair price
Cons
Will lighter-grade bag be durable?
Hose attachment point claims it should be lubed sometimes
I have started to realize that I'm too nice to my gear. Hydration reservoirs, case in point. They last for years and never seem to fail….until our teenagers get their hands on them. Suddenly, valves fall apart, seams open up, and if I'm not paying attention, water gets left in the reservoir long enough to smell like an algae-filled pond.
I picked out this HydraPak Shape-Shifter after a venerable 3-liter system had a welded seam fail. I liked the look of it, and it was on sale. I didn't know much about it and never read a review—just a need purchase at a local REI. Very unlike me, but I figured I would relegate it to one of the kids and let them mangle it. Funny thing—I like it a lot and will leave the older bags for the abusers.
FEATURES
Setting aside that most hydration systems are similar—a bag, a hose, a valve—HydraPak has some nice things to offer. The valve is simple and dispenses water easily. Simple is important, because we have managed to destroy valves on at least two competing brands. The valve also has a twist/lock feature that means your reservoir won't leak all over your car if someone happens to toss something heavy in that sits on the valve. Not that that has ever happened to us…..
It weighs a touch over 5 ounces. That's an ounce or three less than comparable reservoirs.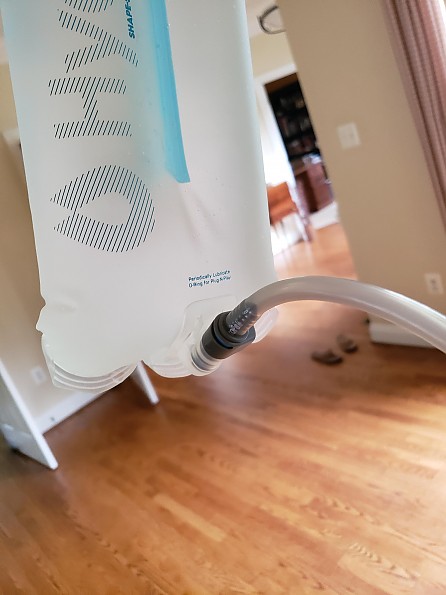 The photo above has a nice look at the baffle inside the bag and the lower hose attachment to the bag. To remove the hose, you squeeze a blue piece on the attachment; to re-attach, you insert the end of the hose until you hear a satisfying "click."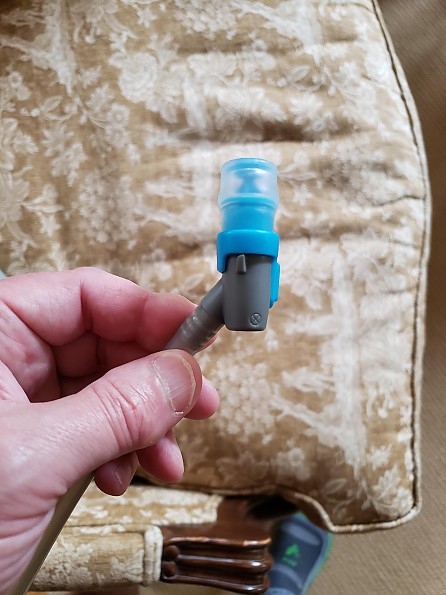 The bit valve locks shut if you twist the blue piece relative to the gray.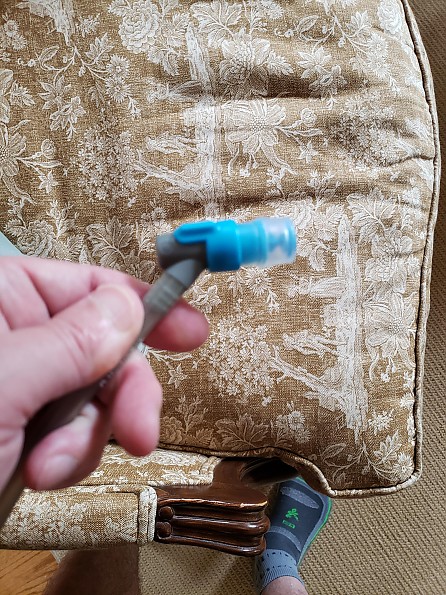 A view of the other side of the bite valve.


On the other end of the hose, the attachment to the bottom of the bag unclips to make cleaning easier. Interestingly, HydraPak specifically says the gaskets in that lower attachment point should be lubricated regularly—which I rarely if ever remember to do with our other reservoirs. It will be interesting to see if my bad hydration system maintenance habits come back to haunt me.
Onward to how it opens and fills....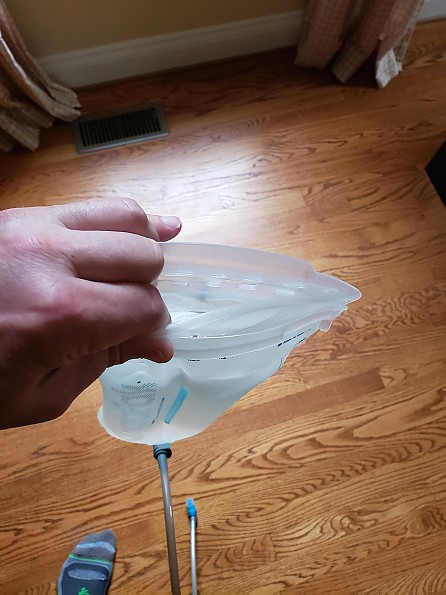 Above, I'm holding the half-full reservoir top open with my hand. The opening extends the entire width of the top.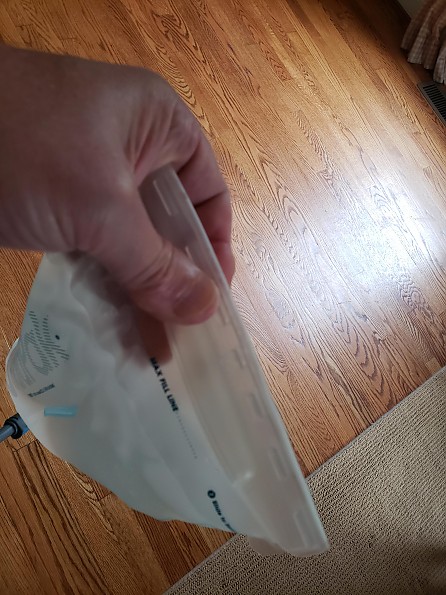 This attempts to show how the top folds over to close it. No zipper or other seal here, just fold over the very pliable top.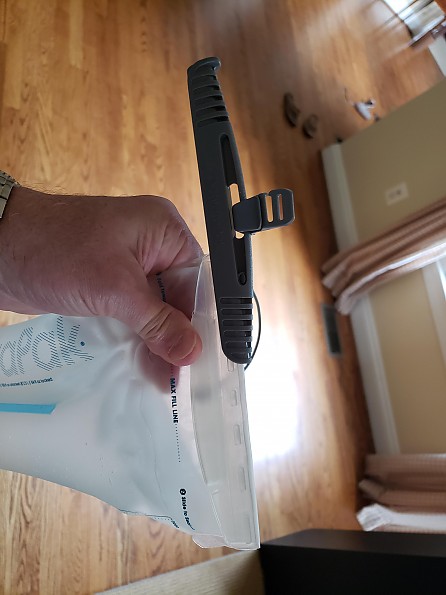 Finally, the gray plastic slider seals the top shut—when you fold the top over, each side has a line of harder pieces that engage with the slider. Dozens of hikes have failed to dislodge that slider or make this reservoir leak in any way, shape or form.  
The top offers nearly everything you could want with a reservoir. The top opens wide for filling and dropping in ice cubes and cleaning. The fold-over design seals well with the attached hard plastic slider. No top to screw on and off, no zipper to gather dirt or slimy debris. The hard plastic slider is easy to use and has a small clip on top to hang from a loop at the top of your hydration sleeve—many backpacks these days have that.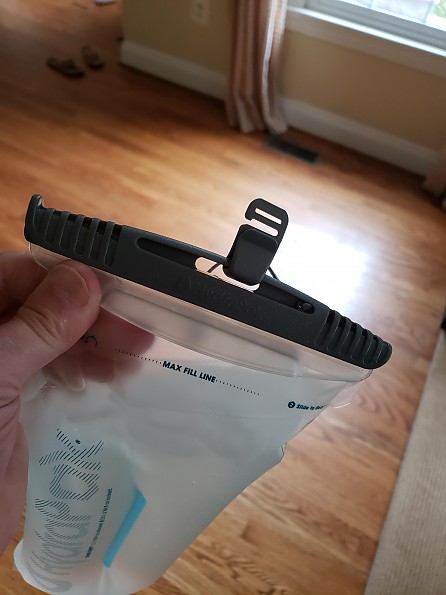 A few observations about the bag itself that distinguish it from competitors. One, it's a soft and very lightweight poly. That's good for keeping weight down, though it could pose a long-term durability issue. Like the better reservoirs, the bag is clearly marked so you can see how much water is inside. 
The bag also has an interior baffle. Reservoirs, particularly the larger three-liter ones, can feel like water is sloshing all over the place as you hike if they don't have a baffle, and many reservoirs these days have them. This baffle offers the ability to pull it apart, kind of like a ziplok bag. Along with the easy open top, opening up the baffle makes it easy to get a hand or brush inside to clean the reservoir. Makes it easier to clean if, um, someone left it in the trunk of their car in hot, humid weather for a couple of weeks. Even if your hands aren't tiny. I have read that you can turn this inside out and clean it in the upper rack of your dishwasher, but I haven't tried that yet and might not ever. Regardless, it's super easy to clean. 
Basically, this does pretty much everything I want from a hydration reservoir, and it's light and reasonably priced.  If the bag proves to be durable, then it should be at or near the top of the heap of hydration systems.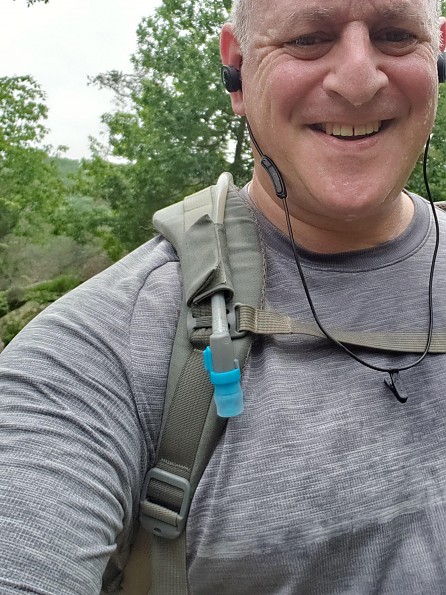 Background
Dozens of hikes and multiple cleanings since I purchased it six months ago.
Source: bought it new
Price Paid: $28

My next hydration bladder.
Pros
Almost tasteless
Softer (more pliable)
Reversible (easier cleaning/drying)
Easy to clean
Cons
Very hard to baffle/unbaffle
Missing dust/dirt protection cap for the hose
After purchasing a Hydrapak Stash 750 ml and being very satisfied with its taste(less)ness? I searched for Hydrapak's hydration bladder options in order to replace my Source Widepak (still performs perfectly btw, just wanted to upgrade).

I came to choose the Shape-Shift 3L because of the same materials used in the Stash and its versatility.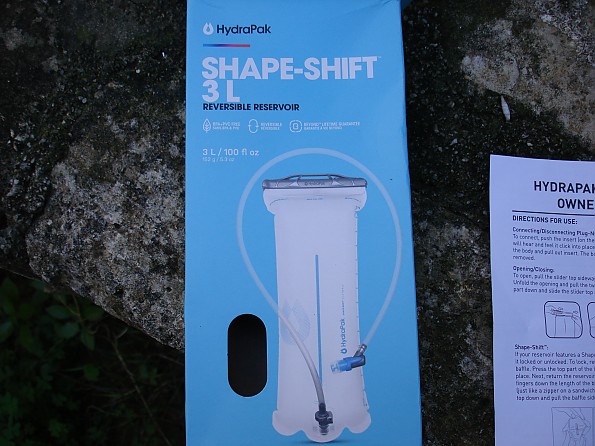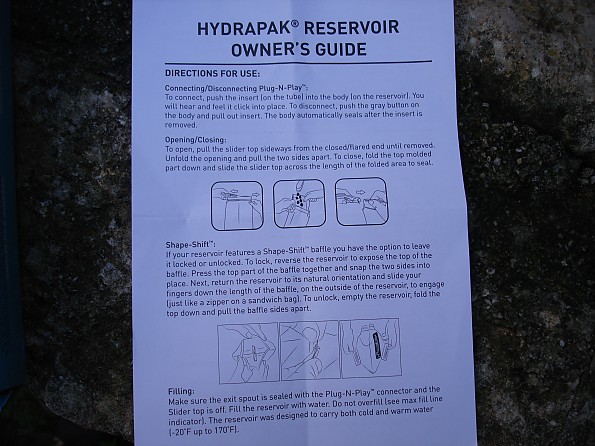 Take some time to read the instructions. Especially the opening/closing is essential.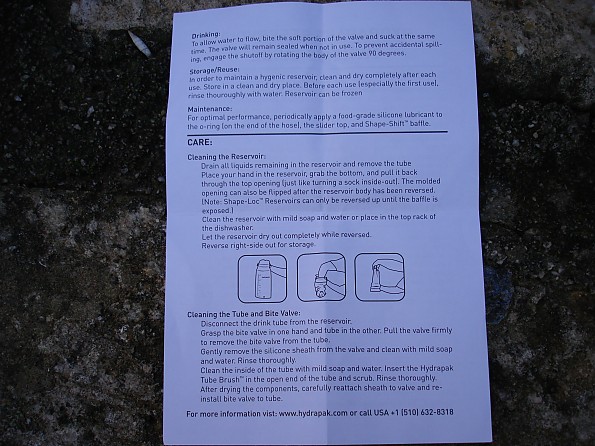 Beyond lifetime guarrantee. Your grandkids are covered so to speak lol.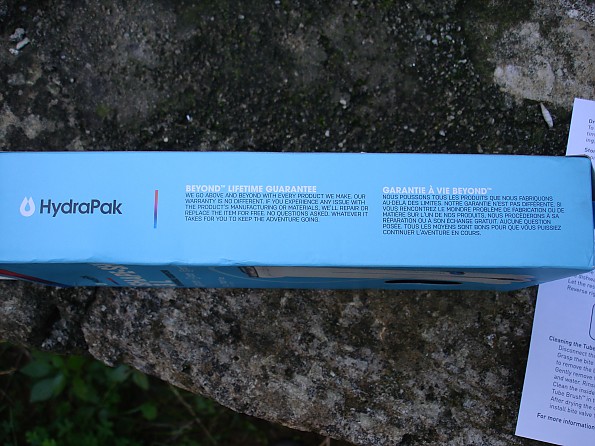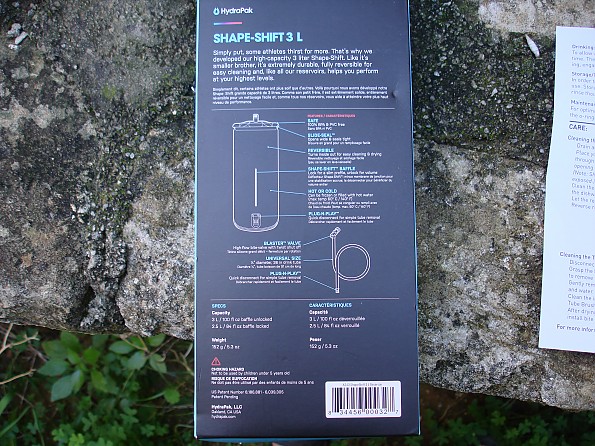 The capacity when baffled is reduced from 3L to 2.5L that is helpful when you don't need much water and in order to reduce the wobbling.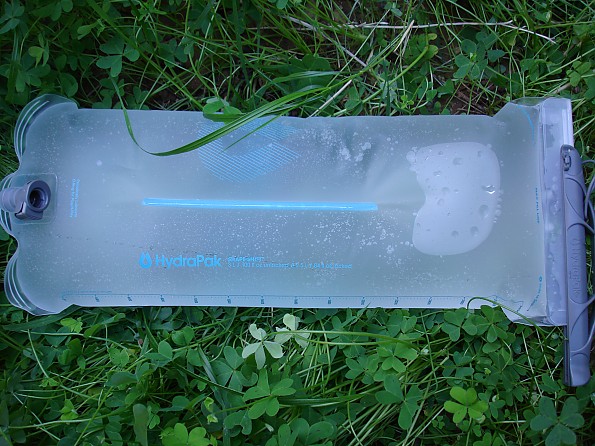 Loving the measurement. Much needed if you want to keep stats about your hydration needs for future trips.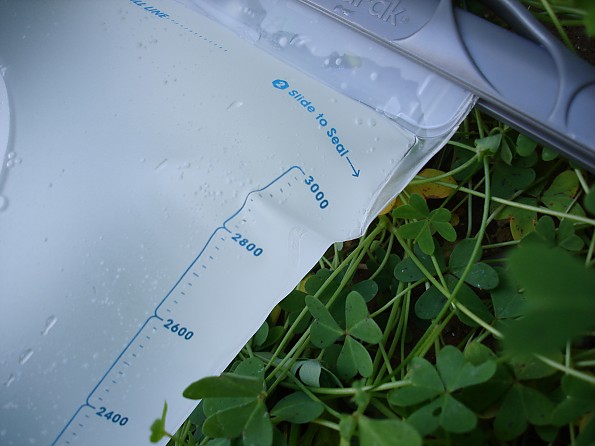 Really helpful for my BD Speed Zip 33 that supports 2L water bladders and has a more streamlined profile as opposed to my Widepac.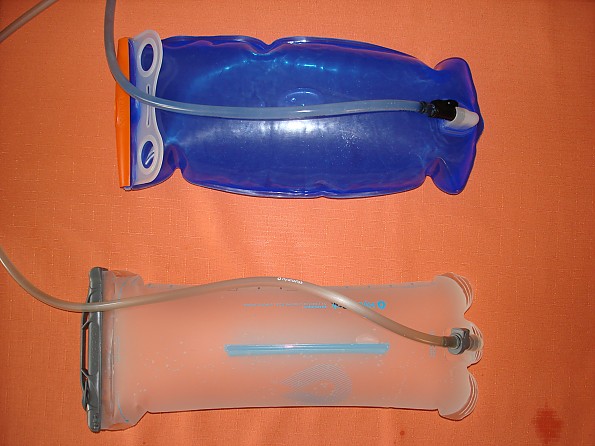 Baffled and full (2.5L).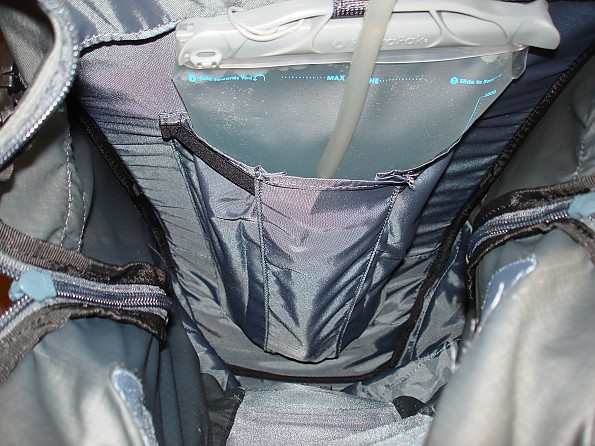 And with some room to spare because of the tall streamlined profile!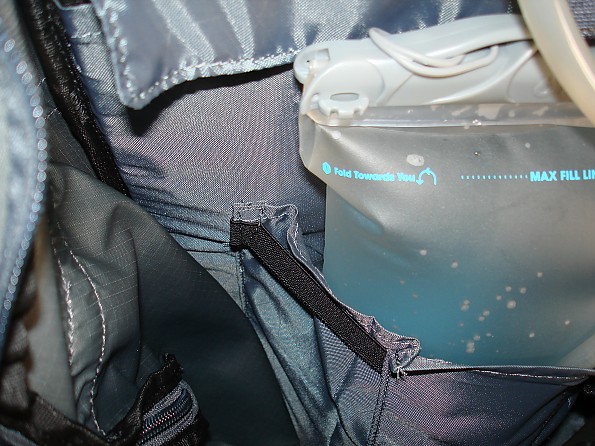 And unbaffled (3L).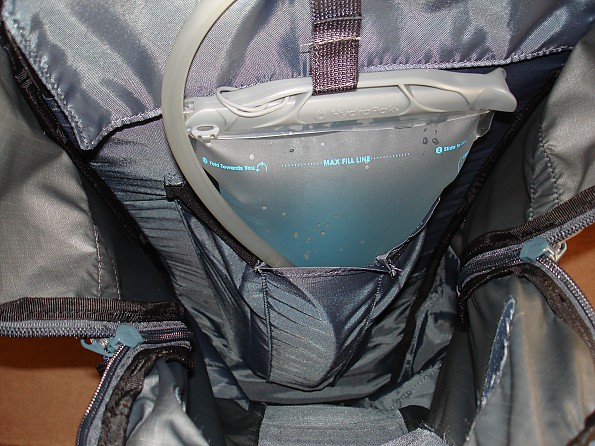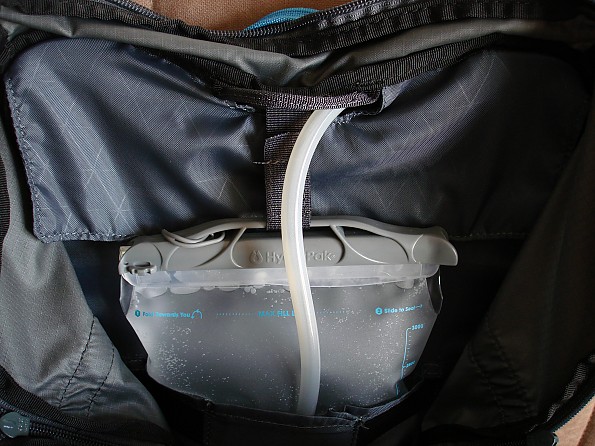 Things get pretty tight with Widepac.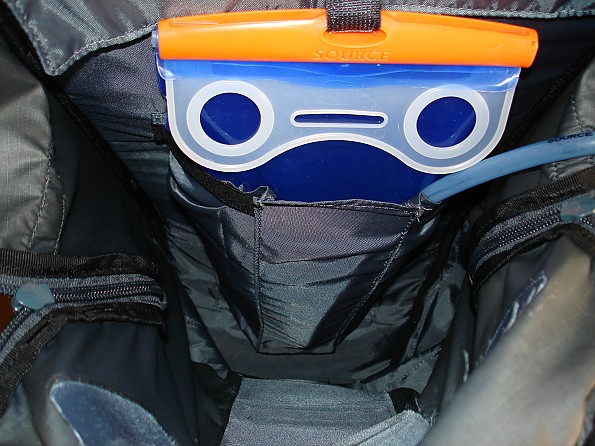 The hose connector is a little bulky, but I don't mind.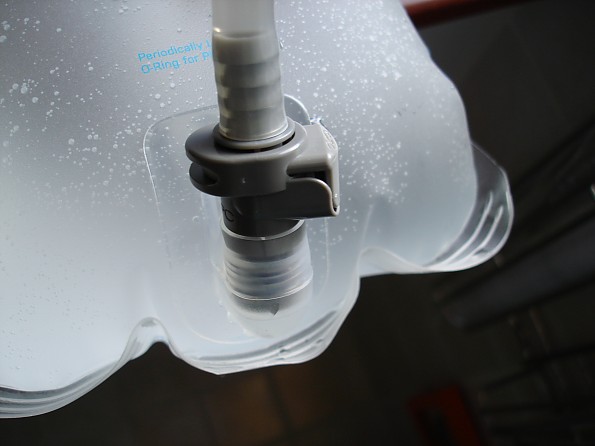 My only concern is the VERY hard baffle lock/unlock.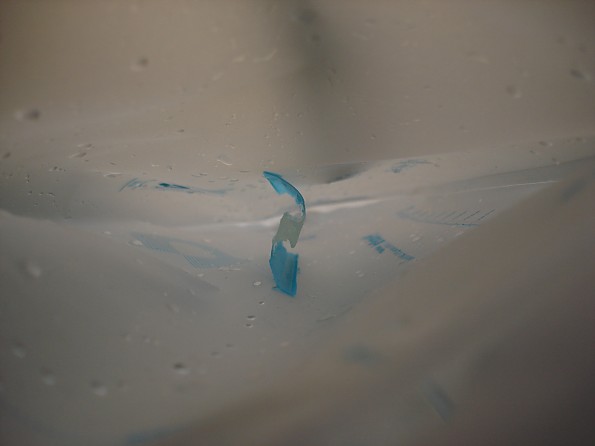 Tip: To unlock the baffle and dry the bladder you have to half-reverse the bladder and THEN start the unlocking. After that reverse the other half.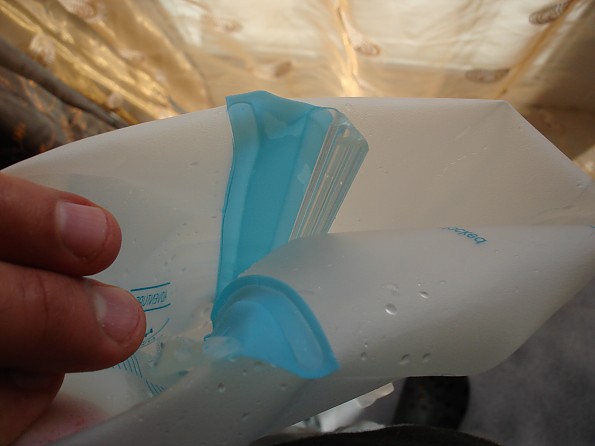 The hose's bite valve is ergonomic due to its angle, but is missing the dust/dirt protection cap that Widepac has.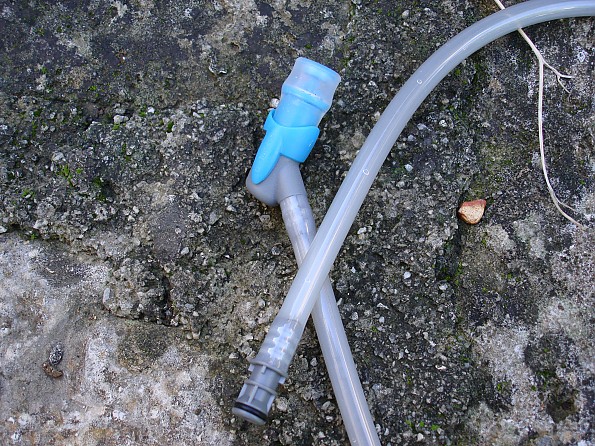 The bite valve's opening is larger than Widepac's resulting in 20-25% better flow in my opinion.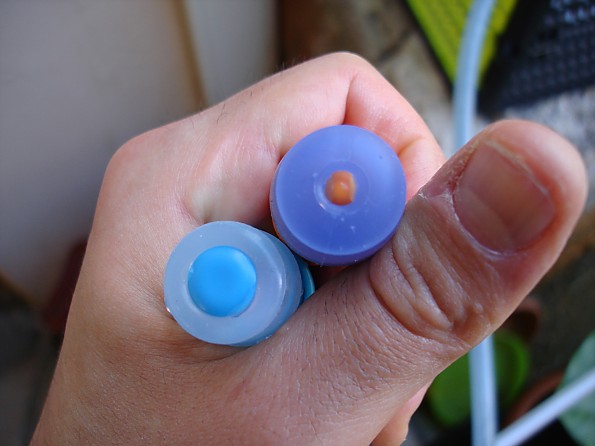 But I'll let you be the judge of that.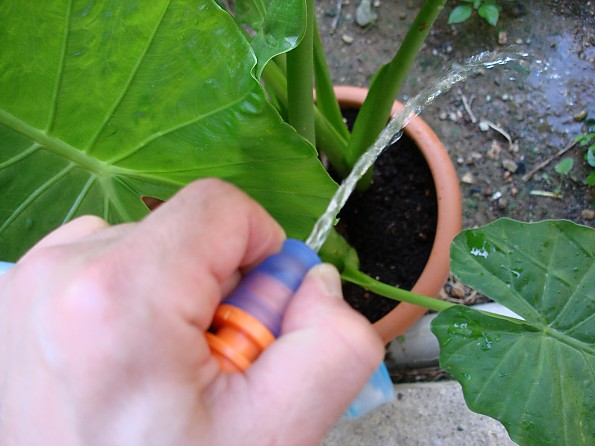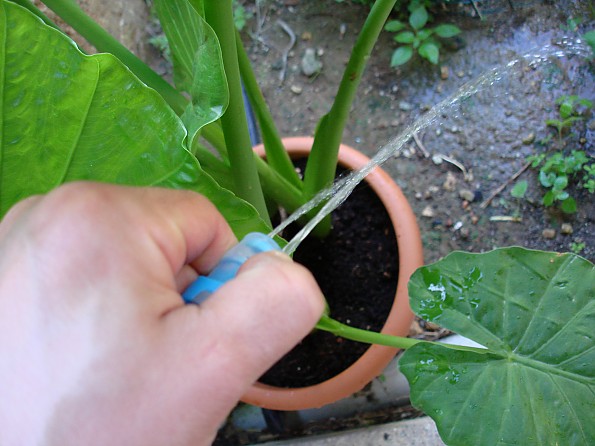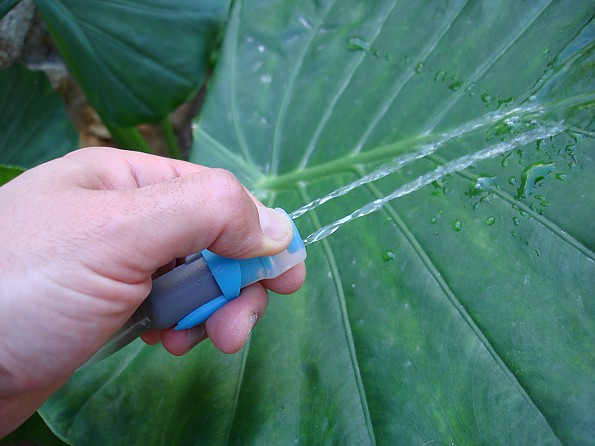 The bite valve can be removed easily by just grasping the silicone seal and pulling it away from the other half.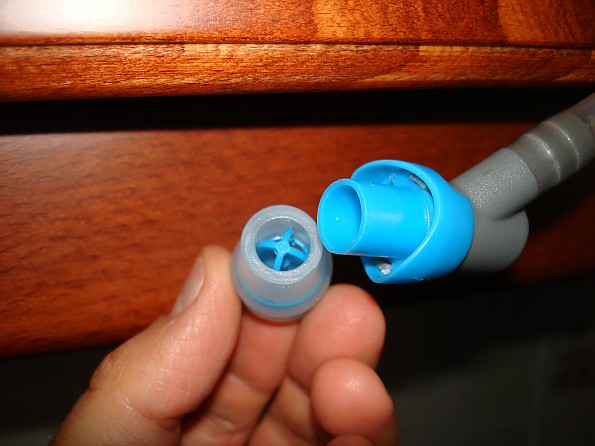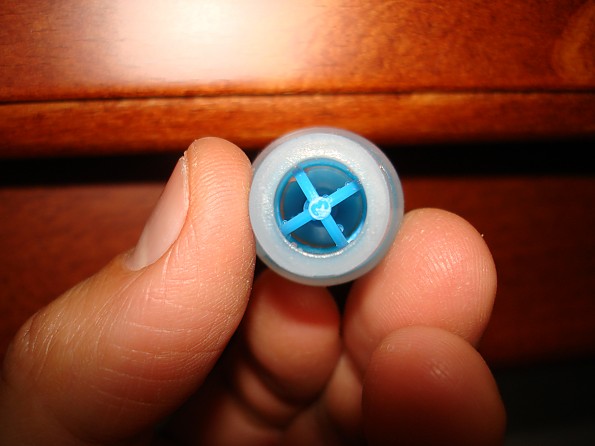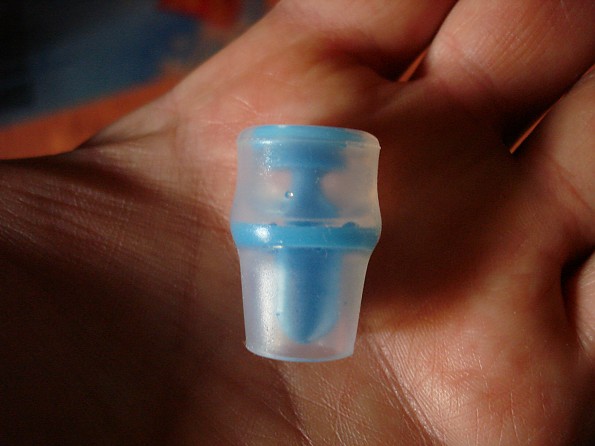 Also included: Food-grade silicone lubricant and a pack clip if your pack doesn't have a velcro loop.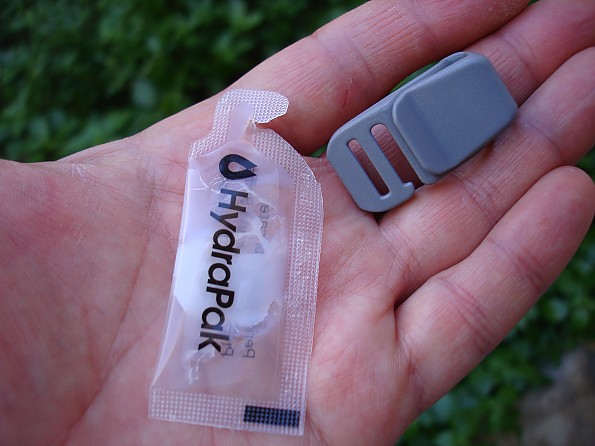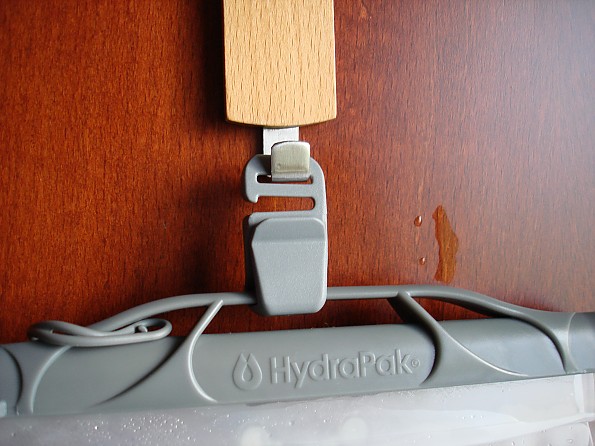 Make sure to lubricate the slide seal otherwise you will have a hard time.


I've done this with an ear pick.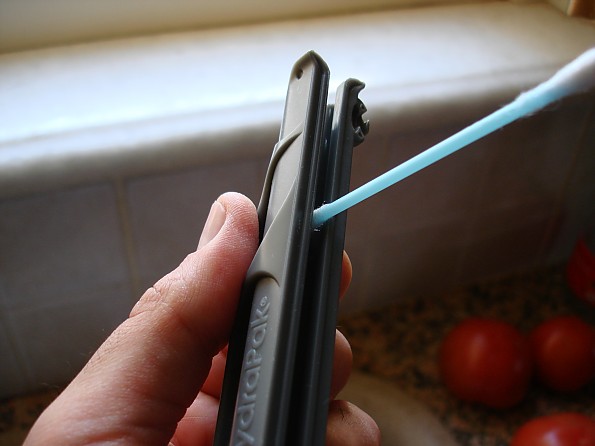 Apply here...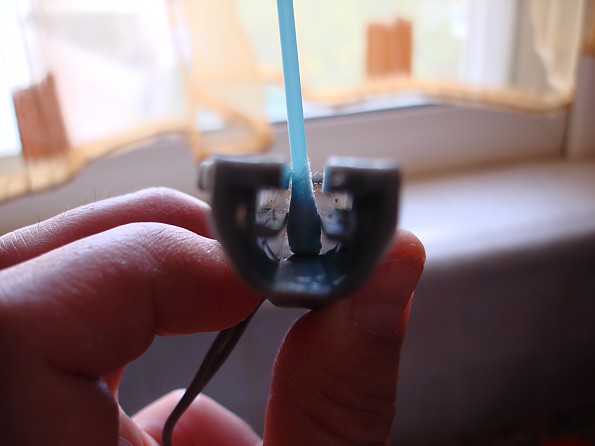 ...and here.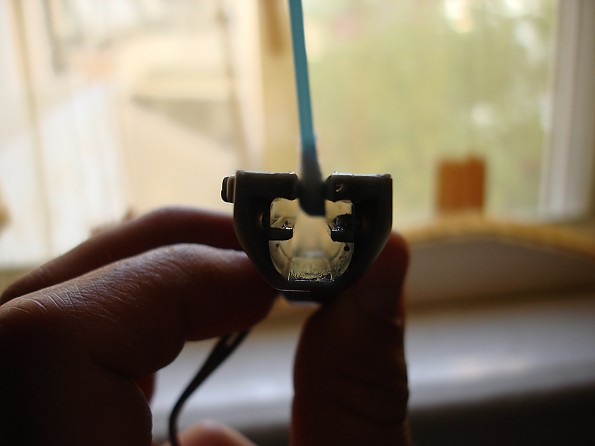 I will apply silicone to the o-ring later on.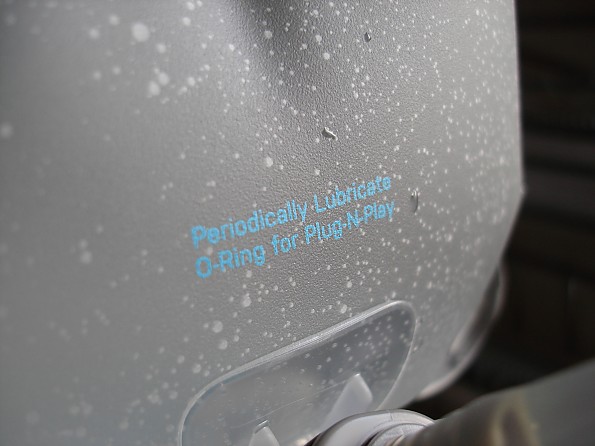 I still haven't put any kilometers with this bladder to comment about durability but I've seen some pretty promising clips about that.

Update 15/03/2018: I found the bite valve with it's protective cap (not sold separately) from a website in Germany. You can google "HydraPak Blaster Bite Valve"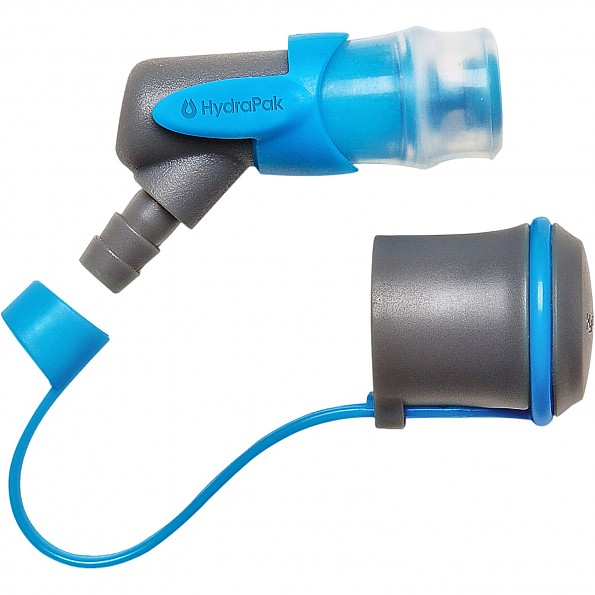 Update October 1, 2019: Couple of months ago I upgraded the rubber o-ring with a silicone one for all the added benefits. The dimensions are 16mm diameter and 2.4mm thickness for anyone interested in doing the same replacement.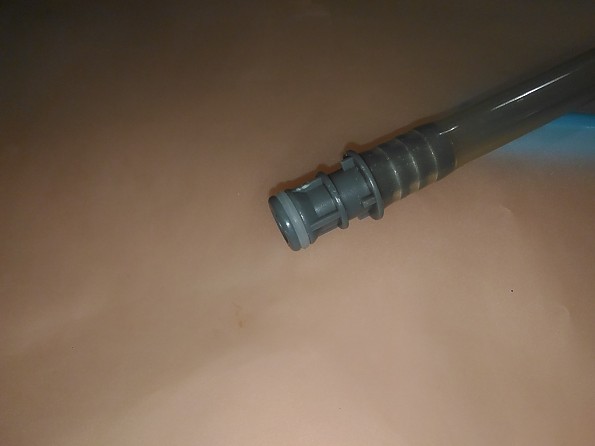 Also if the baffle is giving you a hard time locking or unlocking try using the food-grade silicone lubricant with the ear pick method.
Source: bought it new
Price Paid: 44 USD

Your Review
Where to Buy
Help support this site by making your next gear purchase through one of the links above. Click a link, buy what you need, and the seller will contribute a portion of the purchase price to support Trailspace's independent gear reviews.
You May Like
Specs
Price
Historic Range: $23.93-$37.95
Reviewers Paid: $44.00-$280.00

Recently on Trailspace