Source Widepac Hydration System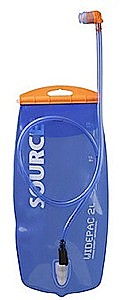 The Source Widepac 2L Hydration System is a functional and fully-featured hydration system. The product promises a virtually maintenance-free system, negating many of the common hygiene issues associated with water reservoirs. In this regard, the Widepac does not disappoint.

Despite heavy use and abuse, I did not experience any problems with microbial growth. Most components of the system also combined to provide taste-free, clean water. The Sawyer Mini Filter, as part of the Source Water Filtering Kit, is a good accessory when added in-line or used separately.
Pros
"All the bells and whistles" design with quick-disconnect hose, locking bite valve, and bite valve cover
Innovative carrying/hanging handle also makes reservoir easy to fill
Wide-access opening allows adding ice and enables easy filling, emptying, and cleaning
Reservoir does not add plastic taste and resists bacterial growth
Comes in a few sizes up to 3 Liters
Compatibility/partnership with Sawyer Mini Filter (awesome in its own right)
Cons
Full unit is about twice as heavy as some competitors (though the same as one Nalgene)
One hose (of two I received) added a very strong plastic taste to standing water
Many working parts, which can potentially break or be lost
Source Widepac 2L Hydration System & Water Filtering Kit
Widepac Hydration System features and claims:

Widepac Closure (U.S Patent No. 7,648,276,B2) - The original user-friendly Widepac™ Slide Closure opens wide, allows easy filling, cleaning, draining, and ice insertion. Airtight seal. Most SOURCE Hydration Systems and Hydration Packs feature reservoirs with our signature Widepac Closure.
Taste-Free™ System - Our co-extruded PE film retains the pure taste with absolutely no plastic flavor, also over time. (BPA and Phthalate free.)
GrungeGuard™ Technology - Our GrungeGuard™-Technology inhibits bacteria growth on the reservoir and drinking tube for the life of the system. Technology utilizes FDA-approved and EPA-registered anti-microbial agent. 
Glass-Like™ Technology - SOURCE's Glass-Like™ Film is 2000% smoother than standard TPU films, with virtually no difference from glass itself. This multi-layer Polyethylene film, manufactured in accordance with SOURCE's Glass-Like™ technology, prevents bio-film build up, making the system virtually self-cleaning.
Easy Care & Low Maintenance - Glass-Like™ technology combined with Grunge-Guard™ technology represents a new generation in hydration systems, in which cleaning is no longer an issue! Simply refill with water and drink again and again without special care. Water will remain fresh for days and even weeks. 
Helix™ Bite Valve with high flow - no dripping or leaking. Gentle pressure on silicon mouthpiece opens valve. For transport, shut safety closure with a twist of the valve.
Dirt Shield™ - Valve cover protects drinking valve from dirt, sand, dust, mud and other pollution on the way.
SQC™ - SOURCE Quick Connect (QMT compatible) Allows simple attachment of filters, the SOURCE UTA, valves and other hydration accessory.
Material: Triple layer taste and odor free PE film with anti-microbial agent; Co-extruded tube;   PP, PE & POM injected plastic parts; Silicon mouthpiece
Widepac Dimensions: 2L/70oz Capacity; 19.5cm x 35.5cm, 170g
Other accessories: UV protection hose cover, Magnetic Docking Station
Retail:$29 Widepac Hydration System, $50 Hydration Tube with Sawyer Filter, $65 Widepac and Sawyer Filter combo.

Water Filtering Kit features and claims:

How it works:  Attach this filtering hydration tube to any reservoir - and enjoy pure water anywhere you go, without depending on tap or bottled water to refill your hydration system. The Sawyer Mini Filter eliminates 99.99999% of bacteria (Salmonella, cholera and E.coli) and protozoa (cryptosporidium and giardia), surpassing EPA recommendations. No chemicals or batteries needed - simply backwash the filter in intervals to ensure maximum water flow. As you drink, the water passes through the side walls of the filter's micro-fibrous tubes, harmful bacteria and protozoa are trapped in the outer walls so you can be confident your water is safe to drink.    
Long lasting: Filter up to 100,000 gallons from freshwater lakes, rivers or streams. Sawyer filters are so robust, they can be backwashed and reused over and over. No replacement cartridges needed.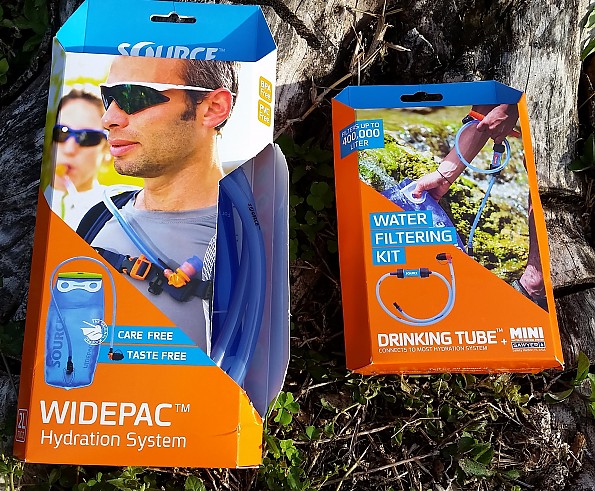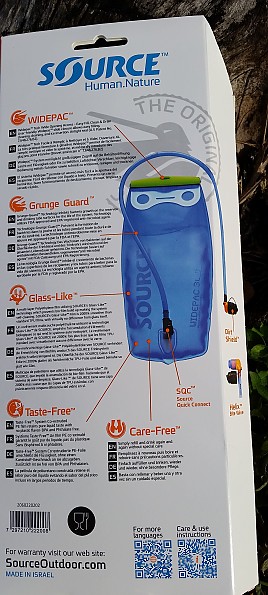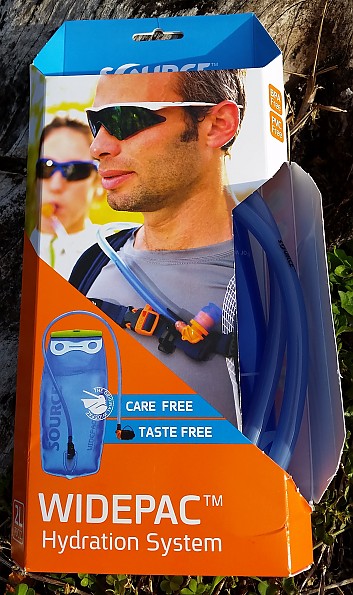 Features & Ease of Use: My testing of the Source Widepac centered on its many product claims related to ease of use. To begin this discussion, let me first list some of the problems I personally have had with similar reservoirs in the past: plastic taste, delamination of the plastic, microbial growth, the filling cap coming unscrewed and leaking, difficulty filling from short sinks and other unwieldy water sources, and the bite valve becoming snagged and coming off too easily.
Despite these common problems, I still regularly use reservoirs when hiking/backpacking and kayaking. As such, I wanted to mention that there are a few simple alternatives in dealing with some of these issues. To avoid microbial growth in between frequent uses, I adopted a strategy of storing my empty reservoirs in the freezer. This way, I don't need to thoroughly dry or disinfect them every time.
On the downside, I've noticed that some parts have acquired a freezer-burnt taste, so I'm not sure this is the best long-term strategy. And I still occasionally need to run a pipe cleaner through a hose and rinse the reservoirs with soapy water. Freezing a reservoir is also not an option during extended, continuous use, such as on a thru-hike.
Additionally, I use reservoirs only for water. For flavored drinks and mixes, I prefer using recyclable 'single-use' (Smartwater) bottles. This way I can simply recycle the bottle when it starts to get funky and/or retain smells and flavors. To fill a small-mouth reservoir, there are plenty of inventive ways (ziploc bags, cut-off bottles) to collect water from a source and then transfer it to a reservoir.
Lastly, most all extended-use reservoir and water bottle makers have now addressed the issue of leeching/delaminating plastic by offering more durable and BPA-free plastic technology. The jury is still out on whether we should trust ANY plastic container but that is a discussion for another time (see Smartwater bottle review/disclaimer, and discussions following).
In general, the Source Widepac has a good design that negates or addresses many of the common problems associated with hygiene and plastic leeching. To test its claims, I began by leaving water in the reservoir for several weeks at room temperature and then forced myself to drink this water. The water tasted fine and, more importantly, I was fine.
Next, I emptied the reservoir but did not dry it, leaving it open at the top but collapsed on itself so that it would not dry completely. I left it this way for about a month. After this time, I felt the inside for sliminess and found none. I rinsed the reservoir, filled it, and resumed using it for a trip, to no ill-effect.
I have also filled it with un-treated water (to test with the in-line Sawyer filter) on several occasions and have simply cleaned it with dish soap afterwards. Having put the Source Widepac through these rigors, I would have to agree with the "Grunge-Guard" and "Glass-Like" product claims.
As for the "Taste-Free" claim, I have also concluded that the reservoir part of the hydration system does not add a plastic taste to water (more on this later). I did not test the system with any kind of flavored water or juice, since as I explained previously, I always use other containers to mix and store such drinks. The instructions state that if one does use a liquid other than water, the reservoir should be cleaned with soap and water afterwards.
Bite Valve: The bite valve has good water flow when fully opened and is intuitive to operate. Twisting of the valve 180 degrees locks/unlocks it so that it cannot accidentally leak. I thought this feature was overkill but then I experienced slight leakage from the valve on a few occasions (despite a claim to the contrary).  It appears that the silicone mouthpiece does not always re-seat properly to form a seal. It only happens about 1 in a hundred times and it's a simple matter to bite the mouthpiece a second time, which properly seats it, but this is something to be aware of.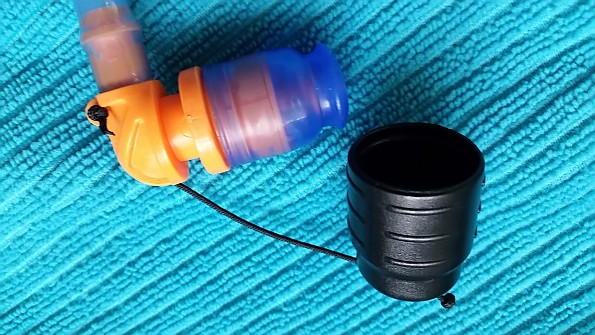 Another nit-picky finding worth noting: in camp, I often 'milk' a reservoir by squeezing the bite valve with my fingers. This is a quick step in order to add water to another container without having to take the reservoir top off. It is also a useful method for taking quick camp showers and washing hands. The design of the bite valve is not as conducive for this, compared to other products I have used. Again, not a deal breaker, just something to be aware of.
The bite valve also comes with a cover (the manufacturer calls it a "Dirt Shield"). This is a feature that I haven't ever used and not something I personally find necessary. I think a certain degree of 'dirtiness' is allowable and expected in the outdoors. Plus, having to remove the cover each time I want to take a sip is more trouble than it's worth, so most often the cover just bounces around on its lanyard.
But on the one occasion that I went backpacking in the Great Sand Dunes National Park, having the cover proved to be great for fighting the (losing) battle of keeping sand out of my mouth. So it's nice that Source included this with their system and it is easy to remove it the user doesn't need/want it. The lanyard can be untied and retied if one wants to alternate in its use.
Lastly, my biggest criticism of the product stems from the plastic taste that the hose seems to add to the standing water inside. This was indeed a very perplexing finding, since it's very contrary to the product claims. It was also contradictory to my first couple of uses of the hydration system, which led me to suspect that there is a difference in the hose that came with the reservoir versus the one that came packaged with the Sawyer filter.
During my first couple of trips using just the Widepac and supplied hose, I did not notice any plastic taste at all. Later, when I used the filter in-line with the supplied split hose, I nearly choked on the first sip…the plastic taste was so strong! In fact, it was so bad that I went without drinking any water for the rest of the hike. After a process of deduction, I determined that the hose was the culprit.
To this day, despite numerous washes, the accessory hose still produces an intolerable taste. That one hose is good and the other is not leads to me to wonder on one hand, the product does live up to its claims but at the same time has some issues with quality control. I hope it gets sorted out.
Use with the Sawyer Mini Filter: My favorite experience using the Source Widepac was being able to fill it directly from a mountain stream. For one, the water was delicious and clean (though, it of course still needed to be filtered) and filling was instantaneous, given the wide-mouth opening.
I literally stopped in the middle of the stream (had to ford it anyways), dunked the reservoir in the current while pinching the plastic handle to open the reservoir mouth, and in less than a second, I had 2 liters of fresh, natural Rocky Mountain beverage. And boy, was this relished over the next few hours while I followed my 'Lawrence of Arabia' trek through the Great Sand Dunes. Rocky Mountain Beverage is never so much appreciated as when it's enjoyed in the middle of desert!
I wish that I had pictures filling the reservoir in the stream but unfortunately there were hordes of mosquitoes also enjoying the stream, preventing me from enjoying the moment to its fullest.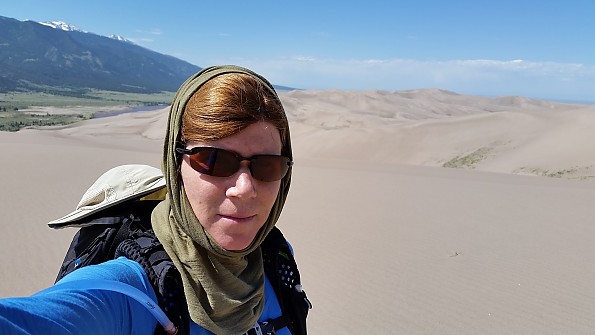 A selfie in the sand...full "Lawrence of Arabia" garb, thankful for a water reservoir and break after scrambling to the top of one of the 600' high peaks, elevation close to 9000'.

The filter kit comes with a Sawyer Mini Filter, a Velcro loop (for securing the filter to your pack), a cleaning plunger (for back-flushing the filter), and a 40 inch Source hose cut in half—one end having the bite valve w/ cover and the other the quick-release fitting for inserting into the reservoir. The filter plugs into the free end of either pieces of hose. Make sure you get the flow right—an arrow on the filter should be indicator enough.
Once installed, water flows easily from the reservoir, through the filter, and into your mouth via the bite valve. I jury-rigged a small piece of tubing to connect the hose for when the filter was not needed. In this way, one only has to carry a single hose on a trip (I was traveling and trying to minimize the amount of gear I had to pack—and in case you're wondering, this connector tubing was not the source of the plastic taste—believe me, I wanted to put the blame on that but subsequent testing proved otherwise).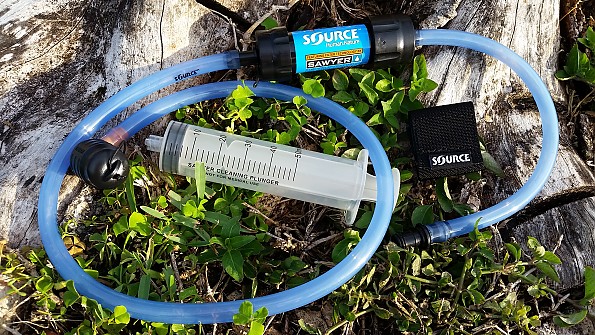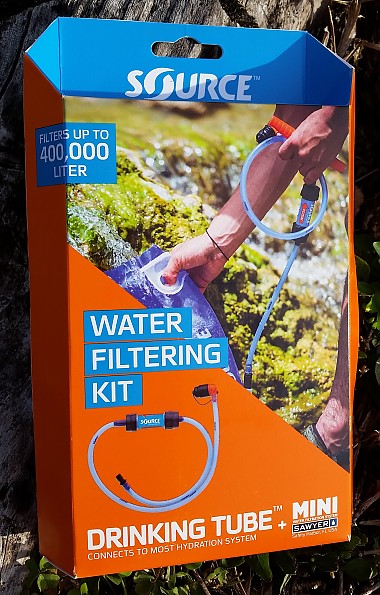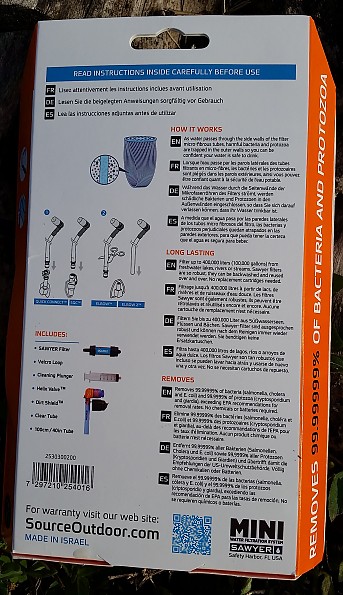 Here is another space and weight-saving tip: if you don't wish to carry the Sawyer back-flush plunger along on a hike (and there WILL be occasions that a back-flush is needed to keep the filter running smoothly), the flip-top cap of a Smartwater bottle couples well with the nipple of the filter in order to get the job done. There are many other hacks of this nature online, but this is the one I use.
Truth be told, I have been using another Sawyer Mini Filter for several years now, so having already had some experience with it, I didn't focus too much on its performance. Suffice it to say, it works and is a great accessory to the Source product line. I'll publish a review of the filter at a later time.
Capacity: I confirmed that the reservoir easily holds exactly 2 liters and can fit approximately 300 ml in addition to this. Overfilling will make it difficult to seal with the slide closure, though. If filled with 2 liters or less, the slide closure goes on easily and creates a seal that I was very confident in.
I did not experience any leakage problems from the reservoir. A few drops can escape when connecting/disconnecting the hose, but this is no big deal. Also, there are markings for 1L, 1.5L and 2L on the bag, but since the container is flexible, these are only a rough gauge.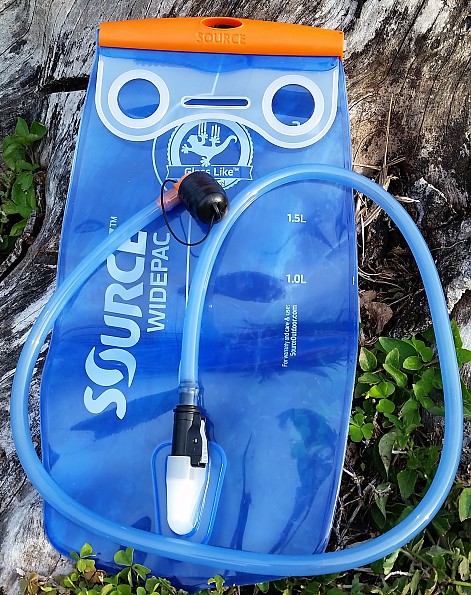 Additionally, I found the dimensions of the reservoir pretty ideal (not too long, wide, or fat). Of all the reservoirs I have used, I prefer the shape of the Widepac the most.
Construction & Durability: I have been pleased with the durability of all components, so far. One potential weak spot is where the hose quick-connect receiver is laminated onto the reservoir. Ideally, one should not swing a full reservoir around by its hose, but stranger things have happened on the trail…don't depend on this as a weapon to ward off large predators.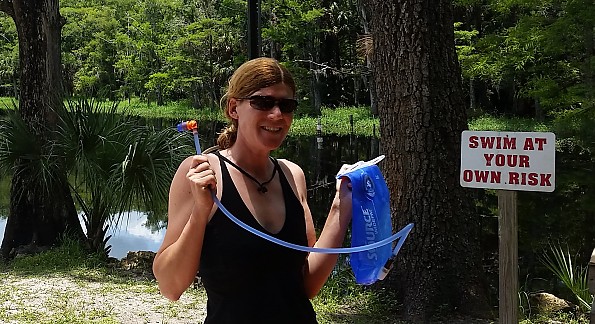 ...as in, there are very large alligators in Fisheating Creek...but I swam anyways.
Weight (in ounces):
reservoir/hose: 6.1

reservoir only: 3.7

reservoir/filter/hose: 7.5

Sawyer Mini Filter: 1.5
From the figures above, one can see that having a full suite of features comes at the added cost of some extra weight. For those that still prefer a 1 liter Nalgene bottle, the 2 liter Source Widepac actually weighs the same. But Ultralighters may shun such a hydration system in favor of a more simplified one.
For comparison, my 2L Platypus reservoir/hose weighs just a little over 3 ounces when empty. Ditching a reservoir altogether and going with single-use plastic water bottles will save an additional ounce or two. Even though I have gone to a more minimalist hiking style, I still use a combination of bottle and reservoir, since I really like the convenience that the reservoir delivers (especially for paddlesports).
This commentary is only provided as additional information and is not an endorsement of one style over the other, as this is simply a matter of personal preference.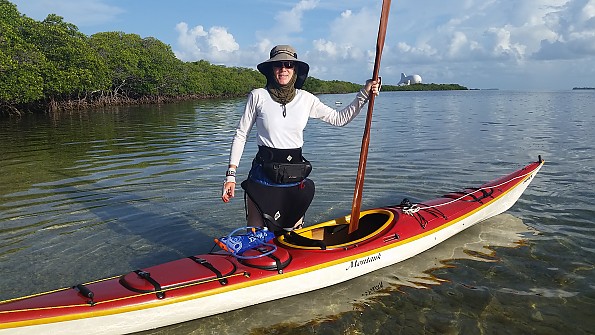 Florida Keys paddling with the Source Widepac as my deck support...this is typically the only thing I carry on my deck. Fresh water is imperative when paddling in the summertime.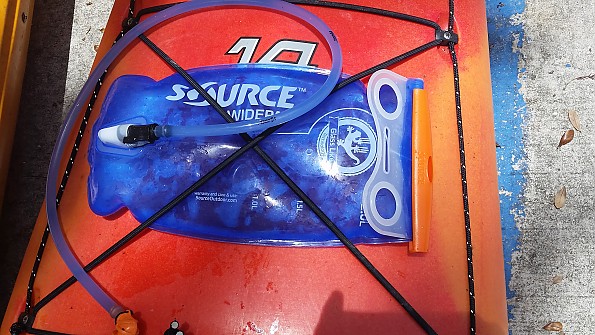 Can the reservoir be frozen with water inside? YES! This is perhaps one feature that is crucial to me, which is why I made it a separate header. Incidentally, this became a helping factor during a life-threatening situation while I was testing the Source Widepac. If you're satisfied with the knowledge that you can freeze water in the reservoir, I suggest skipping to the end. For the complete story of how to avoid heat stress in Florida, read on.
The story begins with a group hike in early May. For you northerners, this is usually a really pleasant time of year, but temps in south Florida can already be a little extreme. Fortunately, I recreate/work outdoors throughout the summer and have learned a few tricks in avoiding heat stress. Namely, one is to freeze my water containers a few days in advance of an activity.
When paddling, the frozen water doubles as ice to cool the contents of a soft cooler and also provides refreshing hydration throughout the day. Likewise, when hiking, the frozen reservoir sits up against my back and does wonders in keeping my core temperature cool and dehydration at bay.
I will add that to really avoid heat stress, it's also necessary to be physically fit, acclimated, outfitted in appropriate clothing, and to remember to replace electrolytes! Over the past 10 years living here, I've helped in reviving half a dozen companions by giving out my stash of electrolytes. I don't often need them myself but I've learned to always carry them.
In this most recent incident, the person experienced a really serious case of heat exhaustion (and may also have had an underlying medical condition). We were about a mile away from the trail-head, so I was able to shuttle several bottles of Gatorade back from the car. Even though we had been hiking all morning, I also still had a core of ice in my Source Widepac.
We placed the reservoir on the person's chest, which helped to cool them down. The person went from lying incapacitated on the ground to being able to hike out on their own power in a matter of 30 minutes. A happy outcome and I'm glad to have contributed some tools that aided in it.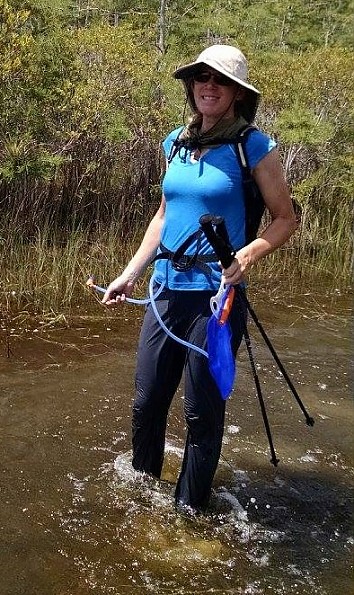 Water is easy to come by most times of the year in South Florida...just bend over.
A note on freezing water, Source recommends that you only fill the reservoir ¾ full and squeeze out any air pockets. Water expands when it freezes…DOIH! I followed this advice and did not have any problems.
Conditions: I tested the Source Widepac and Sawyer Filter accessory four months over the summer for day hikes, overnights, bike tours, kayaking and even day-to-day use at work. I used it in the hot (and microbial-prone) conditions of South Florida and in dry Colorado.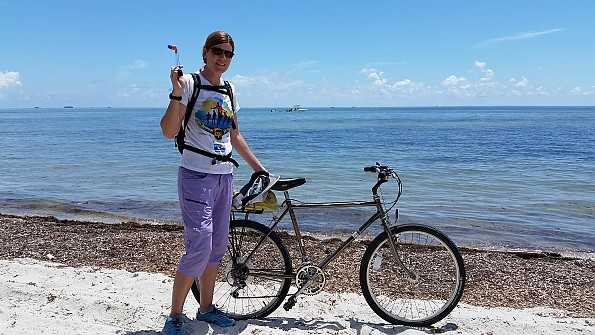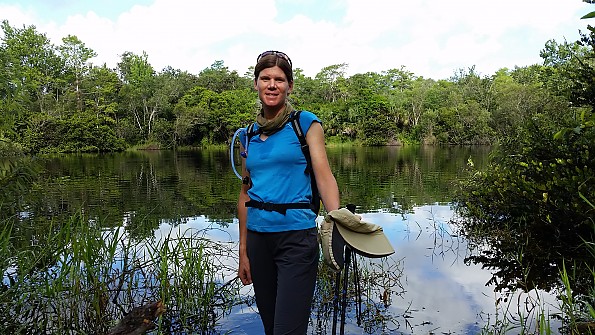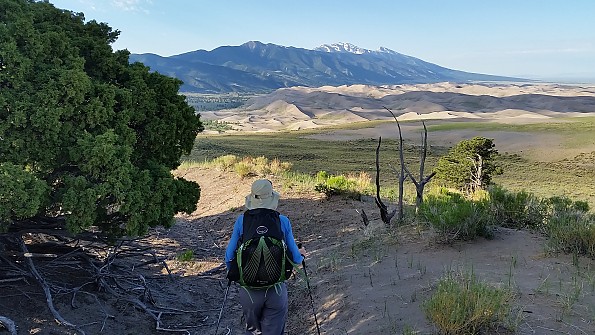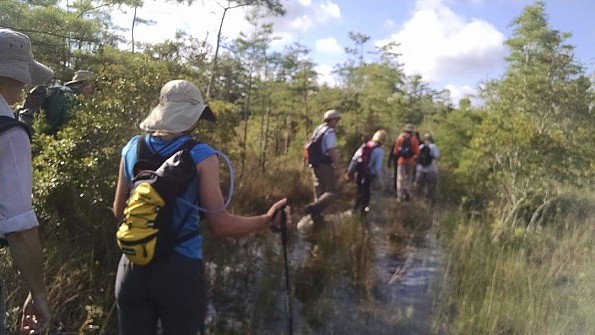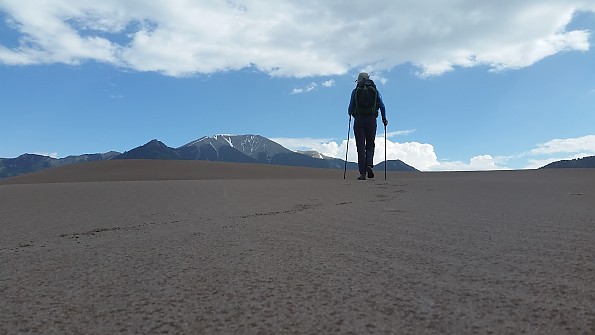 Source: received for testing via the Trailspace Review Corps (Sample provided by Source for testing and review)

Version reviewed: 3L
Same as Platypus, but much cheaper.
Pros
Easy to clean (the bladder)
Neutral taste
Awesome bite valve with good flow
No leakage
Cons
No cleaning kit for the hose
I bought the 3L version on July '15 and it (almost) never left my backpack.
Before Source I was relying on two and maybe sometimes, three stainless steel thermoses for my hydration. That put a lot of extra weight, not to mention that I ended up getting dehydrated most of the times because I hated to stall the team or be left behind in order to get the thermos on/off the backpack. So I drank mainly at stops.
And then Source came into play with its fulfilling 3L capacity and the awesome helix bite valve which provides sufficient flow when you're not panting .
The bladder is super easy to clean since you can use a potato masher to keep it open in order to dry up or you can put a small towel in if your whole hand can reach down to the bottom.
The problem comes with the hose as far as cleaning is concerned since a kit is not included. My solution to that is to spin it fast like a lasso for the excess water to come to the other end and then leave it in an upright position for the evaporation to begin.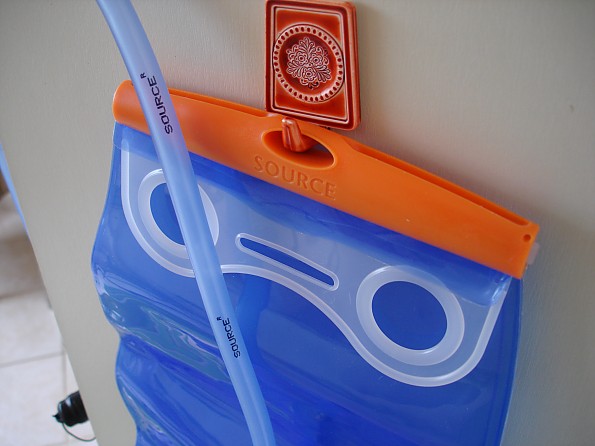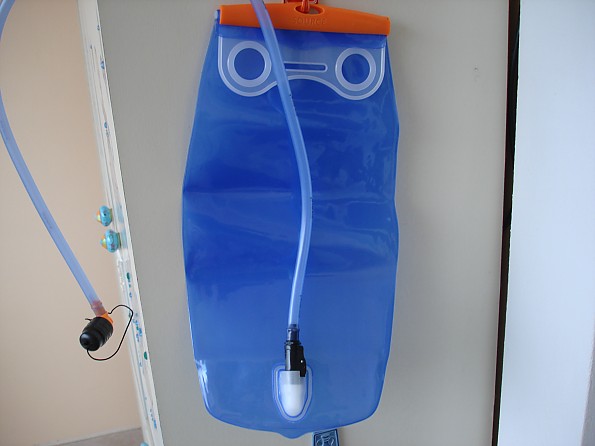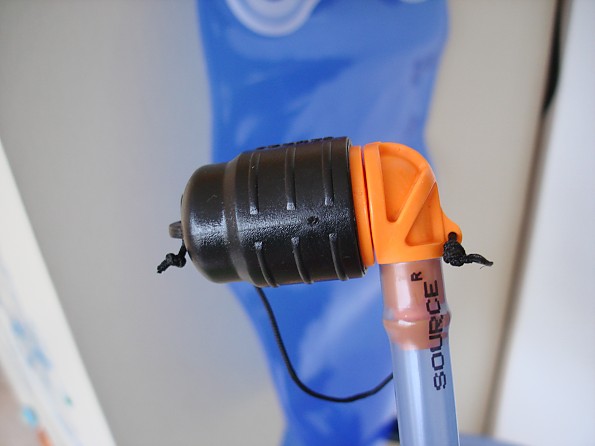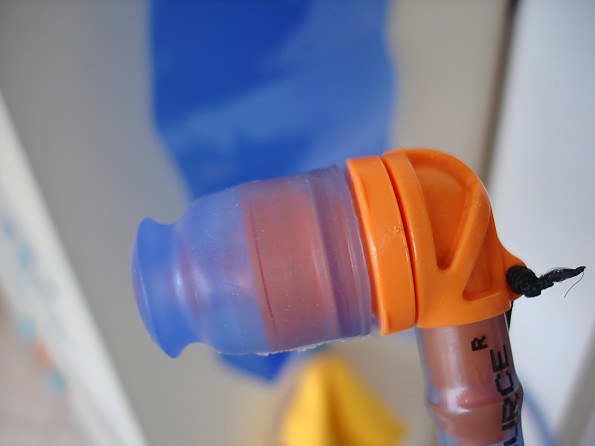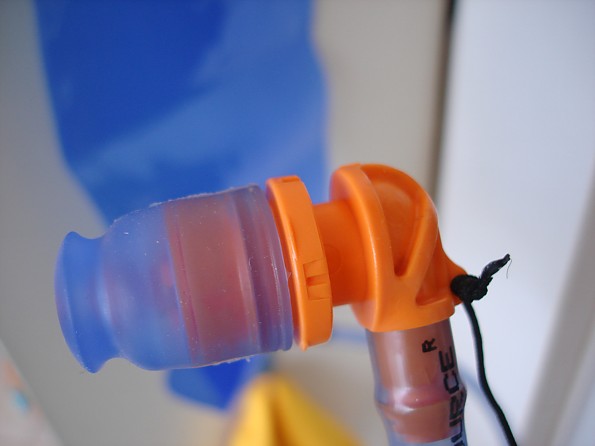 The valve can be further dismantled in order to accelerate evaporation.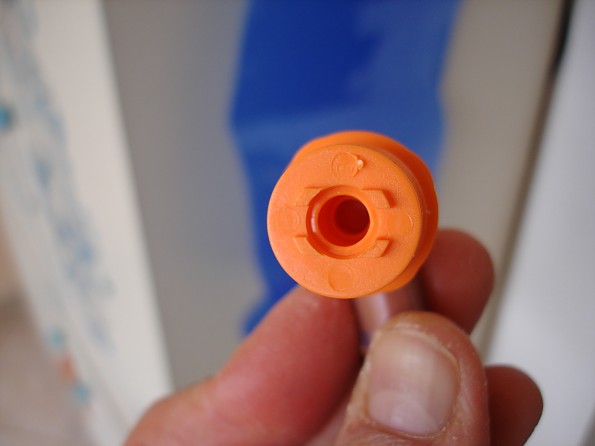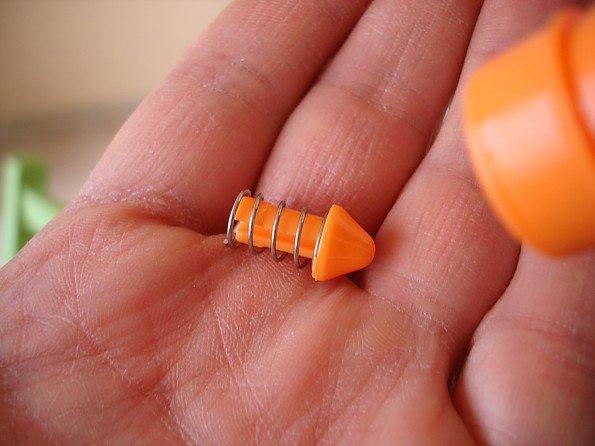 The material, as stated in the homepage, is BPA-free and other water bladder owners recommend using vinegar, or soda or lemon juice for disinfection. I don't know if those acidic/alkaline solutions would corrupt the bladder/hose and I'm not willing to try it so I just rinse with tap water and that's it.
Durability is good so far. No leakage or hint of rapture anywhere in my (sometimes) overstuffed 55L backpack.
Oh yeah! I love this thing!
Update: The potato masher technique for making sure that it's completely dry lol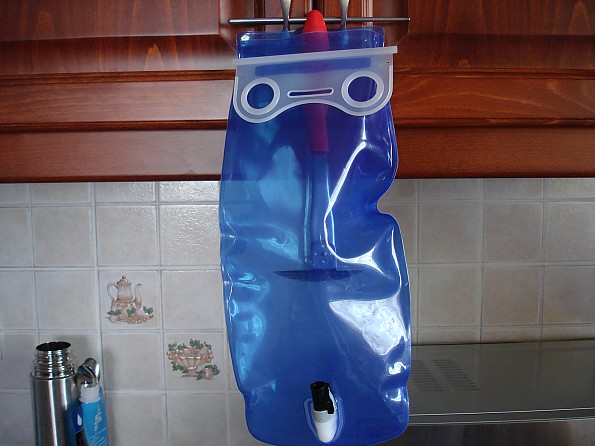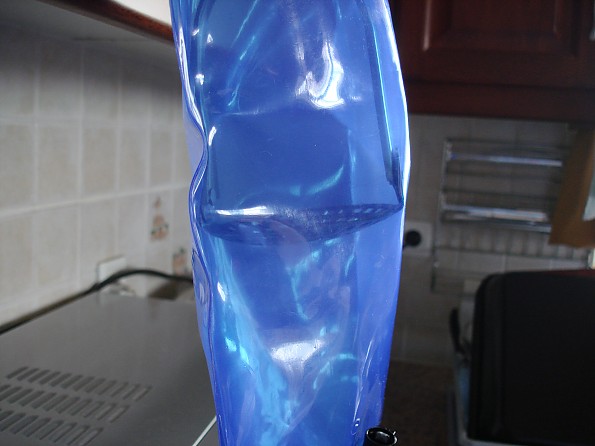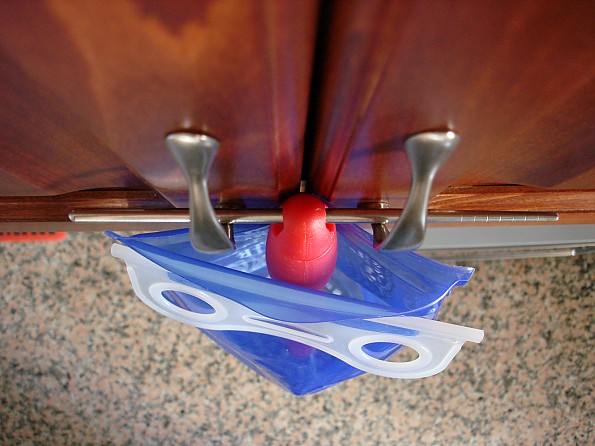 Source: bought it new
Price Paid: 28 EU

Revolutionary design for a water bladder and it's just as tough as they say it is. Love the slide closure! Great for backpacking (3L) or hiking (1.5 or 2L). Keeps water fresh for days.
Pros
really does keep water fresh for a long time
super tough
low profile in a pack
easy to clean and fill thanks to the slide closure
Cons
wider than most day pack sleeves will accomodate
donut shape can make drying it out a challenge
Okay, I don't know where I read the first review for this bladder, but when I watched a car drive over a full one without it bursting, I thought "what the hell do I have to lose?" I'd never heard of SourceOutdoor and although I was tempted to go with a Platypus for about the same price, I decided to try the Widepac more for kicks than anything else.
I'm surprised and impressed! The Widepac lives up to the hype — it's incredibly tough, clean, easy to fill, and definitely increases space in your pack.
A couple of things to be aware of...  First, although the profile is slimmer, the bladder is wider than most traditionally shaped bladders so you might have trouble fitting in the pocket of your pack, if it has one.  Second, even with the slide closure, drying it can be difficult due to the donut shape.  I've found that an empty paper towel tube on each side does the trick.
Cleaning is easy if it ever needs to be cleaned (the manufacturer claims it doesn't). To test that claim, I left water in mine for 6 weeks. Guess what — there was not the slightest hint of swamp and absolutely no sliminess on the inside.
As for its toughness, it can tumble down a 20 foot escarpment and get scraped all to hell but survive without a puncture or breaks in the slide or quick connect valve.
Most other hikers will never see this bladder so the coolness factor doesn't count for much.  That's okay since it's really more about quality than anything else, and this bladder is definitely a quality product!
Oh by the way, I've only found it online and it's made in and shipped from Israel so there is a shipping cost.  It appears there is very little distribution of this product in the US and I couldn't find a single retailer.

Source: bought it new
Price Paid: $30 USD on sale

This water bladder has been working great in my backpack on long trips. The hose is a good length and the bite valve cover protects it from dust and dirt. It is a great replacement for other bladders and can be found cheaper. Very durable and easy to fill!
Pros
Durable
Easy to use
Bite valve cover =clean
No leaking
Cons
Hard to twist nozzle to unlock bite valve
This is a strong and dependable water bladder for my use of backpacking. It holds 2 liters, which is plenty to get me from point A to point B, where I will refill. It was also convenient in size for water treatment. I treated directly in the bladder. It is easy to fill.
The only con is that the nozzle can be hard to twist to open, although this is a pro when it comes to leaking, which I have never had a problem with. If you leave the valve unlocked it will of course squirt water out. The plastic material is thick and strong, it seems to withhold many obstacles.
I have had this for about a year and take it on all my backpacking excursions. It is still like new. The bite valve has not started to wear like some competitors' nozzles. I definitely recommend this bladder to my friends! 
Source: bought it new
Price Paid: $25 from amazon

Source reservoirs are easy to fill at home or in the field, easy to add ice out of ice machines, easy to clean, they do not leak, and without a doubt the best on the market. Keep a 70 oz, a 100 oz, and a Divide partway full in the freezer, always clean and ready to go.
Pros
Ease of filling at home and in the field
Ease of cleaning
No bacteria growth
Source: bought it new
Price Paid: ?

So much easier to open, close, and clean than bladders with screw tops. The new Helix bite valve is easier to clean than the original style, but too large and difficult to open/operate, especially one-handed (while biking).

Overall, though, my favorite bladder.
Pros
Easy open/close
Durable
Water stays fresh
Easy to clean
Leakproof
After years of struggling with the impossible to open CamelBak bladders, I was happily introduced to the Source slide top bladder. It is so easy to open and close that I was skeptical as to how leak-proof it would be, but I've never had an issue with that at all.
The only thing I don't love about this bladder is the new Helix bite valve. It is very large. It won't fit through the stay loop on the straps of some of my packs. Also, the cap can be a bit difficult to pop off and the twist valve can be a bit tricky to operate one-handed, particularly while biking.
It does seem to stay very clean, however, which is an improvement over the original valve they had.  Overall, a very good bladder.
Source: bought it new
Price Paid: $30?

Practical and easy to use water bladder.
Pros
Lightweight
Bite valve has cover
Practical design—easy to pour water into a pot for cooking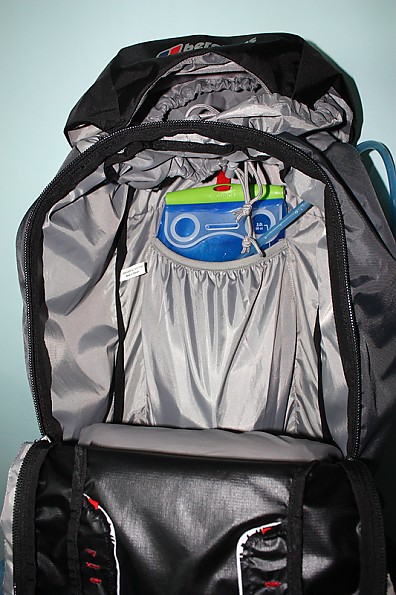 Source Widepac 3L in a Berghaus Wilderness rucksack
I picked this model of water bladder over others for two main reasons. It is a little lighter in weight. It opens from the top, which I find more practical especially when I need to pour water from the bladder into a pot for cooking. And its bite valve comes with a cover to keep dirt off the valve—a useful feature when you set your pack down on the ground and it topples over as packs do.
The slider looks unconventional but it works and I have had no problems whatsoever with leaks. I have even held the bladder upside down to test for leaks but not so much as a drop came out.
I have had no problems with mould either, though I am careful to dry out the bladder after use and I also keep it stored in the freezer.
Source: bought it new

Your Review
Where to Buy
Help support this site by making your next gear purchase through one of the links above. Click a link, buy what you need, and the seller will contribute a portion of the purchase price to support Trailspace's independent gear reviews.
You May Like
Specs
1.5L/50oz
2L/70oz
3L/100oz
Price
MSRP: $29.00
Historic Range: $19.96-$29.00
Reviewers Paid: $25.00-$30.00

Weight
165 g
170 g
180 g
Dimensions
18.5 x 32 cm
19.5 x 35.5 cm
21.5 x 42.5 cm
Recently on Trailspace