HydroBlu Versa Flow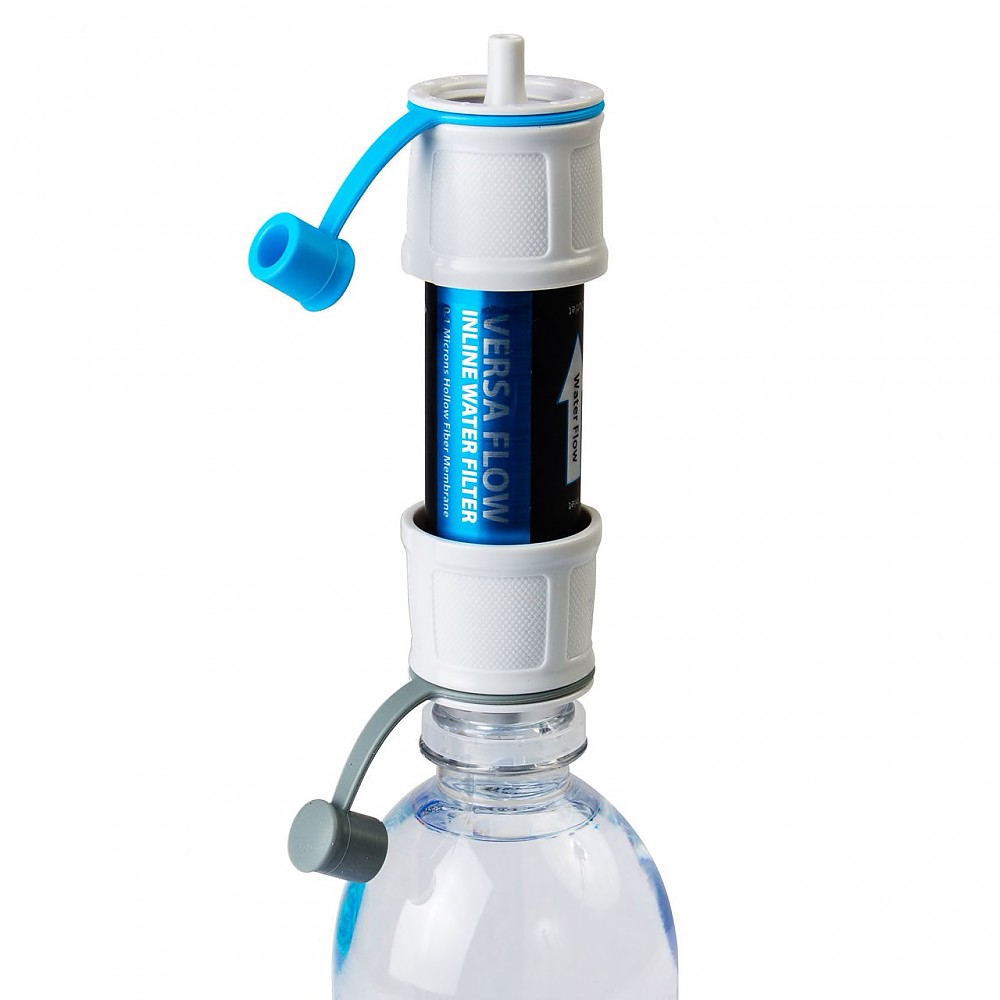 Excellent backpacking water filter, super versatile and convenient, and definitely my favorite so far. Has a significantly better flow rate compared to the Sawyer Mini. It can be adapted to several different systems. It's threaded so you can screw it directly onto a bottle, or onto a bladder to use as a squeeze through filter system or hung for gravity filter setup, and you can put a hose on it for in-line filtering.

I prefer to use mine screwed directly onto a dirty water bladder (I've found CNOC Vecto to be the best) so I can squeeze filter or gravity filter. There's also a view window to check the filter status and the ability to add a carbon filter.

5/5 stars definitely would recommend.
Pros
lightweight (2 oz)
excellent flow rate
versatile
effective
helpful view window to check filter status
has option to add carbon filter
Cons
does not remove chemicals or viruses from water
But as far as using it for what it's designed to filter, none. It does what it is intended to do, and it does it better than any of the other comparable small filters I've used.
Effectiveness: 5/5 stars, Very Effective. It has a 0.1 micron hollow fiber tube filter construction that blocks 99.9999% of harmful bacteria, exceeds EPA standards for filtration. Manufacture states clearly it does not filter chemicals or viruses from the water, BUT you can buy a separate carbon filter that will fit which will adsorb chemicals and heavy metals and filter unhealthy organic compounds such as chlorine, pesticides, herbicides, gasoline, and diesel.
Speed & Efficiency: 5/5 stars, Very fast. It has the best flow rate out of the different filters I've used, better by far, compared to other similar small filters. It has a rated flow of 1 gallon in 5 minutes, can be increased with pressure if squeezing water through the filter.
Capacity: 5/5 stars, excellent capacity. If treated well and maintained, it has a rated filter life of up to 100,000 gallons. 
Ease of Use: 5/5 stars, very easy to use. Can easily be adapted onto several different filtering systems depending on personal preference, can even be used as a straw to drink directly from water source. Very straightforward, works every time. Very easy to maintain, the filter can be easily backflushed with clean water to clear the filter membranes of all of the particulates and increase the lifespan of the filter.
Features: it is both small and lightweight, only 2 ounces and very compact takes up very little space, making ideal for backpacking, hiking, travel, and for emergency preparedness kits. Has a clear view window to check filter status which is helpful. Has option to add a carbon filter. 
Construction & Durability: 5/5 stars, very durable. I have had several that have held up exceptionally well to heavy use and abuse under all kinds of conditions. Very easy to keep it and make it last a long time, just be sure when backpacking in cold conditions that it doesn't freeze (freezing water expands and could compromise the filter membranes) so I tend to sleep with mine in my sleeping bag at night to prevent freezing, and backflush it with clean water regularly to keep particulates from building up in the filter which will reduce the flow rate over time. 
Experience
Very familiar with the product, I have owned several and I use them heavily. I do a lot of backpacking and have used the product in a variety of conditions, from the mountains to the desert, and I have backpacked with it from 30°F to over 100°F. It has performed admirably every trip I've used it on and is my go-to in-line water filter.
Source: bought it new
Price Paid: $21.95

Lightweight water filter.
Pros
Lightweight (2 oz)
Ease of use
Cons
Slower than some other filtering systems
Collapsible flask developed pinhole leak
This 2oz filter employs hollow fiber tubes with thousands of tiny holes (0.1 microns) that block 99.9999% of harmful bacteria, Giardia, E. coli, protozoan cysts, Cryptosporidium and more. Unlike other filters, which filter through their core, the VersaFlow filters water through the outside of these tubes by bending the hollow fiber. This dramatically increases the surface area and flow rate of the filter while protecting the filter integrity itself.
I've not yet experienced any clogs, after having filtered about 50L of water through mine. HydroBlu claims that, with regular backwashing, a single filter can be used indefinitely. I do backwash mine after every trip.
The weight of the filter itself was appealing to me, but an additional draw was its ability to mate with lightweight water bottles (e.g., Smartwater bottles) without any adapters. As I've been working to lighten my pack weight, I've transitioned to re-using Smartwater bottles in place of traditional options like Nalgene bottles (1.3oz vs 6.2oz), so this feature was important to me.
I've used it to treat water for up to three people, though I think it's ideal for an individual in the way that I use it. For more than one person, I think one of their optional gravity solutions would be more efficient.

I've been using one of their collapsible water flasks for collecting "dirty" water, which I then squeeze to force the water through the filter more quickly. This has worked reasonably well, but during my last trip, I discovered a pinhole leak near the top of the flask. It still functioned, but I was losing water as I filtered. I'm currently considering whether to get another one or search for a better alternative.


The filter has performed as I've expected without any surprises. Once you get the "dirty" bag filled, the filter is easy to use. With shallow water sources, I have had some difficulty getting the collapsible flask filled, but that's not really a function of the filter, and there are a variety of solutions to that problem.
Since there aren't any moving parts, I expect this to be the last water filter I'll need for backpacking; Especially if it indeed can be used indefinitely with regular backwashing.
Their collapsible canteen includes a rigid "loop" on one corner, and comes with a small carabiner for easily attaching to the outside of a pack.

Experience
In the past, I've used a Katadyn Hiker Pro filter, which weighs more, takes up more pack space, and requires more energy to operate. The only advantage of that filter is the inlet tube, which makes it easier to collect water from shallow sources.

I've filtered about 50 liters of water with this thus far, during 3-season backpacking trips. I don't know how it would perform in freezing temperatures.
Source: bought it new
Price Paid: $19.95

Your Review
Where to Buy
Help support this site by making your next gear purchase through one of the links above. Click a link, buy what you need, and the seller will contribute a portion of the purchase price to support Trailspace's independent gear reviews.
You May Like
Specs
Price
MSRP: $21.95
Current Retail: $21.95
Reviewers Paid: $19.95-$21.95

Filter Material
Hollow Fiber

Removes
Bacteria, Protozoan cysts, Giardia, Cryptosporidium, E. Coli, Salmonella and more

Filter Life
up to 100,000 gallons

Flow Rate
1 gallon in 5 minutes

Weight
2 oz