Hyken Knives Bushcrafter

Top 50 in Fixed-Blade Knives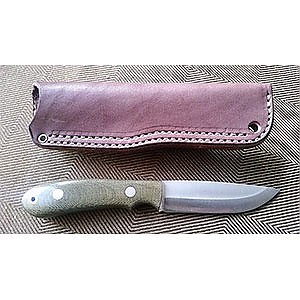 Reviews
1

review

5-star:

0

4-star:

1

3-star:

0

2-star:

0

1-star:

0
Well-contoured micarta slabs pinned to a 5/32-inch thick block of CPM 154 steel is a pretty good start to a fixed-blade bushcraft knife. Incorporating a slight handle swell, a convexed scandi grind, and an unobtrusive choil can make it a great knife. Knowing just where to put the balance point and how to proportion the blade to the handle ensures it's a great knife. A perfectly-fitted bridle leather sheath is just icing on the cake.
Pros
Excellent steel with an excellent grind
Function-first geometry
Secure grip in multiple positions
Light-in-hand for size and weight
Bridle leather sheath included
Unconditional lifetime guarantee
Best For: Well it's made for the bushcrafting crowd, isn't it? People who appreciate durable, multi-function tools which provide options not otherwise considerable. Additionally, I imagine anyone who appreciates what happens when purposeful design meets capable engineering will highly value the Hyken Bushcrafter.
Design
Reid Hyken, the owner and designer of Hyken Knives, has something like a decade of experience crafting his Sharpshooter sheaths for Bark River Knives, among other manufacturers. He's also assisted in developing a number of BRK's designs over the years, so there's a pedigree at play here. The guy just likes crafting stuff, so it seems natural that he's gotten into knife production; indeed, his fixed-blade Bushcrafter knife incorporates details borne from an intimate understanding of knife mechanics.
He's chosen a powdered stainless steel with stellar durability and hardness that is very resistant to chipping and edge-rolling. CPM 154 is consequently one of the more time-consuming steels to sharpen, yet it can go a whole two-week trip without needing a touch-up. Though it is stainless it is not rust-proof; the specific metal alloy content, however, is such that it is quite resistant to rust and atmospheric changes.
The shape and profile of the blade is familiar for the bushcraft style, being a drop-point about four inches long and about an inch at its tallest. The grind is an interesting and uncommon one to see straight from the shop—a scandi (half-height single bevel) with a convex on that.
As this result is exactly what many scandi grinds morph into after a few years' use, what is often reported as being the "golden age" of a scandi edge's life, Reid has done well making the scandi-vex the standard edge profile on the Bushcrafter. As far as I know, he is also the only production knife-maker with such an edge.
Being a semi-custom knife, the handle material of the Bushcrafter varies based on preference; mine is slabbed in a green canvas micarta, which in my experience is a durable and very suitable material. It comes rather smooth from the shop, but can be roughed up with sandpaper if desired. The handle is pinned to the blade using corby bolts, though I believe various mosaic pins are available as an option.
The handle features a very ergonomic palm swell and finger choil which indexes the knife quite naturally in the palm. On the other hand (see what I did there…) these design features combine subtly so as to not prevent other grips from being comfortably employed. A lanyard hole provides a way to assist with drawing the knife, secure the knife around the wrist, and help find your knife when you inevitably drop it in leaves because you didn't use the lanyard.
The Bushcrafter comes standard with a reddish-brown taco-style bridle leather sheath. Reid calls it the color "Maduro" and I call it gorgeous. The leather appears to be just as thick as the blade, and indeed is a good deal stouter than that used for the Sharpshooter sheath I have around my BRK North Star CPM 3V. It is stitched up with two rows of heavy, waxed polyester thread, and reinforced with a nickel-plated brass eyelet at the top. A waterproofing treatment for the leather can be added at the time of purchase.
Most inventive about the sheath is the rare-earth neodymium magnet embedded between the leather wrapping the blade and the belt loop piece which, as the knife is returned to the sheath, serves to grab it and hold it in place. The contouring of the friction-fit is as good as can be, and so as one feels the magnet engaging the overall impression is that, short of a full gymnastics routine, this knife ain't going anywhere. (Reid should get one of these to Simone Biles…)
Additionally, the sheath can be optioned with the shown drop-leg attachment which works in conjunction with a lower hole in the sheath. Through this hole one would thread a length of paracord or grosgrain ribbon to secure the rig around the thigh, a great option to utilize when wearing a backpack. The firesteel loop that can often be found on the side of leather sheaths has been moved to the back in an effort to prevent snagging it on brush, and has also been made optional; that is, if you want to use it you wet the loop and stretch it to fit the diameter of the rod.
Performance
The Hyken Knives Bushcrafter does everything a reasonable person could ask of it: process wood for crafting needs while serving double-duty for camp kitchen tasks. It will happily sharpen sticks and cut notches, sever cordage, whittle fuzz-sticks, and baton stuff you wish you had a hatchet for. I've even filleted a fish with it.
The scandi-vex grind really is quite brilliant, too. The convexing serves two purposes—it removes material from the shoulder of the blade which helps the knife move through wood with less drag, while strengthening the edge to prevent chipping and rolling. Those teeny-little perfectly-aligned carbides you get from CPM 154 stay nice and straight.
And it really is a pleasure to use. If you've ever dreaded using your knife because it's been raining all day and your hands are all pruny and you have a dozen tent stakes to whittle and the handle on your "tactical" knife has a bunch of sharp-ass corners and you just know what's going to happen because it happened yesterday and the day before yesterday and the day before and god-dammit why didn't I just bring stakes!, you will know what I mean.
Put another way, having used the Bushcrafter for a little while now I understand that I don't have to death-grip it. It is simply not a requirement for this knife, as the palm swell and choil work together to keep the working edge exactly where it should be. One can just hold the knife—simply hold it—confident that the appropriate respect and deference is being conveyed to the blade. Non-standard grips do not suffer as a result of the handle shape either, and so there is no need for aggressive jimping or grooving or scalloping.
This ease-of-use can also be chalked up to the overall balance and geometry, methinks. For being pretty close to a half-pound in total weight the Bushcrafter feels light in the hand. It wants to rotate around an axis just in front of the choil, and the slight rise in the spine combined with a barely-dropped point gives the knife's edge a generous sweet spot. A bit of a belly helps out when slicing sausage and cheese.
The magnet catch in the sheath is brilliant in use. I tried really hard to get the knife to fly out of its seat, but I couldn't under regular use. If I hold the sheath like a dart, open end forward, and throw the thing really hard while at the end of the motion snapping my wrist back like an idiot I can make it drop out, so just don't do that. If you fell off a cliff with the knife on your waist and you abruptly stopped the fall with your head the knife might fall out, so again just don't do that.
The Bushcrafter is not a chopper. While the blade has the thickness it does not possess the length or geometry to effectively hack at brush. And that lanyard hole barely lets a single strand of paracord pass through it, let alone the two or three I like for proper foolish-activities-grip-support. The Bushcrafter is also decidedly not a demolition tool—though it again possesses the thickness required for such tasks it does not have the length or grind.
So why is the blade so thick then? To inspire confidence, I think. So you know you don't have to baby it, so you know it'll be okay if you accidentally wedge it trying to dig a cathole.
As for the firesteel loop I find that I like the new placement as, for one, it streamlines the rig whether or not I use a firesteel, while giving me a better option if I don't. And for the record I don't. In the past I've had to stretch them out to fit a single-AAA flashlight, and with this sheath I don't. The un-stretched loop is perfect for anything with a pocket clip, so I get to just clip it back there when I want to.
Cleanup & Maintenance
I find I can maintain the edge easily with the mouse-pad-and-sandpaper method. I suppose applying a little 3-in-1 oil, or CLP, or mineral oil on the blade now and again couldn't hurt. Reid applies a light coat coat of mineral oil to each blade before it goes out.

If the sheath ends up soaking wet, the nature of the construction is such that just airing it out for a period of time should be enough to dry it. Of course a supplemental leather wax can be used at any time for extra waterproofing. I'm partial to Obenauf's.
Hyken Knives does cover every blade they sell with an unconditional lifetime guarantee though. So there's that, which is exactly what it says. Jack it up, send it back. Free resharpening, new handles, anything. Too easy.
Soapbox
I suppose a bit of state-of-the-market stuff is worth bringing up. It's difficult to talk about heirloom-quality fixed-blade knives without bringing up Bark River, after all.
Now, there's a lot of reasons why BRK has the position in the market that it does. They have exacting standards, a range of styles and options, and a lifetime guarantee. If you live in the USA and want a bushcraft-style knife that isn't a Mora, chances are you're considering a Barkie.
The bubble on Busse knives and their kin has burst. If you want a user and not a safe queen you might as well get an Ontario. And in general if you're interested in tacticool blades you might value other considerations over fit and finish.
The Hyken Bushcrafter—and its siblings the Lite Hunter and Harpoon—can be found in the same price range as Bark River offerings, as these are top-tier semi-custom knives. I can say that I prefer the handle design of the Bushcrafter over my North Star; in my hand it is more ergonomic—that is, it fits more naturally—and it provides better balance.
I also note that while the Bushcrafter uses stock of similar thickness, the different grind means a lot more steel in the spine of the knife. The difference in grind also means the tip of the Bushcrafter is much stronger in comparison. The fit and finish on both knives is impeccable.
Of course all this stuff is preference. A stouter knife tip generally means a less agile tip. More steel means more heft. These are trade-offs that we as consumers are hopefully informed about. I think it is a good thing that I have such options and choices, especially when laying down $200-$300.

Conclusion
The Hyken Bushcrafter should find a solid foothold among its peers, as it is a solid knife. It boasts a level of refinement that usually comes at the expense of utility. We all try to stand on the shoulders of giants, and Reid Hyken has learned from his predecessors while improving on their designs. The Bushcrafter artfully combines a number of features while incorporating a truly inventive magnetic catch into its sheath. If the biggest nitpick I can find is a skinny lanyard hole I could do much worse.
Testing Conditions: Hiawatha National Forest, Pictured Rocks National Lakeshore Trail, and Escanaba State Forest in Michigan's incomparable Upper Peninsula.
About the Author: Vince Contreras has been working as a professional Forester and Ranger for various federal land management agencies since graduating with a Bachelor's Degree in Forestry from Southern Illinois University in 2010. He currently resides in Michigan's Upper Peninsula, a Forester for the US Forest Service. He enjoys rock climbing, backpacking, and debating nineteenth-century German Idealist philosophy. Other hobbies include leather-working, bushcraft, and really, just creating original things.
Disclosure: Though I received a sample of this product for purposes of this review, the opinions expressed herein are my own. I've bought a few knives from Reid over the years--the aforementioned Bark River included--at his physical shop here in the UP, Northstar Trading Post.
Source: tested or reviewed it for the manufacturer (Kept for long-term testing)

You May Like
Recently on Trailspace