Hyperlite Mountain Gear Summit 30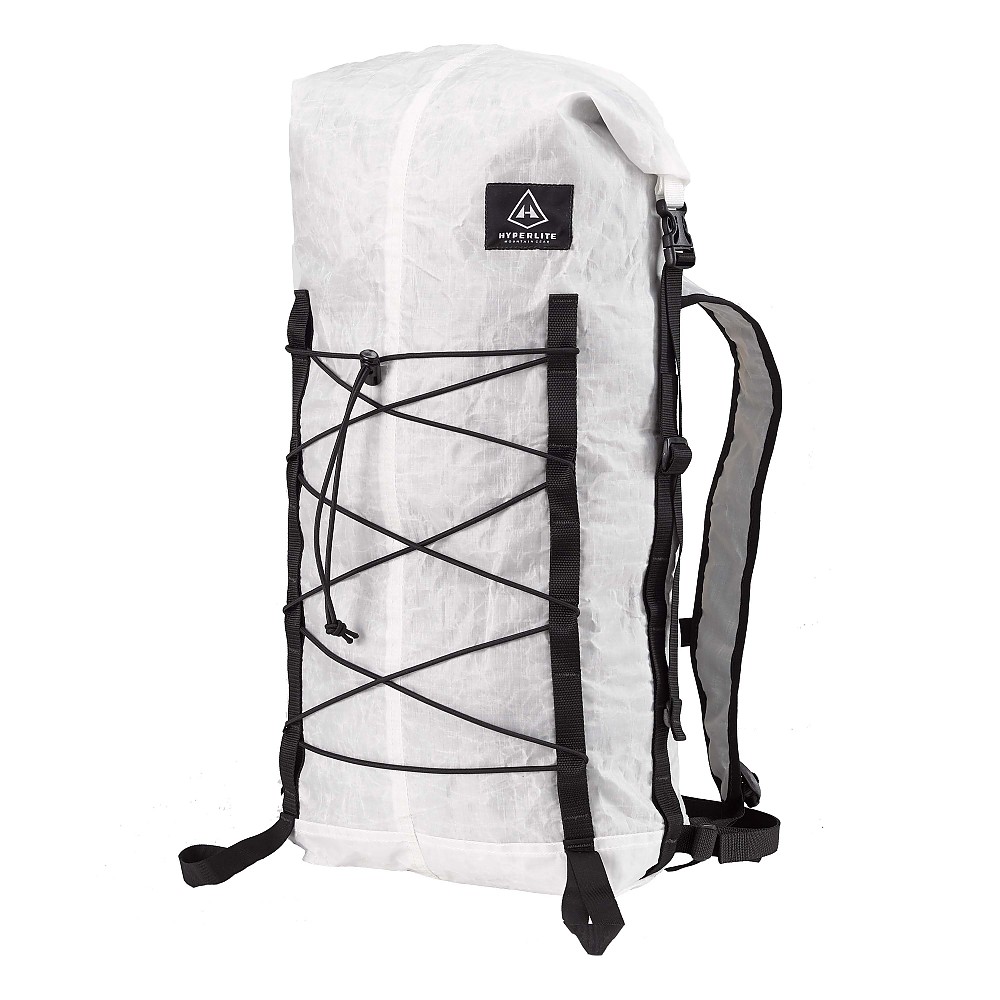 Version reviewed: Dyneema Summit Pack
The Hyperlite Mountain Gear Dyneema Summit Pack is a minimalist 30L pack which uses a woven Dyneema face fabric to increase durability beyond any other pack I've ever used. The abrasion resistance, and to a lesser degree the puncture resistance, is superior to anything else on the market by a country mile.

With a very comfortable fit, a roll-top closure, removable hip-belt and extra storage, in the form of criss-crossed shock cord, it is clear that Hyperlite Mountain Gear (HMG) has paid attention to the little things. Add in a couple small things, bivy pad and a small pocket, and I'd have no critiques left.

The pack is best for anyone who appreciates extreme levels of durability in their gear. It is however limited in its size to shorter outings.
Pros
Durability
Weight
Comfort
Size
Removable hip-belt
Roll top closure
Waterproof
Shock cord storage
Cons
No bivy pad
No small pockets
Seam tape peeling
PREAMBLE
The more packs I have the opportunity to use, and test, the more I realize the value in two primary design decisions—durability and simplicity. The two are fairly interconnected, although one, or the other, is often poorly executed in the final pack design. This is especially true in packs designed for rock, alpine and ice use, less so in backpacking and hiking. They take an above average amount of abuse and need to function, without fail, as more is often at stake. Having a gear failure while climbing, rock or ice, can be dangerous at best, and deadly in the worst case scenario.
This little preamble is what leads me into the Hyperlite Mountain Gear Dyneema Summit Pack. While the name is a little long, and extensive, the pack is anything but, and I mean that in the best way possible. It's a bag, with shoulder straps, that's it! Okay it's a little more than that. It's a bag with perfectly designed shoulder straps, a roll top closure, daisy chains rigged with shock cord and made with the most bombproof, virgin white, woven Dyneema fabric.
If you are unfamiliar with Dyneema, and its unmatched benefits as a pack fabric here is some quick info:
Abrasion resistance better than 1080D Cordura

UV resistant

Doesn't lose its technical integrity when folded or crinkled.

Resistant to most chemicals

Floats on water and hydrophobic

Fire resistant and self-extinguishing

Can withstand an extreme range of temperatures
On a weight-for-weight basis Dyneema is 15 times stronger than steel and 40% stronger than Kevlar. The majority of its uses are far more life dependent—armoured vests, boat moorings, surgical cables and orthopedic sutures. Or possibly the most bad, errrhhmmm, behind (this is a family-friendly review) backpack material made today.
When laminated to the Cuben Fiber interior, that HMG usually uses, you get all those benefits plus the lightweight waterproofness of the CF and eliminate CF's only real weakness, abrasion resistance. It's a blissful combination that competes with the likes of PB and J, beer and a campfire, batman and robin—all great on their own, but when put together they are unstoppable.
FIT & COMFORT
The Summit comes in only one size, so make sure it fits you before purchasing, by ideally trying it on, or at least measuring yourself and using HMG's dimensions as a guideline. That said I've lent it to a couple people with very different body shapes and sizes than me, and all have found it equally comfortable. I have a 20.5-inch torso and have lent it to people down to about an 18-inch torso. All have reported back the same comfort level I've experienced.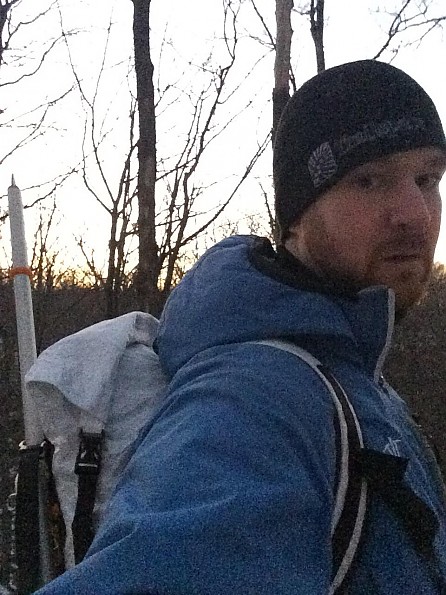 Being tall and narrow, a similar shape to the traditional bullet pack, with a little bit more boxy lines, the pack rides comfortably between the shoulders and out of the way of your harness or helmet. The size and shape of the pack give you full range of motion throughout your shoulders and does not hinder any dynamic movement of the hips.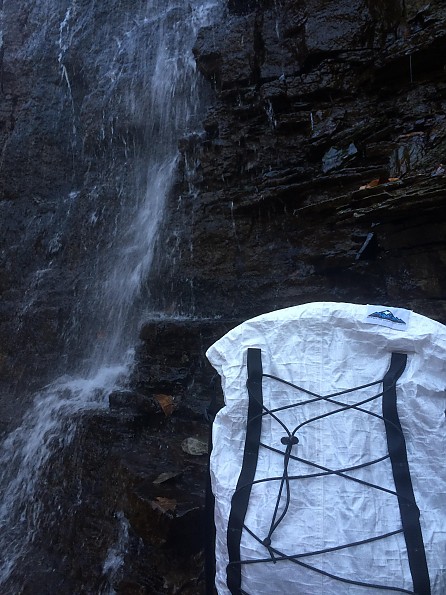 The Summit is a frameless un-padded pack. It requires careful selection of what goes where.
The shoulder straps are wide, but unpadded. Poorly designed or executed this would be an uncomfortable match but these things are perfect. The slickness of the Dyneema fabric allows a little bit of movement without any of the chaffing or uncomfortable hot spots.
I did receive the pack when the colder weather had already arrived, and hence thicker shirts and jackets. I'm interested to test it out in the warmer seasons for two reasons: one, the breathability, or lack thereof, of the shoulder straps and back panel, and two, how well the pack will carry without the extra cushioning of a jacket. I think it will be fine with both, as any time I've used it for more urban uses—grocery shopping, commuting, work, travel, etc—it has been quite comfortable.
The stated weight carry recommendations are 5-20 lbs but I've found it quite comfortable in excess of that. Anytime I'm approaching the 20 lbs mark I like to put a blue foam pad inside the pack, against the back. This does three things: one, it gives some rigidity to the pack to help with carrying comfort, two, keeps pokey things away from your back, and lastly, gives you an emergency bivy pad, or just something to sit on.
I'd love to see this added. It is one of the very few things that keeps me from labelling it as "Perfect". The fabric is thin so if you don't pack it properly, especially without a pad, you'll feel every cam, screw, or even your rope.
The sternum strap is adjustable and has the now common emergency whistle in a bright orange colour. There's eight inches, divided up into 4 two inch increments, of webbing ladder to get the perfect fit. Also a small, but often overlooked, 3-inch piece of elastic runs for part of the sternum strap allowing it to expand and contract a little.
The belt is ¾ webbing which is nice to sturdy the pack but is not designed to take any weight off of the shoulders. When climbing, mountain biking, or trail running it will help it from flopping around annoyingly on your back. Again paying attention to the small details that make this pack so great, it's removable. I have it off probably 90% of the time. I like to just throw it inside the pack so I don't lose it. When I do want it on it's super convenient to have, and easy to reattach via a ladder lock buckle.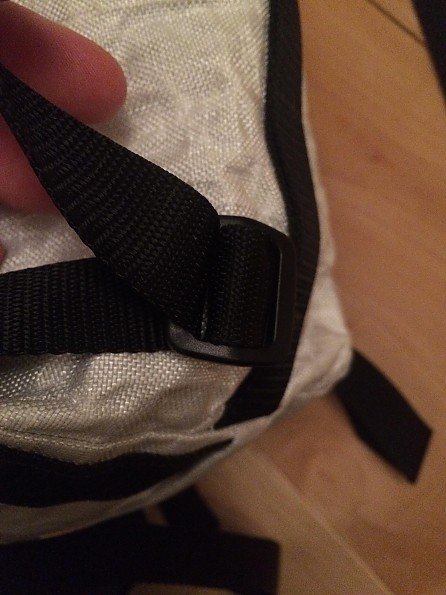 Removable hip belt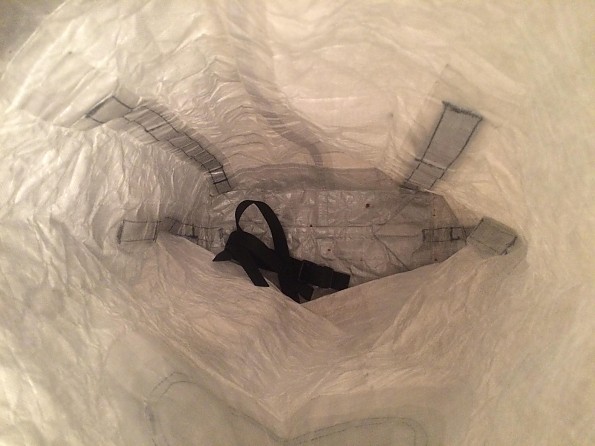 Throw it in the bag though so you don't lose it.
There's also a nice sized grab handle that is sized well enough to work even with gloves on.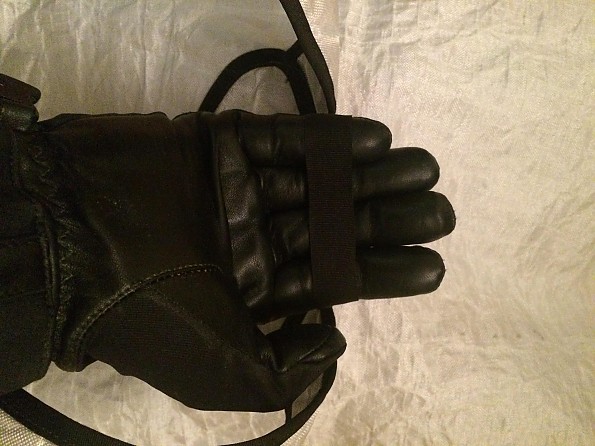 Room for four fingers with gloves on
CAPACITY
The pack is advertised at 30L although it does feel smaller than that. I'm not sure if the listed volume is with the roll top closure fully extended. Compared to the Wild Things Guide pack which is 26L it feels significantly smaller. I'd say comfortably it's in the 25L range, allowing yourself some room to roll down the top.
It has a top circumference of 32", 31" at the bottom and a back width of 10". When fully unrolled it stands 27" tall, although as I said I don't feel all of that is useable. Once the pack gets too tall it starts to hit the back of your helmet, becomes too unbalanced and you lose the waterproof benefits of the roll top closure. Pare down your gear, bring only the essentials, or use the "I can't fit it in my pack, I guess you have to carry the extra gear on the approach" excuse (works like a charm every time).
The webbing straps have shock cord criss-crossed across the back allowing you some extra space for anything that didn't fit inside, or anything that got wet. Helmet, jacket or tarp all fit nicely.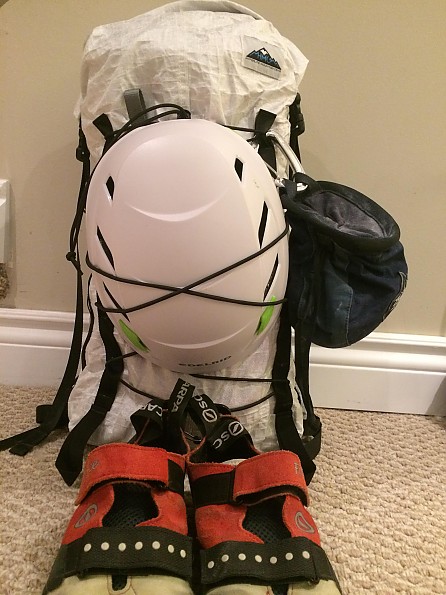 All packed up, climbing shoes can fit inside, but I often clipped them to the daisy chain to air them out!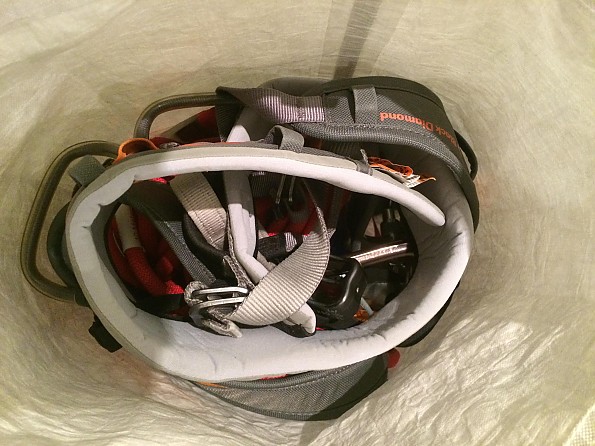 Room to spare for shoes...if they didn't smell like a garbage can.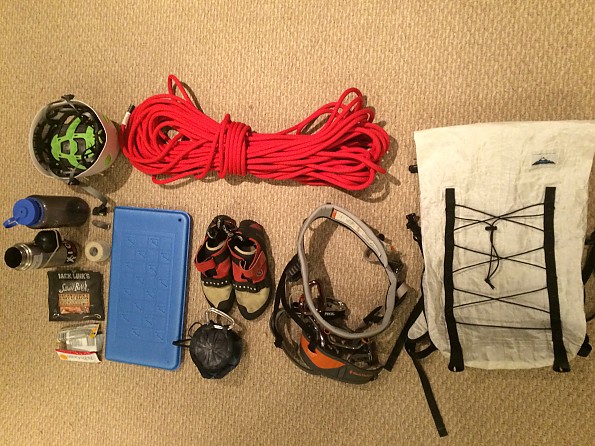 Everything I carried that day (from L-R): snacks, two liters of water, tape, small knife, helmet, 60M 10.2mm rope, shoes, chalk bag, harness. (I also later threw in a headlamp, small first aid kit, and my wallet, cell phone, and keys.)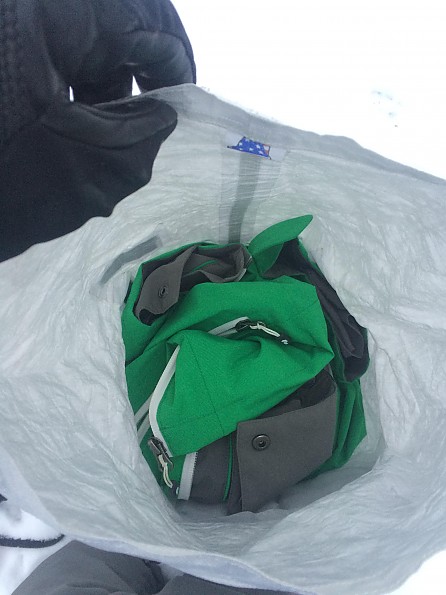 For a day hike I carried a small alcohol stove and fuel, 750ml pot, ramen noodles, 2L of water, dog food and bowls, torso length blue foam pad, extra jacket, and a small first aid kit. Lots of room left.

The other thing I love about this pack is the, wait for it, packability! The Dyneema fabric gives you the durability without the bulk. A pack of comparable size/durability made with another fabric wouldn't be able to fold down nearly as small, or weigh nearly as little. It only weighs 14.6 ounces (less than HMG claims) with the belt, and 13.8 ounces without, and it packs down to the size of a Nalgene. Easy to throw into a larger bag and easy to tuck away when you don't need it.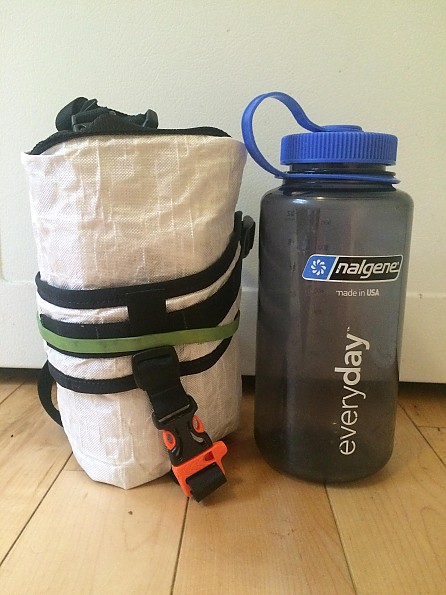 One liter Nalgene for comparison.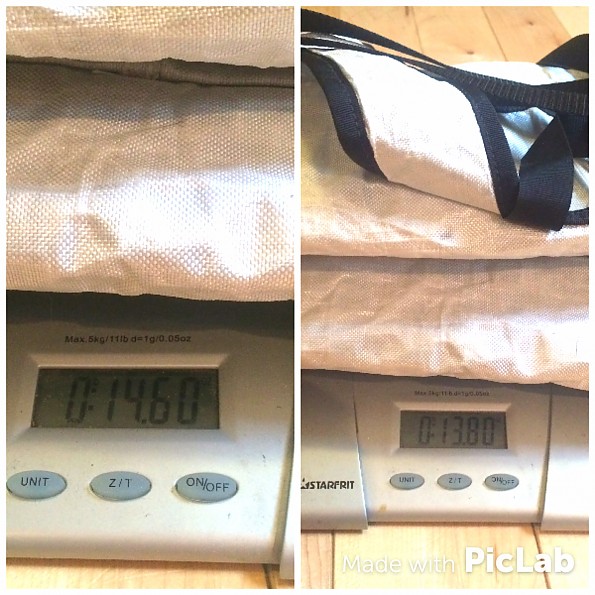 Weights with, and without, hip belt.
ORGANIZATION & ACCESSABILITY
It's one large sack. End of this section of the review.
Okay fine. You do have to pack smart, and the more you use it the more you'll figure out what works for you. There's no internal pockets or lid to keep the small things organized, so I use a small cuben stuff sack, to keep stuff I need easy access to, separate.
Wallet, phone and keys when commuting, lip chap, headlamp, and knife when climbing, for example, all things that would fall to the bottom and be annoying to dig for when you want them. One small exterior pocket would be extremely convenient, something like the one on the Arc'teryx Alpha FL, which, in my opinion is the closest, most comparable pack being made.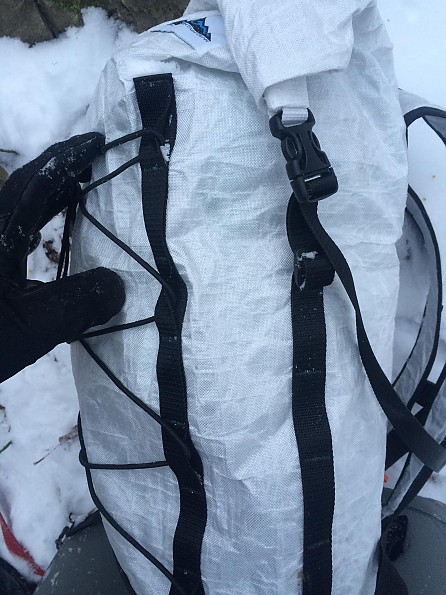 Two daisy chains on each side. HMG does make a Summit pocket which lashes to these, I will most likely be purchasing it.
The fact that it is entire white certainly makes it easier to find objects inside though.
My one small gripe here, and I understand why they did it, is the ice axe loops. It's the most outdated way to carry an axe, and Hyperlite knows it (just look at their Ice specific pack where they use the far superior tools sleeves). The loops serve more uses for carrying trekking poles, a tripod, or bike lights though, so I guess versatility won out here.
COMPRESSION
The pack utilizes a roll top closure so you can decrease the volume by continuing to roll down the top. There are no side compression straps, but the pack is on the smaller side to begin with so they would just be superfluous. Cinching down the back shock cord pulls the load in nice and tight to the back.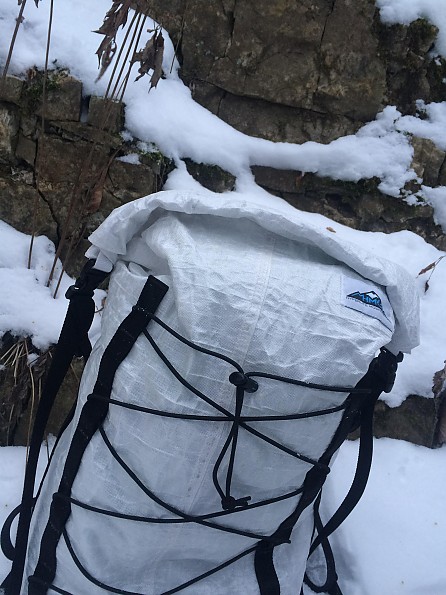 Roll-top closure and shock-cord.
FEATURES, CONSTRUCTION & DURABILITY
I've lumped three categories together here for a reason. Let's be honest, there are a million packs, made by a million different manufacturers, that are as "simple" as the Summit. Two shoulder straps and a bag. Simple. Now design a perfect fit, add the back shock cord, a removable hip belt, waterproof fabric, and a roll top closure. Well that eliminates over half the packs made. Now make the face fabric out of woven Dyneema. We're down to two companies that I know of, and the other one is almost double the price.
The price is high, there are some people that are going to inevitably say it's not worth the money, or they can get three packs for that same amount of money. Personally I value durability and would rather have one pack last ten years then three packs last three years each.
My testing pack has absorbed some dirt stains on the bottom, but the Dyneema fabric has laughed off everything else. Shoved in and out of the gym locker, thrown down, sat on and climbed out of, dragged across rocks and bushwhacked through briars with nary a mark.
Dyneema Fabric sample testing:
When initially asked to test the Summit pack I had inquired if Hyperlite would be able to include a small sample of the Dyneema fabric. Knowing the extreme cost of it (the suppliers of woven Dyneema are very few, so don't expect it to go on sale anytime soon) I expected to be turned down, or at the most maybe be sent a little 3 by 3 inch square.
Imagine my surprise when a 13 by 14 inch square was included with the pack for testing. I gave them full disclosure of my intentions to attempt to fully test the limits and destroy the fabric. My only instructions—"Don't set it on fire!"—and I think even that was in jest. I received the pack and fabric October 20, 2015. From then on my mind immediately went to devising some sort of testing gauntlet. The first thing I wanted to do was to cut the swatch of fabric in half, one to show what it's like brand new, as a control, and one to treat less than kind. I dulled two pairs of scissors, had one pair professionally re-sharpened, and finally made it through the required 13-inch cut.
Step one: Since then it has sat outside with weights on in, exposed to the sun, rain and light snow that has made up the past two months.
Step two: December 21, I brought it inside to begin folding it repeatedly. Every night when I sat down to watch T.V. I'd sit, and in a little shade of OCD (or a child holding a blanket!), I'd fold, stretch and crinkle it. With some fabrics you can actually degrade the fabric to failure, or at least weakness, this way. Besides some ketchup stains, no luck.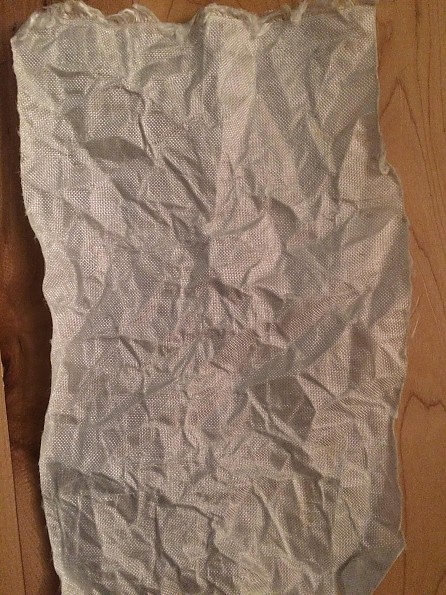 Time to start crinkling. (Is that a word?)
Time to take it to step 3, sharp objects….. Cue movie-
Couple more thoughts on the long-term durability…
All the critical points are bar tacked.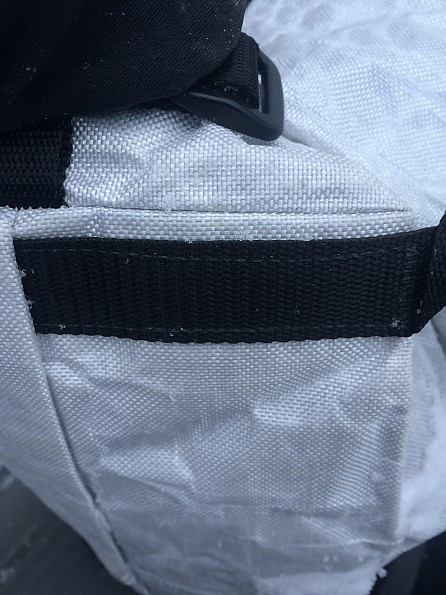 All sewing is top notch.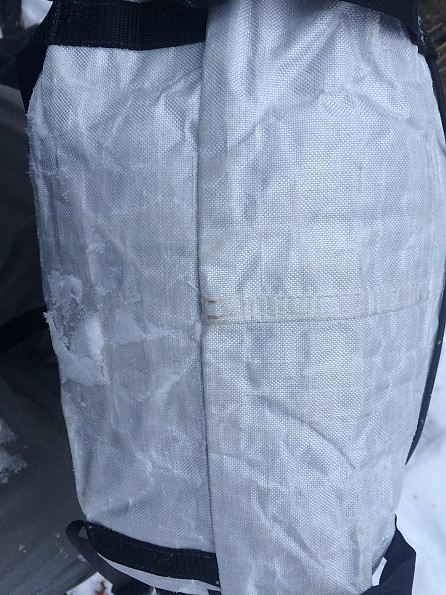 There is a seam that runs along the entire length at the base of the pack. It worries me a little because I think that would be an easy place to get dirt into and eventually break down the seam, or water to enter—nothing so far though.
Interior seams are sealed, although the shoulder strap seam tape is peeling off. I've reinforced them with some Tenacious Tape.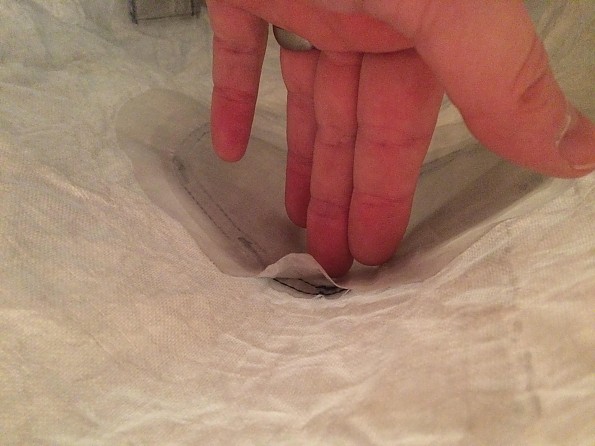 Starting to peel off.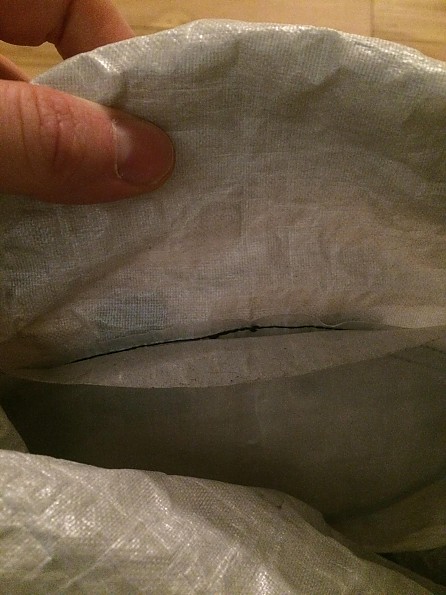 And more....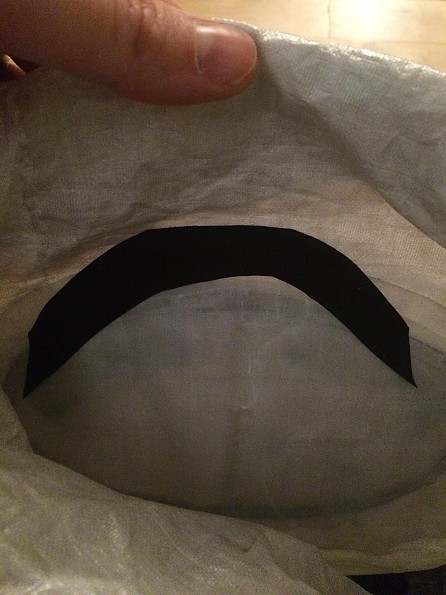 Time to stop this madness. The tape has held for a couple weeks now, and bonus, it looks like my pack is wearing a mustache!
All the plastic buckles, straps, shock cord, basically any weak point on the pack is easily user replaceable.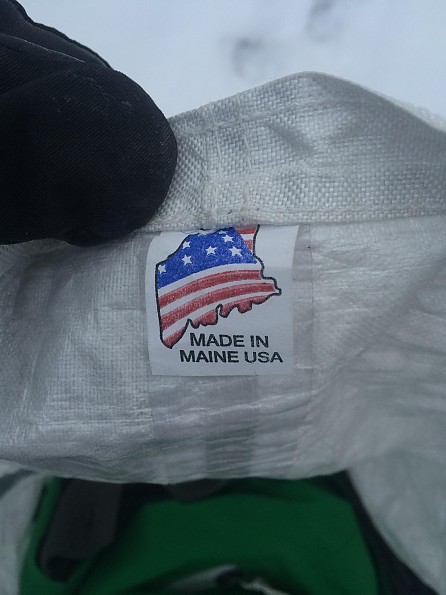 You also get the quality control that comes with a locally made product, and the lessoned environmental impact.
CONCLUSION & TESTING CONDITIONS
The Hyperlite Mountain Gear Dyneema Summit Pack is a premium priced product that backs it up with premium performance. Luckily it doesn't just talk the talk, it walks the walk as well. Whether you are hard on gear, a professional guide that lives out of their pack, or just someone who values durability, the woven Dyneema fabric is unlike anything I've ever tested, especially when it comes to abrasion resistance.
The size bodes well for day hikes, crag climbs, ultralight overnighters, commuting, or summit pushes. The best features are the woven Dyneema, the fit, waterproofing and roll top closure. If HMG were to add a removable bivy pad and a small exterior pocket you'd be looking at the perfect pack. It's so close to perfect that I decided to give it five stars in spite of those (relatively) small omissions.
I've had the chance to test this product over a three-month period. It has fended off three-hour long downpours without a drip inside, snow bounces off it like armour, and rock abrasion might as well be as damaging as a soft teddy bear. I've climbed (both at the crag and gym) out of it, commuted with it and packed it in larger bags, gone for trail runs and hiked with it in temperatures varying from -24°C to 16°C.
At the time of the review winter finally decided to arrive in the Northeast but I also see it as perfect day ice pack, I've only used it like this once, so I'm holding off judgement on this for now.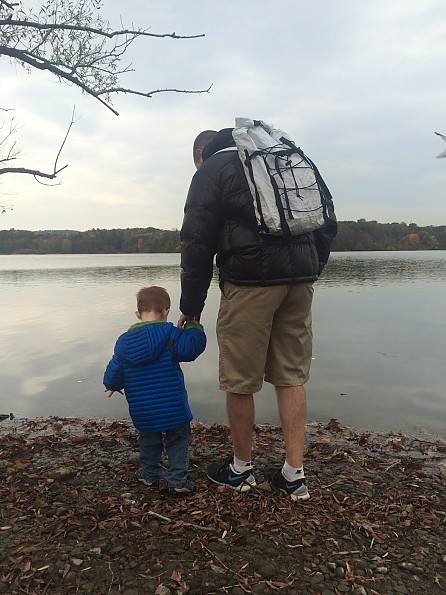 *My thanks to both Trailspace and Hyperlite Mountain Gear for the opportunity to test the Dyneema Summit Pack.
------------------------------------------
Update: January 2017
I have continued to use this pack and have found my initial impressions to be correct.
Recently I was able to take it for a winter overnighter (a mild one, but still winter). 
Source: received for testing via the Trailspace Review Corps (Sample provided by Hyperlite Mountain Gear for testing and review)

Version reviewed: Summit Pack
I wanted a small light daypack and this one had the benefit of being watertight (until it ripped).
Cons
Material is not durable—will rip
Front bungee straps are not secure for storing items
I've been using this small day backpack about once a week for 1.5 to 2 years, mostly lightly packed with a few items for work etc.
I purchased this pack because of the cuben fiber material which is a lightweight material with the added benefit of being watertight. This pack is made of cuben fiber laminated with a thin layer of woven nylon fabric which makes it as heavy as many of the daypacks on the market (16 oz).
The design of the pack: It has some bungee cords on the front for strapping/attaching clothing etc. I have not been using these straps as much as I thought I would, mostly because whatever you attach has a good chance of getting loose or in worst case being dropped. I have other packs which are using thin elastic mesh, this will secure anything, big or small. I think this would have been a great solution for this pack.
In regards to the fabric, after I purchased this bag I realized that it's not as light as wished. Hyperlite has the same pack, but made out of cuben fiber only, without the sandwiched nylon fabric. This might have been a better option, but the quality of the cuben fiber fabric is even thinner.
My pack has torn where the closing straps are attached on the sides of the pack. This is even through I've rarely been using the side attached straps (the first week or so) and instead just used the rolling top and click the two top locks.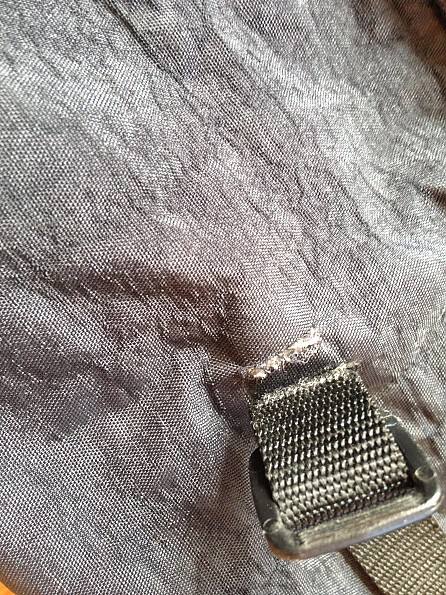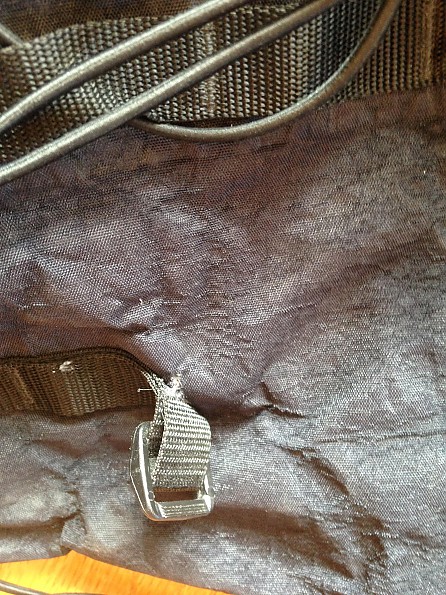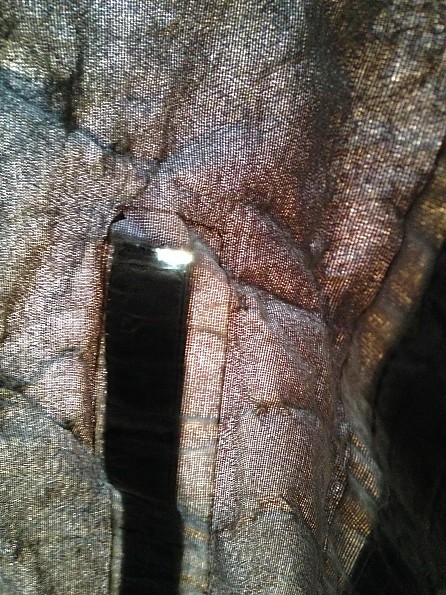 I have a tarp from Hyperlite as well that I've been very happy with, it's super light, but I don't think cuben fiber is good for backpacks simply because of lack of durability even when sandwiched with thin nylon which at the same time makes it heavier.
The below picture is of the bottom where some natural wear has happened. This will happen to any backpack, but it's just to illustrate that this fabric does not have any extra durable benefits when compared to normal nylon and I'd even say the my REI Flash daypack has lasted some extreme condition on the trail and as a day-to-day daypack and it looks much better at a fraction of the price.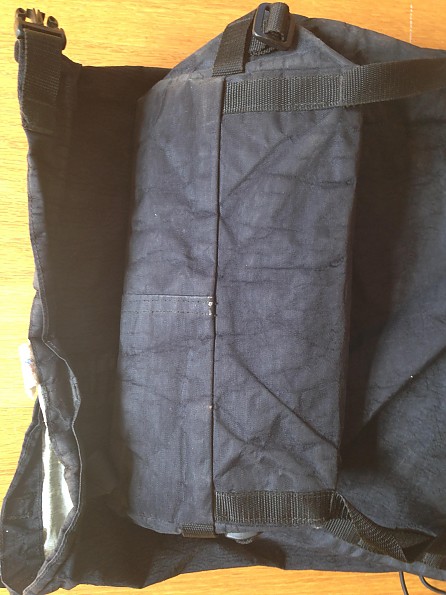 Source: bought it new
Price Paid: $185

Version reviewed: Dyneema Summit Pack
No way this deserves 5 stars!
Pros
Hyperlite
After sales service
Cons
Seam tape peeling
Missing compression cord = poor QA
Very expensive considering other cons
The fabric is fantastic and the design works for me since I was not looking for anything complicated.  Top closure ensures it will resist a storm but seam tape around shoulder strap stitching is already failing after a single light use. At this price I can't see how this can be justified.
Also, I got mine and it is missing the compression cords, which for me indicates sloppy QA prior to sending it. The seam sealing is the same thing.
Fix these issues and it's a winning product, but for the premium that is asked for this pack I must say that I would not recommend it and many other makes would be preferable—MLD, CiloGear, etc....
After sales service from HMG to resolve the issues made me revise my rating and add 2stars.
Source: bought it new
Price Paid: As priced on HMG site

Version reviewed: Dyneema Summit Pack
The Hyperlite Mountain Gear Dyneema Summit pack is probably the simplest, most indestructible, lightweight pack I've ever owned. It's withstood many summits in the Eastern Sierras, slot canyons in southern Utah, peak bagging in the White Mountains in New Hampshire, and even some minimalist two-day trips into the mountains.
Pros
Super strong woven Dyneema material
Solid stiching
Made in Maine
Cons
The hip let, while minimal, could be placed closer to the back panel for better weight transfer to the hips
The design is very black and white. Pack most of your stuff in the single roll-top closure compartment, and clip anything else you might need to the outside. Like everything else produced by HMG, the Summit Pack is built to last and built for simplicity.
Source: received it as a sample, freebie, or prize

The author of this review takes photos for Hyperlite Mountain Gear under a contract.
Your Review
Where to Buy
Help support this site by making your next gear purchase through one of the links above. Click a link, buy what you need, and the seller will contribute a portion of the purchase price to support Trailspace's independent gear reviews.
You May Like
Specs
Price
MSRP: $300.00
Current Retail: $199.00
Historic Range: $136.50-$295.00
Reviewers Paid: $185.00

Weight
0.93 lbs / 14.8 oz / 420 g

Volume
1800 cu in / 30 L

Load capacity
5 – 20 lbs

Top Circumference
32 in / 81.3 cm

Bottom Circumference
31 in / 78.7 cm

Height Fully Unrolled
27 in / 68.6 cm

Back width
10 in / 25.4 cm

Materials
Woven Dyneema/Cuben Fiber Hybrid

Recently on Trailspace