Icebreaker Oasis Crewe S/S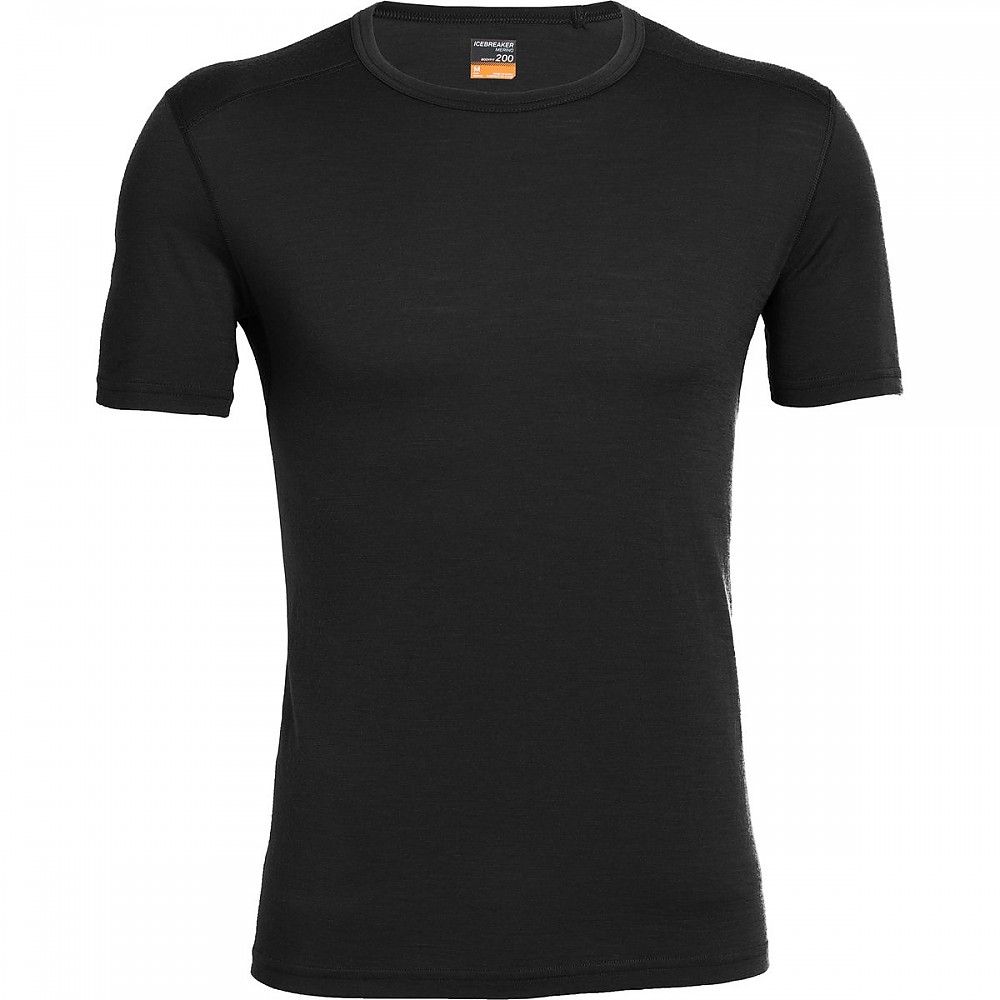 This 100% merino wool t shirt is great for most outdoor pursuits and workouts. 200 weight merino is a bit heavier weight than the "ultralight" wool t's and has benefits, namely more warmth and durability. The ability to wear while damp, wick moisture, and stay warm is wonderful. Smooth finish is not itchy.
Pros
Warmth
Wicking
Durability (for merino)
Odor defense
Comfort
Cons
Full retail price is painful
Merino can develop holes
Array of shirt models can be confusing
This is really a tale of two t-shirts. In 2010, I purchased Icebreaker's Hopper Lite t shirt and still wear it today. That model was later discontinued. A couple of years ago, I searched for and found an equivalent shirt and landed on the Oasis Crewe as virtually identical to the older shirt.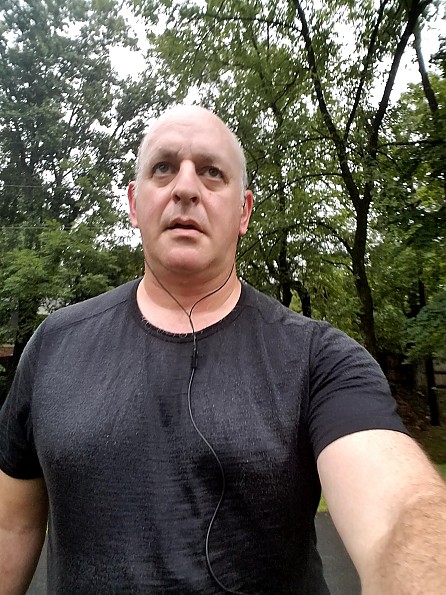 The photo above is the Oasis Crewe. It's all black, 200 weight merino.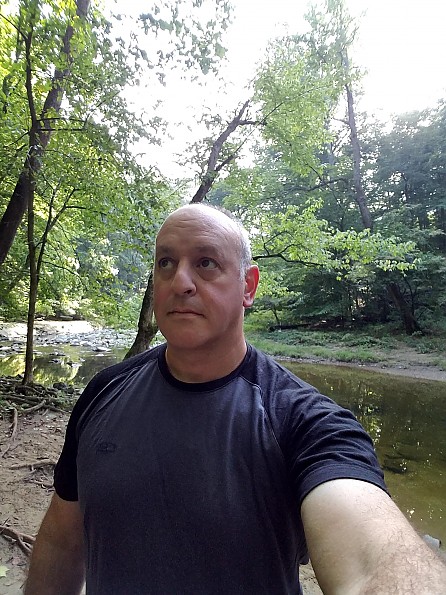 This is the Hopper Lite. Same 200 weight merino wool. The main difference is that this one has a somewhat different sleeve setup, and while the shirt is a purply-blue, the sleeves are black. Note that in both these photos, I had been hiking for a while, and the shirts had both wicked a great deal of moisture out. More on that below.

DESIGN
Not all hiking t shirts are made the same. There are certain things you may want if you plan to wear a shirt for hiking, particularly for long days under a backpack. First and foremost, you want something that is built to last, with seams, hems, and collars that are well-finished and will not unravel.
Second, look for shirts with seams that are not on the top of your shoulder. A typical cotton t shirt has a seam between the short sleeve and the neck, right on top of your shoulder. That is a bad design for something that might be stuck under a backpack shoulder strap all day. Both the Hopper and the Oasis put the shoulder seams either toward the front or back of your shoulder.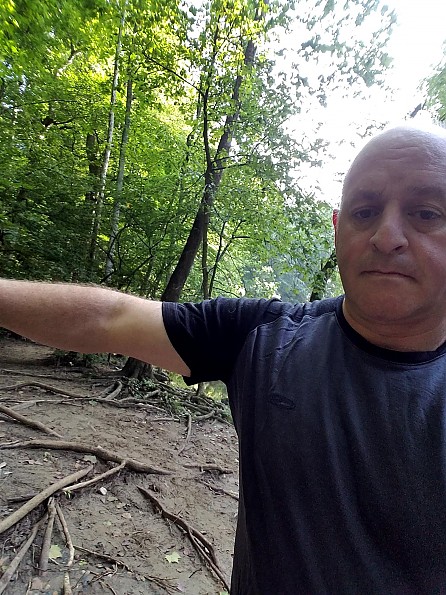 This attempts to show how the sleeve and seam are offset from your shoulder on the Hopper. The seams run diagonal, front and back. The Oasis's seams are set back and forward:


Note that this shirt, like all Icebreaker's base layers, have no tags. The size/type is printed or applied to the fabric. Another plus while wearing a backpack, plus no non-wool tag to stay damp.
Either way, the part of the shirt that takes the most pressure and friction from a backpack shoulder harness is seamless, and you are less likely to chafe. Hems and seams are uniformly solid. I have not had a seam fail in 12 years of combined use.
FIT
I do not like or enjoy tight base layers. I want a t shirt that fits comfortably but does not feel like I'm stuck in a sausage casing. You may have noted the label of the Oasis above is size XXL. I'm normally a size XL, and the Hopper is a XL, but as the shirts have gotten more form-fitting over the years, I have sized up so the shirts have a little more room. Don't get me wrong. The XXL is not loose or baggy on me. But I prefer the extra room I get from going one size larger.
THE FABRIC
Merino wool has some great properties for being outside, and for the most part, Icebreaker does a very good job making merino wool garments. The most significant differentiating factor for merino is that it is a soft and relatively non-itchy wool, so it is comfortable next to your skin. (Some people can't tolerate any wool. If that's you, look for synthetic base layers).
Wool also wicks moisture away from your body, so even if you are sweating hard, your skin should feel more comfortable with this shirt than with a wet cotton or cotton/poly shirt. (There are many synthetic base layers that are also very good at wicking moisture). Merino also keeps you reasonably warm when it is damp. There are synthetics that do this as well, although in my experience, merino wool provides better warmth for the weight than any synthetic base layer I have worn.
These 200 weight merino wool t shirts impart more warmth than lighter weight merino. You can find Icebreaker t shirts that are 120 or 150 weight. I strongly prefer the heavier weight wool t shirts because I feel they are more versatile over a wider range of temperatures. The closeup photos below attempt to show how well these shirts wick moisture away from your skin.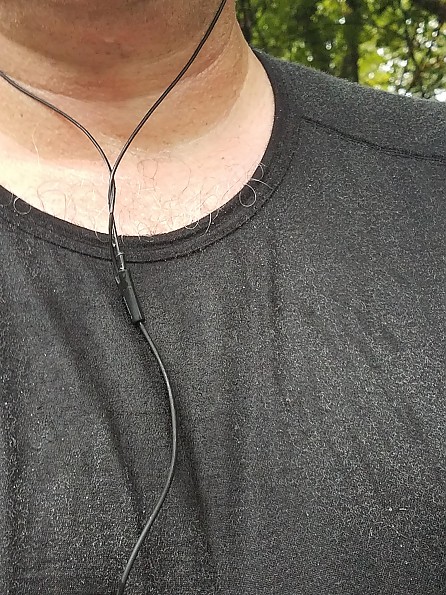 The Oasis above; the Hopper below. Keep in mind that the Hopper is almost eight years old. It's fair to say the wool fabric does not feel quite as soft with the Hopper as the Oasis, which is mostly due to the age of the shirts. However, both do a very fine job wicking moisture.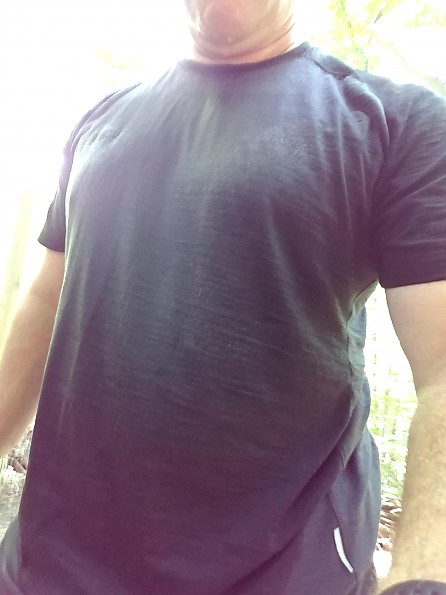 ODOR
A necessary subcategory when you are considering merino wool. Synthetic base layers, no matter what odor-fighting properties they have, eventually start to smell awful after wearing them day after day on the trail. Merino's natural anti-odor qualities are far better than any synthetic base layer I have encountered. My eight-year-old shirt is still better at avoiding odor than any synthetic; I think the newer shirts do better at avoiding odor. What you do get with merino is a mild 'wet sheep' odor of damp wool when the shirts get very wet.
DRYING TIME
Another important characteristic for shirts you wear while hiking or doing outdoorsy stuff is what happens when they get wet, either from sweat, rain, or slipping and falling into a stream. Ideally, you want a shirt that you can wring out, put on, and dry out by wearing it.
Merino does that. In general, merino wool isn't as good for 'wearing dry' as many synthetic alternatives. If you live in an extremely hot, humid situation, that might drive you to look at synthetic t-shirts. I wore the Hopper on some hikes in very humid rain forest areas in Costa Rica, and I ended up swapping it for a synthetic. 

DURABILITY
Merino wool is not as durable as synthetic base layer alternatives. The wool fabric will start to pill or develop holes eventually, and some merino fabrics will pull or form larger holes. I have had some significant issues with Icebreaker's lighter-weight t-shirts getting holes, and it is one reason I will no longer wear their lighter-weight shirts. The heavier t-shirt material doesn't (or has not for me) developed holes as large or as numerous as the lighter shirts. The Hopper developed some holes in one of the sleeves from rubbing against a backpack shoulder strap years ago. Fortunately, those holes have not gotten any larger. The Oasis, a couple of years in (and I have two of them) have no holes.
Icebreaker and some others have experimented over time with hybrids of merino and synthetic to address durability issues. For Icebreaker, this involved wrapping wool fibers around a synthetic polyester 'core'. AVOID THESE. Though the polyester arguably helps with durability, it also gives you exactly what you don't want with a wool shirt—odor issues, a harder-feeling fabric. My view? Stick with pure wool, accept the fact you will have a few holes, and enjoy the shirt.
TESTING CONDITIONS
This is not one of those 'I have a great new shirt but haven't tried it much.' I have worn Icebreaker's merino 200 shirts for literally hundreds of hours of hiking, cycling, paddling, and training. Conditions have ranged from using it as a base layer during winter hikes and climbs to wearing it under a fleece or sweater in cool to cold weather, to wearing it solo as a base layer in cool to steamy weather. I tend to shelve them during the height of Washington, DC's hot and humid summers, but once morning or evening temperatures start getting below 70, these are great. 
A WORD ON PRICE
Someday, someone will provide me with a good explanation about why a merino wool t shirt could ever cost eighty dollars. I have not yet heard an acceptable explanation. So, I strongly recommend that you engage in some sale or clearance shopping to get these shirts. Last year's models are fine. In this regard, be wary that Icebreaker seems to come up with new and different names for almost everything they sell every couple of years. It can be really confusing, especially shopping online, to figure out what's what.
The Oasis isn't the most form-fitting model they sell. If that is what you want, look at the Icebreaker website for the Anatomica or something similar. On the plus side, the constant renaming means it's pretty easy, the right time of year, to get good deals on Icebreaker's merino t shirts.
TAKEAWAYS
Does a shirt and a fabric that is prone to getting a few holes deserve five stars? How about a shirt that does not wick moisture quite as well as a comparable synthetic? I don't know, but those are properties you will have to wrestle with any time you consider a wool shirt vs. a synthetic. Icebreaker does the heavier 100% merino t shirts extremely well.
Source: bought it new
Price Paid: $45

Very expensive crap.
Cons
Expensive
Two hours and I stink like the ram it came from
I am in New Zealand where Icebreaker comes from and this brand has gone downhill in the last year or so. The quality is not what it used to be and is mostly no longer 100% pure Merino wool as their general advertising would have us believe, instead having other artificial fiber incorporated into the yarn I am informed.
At the beginning of winter I bought three Icebreaker items. A scarf, a sweater, and a base layer. The first two were returned to the retailer as they were not 100% Merino as advertised. The base layer was worn twice, washed twice, and still smelt bad and had lost its shape. This was shown to the retailer and then binned for recycling as shoddy. It was that bad.
I shall no longer support this brand nor will my family.
Of interest at the point of sale the swing tags all read 100% merino wool, but when the sewn-in tags were read (at home) there was a different story and with the care instructions was a break-down of just what was in the garment. Perhaps old swing tags as the items were on sale, I don't know, but it pays to read everything before parting with your hard earned cash.
Source: bought it new
Price Paid: $99.95 nz

Your Review
Where to Buy
Help support this site by making your next gear purchase through one of the links above. Click a link, buy what you need, and the seller will contribute a portion of the purchase price to support Trailspace's independent gear reviews.
You May Like
Specs
Price
Historic Range: $47.62-$63.99
Reviewers Paid: $45.00

Recently on Trailspace