Injinji SPORT Original Weight PED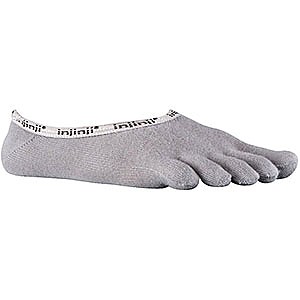 The Injinji Performance Sport, Original Weight, PED-Length Toe Sock, Composed of Coolmax, Nylon and Lycra, is about as functional and hydrodynamic as a synthetic sock can be… Especially so with the Laws of Nature Assisting in the Process.
Pros
Comfortable, seamless fit
Anatomical five toe design
Superior moisture management
PED Length, low-profile; great for running
No blisters!
Cons
May be too short for your particular shoe/boot
The Injinji Performance Sport PED-Length Toe Sock, Composed of Coolmax, Nylon and Lycra, is about as Functional and Hydrodynamic as a Synthetic Sock can be… Especially so with the Laws of Nature Assisting in the Process…
Injinji on the Web… http://www.injinji.com/sport/sport-original-weight-ped.html/
Now You See Them, Now You Don't…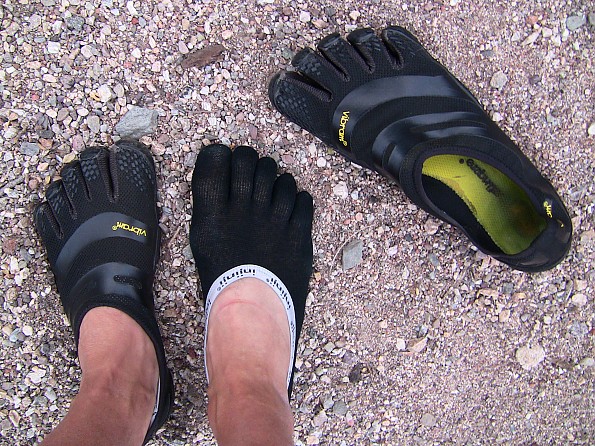 These are the Vibram FiveFingers EL-X model. I do not recommend these for hiking but they have the lowest profile collar of the three models I do own.
The Injinji performance sport PED length toesock (PED) are structurally produced to perform with the utmost respect of functionality and with as little material as possible. These are PED length socks! This means that they are meant to be hidden below the collar of your shoes. The PED's feature a welt that is about as flat as possible and maintains as much posture as possible. They simply do not want to be seen and are meant to be hidden from sight.
According to Injinji, These Socks Have a "Five Toe Fit System" with Benefits Including…
Anatomical five-toe design properly aligns toes (natural toe splay)

Seamless, five-toe-sleeve with anti-friction interface

Elastic dual welt band with increased compression that holds sock in place

Superior moisture management Prevents blisters and promotes proper posture & balance

True L/R anatomical secure fit

Toe mobility, which allows stronger, healthier feet

Reinforced heel and toes to increase durability

Better gripping and balance inside shoe Designed to support arch
Fabric/Composition…
Injinji combines a mixture of 75% Coolmax performance polyester, 20% Nylon and 5% Lycra, a conglomerate of synthetics, to produce the PED, designed for the sole (no pun intended) purpose of seizing perspiration from the surface of your feet, to the exterior of the sock, where your perspiration is exPEDiently precipitated, keeping your feet cool and dry in the warmer months, warm and dry in the cooler months.
The PED is an integral part of my footwear system, and one I'd soon not go without. I've been wearing Vibram FiveFinger (VFF) footwear, when I wear footwear, 100% of the time since April 2013, and the PED's have been worn along with them, each and every time. Considerable discernment has been initiated, over the years, for a sock that would function better for me than the next.
With all due respect to the VFF's, these socks are a perfect functional companion. And, with all due respect to the brand of sock, Injinji, which I've been wearing for many years, I probably would not have purchased the VFF's if Injinji's PED toe socks didn't exist.
Prior to the VFF's, I wore a fairly strong hiker, a Kayland hiking boot to assist me in my adventures with not a single blister, in 6 years, credited entirely to Injinji brand toe socks! Prior to toe socks, in general, I suffered enough blisters to dramatically consider a change that would once and for all make a difference, including comfort and function!
Structure, Fit and Performance…
Coolmax structural properties, that is, the architectural integrity of the fiber, contains channels, micro-channels that are specially designed to extract, transport , displace and disperse your perspiration over a wider surface area, wicking perspiration while at the same time positioning the perspiration to expeditiously and precipitously expunge perspiration from the surface of your foot. This process continues efficaciously throughout the use of the product, every moment, during performance, while in use, repeating the entire process cyclically, allowing the wearer to, essentially, perform more efficiently, functionally, and comfortably, during exertion and whenever your feet require moisture control.
These PED's hug my feet! With a very low profile and superior fit, accredited to the seamless design, these toe socks, literally, fit beyond expectation. Once they're on, they fit me perfectly, like a glove, so to speak, with no shifting. Right out of the package, I never thought they would, just looking at them. There is no loose sock to be found nor is there excess anything. And, because they fit each toe so well, seamlessly, there's practically zero chance of sock movement, migration and chafing that would otherwise cause blisters.
In addition to being a low-profile sock, structurally these fit below or at the crest of my VFF's, and they are a thinner sock so there's no bulk to control or behave badly. If these socks have, at all, broken down, after all these months/years, that is, the individual fibers losing their ability to perform as expected, I have not noticed. I continue to use the same PED's I have since their addition to my sock line-up in April 2013, in conjunction with my VFF's, with no noticeable wear or damage, with the exception of a small insignificant hole in one single pair. I rotate, the best I can, the same three pair that were originally ordered along with my VFF's.
Quite honestly, there doesn't seem to be much complexity to this sock, and looks are very deceiving. They are indeed thin in nature but seem to perform as if passion was guiding their way.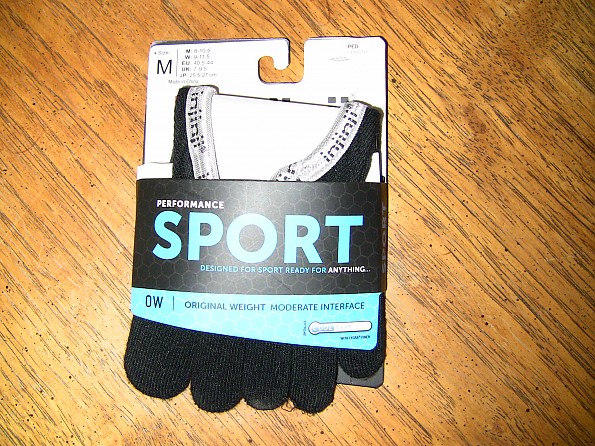 Performance and Temperature Regulation…
Why, you ask, if the body's cooling mechanism is the process of perspiration, do we need a product to transport the perspiration from our body? Wouldn't the benefit be the perspiration and cooling effect of the resulting solute(water and constituent molecules)? Great question!
By transporting accumulated solute, water, sodium and other minerals, from the body, the Coolmax fabric is effectively relieving the body from an over-accumulation of solute that may lead to decreased performance, and particularly, comfort. Coolmax transports solute by-products from the skin, assists in the evaporation of water while, unfortunately but unavoidably, decreasing in performance, over time, due to build-up or accumulation of solute residue. This accumulated, abandoned residue is also the odor we smell as a result of prolonged period of wear, due in part to this accumulated residual residue once part of the solute, additional solute and, while in use, generated body heat, and added organic material kicked up while in motion. Let's olfactive further into this…
What's that Ungrateful Smell?…
Coolmax, like polypropylene and other natural and synthetic fibers will absorb your perspiration. Once the water is precipitously expunged and evaporated from synthetic performance fabrics you're left with nothing but, as stated above, solute residue clinging to the garment, in this case, a sock. This resulting build-up of solute residue with the addition of more solute causes odor! Natural fibers, on the other hand, tend to retain more water, significantly diluting or dissolving the solute, preventing as much odor, in my opinion. Natural fibers are, however, by nature, more odoriferous to begin with, but their ability to retain solute is greater, causing dilution.
Odor is essentially unavoidable, however, there is a bit more odor with synthetic fibers than natural, I have experienced. The good news is that I find synthetic fibered clothing to clean well, perform well for the entire length of it's lifespan and, for that matter, survive, in tact, for many many years more than its natural fiber counterpart.
The PED is no exception. The only way to avoid a savory synthetic fabric is to wash it! Thus, for example, if I'm on an extended backpacking trek, I may bring two sets of PED's. I'll quickly wash a pair and hang them on my pack to dry while wearing the fresh pair. Also, when you're experiencing a soaking rainfall, a synthetic fiber performs considerably better, overall, greatly liberating the garment of excess water, far more efficiently than a natural fiber, and synthetics dry dramatically faster.
Following a single day of use, my sport PED's seem to take on a life of their own, more closely resembling a rigid plank than the tiny ball of synthetics that was pulled from the washer and dryer. This, once again, is the residue that has accumulated in the material that cannot escape or precipitate, unless washed, asap. If worn continuously, without washing the accumulated material from the garment, the sock's structural integrity may begin a process of severe disenchantment, inducing a conditional form of back flow that you may find closely resembling a concrete pad rather than a sock that is a PED. All of us may have experienced this a time or two, of course you have. I know I have, following a few long-distance endurance events and all-day exPEDitions.
More (or Less, Briefly, Off the Subject) on Accumulated Organic Material…
Incidentally, to sway slightly from the immediate subject, this is also why we should indeed protect our footwear, and for that matter, our clothing and gear from destruction by utilizing a protective barrier from harmfully grinding organic material that may either induce damage or cause complete breakdown of performance. For the same reason we wear a synthetic sock to protect our feet and shoes, we also need to protect our clothing fibers from incidental damage by utilizing a sit pad such as when we're resting on the trail, please click link, https://www.trailspace.com/gear/therm-a-rest/z-seat/#review30602, and gear, such as our tent floor by incorporating a ground sheet resting directly on the ground taking the brunt of punishment rather than our expensive tent floor. Respectively, a sit pad will protect and prevent dirt from damaging the fibers of your hiking pants, and a ground sheet to protect and prevent dirt from damaging the fibers of your tent floor.
In all instances, preventative measures are always an inexpensive alternative to complacent behavior and avoidably, necessary replacement! Which is why I always wear the PED's with my VFF's, and I've been asked why a number of times. I care enough to protect my gear, protect my VFF's from over-exposure. The act of conserving may just be the ultimate in function!
Wearability…
I began wearing Injinji's, in general, this is pre-PED, in approximately 2008, strictly for blister control (once again, I began wearing the PED length socks in April 2013). They were outstanding in performance and fit my feet well, toes well, and with little movement inside my boot, and they rarely or never caused a blister. They performed far better than every other toe-less sock, without question, and my feet couldn't be happier, that is until the PED's arrived in 2013. And, the PED's are so much better… no shifting, no creasing, and, no complaining (for my part). That's the best part!
And, according to Coolmax, the reviews were similar to mine. Wearers reported a significant degree of moisture control, performing "much better" than rival counterparts, hence, Coolmax is a "much more desirable" product. And, in regard to Coolmax, I, personally, have been using Coolmax products since its introduction in 1986, including running and cycling apparel, with a fairly good feel for the product. The transition to socks, therefore, seemed natural. I do, however, feel more comfortable in a natural wool product, in my experience, but find the quick-natured performance of the Coolmax products to keep me, as stated earlier, warm and dry during cooler months and cool and dry during the warmer months. That's a hard act to beat.
Can You Say, "Culture Shock"…
So, as you could probably imagine the PED's aren't too bad as a daily sock. But, how do they perform on the trail? Well, they perform just as well on the trail as they do everywhere else! In fact, on the trail, their reduced weight helps considerably. I went from a Kayland, over-the-ankle, hiking boot, and wearing a far more substantial, above-the-ankle, Injinji sock, to VFF's and Injinji PED's. Can you say culture shock or is it culture sock? What an amazing difference and transition! I was, prior to VFF's, a firm believer in supportive over-the-ankle, backpacking boots. Now, I will not hike or backpack, with any other foot wear than the VFF's/PED combination! They're that comfortable for me.
And, my PED's have performed flawlessly, with just one complaint. As form-fitting and as well-constructed as they are, at the collar, they still tend to allow the smallest bit of material in. However, these socks are well below my ankles and this must be fully expected considering the shape of our anatomy below our ankle. I can not expect the collar on the Injinji's to fully fill these vacancies, it would simply defy all laws of dynamics. Despite this, the PED's are the best sock I have ever worn, and I've experienced no other issues, whatsoever!
In the near future, I do intend on making a trail gaiter, compatible with my VFF's to avoid all material entering through the cuffs of both the VFF's and PED's. This will be a fun, do-it-myself project.
Size…
My foot size is a US size 10.5, slender with a high arch! The model PED I wear is Injinji's "OW", Original Weight and Moderate Interface. Injinji's medium size is reported to fit US sizes from 8 - 10.5. The medium fits me well, almost tight, with little or no room left, if my foot were slightly larger. The PED has virtually no wiggle room and, in fact, it's designed not to. Therefore, I find the sizing chart, accurate! Injinji also claims these socks to be quite supportive, and deservingly so. They are indeed, I must admit, very supportive.
Injinji produces socks in several weights and interfaces. My initial preference was not necessarily the PED and was chosen only to correspond with my VFF's, which seemed a plausible possible fit, coinciding together. I believe this has been a fantastic choice, to begin with, wearing PED's with my VFF's.
In general and specifically, for each and every functionality, I'm overly pleased with my PED's and fully support this choice of toe sock!! You'll love them as much as I do!
Climate…
Since my initial PED purchase back in April 2013, I've worn these PED's everyday whether I'm in the house, working, walking about town, hiking and backpacking. The climate in southern, AZ, where I live, is a hot, dry heat during the warmer months, cool and dry during the cooler months. Therefore, as much as my feet may perspire, the climate is assisting in the process of evaporation. PED's are, therefore, not as much a requirement as they may be in a more temperate, humid environment.
My PED's have been introduced to temperatures as low as freezing, but no less, and temperatures above 100ºF, never experiencing temperatures greater than 110ºF. During the summer months of Monsoon, my feet get wet and the PED's assist in the process drying quickly!
I've hiked in rain, snow and on ice with no laborious drying-out required. These PED's really have performed well for me!
Price…
$10/pair
Summary…
Thus, the Injinji Performance Sport, Original Weight, PED Toe Sock, composed of Coolmax, Nylon and Lycra has performed well, functioned as expected and wears comfortably. The PED's have kept my feet dry, prevented blisters and have caused no unexpected issues. They have not broken down, nor have they failed to perform. Following more than 11 months of everyday use, the PED's will remain on my feet, weather permitting, and will continue to be an integral part of my footwear for many months/years to come. For your convenience, I'll continue to submit updates in regard to future experiences.
Reach Your Summit!
This is an independent review of the Injinji Performance Sport, Original Weight, PED Toe Sock. I am not at all affiliated with Injinji nor am I affiliated with Coolmax or Lycra, or any associated entity. I paid full retail price as a consumer for this product!
Source: bought it new
Price Paid: $10

Your Review
Where to Buy
Help support this site by making your next gear purchase through one of the links above. Click a link, buy what you need, and the seller will contribute a portion of the purchase price to support Trailspace's independent gear reviews.
You May Like
Specs
Price
MSRP: $10.00
Reviewers Paid: $10.00