Injinji Trail 2.0 Midweight Micro

#5 in men's Running Socks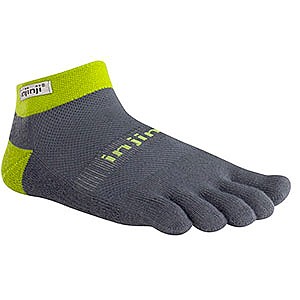 These toe socks take a little bit of getting used to, but come with a lot of benefits including wet-weather warmth and blister resistance.
Pros
Warm when wet
Comfortable under shoes
Prevent blisters
Help keep feet dry
Dry quickly
Cons
Difficult to put on (relatively)
Feel strange without shoes
I have always been a little doubtful when it came to efficacy of toe socks. I think this may be because my first experience with anything like them was the Vibram 5 Finger shoes, which are difficult to put on and tend to smell terrible.
Still, I was determined to give these Injinji socks a fair chance and I am glad I did — these things are fantastic! While they do have a few drawbacks compared to traditional socks, the Trail 2.0 Midweight Micro socks have shattered all of my preconceptions about toe socks.
As of today, I have only had these socks for a week, but have managed to get out on the trail in them on three different occasions and they have performed wonderfully.
The first time I put these socks on, they felt pretty awkward. Unlike normal socks which just slide on, you actually have to adjust each toe of these socks in order to fit the right toe on your foot into each toe on the sock. Even once you have the toes arranged properly, there's a little fiddling to be done before each toe actually fills its part of the sock.  
Once you do get these socks on, there's the sensation that there's something stuck between your toes, and there is! While this does feel strange at first, I found that I only noticed it until I put on shoes. I normally just wear a pair of trail running shoes and the Injinji socks felt right at home in them. I made it through a day at work feeling as comfortable as ever and then went for a brief hike down one of the local trails.
I didn't yet see much benefit to these toe socks, but they seemed to perform as well as any other socks that I owned.
Injinji claims that toe socks help to prevent blisters by preventing the friction between your toes. While this makes sense, I still wanted to put it to the test. So for my second day out with the Injinji Trail 2.0s, I decided to do a nice long hike through the Middlesex Fells. The head of the Skyline trail is about 5 miles from my house, so I set off nice and early. By the end of the day, I had hiked 5 miles to the trail, ~ 7 miles along the trail, another 5 miles back home, and then gone out again to get dinner (about another 2 miles each way).
While I was definitely tired after all this walking / hiking, I had absolutely nothing in the way of blisters or hotspots to show for it. I should mention here that I was still wearing a pair of trail running shoes as opposed to actual hiking boots. I can't completely rule out blisters in Injinji socks, but this particular outing has given me enough faith that these socks will be coming with me on my next trip up to New Hampshire / Maine.
My most recent experience with the Injinji Trail 2.0 socks (and the one that really pushed me over the edge and made me order another pair) was just this afternoon. I left work a little early today and figured I'd go for a short trail run. It has been raining on and off all day, so I knew it would be wet. Two hours later, in spite of my shoes and socks being soaked through, my feet were warm and comfortable as ever.
This was great to know, but wasn't anything I wouldn't get from my Smartwool socks. What I don't get from my Smartwool socks is quick-drying material. When I got back home, I decided to see just how long it would take to go from sopping wet to completely dry (while wearing the socks). The Trail 2.0s were noticeably drier within 10 minutes and were bone dry in about 20 minutes.
FIT:  The online sizing chart on Injinji's website seems to be pretty accurate. I received a size L which fit me perfectly (I usually wear between an 11.5 and a 13 depending upon brand). The Micro variety is comparable to most athletic ankle socks with the cuff coming to the base of the ankle. It is tall enough to protect your heel from chafing against a trail running shoe, but not high enough for use with boots. Injinji also offers Mini-Crew and Crew sizes if you do need a taller sock.
COMFORT:  These take a little getting used to. The extra material between your toes feels strange at first, but is perfectly comfortable in a shoe and actually feels nice once you get used to it.
MATERIAL:  The Trail 2.0s are made from a mixture of CoolMax, Nylon, and Lycra.  According to marketing materials, "COOLMAX® fiber is an enhanced fiber that provides superior moisture management and comfort. The wicking capabilities of COOLMAX® fiber are ideal even in the most extreme conditions caused by any sport or activity."  
While CoolMax is really intended to help keep your feel cool and dry, I have found that it does a great job at keeping them warm as well (so long as you remain somewhat active).
WATER RESISTANCE:  These socks certainly won't keep you dry, but as I mentioned above, they stay comfortable even when wet. The one downside of CoolMax is that it does tend to accentuate the cooling power of any breeze at all. Still, this is only really an issue if you're airing your feet on a cool day.
When they do get wet, they also dry fairly quickly. This is most likely due to a combination of the materials used and the fact that these socks have more surface area than traditional socks and thus can pick up and expel moisture faster.
TEMPERATURE CONTROL:  On my first trial run with these socks, I was concerned about heat. On the second and third, I was concerned about the cold. The Trail 2.0s performed excellently in both cases. My feet stayed comfortable regardless of the conditions outside. When dry, these socks do lean toward the cooler side, but not uncomfortably so.  
BENEFITS:  
"Total Foot Utilization" — Injinji claims that splaying and properly aligning your toes, you can better engage your whole foot during athletic activities. I'm honestly not certain how to go about measuring this one. I have never really felt like my socks were holding me back in the past, so it's hard to say if they are right here or if this is just marketing.
Moisture Management — The 5-toe design adds surface area to your sock and simultaneously prevents moisture from getting trapped between your toes. This helps both when wicking away sweat and when drying off after a rainy hike. Following today's run, I'm definitely a believer here.
Blister Prevention — Again, I can't absolutely rule out blisters with toe socks, but they do seem to perform as well or better than traditional wool socks for long treks. Even in running shoes, I have experienced blisters after as few as 5 miles in the past. These made it well over 17 without so much as a hot spot. I'm looking forward to seeing how they perform on my next trip up North.
Enhanced / Double Cuff — The enhanced cuff really just ensures that these socks stay in place. There is nothing worse than socks that slip down just enough to let your shoe rub against your heel. So far, I have had no issues with the Injinji Trail 2.0s.
Mesh Top — The mesh top is fairly common to athletic socks these days. It aids in moisture management and cooling.  
Arch Support — Arch support in socks is an elastic band in the middle of the sock that helps to hold the sock in place by squeezing the arch of your foot (not uncomfortably, or even noticeably in most cases). The Injinji socks have a nice wide arch support band in the middle of the sock and stay in place wonderfully.
Source: received it as a sample, freebie, or prize (Trailspace Reviewer of the Month prize)

Your Review
Where to Buy
Help support this site by making your next gear purchase through one of the links above. Click a link, buy what you need, and the seller will contribute a portion of the purchase price to support Trailspace's independent gear reviews.
You May Like