Innate Motus V2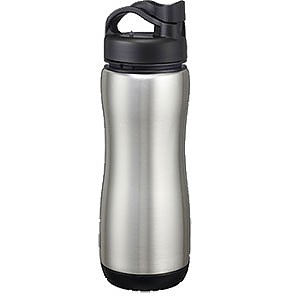 Specs
| | |
| --- | --- |
| Price | Historic Range: $14.00-$15.00 |
| Weight | 240 g / 8.5 oz |
| Capacity | 560 ml/18 fl oz |
Reviews
1

review

5-star:

0

4-star:

0

3-star:

1

2-star:

0

1-star:

0
An elegantly designed, high quality water bottle with a bit of an identity crisis: it claims at least one backcountry feature, but it is more at home in the car on the morning commute or in the boardroom than in the wilderness.
Pros
Quality materials
Excellent finishing
Nice design details
Cons
Materials used limit backcountry utility
Capacity small for backcountry use
Weight to great for backcountry use
I received this as part of a Reviewer of the Month prize from Trailspace.
The first question that popped in my head when I saw this water bottle was this. 
Backcountry . . .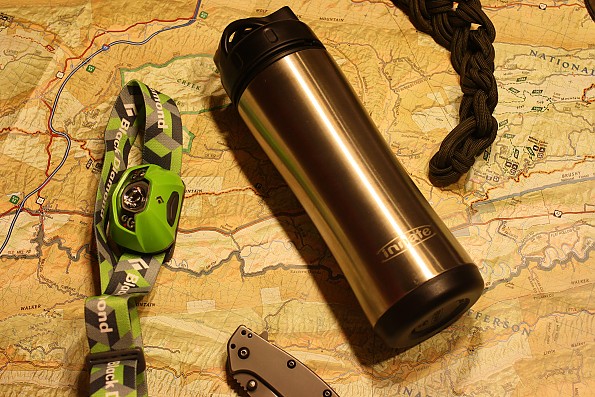 Or boardroom?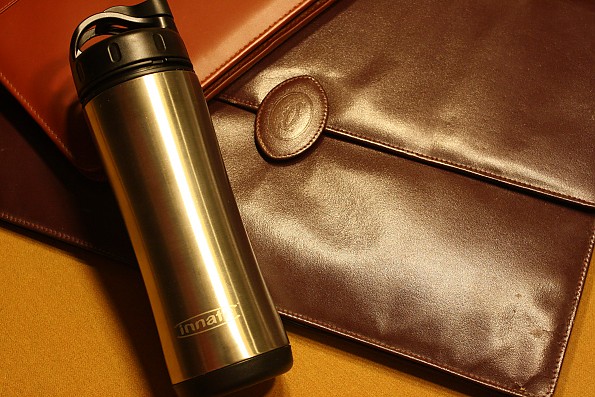 Initial Impressions
When I first opened the Motus V2, I knew immediately that it was a quality product from a manufacturer that attends to detail. The brushed 304, 18/8 stainless steel bottle was subtly sculpted to fit my hand; here was a bottle that felt good. The design of the lid incorporates an arched support for the flip cap, allowing a carabiner to hook in for attachment to a pack.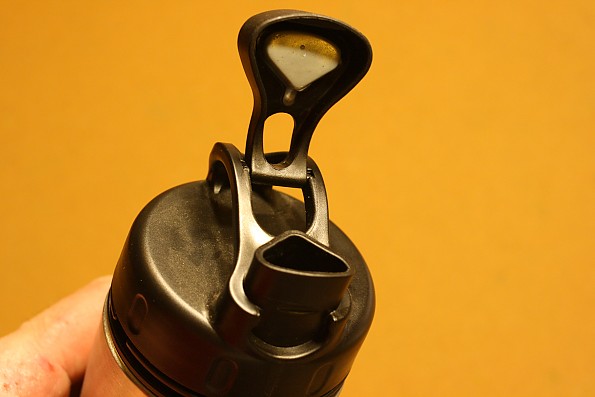 Yes, I was initially suspicious of the flip top lid, fearing fragility, but the #5 polypropylene feels solid and durable and the flip cap seals easily in leakproof fashion.


Design and Features
Innate is an interesting company that cites "Leaner, Cleaner, Greener" as its design philosophy. The company prides itself on innovation, including innovative use of materials and innovative design, and it seems apparent from its web page that it is conscious of its ecological footprint and intent on reducing it over time.
I will note that it is made in China, and the company itself acknowledges that it has "a long way to go to achieve complete transparency throughout our supply chain, but we are focused on continuous improvement." But what Innate's philosophy means with the Motus V2 is that the consumer gets an ergonomically shaped water bottle made of quality materials and finished to a high standard.
The hand feel of this bottle is great, and I found the aesthetics to be pleasing, too. The flip top can be readily opened with the flick of a thumb, allowing one to access the contents in one-handed fashion. This, of course, is a boon to anyone who has a hand occupied, whether with a steering wheel, a computer mouse, or, perhaps, a trekking pole.
A silicone (I assume it's silicone; it looks like silicone) seal keeps the lid watertight, sealing easily and nicely with the twist of the top. The threading on the lid is part of Innate's modular design; there are other lid options included in the company's V2 collection, so a user can customize the bottle if he or she so chooses. To each his or her own: I liked the lid it came with.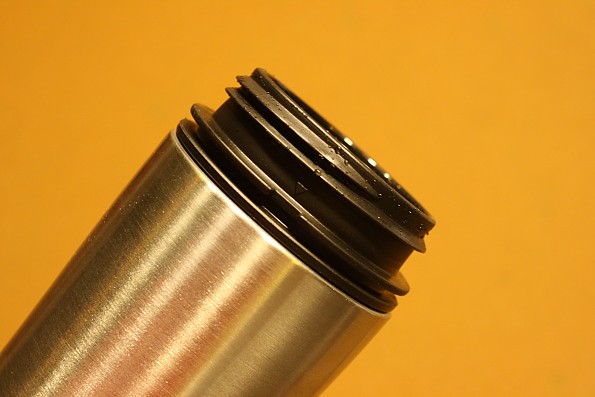 Innate claims the bottle mouth fits a variety of backcountry water filters, and, indeed, the fill cap from my Katadyn Hiker Pro did fit inside. However, due to the taper of the mouth, which curves inward, only about 1/16" of the mouth is straight-sided enough to accommodate the filter attachment. This means that much care would have to be given to keeping the bottle attached, basically requiring a second pair of hands. I confess I am usually balancing on rocks in a creek when filtering, trying to cradle the bottle while pumping the filter, so this is not an optimal design feature.
I learn from the Innate website that "electrolytic charge and dolomitic sandblasting" were used to finish the inside of the bottle, allowing Innate to refrain from using BPA-containing coating lacquers. That's great; I don't know what the final verdict is on BPA (if there is one—so many studies!), but I don't mind avoiding it. 
From the site, too, I learned that the bottle has been well-tested, passing USFDA, California Prop 65,  and European Norm Food Container Standards. I'm certainly okay with that, too. The bottle warns that the bottle must be hand washed and should not be used in a microwave (wow, some people would attempt that?); I have no problem with either points: apropos hand washing, how dirty is a water bottle going to get?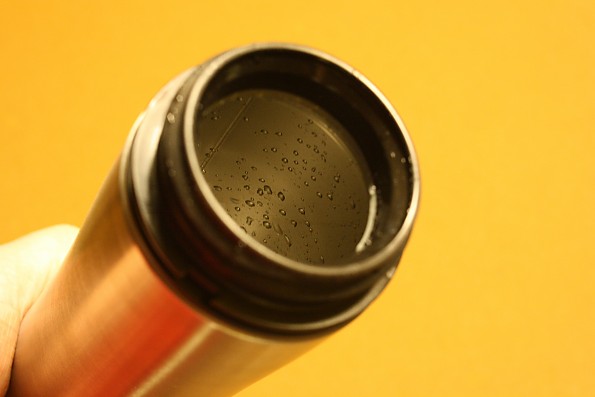 But the design of the Motus V2 has some inherent limitations, too, that—in my opinion—make it better suited for the boardroom than the backcountry (it seems too elegant a creation to grace a mere home!).
First, there is the capacity: the Motus holds 18 oz. That is nice for an occasional sip or for a drink with lunch, but it seems too small of a capacity to accompany active outdoor pursuits. Hey, I get thirsty! I do carry twin 16.7 oz. water bottles on my pack, but they are much lighter than the Motus—30g each with an attached Aquaclip to the Motus' 201g (curiously, Innate lists the weight as 240g on its site; my scale showed 201g).
For all the mention of water filter compatibility, I don't see the Motus as a practical backcountry option. There are good reasons, of course, for carrying a single-wall stainless steel water bottle in the backcountry: in a bind, one can boil water in a stainless bottle to kill waterborne nasties. But here the elegance of the Motus' design works against it, too: who would want to consign that snazzy polypropylene base to the flames of a campfire?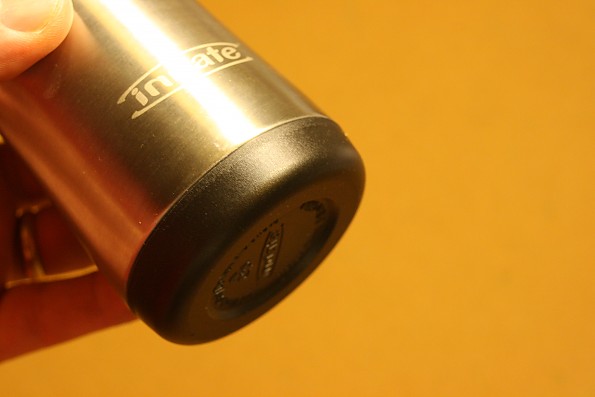 Daily Use
I have carried the Motus V2 with me for several weeks now, chiefly to work and around town or around the house. I just couldn't bring myself to tote the extra weight in the backcountry, and frankly I don't think that is the intention of this bottle—the backcountry water filter compatibility is part of Innate's larger modular design, and the company makes what it terms "athletic water bottles" of lighter materials with greater capacities for those pursuits; the Motus shares features with others of Innate's line, but it is best-suited for more urban activities.
Like going to work.
The Motus fits beautifully in my truck's drink holders. With one hand on the wheel, I was able to thumb the cap open, enjoy some water, and pop the lid closed without ever taking my eyes—or other hand—off the wheel. The brushed steel finish is elegant, too, so I felt less awkward about having this on my desk at work. Sure, I've used Nalgenes at work before, but colleagues have eyed me with suspicion, as if questioning in what world—work or wilderness—my true allegiance lies. No comment. In any case, the Motus frees me of these suspicions.
Conclusions
Does it work? Yes, beautifully. Not for the backcountry, as I've said, but in urban milieux I have had no problems with it at all. It does have a clean design, and it performs well. I feel it is a bit overbuilt for a single-wall, uninsulated water bottle, but it is satisfying to use: just imagine hanging a Monet in your living room instead of a generic print of poppies blooming in the south of France. You get the idea. This is a well-made, nicely finished stainless bottle that should last a long time.
Source: received it as a sample, freebie, or prize (Trailspace as part of Reviewer of the Month prize package)

You May Like
Recently on Trailspace