Innate Portal Billfold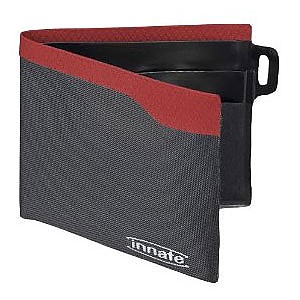 If you like keeping the profile of your back pocket as small as your environmental impact, you'll love this wallet. Made from repurposed materials, and featuring stitch-less, welded seams, it has proven as worthy on the trail as it has anyplace else. Even if unintended, the backside of the material has a rubbery finish which keeps cards in place and prevents them from slipping out. In short, this wallet folds so flat and weighs so little, you may even forget it's in your pocket to begin with.
Pros
As ultralight as the manufacturer claims it to be
Folds thinner than any wallet I've ever owned
Welded seams stronger than sewn-in stitches
Eco-friendly and made from repurposed scrap materials
Quick-drying
Cons
"Clip Point" unnecessary and impractical - better to trim it off!
So small and light you may forget it's in your pocket!
Innate Portal Billfold Wallet
My old Columbia wallet had long since been worn threadbare and began coming apart at the seams. Around the same time, I was chosen as the July 2013 Reviewer of the Month and had my pick of a list of prizes. Good timing on their behalf, because if I hadn't won this wallet, I'd have been buying my own from the store sometime the same week.
I use this wallet every day, but it's equally useful on the trail, thanks to a small profile and low weight.
My convertible hiking pants have mesh back side pockets, and aren't like traditional pockets in that they're inside the pants themselves (instead of being additional material sewn to the outside of the pants - think blue jeans). You don't want to go adding any more interior volume than your have to when your wallet has to compete with your body for space inside your clothes.
This wallet is actually comfortable enough to wear inside mesh back pockets, and if I don't feel like putting it in my back pocket, I'll simply slip it into the breast pocket on my shirt and keep it there.
SIZE AND WEIGHT
"Ultrathin," as described by the manufacturer.
3.94" X 3.54"
0.67 oz / 19.0 g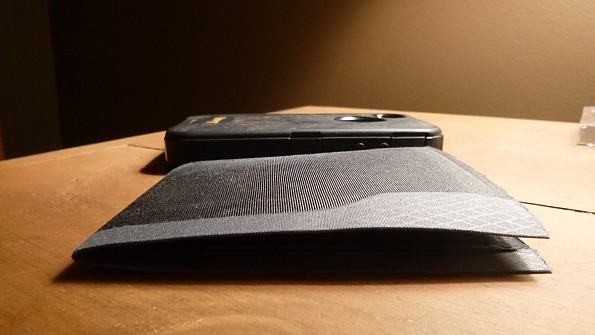 Innate Portal Billfold Wallet, shown next to an iPhone 4s for size comparison
This sucker folds FLAT, and weighs so little you barely even notice it's there. 
It's great for card-users, not so much for cash-carriers.
There won't be any single-stashing, rain-making storage of dollar bills in this wallet. Most my purchases are made with a debit card - call it the "UL" way of making purchases. More stores than ever are beginning to allow you the option of an e-mailed receipt, and this further shortens the paper trail and streamlines the wallet. Having spent a good amount of time in my life as a "city boy," too, I'm not much a cash-flasher and don't like to make my self a billboard advertisement for mugging victims. Stick to the cards with this one. Maybe a couple $20 bills, but nothing more. For my needs, however, the size and capacity are more than enough.
CONSTRUCTION
I'm all for how friendly this wallet is to the environment (made from repurposed scrap fabrics), and while the seams themselves are formed with strong bonds (opposed to stitches), the outside edges of the wallet have tended to fray over time. It's not a deal-breaker, and for what this wallet's been through in the time I've owned it, I'm surprised it hasn't done more than fray a little at the edges.
It should also be noted the backside of the material has an almost rubbery quality to it, and firmly keeps plastic cards in place. Whether or not this was deliberate, it is a feature I like.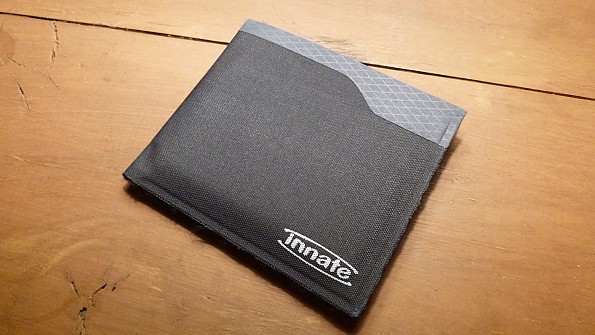 Other ultrathin and ultralight "wallets" out there are merely stitched-together fabric card holders. I like how this wallet's welded seams are stronger than stitches and don't fail as easily.
The Columbia wallet I used previous to this one completely had worn-through the edges. Once part of the stitching became compromised, the stitch as a whole was, and it slowly but surely began self-destructing. 
Because of the way this wallet is made, the fraying is more a cosmetic defect than a structural one. Truth be told, I could trim the material if I wanted to. If this wallet was something I invested my own money in, and not a free-of-charge prize, I would mark the durability down more than I have. To be completely fair, however, this is what makes this a three-star wallet instead of a five-star. The manufacturer claims newer, prototype models are being tested with an improved edge finish, although this doesn't do much good for the wallet I already own.
If you are interested in buying this wallet, wait until they come out with a newer model.
CAPACITY
"Bi-fold" style, with card organizers and a cash organizer:
1 L side horizontal pocket
2 R side vertical pockets
1 rear, full-length pocket for paper currency
Mine comfortably holds a driver's license, two debit cards, my health insurance card, my dental insurance card, and my American Alpine Club Membership Card.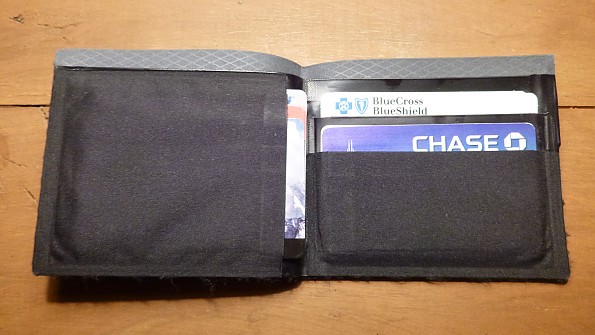 ADDITIONAL FEATURES
The built-in "clip point" I couldn't find use for, and eventually wound cutting off with a pair of scissors. This is the most extensive gear modification I've ever made, as I don't trust myself as a do-it-yourself-er (people have jobs doing specific things for a reason, folks!). I was able to trim the loop off because the seams are welded - fusing surfaces together as opposed to tying together edges.
I imagine you could clip it to a lanyard, and wear it inside your shirt - but putting it in your pocket accomplishes the same, minus the need for additional accessories (and weight). They claim the clip point can withstand 22 lbs / 10 kg of force...no idea why you'd send your wallet cliffhanging, or use it as a handle for something, but in case you ever do, seems like you're covered? Sure.
The material this wallet is made from is also quick-drying. On the first day of a three-day-long section hike of the River-to-River Trail, we hiked through rain for the entirety of the day. This wallet sat in my back pocket (only holding plastic cards - no paper currency) and was dry come the next morning (unlike my synthetic shirt).
Source: received it as a sample, freebie, or prize (Trailspace and Innate, for being named the July 2013 Reviewer of the Month)

Your Review
Where to Buy
Help support this site by making your next gear purchase through one of the links above. Click a link, buy what you need, and the seller will contribute a portion of the purchase price to support Trailspace's independent gear reviews.
You May Like
Specs
| | |
| --- | --- |
| Price | MSRP: $18.50 |
| Weight | 19 g / 0.67 oz |
| Dimensions | 10 x 9 cm / 3.94 x 3.54 in |
Recently on Trailspace