Meet HornRimmedHiker, Trailspace's Reviewer of the Month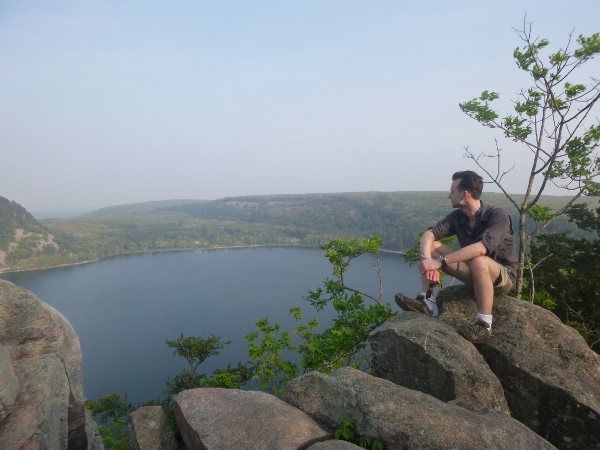 Congratulations to community member HornRimmedHiker (aka Eric), Trailspace's July Reviewer of the Month. While many Reviewers of the Month have years of backcountry experience prior to joining Trailspace, Eric transformed from car camper to enthusiastic backpacker this year with the help of the Trailspace community.
Eric joined Trailspace and published his first gear reviews in May, and went on his first solo backpacking trip in August. Trailspace members gave Eric encouragement and helpful information, and Eric has given back, publishing 18 gear reviews in July alone.
Congratulations, Eric! You win a goodie pack of gear from A3, Innate, ProBar, and Trailspace for your contributions.*
Join the Trailspace community in choosing future Reviewers of the Month by voting up the reviews you find most helpful. Write your own helpful gear reviews and you could be next month's most helpful reviewer.
---
How did you get started exploring outdoors? Any favorite stories, memories?
After dropping out of a Boy Scout troop that seemed more like a Civil War re-enactment group (Canvas tents? Really?), I swore off the outdoors well into my early adulthood.
Camping came about as a solution to a tough economy and a tight budget. Providing our own lodging and cooking our own meals, we could afford trips otherwise too expensive. We started out using campgrounds for base camp, and leaving them for the day to do other things.
Eventually we'd spend the majority of our time inside the parks. From there I made my transition into backpacking and really devoting an entire trip to the confines of a park.
What do you enjoy doing outdoors?
Just being outside is enough of a thrill. Between acting gigs and the day job, I spend most of my days in dark, windowless rooms, sitting down, sticking to a program given to me by someone else.
To be outside? Feels like complete freedom. While I don't mind company, I've gotta admit that solo backpacking had an obvious appeal to me: do what you want when you want to do it. Unless you've got a very contrarian conscience, you're able to have complete ownership of your schedule (or lack thereof).
When I'm able, I really enjoy kayaking and spending time out on the water, too.
Tell us about your favorite outdoor areas/places.
The best ones always are the secluded ones, either far down the trail, or off the beaten path. The ones you don't expect, or the ones you work hard to reach. I'm a Midwesterner coming from corn country: any place with elevation does it for me.
A couple months ago I was playing Buddy in Highlands, N.C. When we had time off, the bass player and myself would go find an adventure, or — more often than not — it'd find us. Every day we found another trail to take us to another waterfall and we eventually ran out of time before we ran out of waterfalls.
It was like drawing a giant black "X" over my bucket list with a permanent marker: I accomplished so many life firsts down there I think I lost count. It's easily my most memorable outdoor trip, and provided me with enough cocktail party stories for the next decade.
Let me tell you, it was hard coming down from those mountains and back home to corn country. You get used to them, and next thing you know, you miss 'em.
What's your perfect outdoor day?
I've had some great ones, but I'm leaving this one unanswered in the hope it has yet to come for me.
What are your favorite pieces of outdoor equipment? Why?
Tents. No doubt about it. I've a background in architecture (studied as a junior apprentice at the Frank Lloyd Wright School of Architecture) and I find any kind of shelter fascinating. Tents have come a long way since my childhood, and I'm continually amazed at how smaller, lighter, and smarter they make them.
My tent is easily my favorite piece of gear, and right now, I'm using a North Face Arcus 23, a rare prototype never put into production. Lot easier finding your tent when you know it's the only one of its kind ever made!
Have any stories to share about your favorite (or least favorite) gear? Good, bad, funny gear experiences?
I introduced my girlfriend to camping last year. Save pitching a tent in the backyard and running enough extension cord to put a TV in it she'd never been camping a day in her life. We were in Door County, Wisconsin, in late October. It rained non-stop for two days straight, and our Coleman tent soaked-through after the first night.
Being the only tent campers at the grounds, I think it was some combination of pity and respect we received from our fellow campers: they were kind enough to lend us a space heater to dry the tent and extra firewood to keep warm.
You know you've got a keeper when after a trip like that she's still willing to go camping. That trip alone was my motivation to research my gear and read reviews before committing to it.
What motivated you to share your outdoor gear reviews with the Trailspace community?
If you find a review helpful, and it influences a purchase, you know how valuable the word of the average Joe or the expert is. I write mine in the hope that someone out there finds my reviews as helpful as the ones that influenced me.
Where does your username come from?
I'm a musician who from time to time travels to regional theaters across the country playing Buddy Holly. While the gig comes and goes, the frames stuck with me.
Anything else you'd like to share with the Trailspace community?
Just a big, heartfelt, no-BS thank-you to everyone here. I've been a member for only a few months, now, but I'm as amazed as I am grateful for the wealth of knowledge and advice everyone so generously volunteers to another.
Moreover, I'm proud to be in the company of some very experienced, very passionate outdoorsmen and women. You've all been a humongous resource and I hope I can contribute back at least a fraction of what you've given me.
---

Great job, Eric!
*Besides Trailspace appreciation, Eric gets a goodie pack with a selection of tasty bars from A3 and ProBar, a Trailspace-Ibex Zepher Skull Cap, an Innate Profile billfold, a Trailspace pint glass (for après-backcountry use), and Trailspace stickers.
Wondering how you can be as lucky as Eric? Write some great gear reviews of your own. Next month the Trailspace community will recognize another reviewer (who'll win some prizes), and it could be you!
Help recognize the best reviews on Trailspace by clicking that up arrow whenever you read a truly helpful review. You'll not only recognize good reviewers, you'll help highlight the best reviews of products for other members looking for outdoor equipment.