Inov-8 Mudclaw G 260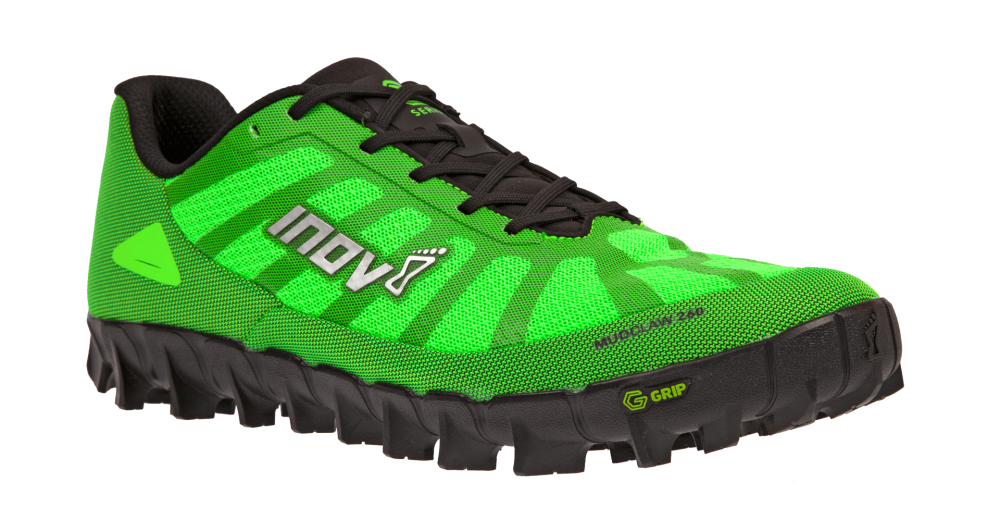 An aggressive, deep-lugged tread and snug fit make the Mudclaw G-260 a prime choice for muddy trails and other soft surfaces. Comfortable enough for all-day runs. The graphene-enhanced soles also grip well on wet and dry rock and hard-packed dirt, but the lugs can chip. Best held in reserve for running over mud, bogs, sand, and other soft surfaces.
Pros
Aggressive 8 mm lugged soles bite deep in soft substrates
Graphene-enhanced soles also grip well on wet or dry rock
Snug and comfortable in the long haul
Durable uppers
Cons
Graphene soles not as durable as claimed?
Pricey
"Mud, mud, glorious mud
Nothing quite like it for soothing the blood…"
The Mudclaw G 260 is Inov-8's top shoe for running on muddy trails or off-trail over bogs and on grassy slopes and for obstacle course races, which may include all of the above. We have plenty of that kind of terrain in Norway, but we also have more than our share of hard-packed dirt trails and the giant rock piles and bedrock ridges that we call mountains. When Inov-8 offered me a chance to test drive these shoes, I was eager to take the challenge.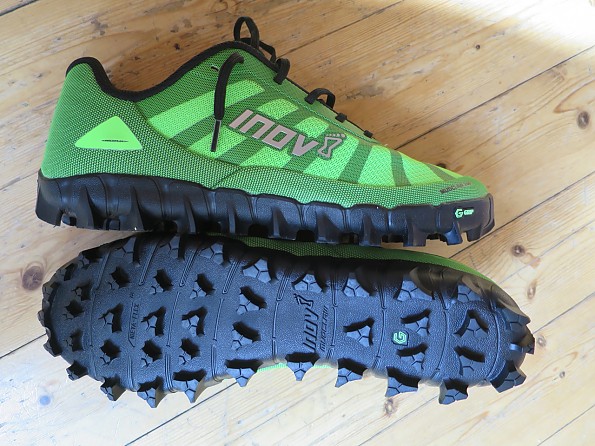 Test Conditions
The main testing ground for these shoes was Estenstadmarka, a city forest area right out my back door with about 40 km of trails, many of which double as groomed xc ski trails in winter. As of this review I have put in over 210 km in them. I have assiduously avoided asphalt, with the exception of the 100 m or so that it takes to get from my house to or from some of the trails, but the shoes have seen a mix of mud, hard-packed dirt, rocky and rootsy single track, and stretches of open bog.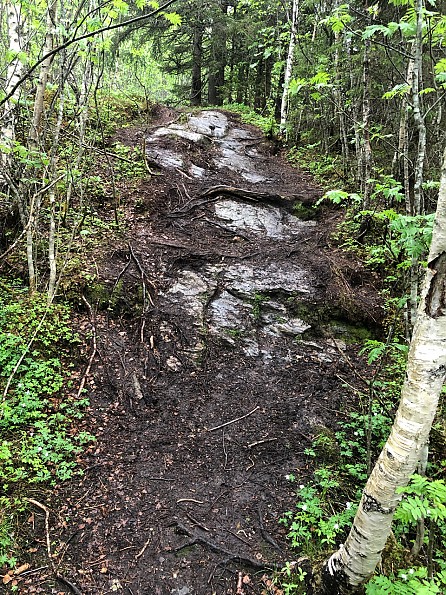 Fit
Overall the fit on my feet is nearly ideal, with no slop or rubbing in either heel or toe. The forefoot looks quite narrow but, surprisingly, feels snug but not overly tight on my wide feet. My now-retired pair of Inov-8 X-Talon 212s also had a narrow forefoot and pointy toe and, despite performing well for over 1000 km, rubbed the tops of my middle toes and the sides of my little does, producing hard and sometimes painful calluses that required some padding. It has a much closer fit in the forefoot than the Terraultra G-260, which I also tested recently. Fortunately, I have not experienced any tightness or undue rubbing or toe discomfort in the Mudclaws in runs of up to 20 km /12 mi. 
The shoes have a narrow profile overall, including the sole, which has very little of the flare around the heel that is typical of many kinds of running shoes these days. While this may raise concerns about lateral stability for some runners, I have not experienced any problems, perhaps due to my experience running in minimalist shoes. 
The 4mm drop works for me. I generally prefer shoes with 6mm or less, right down to zero, so these shoes haven't required much adjustment.
My pair of size 45s (11.5 US) currently weigh in at 730g / 26 oz, well above the 520 g/pair given on the website, but that is presumably due to the large size and maybe a few grams of residual dirt.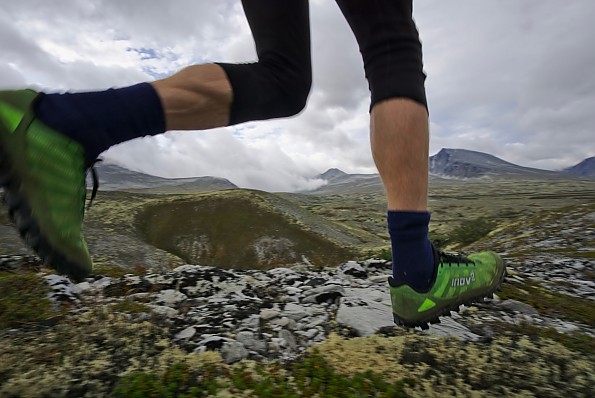 Digging Deep
The standout feature of these shoes is the ferocious 8 mm deep lugged  sole, which promises to bite about as well as any shoe can into mud and other soft substrates. They have certainly delivered on that promise and can make running up a slick stretch of trail almost pleasurable. The side lugs look almost like shark teeth when viewed from the side.
Although the lugs are slightly flared outwards in the forefoot, the lack of flare behind the heel leads to a smooth roll off of a heel strike when running downhill. Even on the flat, these shoes support a smooth, rolling stride. I have not used these shoes in snow, but I would think the deep lugs would give good grip in soft and packed snow as long as it's not too icy.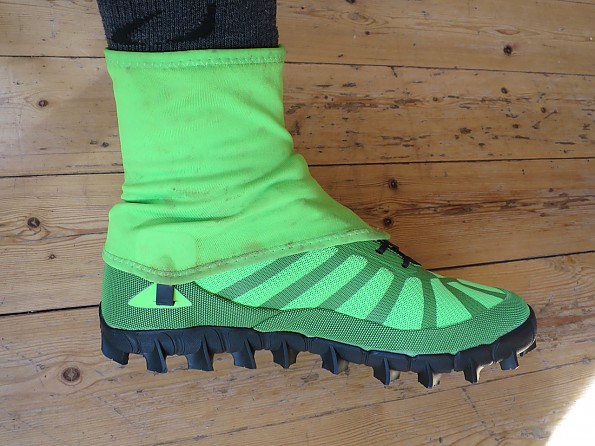 Despite the deep lugs, the midsole is thin enough to feel rocks and roots through the sole. I generally prefer a thin shoe because this kind of trail feel allows me to respond or variations in the terrain, but the Mudclaw does not offer the kind of padding that many runners prefer. My backyard runs often include steep ascents and descents and these show perform well on both, biting well when running uphill on the toes and rolling down to a good flatfoot grip on the downhills.
Compatible Gaiters
Inov-8 also supplied me with a pair of All Terrain gaiters, which are specifically designed to mate with Inov-8 shoes via a pair of plastic hooks that slide into slots on either side of the heel, plus a conventional lace hook up front. The slots on the shoe close down flat and smooth, so that it can be frustratingly difficult to get the hooks into them, and in trying maybe a little too hard the plastic hooks can bend and ultimately break.
So while the attachment system is solid and the gaiters do a good job of keeping the mud out, they might fare a little better with metal hooks or some improved way to get the hooks into the slots. There is no Velcro on the heel, so Dirty Girls or similar gaiters would require a self-stick Velcro patch, which experience shows would un-self-stick sooner or later, especially in wet conditions.
Durability
Inov-8 has a strong reputation for making tough shoes that stand up to long-term abuse. Like all other Inov-8s that I have worn (two pairs in the X-Talon series and the Terraultras), the Mudclaw has no exposed stitching, which can be vulnerable to abrasion, anywhere on the outside of the shoe. The heel and lower region of the upper all the way around the toe are made of a Kevlar-reinforced fabric that shows little sign of wear after nearly 200 km.
The rest of the shoe over the arch and ball of the foot is made of a tough, breathable mesh, with a tight weave that keeps out grit while letting enough moisture out to keep from getting too sweaty. There is no sign of cracking or wear-through in the usual spots: at the bend of the toe or, more rarely, along the arch. However, I am seeing a wear spot on one shoe just behind the Kevlar. As with the soles, we'll have to see how the uppers hold up in the long run.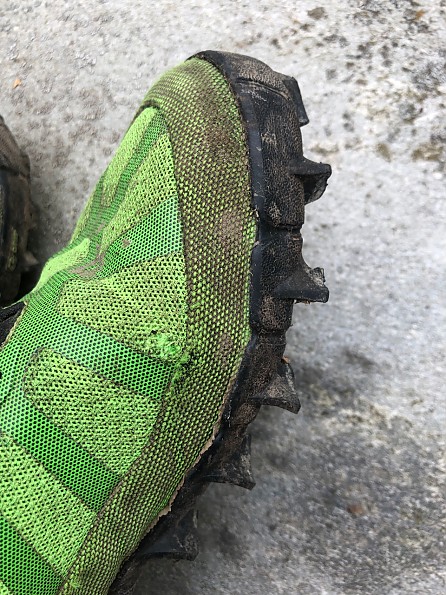 Inov-8 claims that the graphene-enhanced soles are both grippy and durable. Graphene is a monolayer sheet of carbon atoms, said to be 100 times stronger than steel. Inov-8 keeps the details secret, but I'm guessing that nanoparticles of graphene are mixed in with the rubber. The result has a soft, grippy feel like a climbing shoe.
In my review of the TerraUltra G 260 I found that they weren't really living up to the latter claim, with bald patches on the heels after only 200 km / 120 miles. The Mudclaws are doing much better, with the shallow grooves in most of the lugs still visible, but some of the heel lugs also appear dished out or possibly chipped, maybe from rocky descents, which are not the preferred environment for these shoes but could be a part of any long run. It will take some more distance to deliver a final verdict on the durability of the soles.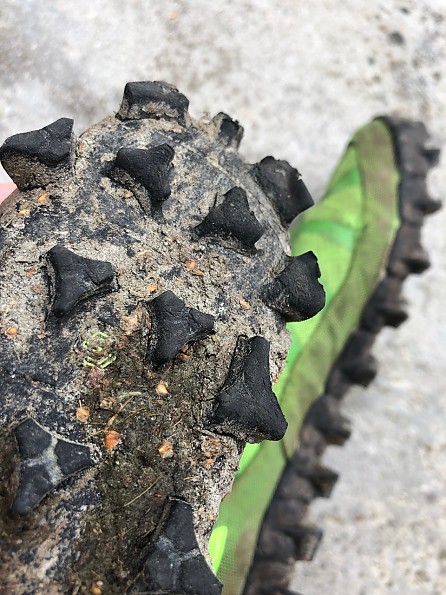 The Verdict
The Mudclaw G 260 is a great shoe for running on softer substrates, where they can bite deep and deliver more kick than thinner-soled shoes. The snug and comfortable fit makes them suitable for long-haul runs. Back in June I used some other shoes on a 50 km (30 mi) forest-and-bog run near Oslo that turned out to be a lot rougher than I anticipated. Now that I have tried them out, the Mudclaws would have been my preferred shoe for that run.
Although the graphene sole lugs also give excellent grip on dry and wet rock, they are already showing signs of wear and that, combined with my experience with the Terraultra G 260, leaves me a little in doubt about the claim of exceptional durability. The uppers are holding up better, but maybe not quite as well as the darn near indestructible X-Talon 212. Given the $170 asking price, I would hope to get maybe 50% more than the 600-700 km (370-430 mi) I get out of other shoes.
I will probably closet these for the rest of this year's running season, maybe try them out in snow, then start putting some more distance on them in mud season, when they can really shine without wearing out too fast.
"So follow me follow
Down to the hollow
And there we will wallow
In glorious mud!"
Experience
About 220 km worth of mud, bog, rocks, roots, and hardpack so far. I run about 50 km and 1000 to 1500 m of vert a week in season, mostly on trails, and in all weather. I occasionally compete in trail runs up to 60 km. This is my fifth pair of Inov-8 shoes and my third pair of deep-lugged shoes intended for soft surfaces.
Source: received for testing via the Trailspace Review Corps (Sample for testing and review provided by Inov-8)

Your Review
Where to Buy
Help support this site by making your next gear purchase through one of the links above. Click a link, buy what you need, and the seller will contribute a portion of the purchase price to support Trailspace's independent gear reviews.
You May Like
Specs
| | |
| --- | --- |
| Price | MSRP: $150.00 |
| Weight | 260 g / 9.17 oz |
| Drop | 4mm |
| Footbed | 6mm |
| Lug Depth | 8mm |
Recently on Trailspace