JanSport Carson 80

Top 25 in unisex External Frame Backpacks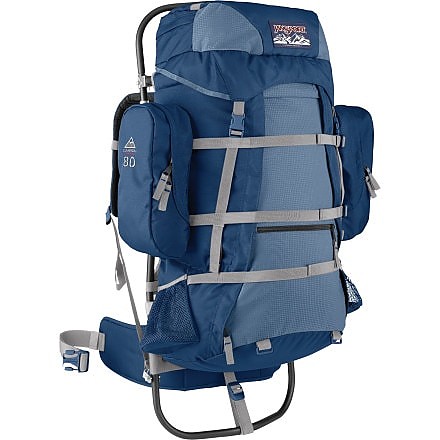 Specs
Price
Historic Range: $62.45-$144.95
Reviewers Paid: $59.95-$109.00

Reviews
14

reviews

5-star:

4

4-star:

8

3-star:

1

2-star:

0

1-star:

1
I used a Trailwise ext. frame backpack from 1972 through 2006. It finally just wore out. I had seen a lot of internal frame packs during that time, and decided to try one out. Liked it. Still use it sometime. And I have a smaller int. frame pack that I use for shorter trips.
But I guess I am just an ext. frame guy. When I saw Campmor had this pack for $69.95 I figured I could hardly go wrong so I bought one to try out. I am really glad I did. It is both lighter and stronger than my old Trailwise.
I love the fact that it is both top-loading and front-loading; my old pack was top-loading only. This is so useful. There are two sets of zippers so you can get into the bottom of the sack without opening up the whole sack, very handy in wet conditions. There are two compartments in the main sack which allows for some organization of gear. That works well for me. The top has a draw-cord arrangement which keeps things dry, and can expand upward some for larger loads.
There are 4 outside pockets, two on each side, one on top, and one on the front. If there is one thing I'd change it is that the pocket on the front is too flat. I use it for maps. It could hold more if it had more depth. That is a minor quibble though. Otherwise the pockets work very well for the way I operate. The top compartment is great for raingear and the like. It does not convert into a fanny pack but I've never used that feature on my other pack that has it. It does free-float, which is all I want from a top pocket.
The suspension system works very well even with heavy loads. I've never carried more than 50 lbs (when I had to pack a lot of water) and don't plan to, but I am sure I could go higher if I really needed to.
The hydration pocket is a little chancy. I don't think you could use a 3 liter bag in it. The way it is arranged between the bag and the back suspension, it can be easily squeezed during normal motion. Maybe it wouldn't squirt out of your hydration tube but I'm not going to find out. It works fine for me with a 2 liter bag. Plenty of room for more water in the side water bottle pockets if you need it, and I have.
There are three straps, similar to what an int. frame pack would have, to cinch everything down compactly. This is a great feature also. JanSport was smart to borrow some features from their int. frame packs to make this pack work so well.
Using a compression stuff sack, I lash both my sleeping bag and tent together, safely into the space below the sack. I wish there were dedicated straps for that purpose, such as I had on the old Trailwise, but I bought aftermarket straps that work fine, so no problem after all.
One of my Scouts liked this pack so well when he tried it out that he got his mom to get one for him, and he has gotten hard use out of it with no problems. If you like an ext. frame pack, you cannot beat this one for usability, durability, and price. I hope JanSport continues to market this model.
Design: Top and Front-loading external
Size: 4900 cu. in.
Number of Pockets: 4
Max. Load Carried: 50 lbs.
Height of Owner: 5'11"
Price Paid: $69.95

Pros
Lightweight
Shoulder straps
Plenty of pockets
Cons
Hip belt is hard to adjust for comfort
It leaks like a sieve
I've had the Carson 80 since 2008, replacing an old Jansport D3. At the time I bought it, my son had outgrown his little Kelty external frame boy's pack, and needed a decent upgrade for a 2010 trip to Philmont Scout Ranch, and all the shakedown trips before shipping out. I decided since I would be going on the shakedown hikes, and that I might also be going to Philmont, that I did not want to lug my old, Cordura D3.  
I have, over the intervening years, found that the Carson fits and rides so much better than my old D3.  I also love the updated features: bladder compatible, front access to the divided main compartment, sub 5# weight (albeit, barely), and comfortable shoulder straps with the chest strap.
The mesh water bottle pockets are handy for extra water bottles, when extra capacity, beyond a bladder is warranted. Normally I carry my stove fuel (alcohol or Sigg bottle/white gas in one of them. The bladder pocket is in a weird site, sitting between the bag, and the mesh backing, but at 5'7", and 145# I can still get a 3 liter bladder in there. And I find that I can refill the bladder without taking it completely out of/off the pack—handy on a rainy day, not having to open or uncover the pack to top off stream-side.
The divided main compartment is a huge improvement over older external frame packs I've used. Accessible not only from the top but also via two lateral zippers, and a top-side velcro closure, a front flap allows access to the compartment from the front or either side. Three horizontal compression straps help cinch tight smaller loads on short trips, and allow me to secure Microspikes and snowshoes to the pack body without additional straps.
Plenty of pockets for organizing gear: mesh water bottle pockets, a large pocket integral with the lid; two large and two small side pockets (one each on either side of the main compartment), and a small pouch in the front panel of the main compartment.
I find it easy to lash a sleeping pad or two, a sleeping bag and a tent to the outside of the pack with compression straps (not included with the pack). I also find I can tolerate a heavy load once I am able to get the hip belt properly adjusted, which I find takes some futzing and finessing. The heaviest load I've carried was 74# on a recent winter trip in the Berkshires (Jan. 2016)—tolerable. 60-65# is fairly comfortable, and anything less than 50# is a walk in the park.
Downsides:
Did I mention the hip belt is hard to adjust?
It leaks like a sieve. I suspect through the zippers to the main compartment. On the monsoon-like day I didn't use a pack cover, I found almost 2 liters of water in the bottom of the main compartment. In addition to a pack cover, I use a trash bag to line the main compartment, and freezer ziplocks or drybags for anything that MUST stay dry.  
Source: bought it new
Price Paid: $69.95

It's a great novice pack and family pack.
Pros
Reasonable weight
Lots of space (inside and out)
Cons
Can be finicky to adjust and keep comfortable
Bottom bar is a little too low
It's a great novice pack that lets you use your existing (and probably bulky) camping equipment to get outdoors and get a feel for what you like or don't like about backpacking. It's also great for families as the 'pack mule' can strap quite a lot of gear.
The pack fits reasonably well, and is very simple to adjust. The hip-belt padding felt a bit thin, but was adequate for hiking.
At 80 liters of space, there is a ton of room inside the pack. But being an external frame pack, it was very easy to put another 20 liters worth of pads/tents/bear canisters to carry the bulk of provisions for a family of four going out for a weekend.
The only thing I don't like about this pack is that the bottom bar sits really low and can get snagged on things especially if going down hills or rock scrambling.
I used this pack all over Washington state from the coast to the desert near Wenatchee to the Enchantments near Leavenworth. It has served me very well. As I've developed backpacking this pack helped me decide where I wanted to invest resources. I've since transitioned to a smaller internal frame pack, but keep this one for family backpacking.
Source: bought it new
Price Paid: $80

Great pack! I've been a Jansport owner for 25 years. This one has lots of room and lots of features that more expensive packs have. Took it packing for the first time for a two day trip... it felt great carrying a 35 lbs. However, I did have some trouble with the waist belt wanting to twist and get caught in the buckles while trying to cinch the waist belt. It also could use the old style handles on the external frame.
Happy in the Klamaths
Design: external frame
Size: tall -49000 cc
Number of Pockets: 2 side 1 front one top - split main
Max. Load Carried: 35
Height of Owner: 6.0
Price Paid: $99

I had a hard time finding an external pack of this size and i'm quite happy with the Carson.
Pros
Light weight
Affordable
Good size
Cons
Bad position for water bottle net
Top section zipper is facing wrong direction
If the bag is on, have to unbuckle to reach back far enough to put bottle back in. With the zipper facing front, everything wants to fall out when I open it from the back, which to me is the normal way.
Was surprised that the waist belt fit as well as it did, since it's a little narrow.
Construction is good and no problems in three years I've had it.
Source: bought it new
Price Paid: $90

I have some expensive internal frame packs but, for some reason, the internal frames do not sit as well on me as an external frame. This is the one I have now and it fits me GREAT. I would recommend it to anyone who is just not happy with an internal frame pack. 
I don't care for the way the pockets are setup and strap across the front, but accessing the pack from the front instead of the top is very nice. 
5 stars for comfort!
Price Paid: 15 New in Box at Garage Sale

This backpack is great! Top and front loading makes it ultra easy to get anything from anywhere in the backpack without having to move things around.
Iusually carry 35 - 40 lbs per trip (Appalachian Trail section hiker) including 4 liters of water! It carries the weight like a champ. I would definitely recommend this backpack.
Price Paid: $109

I am a long time Jansport fan, and this is my second Jansport pack. The first one wore out because I was stupid and it got a bit too moldy in the basement. I took this pack out for the first time last week on a week long trip, and it performed really well. Had a little trouble getting the waist belt to sit correctly, but after I got home, I think I spotted the issue and anticipate no problems on my next hike.
All straps are easy to tighten and loosen, which is especially helpful in cold conditions. I had close to 60 lbs in this pack (a good portion of it was dog food for my hiking buddy), and it balanced really well. I would definitely recommend this pack to others.

Design: front-loading/top-loading external
Size: 4900 cu in
Number of Pockets: 6 compartmens
Max. Load Carried: 60 lbs
Height of Owner: 5' 5"
Price Paid: $60

Used this pack for several years now (spring, fall, winter) and never had a problem carrying the load. Recently hiked the 95mi "West Highland Way" in Scotland with it and never questioned it once.
I do enjoy the top and front loading flap, made it easy to get to your bag in the bottom without having to pull everything out of the pack when Scotland's weather was giving its best! Thought about looking for a more sexy, internal frame, but my voice of reason keeps asking why, and I continue to listen because nothing compares.... To me, this pack is like owning a Dodge Truck when all the fashion freaks are into the stylish, more sexy (but less versatile) Japanese version of a truck!
Only negative - the hip straps will twist and bind up after several uses! Nothing major!

Size: 80 liters
Max. Load Carried: 50 lbs
Height of Owner: 5' 8"
Price Paid: $100+

The Carson worked out good for a few weekend trips. Then I took it on the Appalachian Trail for a section hike.
The first major problem is where the hydration bladder is located it rests right against your back so not only is your water always hot after a few days of pressure the bladder will pop. Then you never have to worry about sneaking up on anybody because it is nice and loud, all the noises it make almost sound like you are riding a bike.
If you are still thinking about getting the pack make sure you get upgraded straps or your shoulders will hurt and that is no fun (Jansport will replace these no problem).
The pack overall is nice for short trips but any longer than a couple days and I would look for something else.
Design: top and front loading external frame
Size: 4900
Max. Load Carried: 40 lbs
Height of Owner: 5'9"
Price Paid: $90

I purchased this pack for my son about 2 years ago and have had it on 3 extended trips. My son has been the main user of the pack until this weekend. We went on a winter trip, in on Friday night out on Sunday.
This trip I carried the Carson to try it out and see how well it works. I have an old Lowe Alpine Contour IV that has served me well for 15 years so I was sort of stacking the Carson against what I know about the Contour internal frame. The following are my impressions of the pack.
Positives, the overall construction of the pack is good. Most of the materials are of good quality with good fit and finish. There are lots of pockets and compartments to stash just about anything. Lots of straps on the bag for lashing items on the outside, it made it easy to strap my sleeping pad and mine and my daughters snow shoes on when we got back to packed trails. the shoulder straps and waist belt are well padded and comfortable for the most part, more on that later. Once properly adjusted the pack rides and moves with you quite well.
Negatives, the waist belt, though well padded, has rather square top corners and when cinched they tend to ride up from under the belt. Not a big problem once you tuck them back down, I just think a little different contour on the belt would help.
As mentioned in another review the water bladder holder is in a strange place, between the pack bag and your back pad, which pushes out on your back quite a bit when the pack is fully loaded and the bladder is also. Moving it inside would be a better choice. Last I think Jansport should mount load lifter straps to the shoulder straps to help draw the load into the shoulders like internal packs and some externals do, it would be a great help.
More positives then negatives with this pack. It rode well on the flats an on the climbs. Well worth the money and 4 stars. I would recommend this pack to anyone. Good job, Jansport!
Design: External Frame, Top and Front-Loading
Size: One size Large
Number of Pockets: 6
Max. Load Carried: 50 lbs.
Height of Owner: 6' 1"

great pack!!!! ive been a jansport fan and owner for 15 years now, this is my second jansport pack. my old one still works great but it is the old style youth/scout model and i figured it was time to upgrade!!
im an external frame fan all the way, i dont understand why people like the internal frames??? the external frame is much more versatile for lashing gear, more rigid, and keeps the back cooler!!!! more to the point....this pack has tons of features, plenty of room, and is comfortable to wear. ive packed with it loaded at 35 ibs. for six miles up steep north georgia mountains and no problems whatsoever.
i do wish they would have stayed with the old style separate upper and lower compartments, but this is not a big issue, for those who like internal frames,....the way this pack is designed has a lot of those features but with the external frame. the only other issue i had was the hydration bladder compartment, when the bladder is full,...it pushes your back out quite a bit,...not a big deal though really,...i just adjusted the shoulder straps out a little, and it solved the problem.
overall i would recommend this pack to anyone who is a serious hiker,...for the weekend,...or for weeks on end!!!!
Design: external frame, front and top loading
Size: 4,900 cu in.
Number of Pockets: 6
Max. Load Carried: 35 ibs.
Height of Owner: 5' 10"
Price Paid: $59.95

Great pack for the price. I will take an external frame backpack over an oversized stuff sack any day. Top and front unload is a great advantage. Two large pockets on the sides for gear are great. Two mesh water bottle pockets at the belt is also a great idea. There is also ample space on the top and bottom of the frame to lash extra stuff on. Something that is next to impossible on a internal frame pack.
The pack has held up well on many backpack trips over the last year. The only gripe I have is the poor quality pad between you and the pack. This can be a little uncomfortable on long treks with a big load. If Jansport invested in solid mesh backing with improved shoulder straps; load lifters; this pack would have been a home run.
I would have been happy to pay more for these features but not too many folks are buying external frame packs these days. Overall it's a good pack filled with great idea's. This is a great scouting and everyday backpack.
Design: external frame design
Size: 3900
Number of Pockets: 6
Max. Load Carried: 55 lbs
Height of Owner: 5-10"
Price Paid: $79

Between the hydration pack and water bottle pockets it will comfortably carry 6 liters of water, which is great when water is scarce. The bottom section is the perfect size for a bear can. Someone was thinking.
It's a large pack but its size and design means you won't have to lash on your tent and bag. You just stuff everything inside, so it works out the same. Thanks to a side panel gear access is a snap. Careful of older versions with weak straps. At about $100, it's a great value.
Design: external, front & top-loading
Size: 4900 expandable to 5359 cu
Max. Load Carried: 50 lbs
Height of Owner: 6'
Price Paid: $107

You May Like
Recently on Trailspace