JanSport Scout

Top 25 in unisex External Frame Backpacks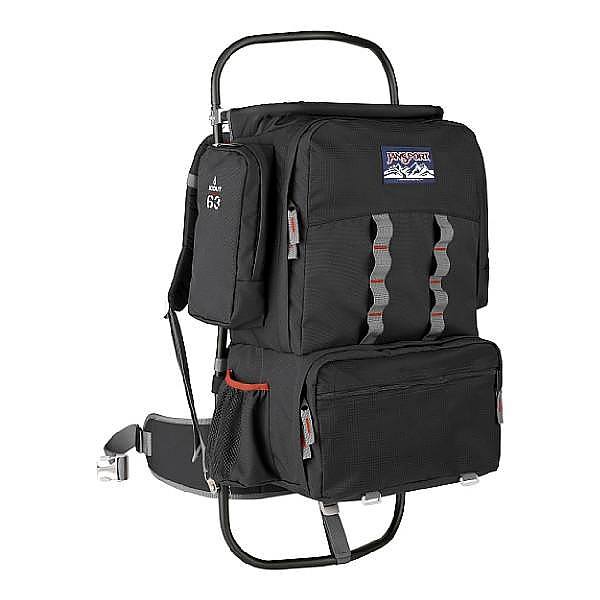 Specs
Price
Historic Range: $26.96-$124.95
Reviewers Paid: $65.00-$109.00

Reviews
4

reviews

5-star:

0

4-star:

4

3-star:

0

2-star:

0

1-star:

0
Lightweight, easy access to stuff, good center of gravity.
Pros
Pretty light
Easy access
Can prop it up with trekking pole
Cons
A little worried about shoulder strap attachment points
I love this pack and would use it on the AT when I go some day. It's pretty light. What I like the most is that access to your stuff is easy. Internal frame packs make you dig for equipment, but everything with this pack is behind just one zipper! 
Center of gravity is next to your spine, which allows you to stand up straight will hiking. It also makes your load feel much lighter. Internal packs, on the other had, have a CG which is way behind you and forces the wearer to lean forward to compensate. I have two internal packs and I have the Scout — much more prefer the Scout.
Being able to prop the Scout with a trekking pole is great — no leaning on a tree. Internals are too narrow to prop with a pole.
I do worry slightly about the upper attachment points for shoulder straps. After using the pack on an 18-miler, it looked as if the metal grommet may ream out the hole through the shoulder strap and become loose or fall apart. I hiked another 54-miler afterward and didn't have a problem with the connection. May not ever be an issue.
I do wish the pack was slightly less in width (maybe 2 inches or so less). In narrow areas on the trail the sides tend to run into things.  
Otherwise it's great!

Source: bought it new
Price Paid: $89

I've always been torn between internals and externals. I've owned both, and beaten the crap out of both! One of my more experienced friends started hiking with the Scout last year and told me how he liked it, so figured I'd give it a shot.
My only hesitation was almost *EVERY* site says this is a beginners backpack and good for people up to 5'8", and I'm 6'1 and a fairly experienced hiker.
Well, those sites are wrong. This pack actually wore fairly well.
Jansport updated the design to include curved shoulder straps and a sternum strap - which is nice, keeps the shoulder straps from digging into my arm pits, and I was really amazed at how comfortable the pack was.
I used the same amount of gear I had in my Mountainsmith Frostfire and it really did feel a bit lighter on me.
I didn't overpack and enjoy strapping items to the pack frame, and there are some lashing straps on the pack itself. The size prevents you from carrying TOO much, which can be a god send for those of us (like me) who find extra space and always squeeze in some luxury items.
The material seems to be durable, and the shoulder straps wore nicely.
On the downside, i wish there was a larger hip belt as this one was a bit, well, lacking.  I've had a Jansport D-3 and still swear by it, to the day, and this hip belt just felt like a buckle and strap.  I like feeling a bit more padding down there. 
Price Paid: $65

I have been using a very comfortable internal frame backpack for 4 years, but always wondered what it would be like to try an external frame pack.
This pack was the one that adjusted best to my short 15" torso and it was inexpensive and fairly light weight. I purchased this pack new in 2010 from Campmor's online store.
There are lots of adjustments that can be made to this pack for growing youngsters. My current profile picture is me with this pack on and fully loaded, from a backpack trip last week.
The padded belt was comfy and had ample length for my wider waist. The only thing I missed from my internal frame pack was the extra comfy shoulder pads, however this one provided enough comfort to please me during a 10 mile round trip hike.
My favorite thing about the pack is how EASY it is to pack and find things in! There is no flap on the top, like all the other packs I've seen. And I have only used the "rucksack" top-loading models prior to this.
The pack frame holds a nice shape like a cabinet that unloads from the front rather than the top. A compressed sleeping bag fits nicely in the lower compartment. There is plenty of space on the outside to tie or buckle on a large pad, tent and more.
Another thing I really liked is how I could walk more upright than with my internal frame pack. Everything seems more compact and stable. I kind of missed my hydration hose, but that's always a love/hate relationship with me. I could have attached one somehow if I really wanted.
I am a Boy Scout leader and from this trial run, I plan to recommend this pack to all our incoming scouts as affordable, smaller sized, easy to pack and carry for beginners.
The weight of the unloaded pack is 3 lbs, 11 oz.
Design: Front-loading external
Size: 3850 cu in
Number of Pockets: 5
Max. Load Carried: 38 lbs
Height of Owner: 5' 2"
Price Paid: $69.98

Nice beginner pack. Has enough room for up to five nights with light gear load. I started with this pack three years ago with a thirteen inch torso and I am pushing its limit at about eighteen inches. I would recommend this pack for beginners who are about 4' 11"+ and have a small budget. I really like the shape of the frame and the top bar that allows you to easily lash a lot of gear on the pack. This pack is not ideal if you are planning on taking trips with a lot of gear or in cold weather because it can't hold all the gear.
Design: External Frame
Size: 3,250
Number of Pockets: 4
Max. Load Carried: 35 lbs
Height of Owner: 5' 3"
Price Paid: $109

You May Like
Recently on Trailspace